When you look up the word 'Strata' in the dictionary, it will say that it's eggs and bread and cheese and other toppings that make your special occasion brunch life. Verbatum. I have a lot of strong feelings for strata, but sadly it seems that the only time it comes into rotation is for special occasions like holidays or a fun brunch outing. I made one for Christmas Eve brunch and I decided that I need to see more strata in my life – it's been too long strata – we can't keep DOING this to ourselves! I NEED you.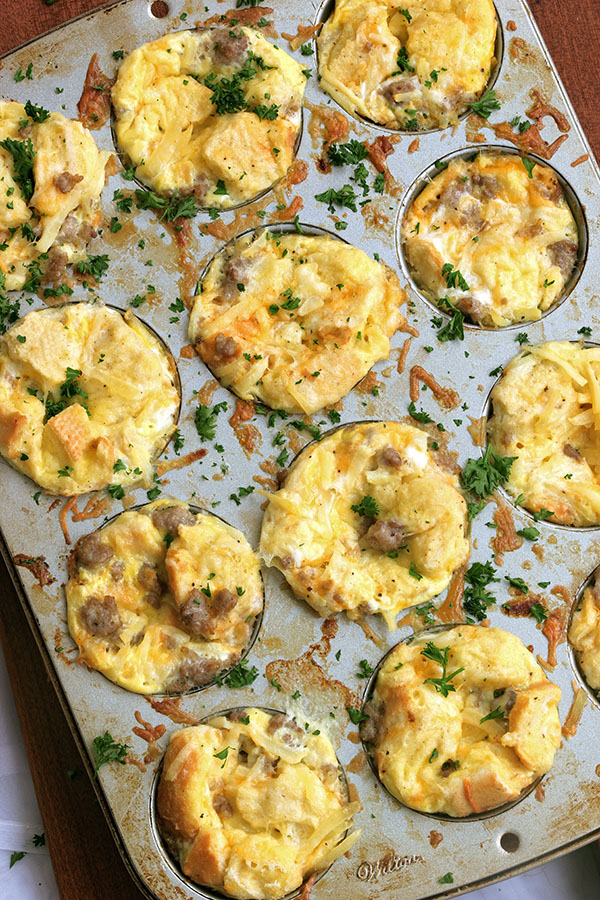 So I made these mini stratas – in a muffin tin – and now I can have strata whenever I damn well please. These are a perfect size for a weekday breakfast – and the combinations are endless, but guys I gotta say this sausage and potato duo made me weak in the knees. All you need is a few stray, leftover breakfast sausage links, and the hash browns you don't even have to cook! Toss 'em in frozen! I will say that when prepping these, you'll look at the amount of bread in each cup and think that it's too much, or that the egginess won't be eggy enough. but they fluff right up over that bread while cooking, leaving the most perfect ratio of bread to sausage to hash browns to cheese to eggs – MATH RULES.
Also, ankle biters love these (does anyone call small children ankle biters under the age of 75? Welp. I do). Murph loves these. And I love them because it's a quick easy and hearty breakfast that doesn't involve sugar or effort. I mostly like the no effort part.
Sausage & Potato Strata Muffins
2018-01-17 12:16:24
The great taste of a strata in individualized, easy to eat cups! Which means you can have strata every morning, not just for special occasions!
Ingredients
4 cups of crusty bread (I used exactly 1/2 of a french baguette, which yielded just about 4 cups), cut into small cubes
1 cup shredded cheddar cheese, plus more for sprinkling on top
3/4 cup crumbled breakfast sausage (4 links should do it)
1 cup frozen, shredded hash browns (no need to cook them!)
6 eggs
1.5 cups milk
1 teaspoon dijon mustard
1 teaspoon salt
1/2 teaspoon pepper
Instructions
Preheat your oven to 350 degrees F.
In a large bowl, place your cut bread cubes, cheese, sausage and hash browns, and mix them together. Set aside.
In another large bowl, whisk together your eggs, milk, mustard, salt and pepper until fully mixed.
Take a 12-cup muffin tin and spray generously with non-stick cooking spray (or grease with butter). Divide the bread/cheese/potato/sausage mixture amongst the 12 cups. Don't be nervous, this mixture will fill up most of the cup - and it's ok! After they're filled, press the mixture down gently. Then, divide the egg mixture among the 12 cups, pouring gently over the bread mixture. Again, the egg mixture will puff up when cooking so don't get worried if it looks like it's primarily bread.
Cover strata cups with foil and bake in preheated oven for 20 minutes. Uncover and cook for an additional 10-15 minutes until the cheese on top starts to turn golden brown. Serve strata cups right away or freeze for up to 1 month.
And They Cooked Happily Ever After http://www.andtheycookedhappilyeverafter.com/