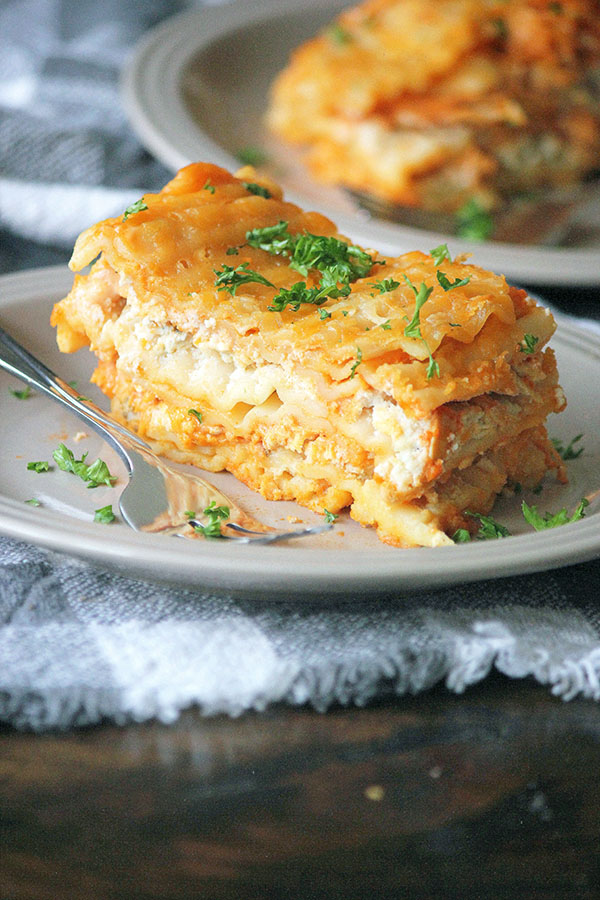 If you're a lover of:
1) Buffalo Chicken
2) Lasagna
3) Crockpots
4) Delicious things
KEEEEEEP READINGGGG!
It's been a while since I've tapped the Buff Chick archives (this Buff Chick Chicken Salad from this past summer still makes a lunch time appearance every now and again). But now the weather's getting cold – the days are shorter – there's a need in everyone's life for some Buff Chick action.
Some years ago I made these Buff Chick Lasagna Squares and they were delish. But making individual squares of lasagna was quite a bit of work. And let's be honest, I had way more time on my hands back in those days. These days, I'm more of a "set it and forget it" kind of gal. And THIS guys. Augh. SET IT AND FORGET IT AND THEN HAVE BUFFALO CHICKEN LASAGNA FOR DAYS. Like, you don't even have to cook the lasagna noodles. Life is good.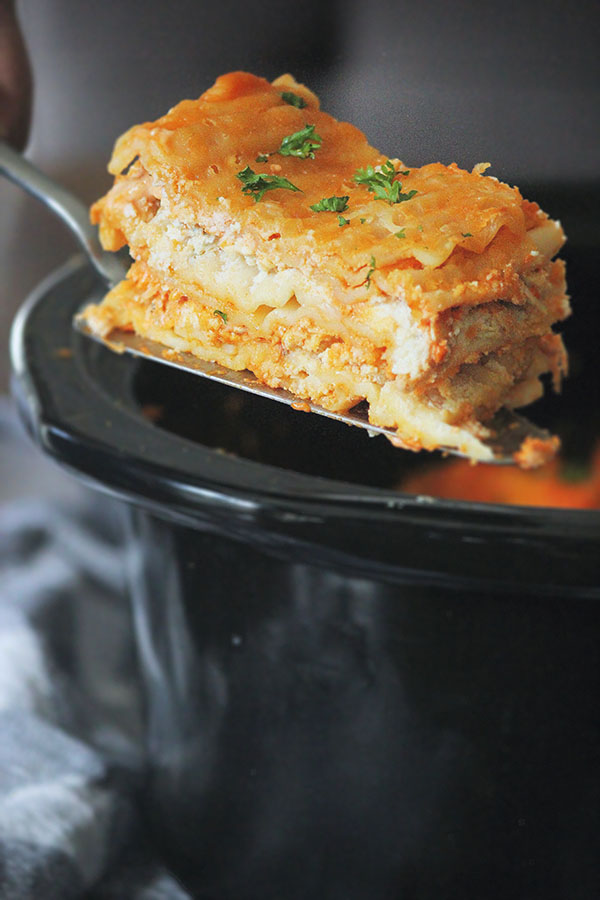 I actually made this twice – the first time it was a tad dry, mostly because I didn't have enough of a "wet" component. That's where the Alfredo sauce came in. Yes. Alfredo. Don't go looking to make this if you're hoping to nosh on something light and healthy. This is not that. However, it'd be perfection for your next game day gathering, when you want to impress your crew with something that's a bit of a step up from wings and buff chick dip. And this makes a ton and freezes fantastically. I should know – got a half'a crockpot's worth in the freezer!
BUFFALO CHICKEN FOR LIFE.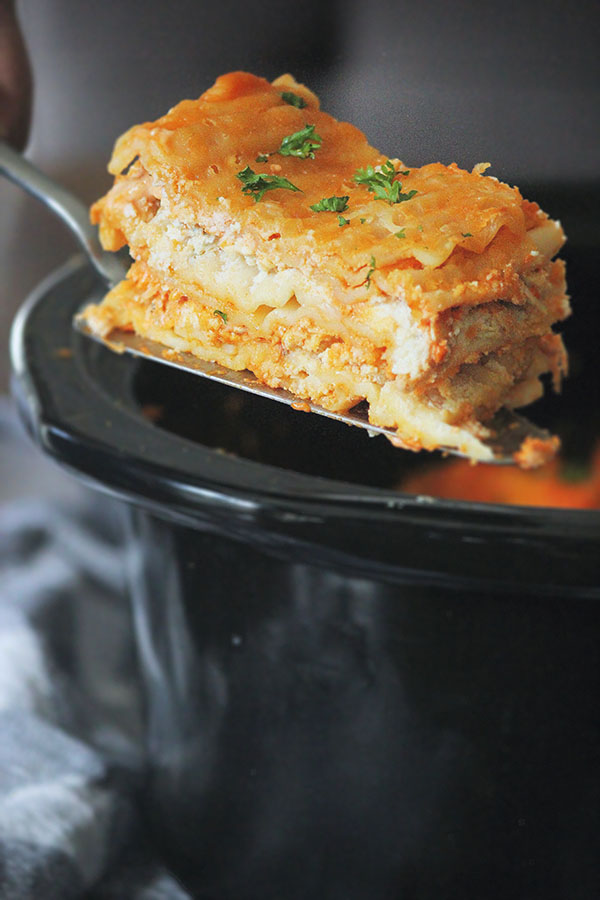 Crockpot Buffalo Chicken Lasagna
2017-11-10 12:38:31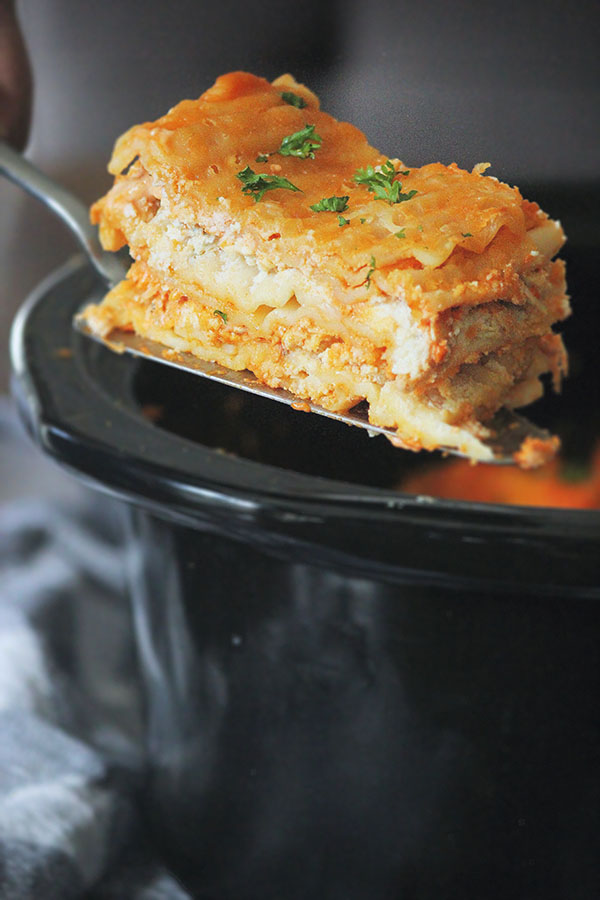 A buffalo chicken and lasagna lovers dream! Buffalo chicken lasagna that comes together low and slow in the crockpot - so easy and tasty!
Ingredients
9 uncooked lasagna noodles
15 ounces part skim ricotta cheese
1 egg
1 teaspoon salt
½ teaspoon pepper
5oz crumbled blue cheese (about a cup, give or take)
1 lb. boneless chicken breast, cooked and shredded
2 – 15oz jars of alfredo sauce (I used Bertoli and though it was very good – or you can use homemade if you're a superhero of the kitchen. If using homemade, you want about 4 cups)
1 & 2/3 cups Franks hot sauce, divided
3 cups Mexican blend cheese (or straight cheddar would be fine too)
Instructions
Prepare your ricotta layer by mixing together the ricotta, egg, salt, pepper and blue cheese crumbles.
Prepare your sauce layer by mixing together the alfredo sauce and 1 cup of franks.
Prepare your chicken layer by mixting together your shredded chicken and 2/3 cup franks.
Assemble your lasagna as follows - 1/3 of the sauce/3 lasagna noodles (you can break them up to cover the sauce)/ ½ of the ricotta mix/½ of the chicken/1 cup cheese/1/3 of the sauce/3 lasagna noodles/½ of the ricotta mix/½ of the chicken/1 cup cheese/Last 1/3 sauce/Last 3 lasagna noodles/Last cup cheese
Cook on low for 4 hours in the crockpot. 4 hours will get you those delightful crunchy edges on your lasagna, but if you prefer non-crunchy edges, cook on low for 3.5 hours. Let sit 1/2 hour before serving to let layers settle.
Notes
I always do a quick boil of my chicken breast for recipes like this and then shred it – or a medium to large sized pre-cooked rotisserie chicken should be more than enough meat for this
And They Cooked Happily Ever After http://www.andtheycookedhappilyeverafter.com/