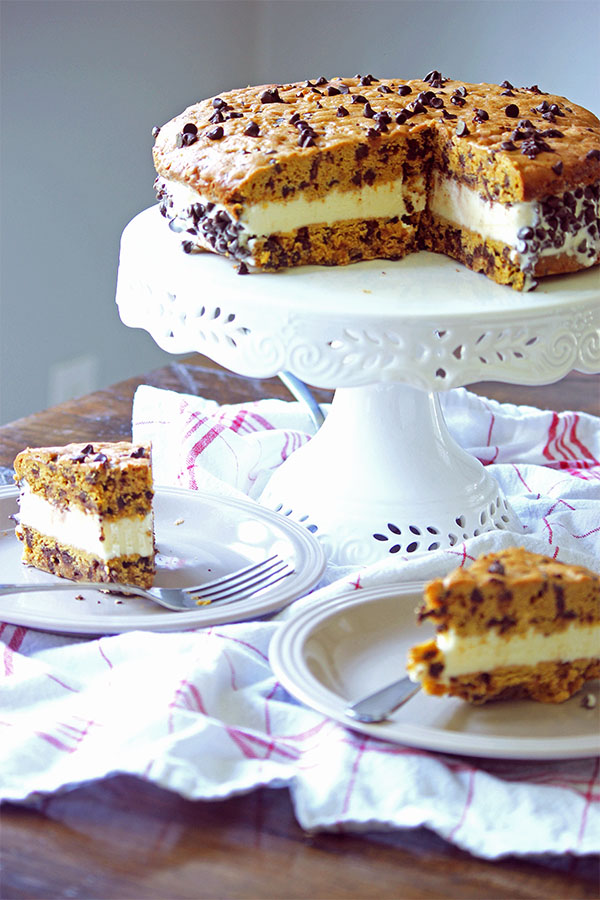 It's September which means – FALL – which means – ALL THE PUMPKIN THINNNNNGS! Starting with THIS.
As you've seen before, sometimes I like to take things that you make a dozen or so of and just make one giant one, because #lazygoals. You saw it here. But it was ok, because when is a giant whoopie pie covered in ganache and salted caramel not ok? Never. After I saw this Giant Chipwich on Cookies And Cups, I thought holy smokes, that is genius.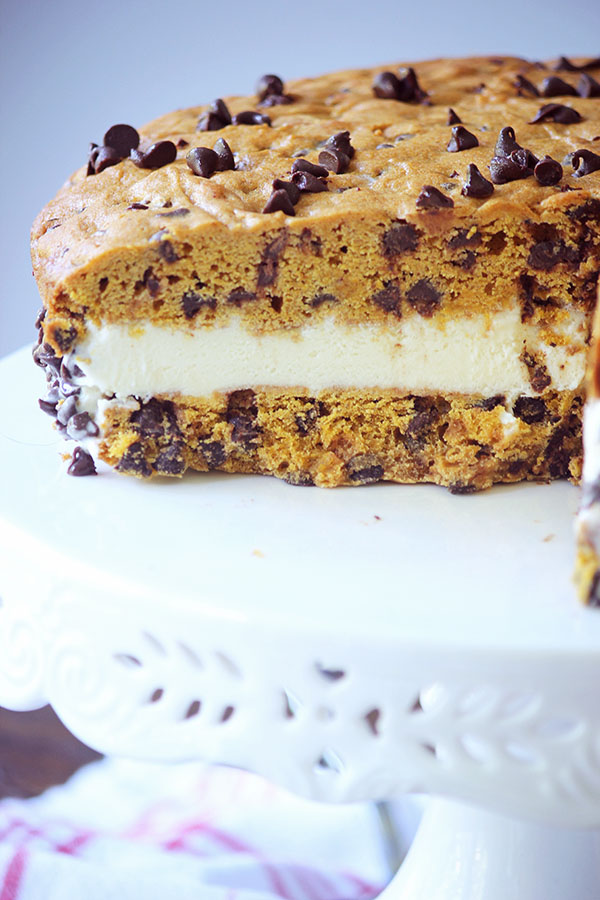 Guys this is such a good fall dessert – it's reminiscent of a summer fave, the one and only Chipwich which drips down your arms at the beach when it's hot and sunny. But it's got the flavor of pumpkin, which means you can have a slice the first time you put your cozy fall sweater, and that chill in the air means it won't be dripping nowhere!
Have I painted the picture for you? Go on and get Chipwich'ing.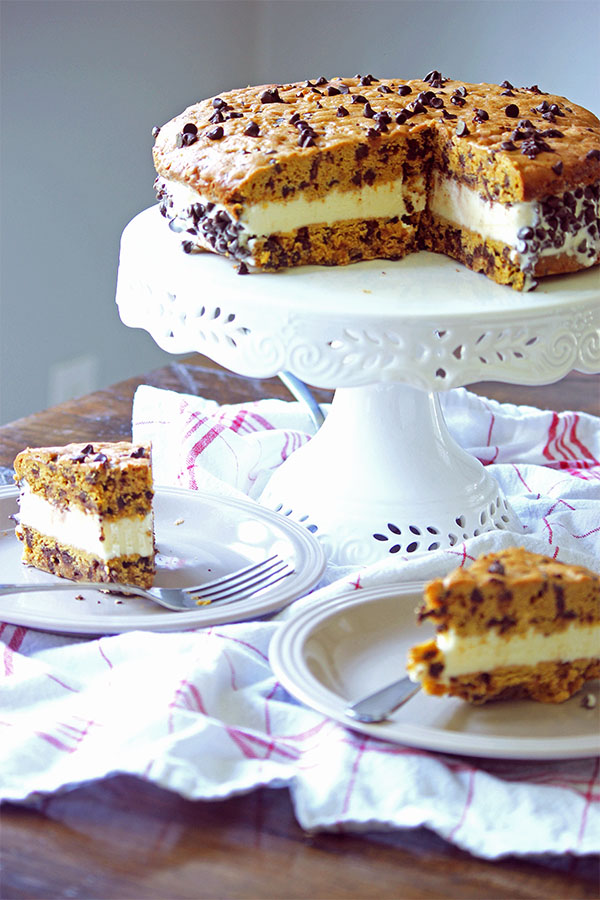 Giant Pumpkin Chocolate Chip Chipwich
2017-08-31 12:31:43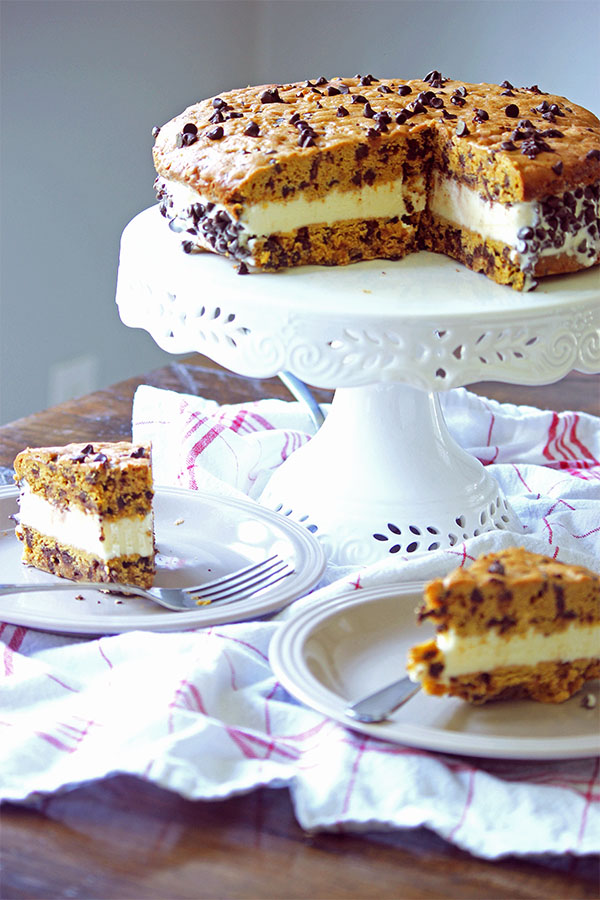 A HUGE pumpkin chocolate chip chipwich for your fall ice cream sandwich needs and wants
For the pumpkin chocolate chip cookie layer
2 cups all-purpose flour, spooned and leveled (NOT scooped into the flour bag/jar)
1 tablespoon pumpkin pie spice
1 teaspoon baking soda
¾ teaspoon salt
1 cup (2 sticks) unsalted butter, softened to room temperature
½ cup packed brown sugar
¾ cup white sugar
1 large egg
2 teaspoons vanilla extract
1 cup canned pumpkin puree
1 -12oz bag semi sweet chocolate mini chips
Additional items
1 - 12oz bag semi sweet chocolate mini chips
1 gallon of vanilla ice cream*
Instructions
Preheat oven to 350 degrees F.
To prepare your pumpkin chocolate chip layer
In a large mixing bowl, whisk together all of your dry ingredients (flour/pp spice/baking soda/salt). Set aside.
With an electric mixer or in the bowl of a stand mixer, cream together the butter and sugars on medium speed until fluffy and smooth. beat in egg and vanilla until combined. Slowly beat in your pumpkin puree. It may look a little lumptastic at this point, but that's ok. Turn speed down to low and add your dry ingredients a little at a time, until just combined. Turn your mixer off and fold in the chocolate chips.
Split your dough into two equal sections. Spray a spring form pan with non-stick cooking spray. Take half of your dough and spread it out evenly in the pan. Bake in preheated oven for 18-20 minutes until a toothpick inserted in the center comes out clean. Repeat process for cookie #2.
Once your cookies have cooled, place cookie 1 on the bottom of the springform pan. Then, spread your vanilla ice cream out evenly over the cookie. Then, place cookie #2 on top, pressing down lightly. Freeze the chipwich for 1-2 hours to let the ice cream set.
After the ice cream has set, remove the chipwich from the pan, and roll the sides in chocolate chips, covering all the ice cream. Return to your springform pan until you're ready to serve.
Notes
*you don't necessarily need the entire gallon of ice cream - I think I only used about 2/3 - it really depends on what you'd like your cookie to ice cream ratio to be - totally your call!
Adapted from Cookies and Cups
Adapted from Cookies and Cups
And They Cooked Happily Ever After http://www.andtheycookedhappilyeverafter.com/