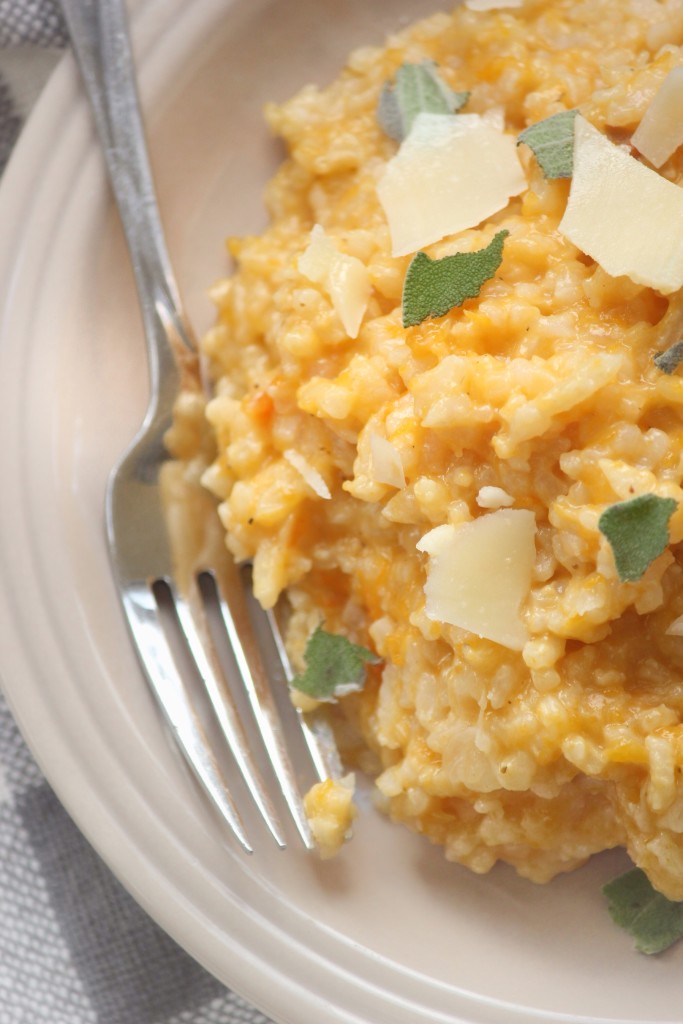 I can't even tell you guys how OBSESSSSSSED with this recipe I am. I had to make it twice, because it was so ridiculously amazing and easy the first time I made it, I thought maybe I hallucinated or like blacked out and forgot something. But the amazingness and easiness is REAL LIFE.
Risotto is one of my favorite side dishes. It's like rice, on crack. More fluffy – more surface area to soak up flavor – it makes rice look like spam (sorry if you like spam). But, every time I've ever made risotto, there's always been a lot of work associated with it, specifically stirring. You gotta stand over that pot and stir your brains out til' it's done. I was making this gem on a week night though, with a nine month old who gives new meaning to the term ankle biter and is legit putting everything but the kitchen sink in his mouth. So I gotta have my eyes and ears working overtime when trying to get dinner ready.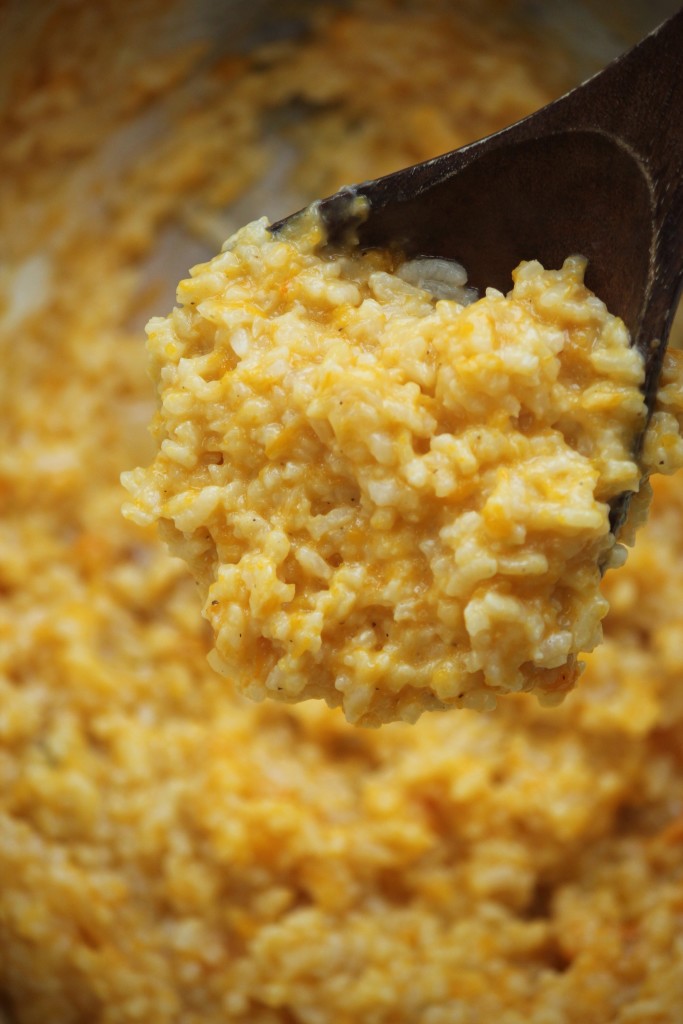 Did you know you can cook risotto in the oven? And that it comes out as delicious if not moreso because you can truly enjoy it without a sore arm from stirring? YOU CAN. ITS AMAZING. Life is better now. Risotto for everyone!
If you've been looking for a new seasonal side and you have a lot of feelings for risotto and squash, this is all you'll ever need. So easy it's not even fair. A few simple ingredients & 1/2 hour in the oven is all you need.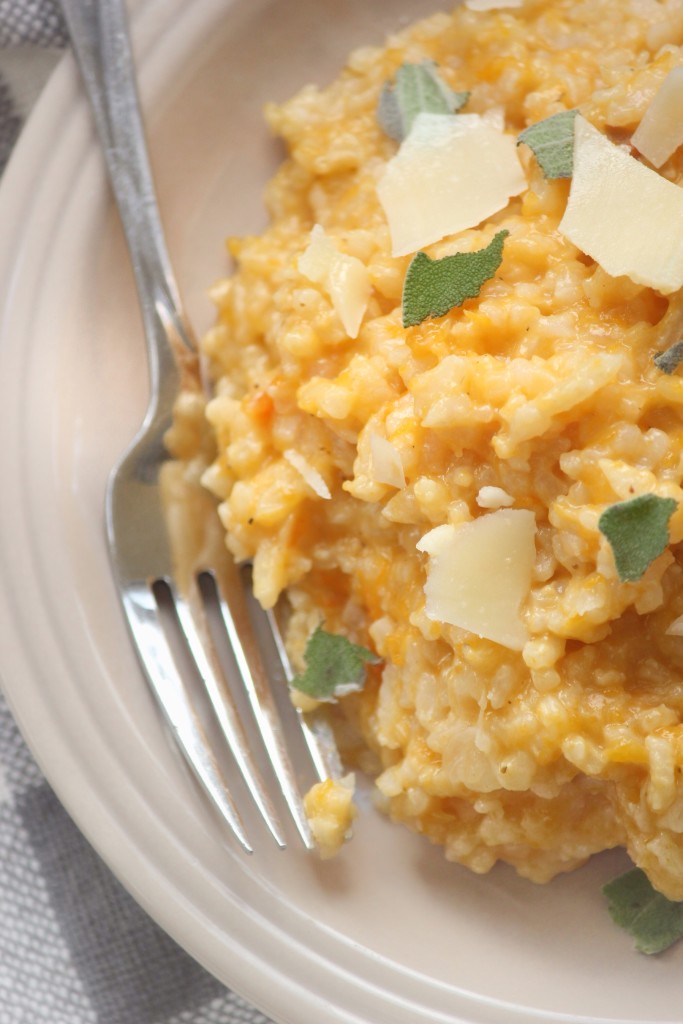 Oven-Baked Butternut Squash Risotto
2016-11-05 14:07:29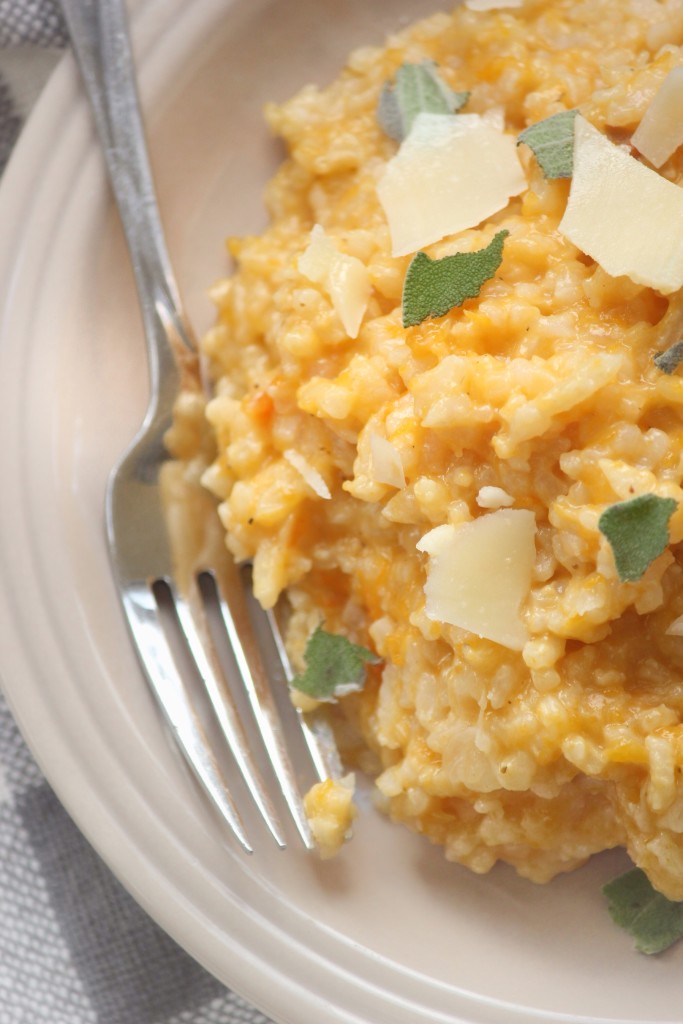 The easiest and most delicious Butternut Squash Risotto you'll ever eat - or prepare!
Ingredients
3 tablespoons butter
1/2 large onion minced (1 cup)
1 large garlic clove, minced
2 sage leaves (or more depending on how you like the flavor of sage)
1 teaspoon salt
1/2 teaspoon ground black pepper
1 cup arborio rice
3 cups chicken stock
1 cup roasted butternut squash purée* see notes
1 cup grated parmesan cheese plus more for serving
Instructions
Preheat oven to 350 degrees.
In a large Dutch oven or heavy bottomed pot, melt your butter over medium heat. Add the minced onions and cook in the butter until translucent (about 5 minutes). Add your garlic, sage leaves, salt and pepper and cook for one additional minute until garlic is fragrant.
Add your cup of arborio rice and coat in the butter and onions until rice is shiny and fully coated. Add your three cups of chicken stock and bring mixture to a boil.
Once boiling, place mixture in the oven and cook, covered, for 1/2 hour. After 1/2 hour, remove from the oven. Stir in your butternut squash and Parmesan cheese and mix until squash and cheese are fully combined. Serve hot with parmesan cheese.
Notes
There's a couple ways you can get your butternut squash puree ready.
1) Slice a butternut squash in half down the middle (lengthwise) and roast in the oven at 350 degrees for an hour and a half. You can scoop the squash out of the skins and store it in the fridge or freeze it.
2) Peel a butternut squash and slice it into cubes, roasting in the oven at 350 degrees for 25-30 minutes, until cubes start to turn golden brown and caramelize. Once roasted, toss them in the food processor to form your puree.
And They Cooked Happily Ever After http://www.andtheycookedhappilyeverafter.com/