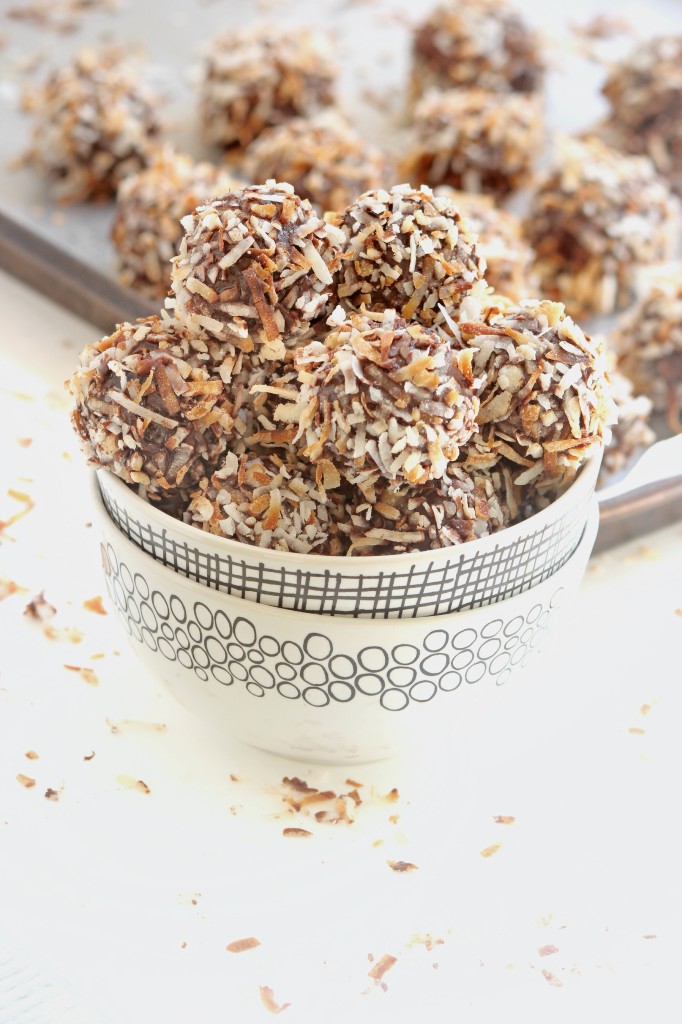 I have an overdue oil change to thank for these beauties. I won't even tell you how overdue. But it was time to get some new oil in my whip. And while I was waiting for 'er to be all freshly oiled up, I saw this Big Ass Donut Cake from A Cozy Kitchen on Insta. Sweet baby jesus. I don't know if it was because I was in the middle of a dirty garage with nowhere to sit, or that it was lunch time, or that I flat out just freaking love donuts. But this post spoke to me.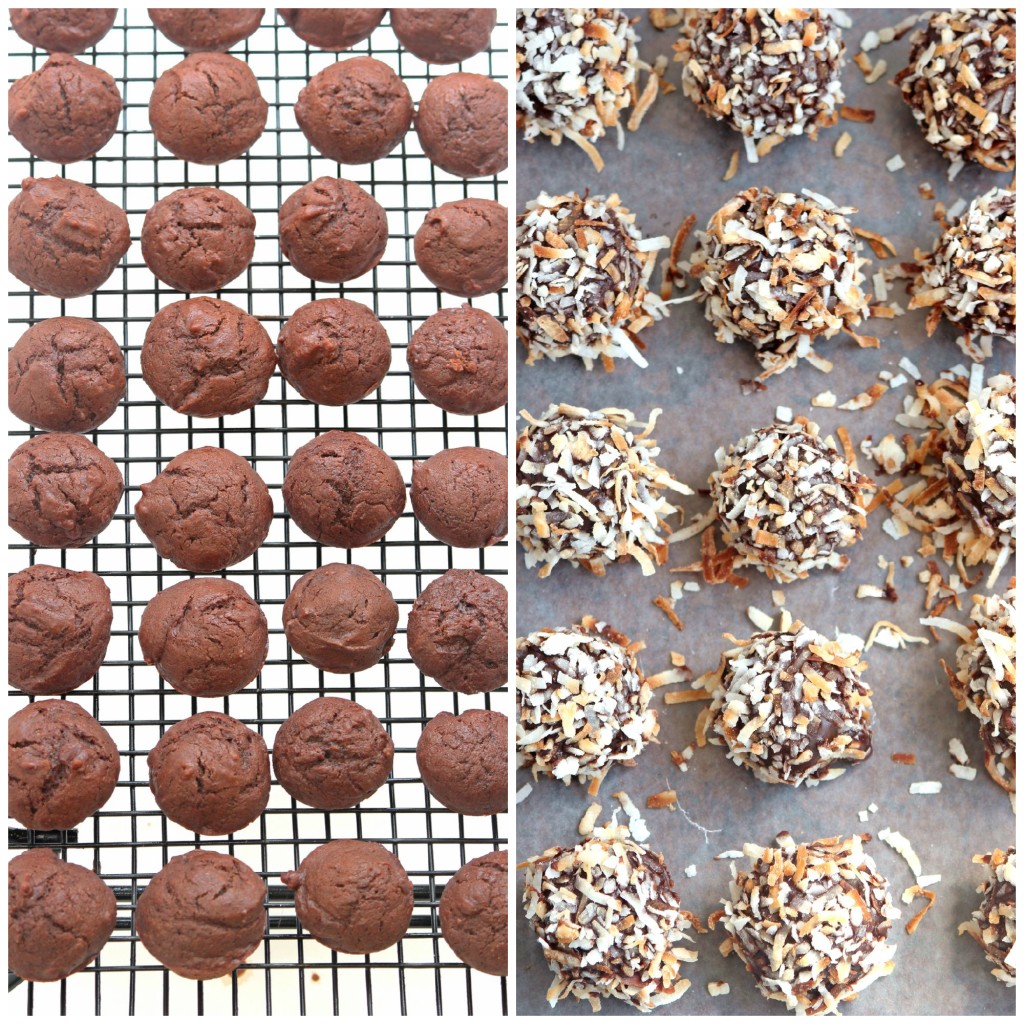 And I listened.
Instead of the cake, I made donut holes. And then glazed them. And then rolled them in some toasted coconut. If you don't like toasted coconut, there's about a bajillion other things you could dress these in. Or you could just leave them plain with glaze. Either way, you won't be sorry. They're easy to put together and the recipe makes a TON of donut holes, perfectly sized for face stuffing.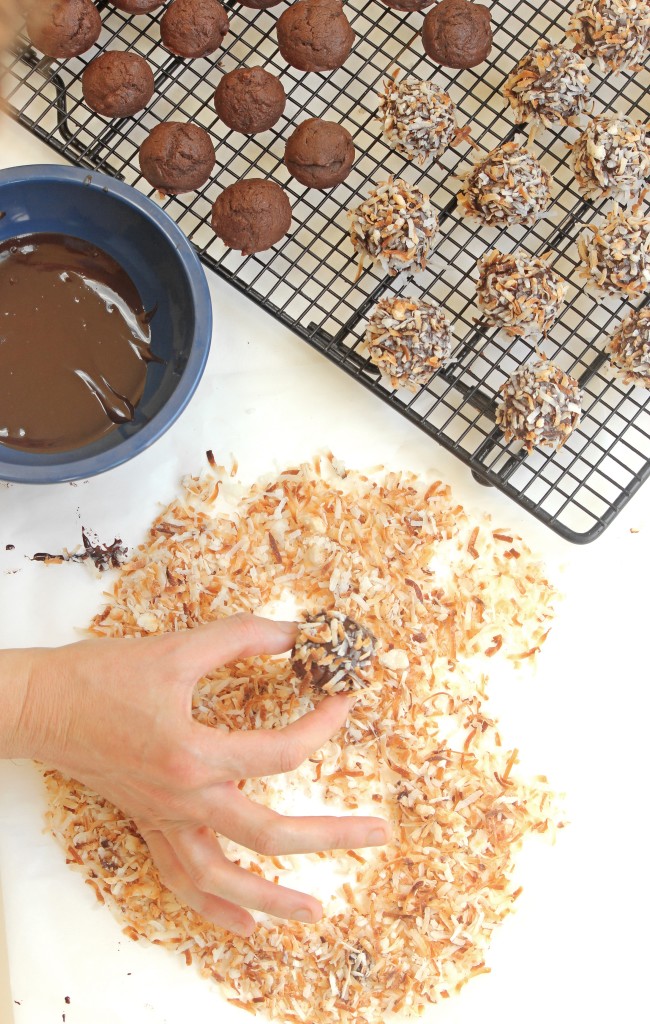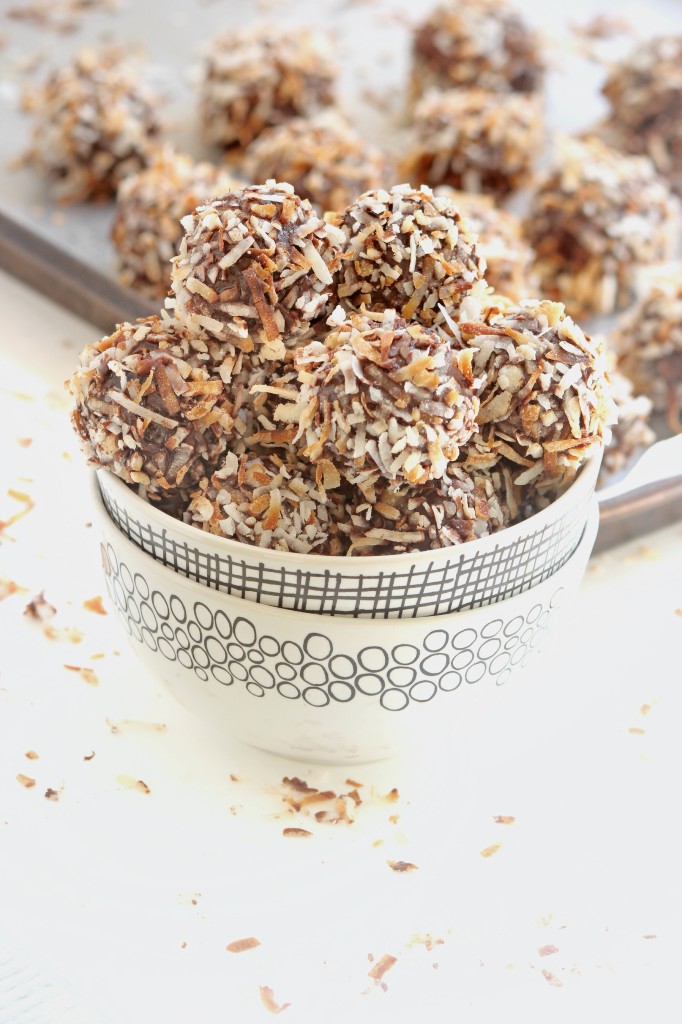 Double Chocolate Toasted Coconut Donut Holes
2015-08-24 16:26:22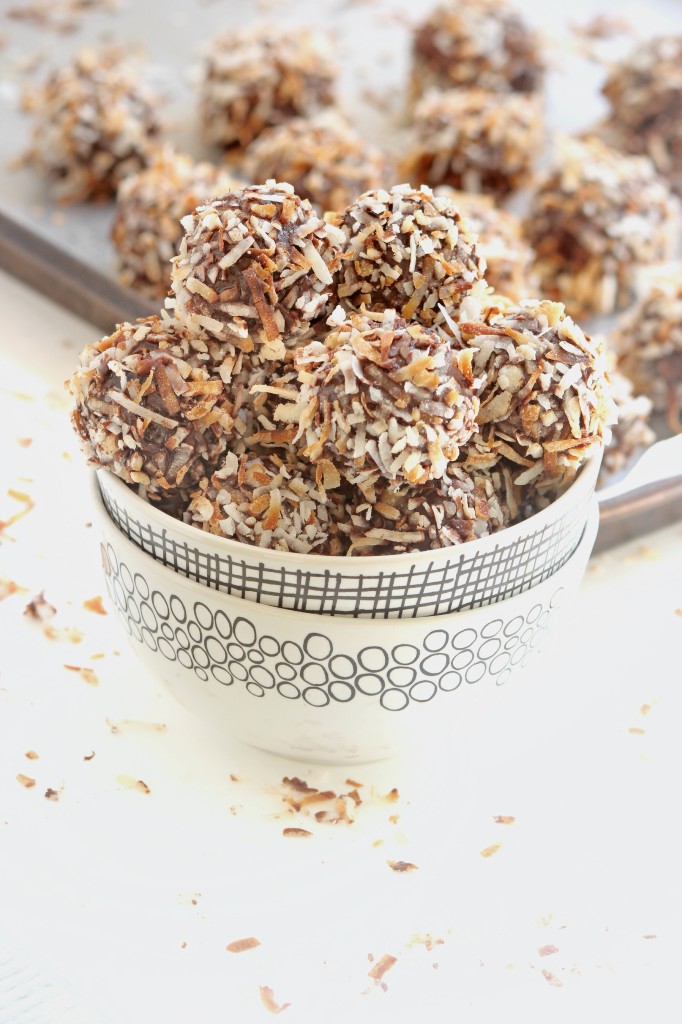 Your very own homemade Chocolate Glazed Donut Holes with a touch of toasted coconut - wow the crowd at your next breakfast party!
For the donut holes
1 & 3/4 cups all-purpose flour
1/4 cup unsweetened cocoa powder
1 teaspoon baking powder
1/2 teaspoon baking soda
1/2 teaspoon salt
6 tablespoons unsalted butter
4 ounces dark chocolate (I used a Ghiradelli bar – you could use chips too)*
1 cup light brown sugar, loosely packed
2 large egg yolks
1 cup buttermilk, shaken (I just did this in a mason jar)
2 teaspoons vanilla extract
For the chocolate glaze
2 cups powdered sugar, sifted
½ cup cocoa powder
2 teaspoons vanilla extract
4 to 6 tablespoons milk or water
For the toasted coconut
2 bags of sweetened coconut
Instructions
Preheat your oven to 350 degrees F. Spray a 24-count mini muffin tin with non-stick cooking spray and set aside.
In a medium bowl, whisk together the flour, cocoa powder, baking powder, baking soda and salt. Set aside.
In a medium saucepan, set over medium heat, add the butter. When melted, add the chocolate chunks or chips. Allow to melt for a minute or two without mixing and then mix with a spatula until smooth. Turn the heat off and then rapidly stir in the brown sugar and egg yolk. Lastly, whisk in the buttermilk and vanilla extract.
In one batch, add the chocolate mix to the dry and mix just until you no longer see any speckles of flour. Fill the mini muffin holes with ½ tablespoon of the batter (should just barely hit the top of the muffin tin). Bake the donut holes in the oven for 5-6 minutes. DO NOT OVERBAKE. They may appear to be a bit undercooked, but you really don't want to dry them out. Remove donut holes from the tin and let cool on a wire backing rack. Bake the donut holes in batches until all your batter is gone (you should end up with about 5 dozen, give or take a few that you eat while they're cooling).
Once all your donut holes are done, prepare your glaze and toasted coconut. First, lay your coconut on parchment paper lined baking sheet in a single layer. Place it under a low broiler for about 2 to 3 minutes, watching to make sure it doesn't burn. The minute it starts to turn brown, you want to take it out of the oven as the coconut will burn really fast.
Prepare your glaze by whisking together the powdered sugar, cocoa powder, vanilla extract and 4 tablespoons of milk. Add more milk or water, one tablespoon at a time, until it reaches a thick yet dunkable consistency.
Dip your donut holes in the glaze, covering completely, then roll them in the toasted coconut, pressing them into the coconut to cover completely. Let sit for 10 minutes or so to allow the glaze to set, then serve!
Adapted from A Cozy Kitchen
Adapted from A Cozy Kitchen
And They Cooked Happily Ever After http://www.andtheycookedhappilyeverafter.com/