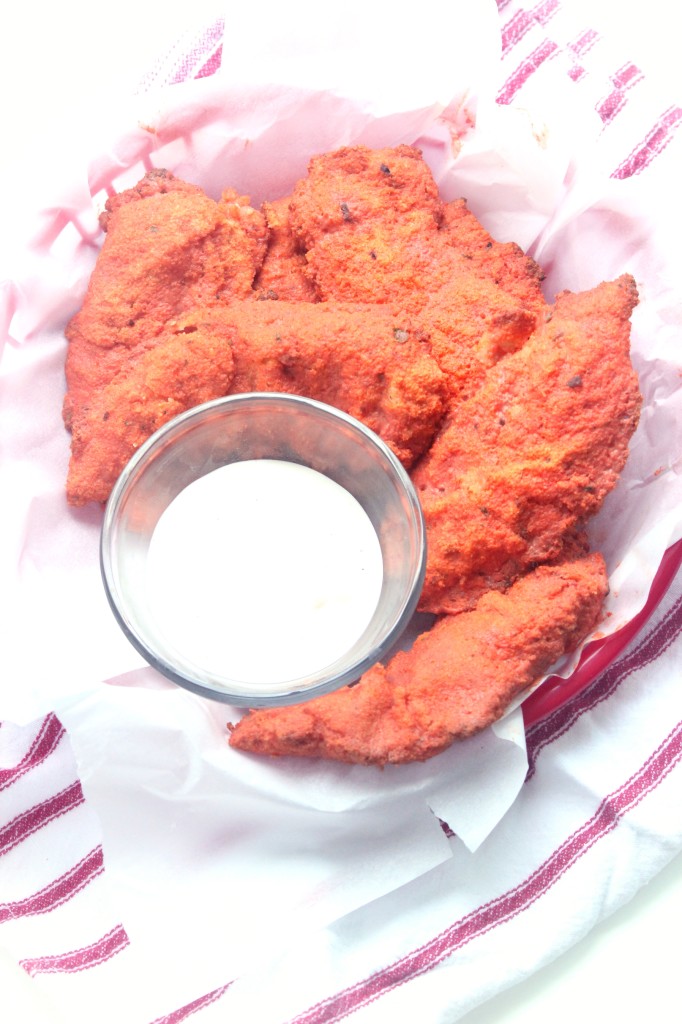 BUFFALO'S BACK BOYEEEES (and girls). There's this weird thing that happens every time Dave tells me that he's gonna be late at work and that I should eat dinner without him. I instantly think "Buffalo Chicken time!". Not that he doesn't like buff chick, but he doesn't love it nearly as much as I do. So while he slaves away at work, I sit home with the remote all to myself, and Frank's hot sauce all over my face.
Don't tell him – mmkay?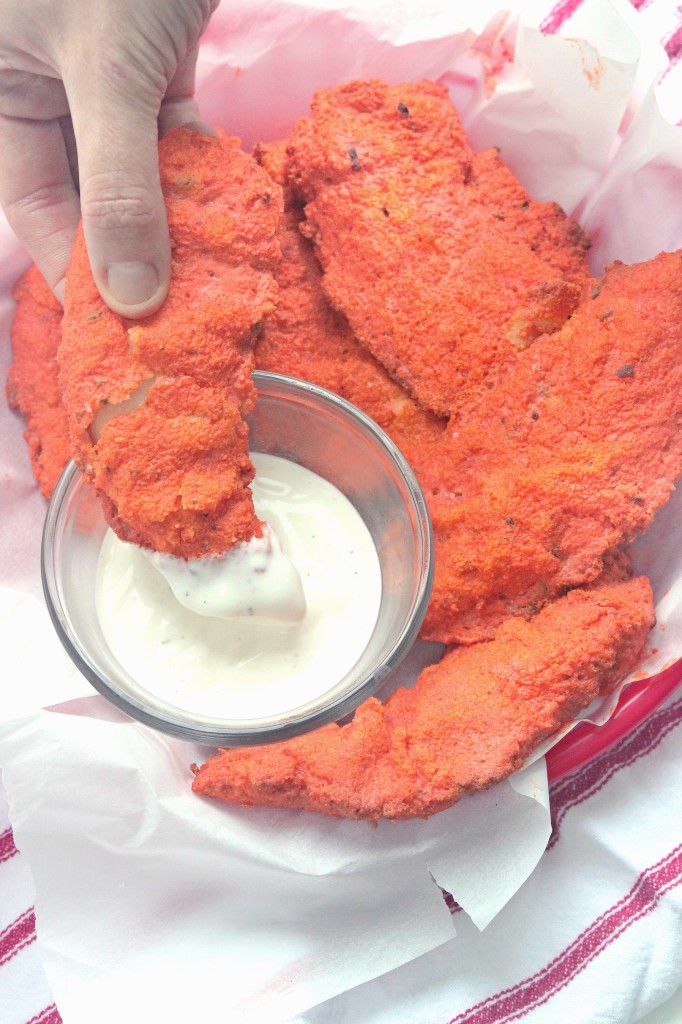 Last night, I had these chicken tenders sittin' in the fridge that I wasn't 100% sure what I was gonna do with. So I made them into these magically delicious Buffalo Chicken Tenders, on the table in 30 minutes, maybe a millisecond less! I cut them up, threw them on a salad – Dave? Dave who? (JK I totes love eating dinner with him).
These are perfection. I've made a lot of chicken fingers in my time, and the thing I love about these is that the batter actually stays on! Having them propped up on the wire rack vs. directly on the foil really helps them to not get all soggy on the bottom. You could make these on a Sunday and bring them to work for the week – make them for the kids – did I mention football season was looming? Nothing says 'touchdown' like buffalo goodness! Store and restaurant tenders will never taste the same. And since they're baked instead of fried, you can have an extra fingah (or two).
They're fingahhh lickin' goooood ma' fraaaaans.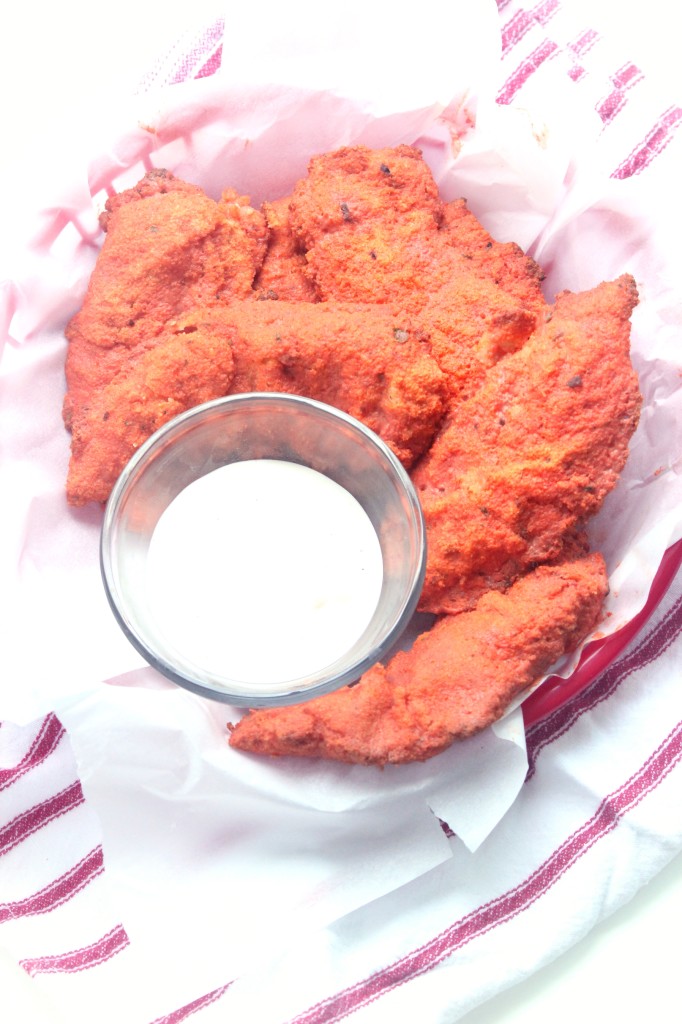 Easy Homemade Baked Buffalo Chicken Tenders
2015-08-11 17:28:28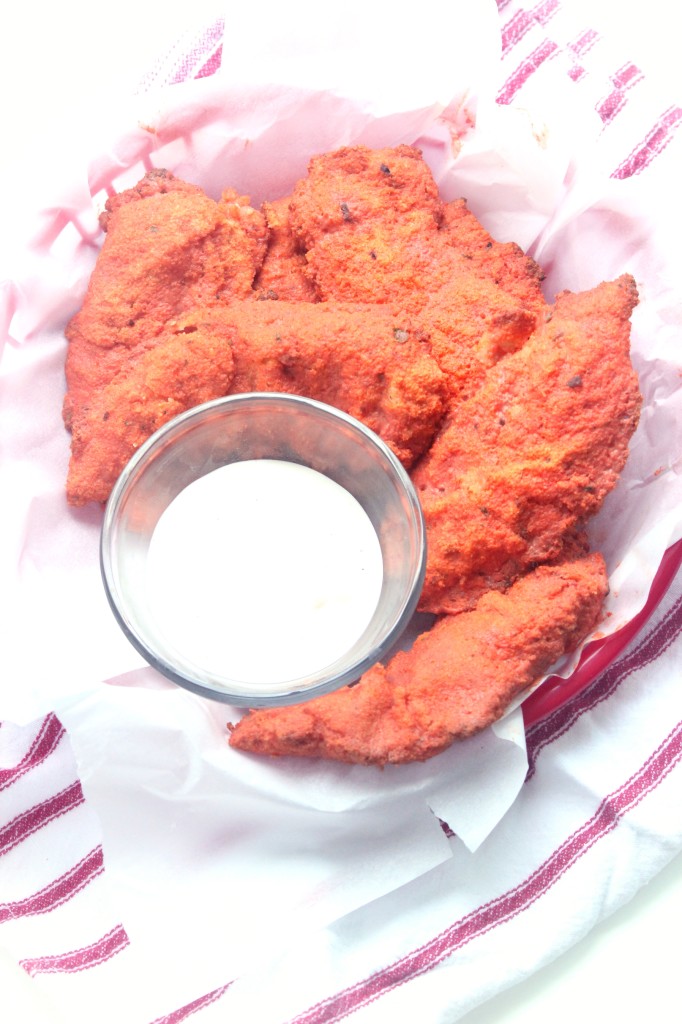 See ya never store-bought Buffalo Tenders - these are quick, easy, require very few ingredients, and are on your table in 30 minutes or less!
Ingredients
1 lb. 99% fat free boneless skinless chicken tenders
1 cup all-purpose flour
1/2 cup fat free buttermilk
2 eggs
1 teaspoon salt
1/2 teaspoon ground black pepper
1/2 cup cornmeal
1/2 cup seasoned breadcrumbs (I used regular, but Panko would work really well too)
1 cup Franks Hot Sauce (not wing sauce)
2 tablespoons light ranch dressing, plus more for dipping
Instructions
Preheat your oven to 450 degrees F. Line a baking sheet with aluminum foil and then place a wire baking rack on top of the baking sheet and spray with non-stick cooking spray.
Get out 3 shallow bowls or dishes. Place the flour in one. Then in another, whisk together the eggs, buttermilk, salt and pepper. Then in the last dish, combine your cornmeal and breadcrumbs until evenly mixed.
Coat each chicken tender in the flour, shaking off the excess. Then, dip in the buttermilk/egg mixture, shaking off the excess. And then press in the dish with the breadcrumb mixture, pressing to coat the entire tender in breadcrumbs. Place each tender on the wire baking rack.
Bake the tenders for 8 minutes. After 8 minutes, flip them to the other side and bake for another 8 minutes.
While the tenders are baking, mix together your hot sauce and ranch dressing. Feel free to adjust for taste. When the tenders are done bakin, with a pair of tongs, dip each baked tender in the hot sauce, submerging completely to coat the entire tender, and then place them back on the wire rack.
Bake for an additional 5 minutes. Serve hot with ranch dressing on the side.
Adapted from Pinch of Yum
Adapted from Pinch of Yum
And They Cooked Happily Ever After http://www.andtheycookedhappilyeverafter.com/