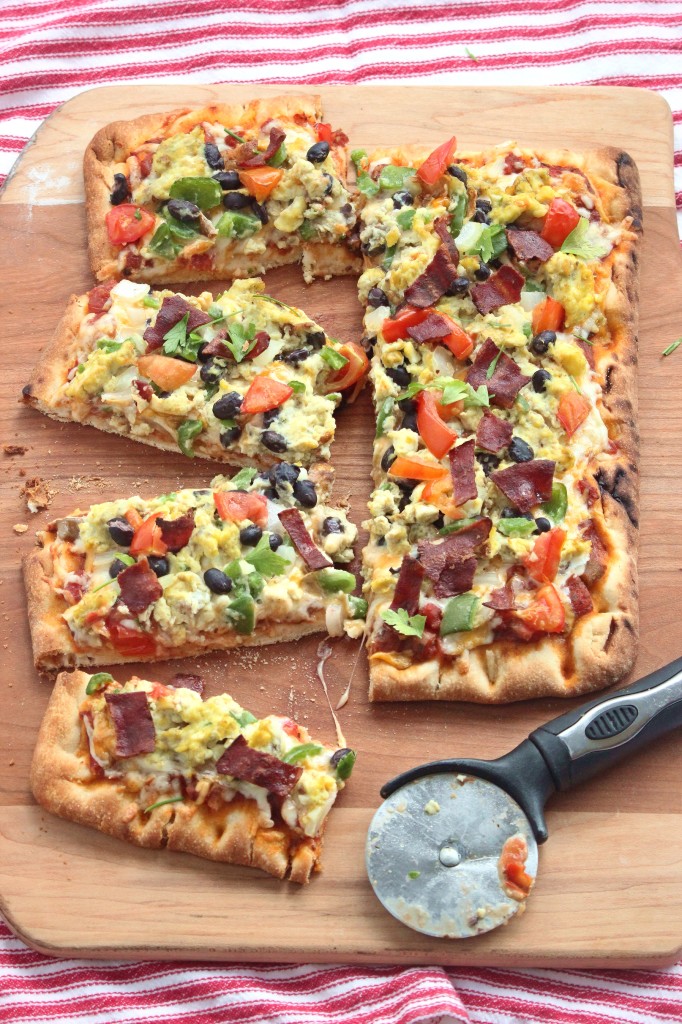 GUYS. I know. It's been a while. MISSED YOUUUU! But I'm back – with breakfast – and pizza – TOGETHER ("clean up on aisle 4 – I have some blown minds here").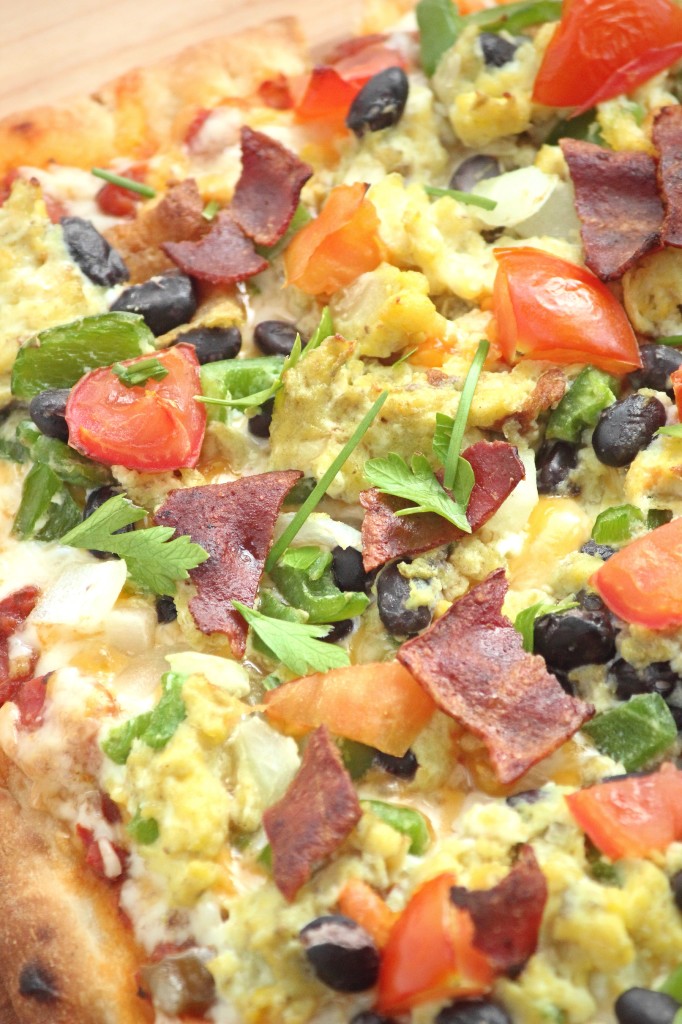 Anyone who follows me on Insta saw this post some weeks ago. Dave and I had one of those head-scratcher kinds of nights where I was like "So yeah, dinner – um….yeah". Like when you open your fridge at least ten times, expecting that each time you open it, something different will be there. But I saw eggs – and some salsa – and a Stonefire Pizza crust in the freezer. And the wheels started a turnin'. I'm honestly obsessed with these premade crusty wonders. They are perfect on so many occasions – when you need to throw a quick app together for a cocktail party – or if you're just looking for a change from your brown bag lunch. OR when it's 7:30 on a Tuesday and divorce is on the horizon (not speaking from experience – nahhh).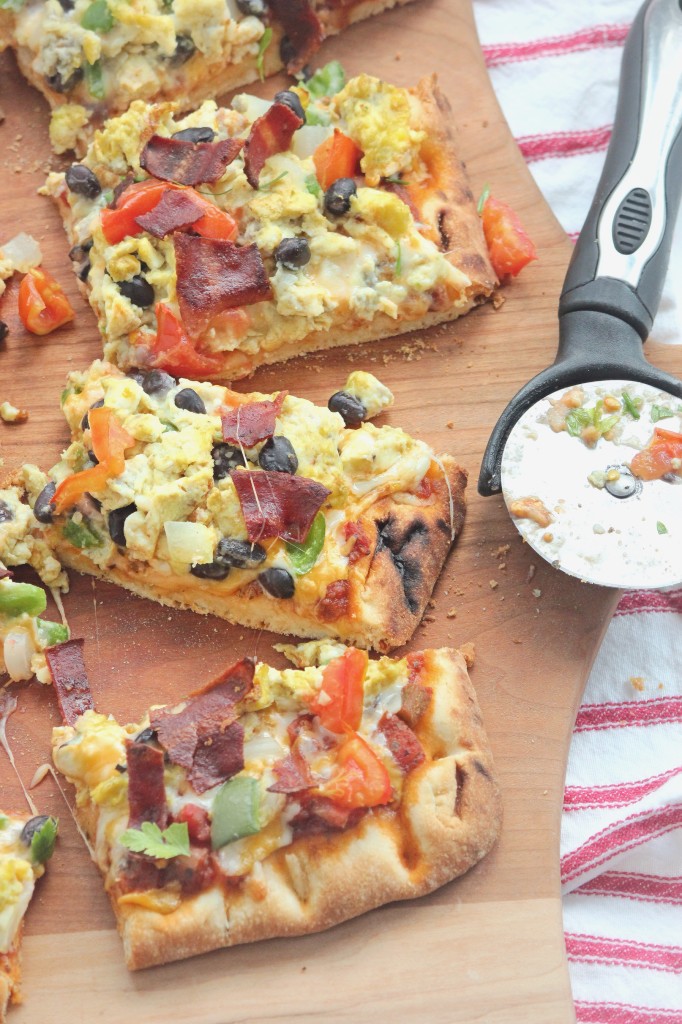 This Breakfast Pizza is bringing sexy back to 'breakfast for dinner' – or even your next brunch with pals. The best part is that you can make it literally a zillion different ways. This one is kind of a spin on one of my fave b'fasts, Huevos Rancheros, but you could make it all meat – throw some potatoes on there – make it all veggie. GUYS the world is your PIZZA OYSTER.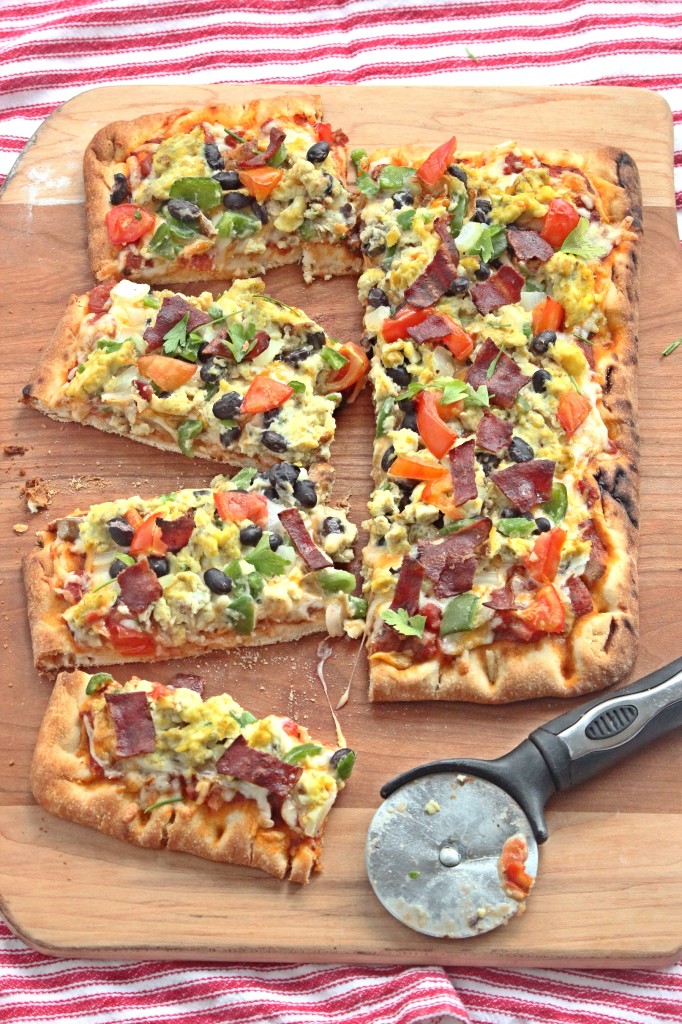 Quick and Easy Breakfast Pizza
2015-08-05 17:31:31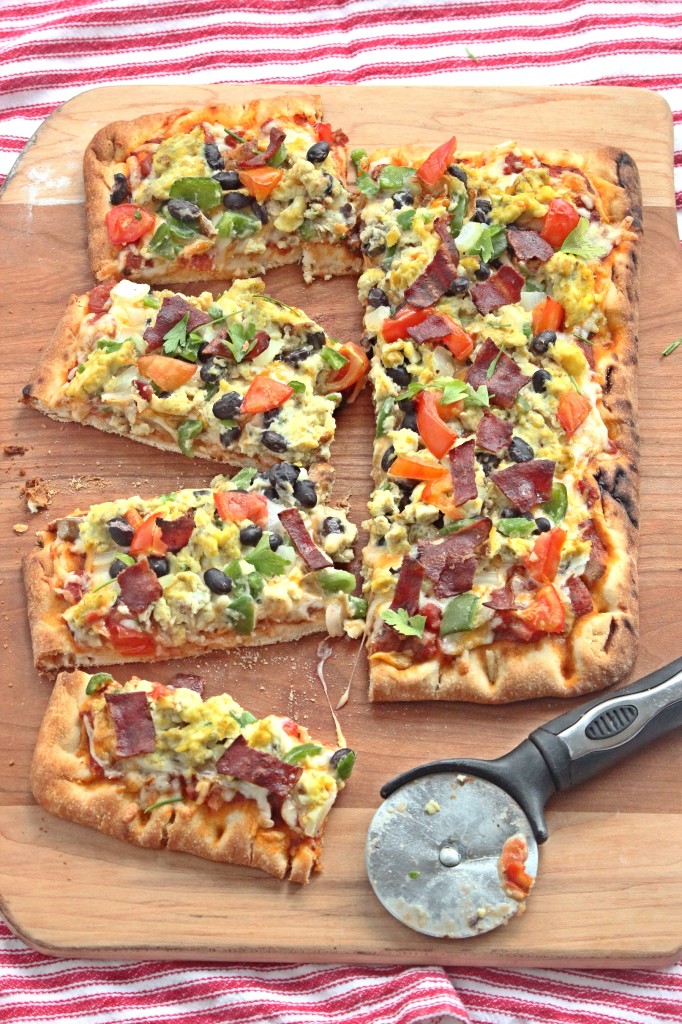 Serves 2
Dinner is SAVED! Breakfast pizza is quick, easy, fun to eat, and on your dinner table before the family starts throwing stuff at you
Ingredients
1 square (or round) Stonefire Pizza Crust
1 small garlic clove, minced
1/3 cup chopped green pepper (about 1 small pepper)
1/3 cup chopped yellow onion (about 1/2 large onion)
1/3 cup black beans
2-3 small tomatoes, diced
3-4 slices cooked turkey (or regular) bacon, chopped
4 eggs
1/3 cup skim milk (or whole, whatever you have)
salt and pepper to taste
2/3 cup of your favorite salsa
1 to 1.5 cups of shredded mexican cheese
*herbs of choice for garnish (I used some chives and cilantro)
Instructions
Preheat your oven to 400 degrees F.
Spray a medium skillet with non-stick cooking spray and heat to medium. Saute your garlic, pepper, onion and black beans over medium heat for about 1-2 minutes. You're really just warming them up, not necessarily cooking them through. While the veggies are saute'ing, whisk together your eggs, milk and salt and pepper to taste in a small mixing bowl.
Add your whisked eggs to the veggies in the skillet and let sit for about 1 minute without touching. I find that the less you touch your eggs while they're cooking, the more fluffy they'll be. With a rubber spatula, gently fold your eggs a few times until they break up into large chunks and are no longer liquidy.
Remove your crust from the freezer (or if it's at room temperature that's ok too). Spread the salsa out over the crust. Then, sprinkle the mexican cheese over the salsa. Then, add the scrambled egg mixture on top of the cheese. Sprinkle your chopped tomatoes and bacon pieces over the egg (I prefer not mixing the tomatoes in with the eggs and veggies to avoid the eggs getting mushy - feel free to mix them all together if you like).
Place the pizza directly on the rack of your oven (this will yield a crispy crust - they give you a full set of instructions on how to reach desired crust consistencies). Bake for 13-15 minutes until cheese is melted and the edges of the crust start to brown. Remove from the oven. Let sit for about 5 minutes, then sprinkle with herbs of choice, cut and serve.
And They Cooked Happily Ever After http://www.andtheycookedhappilyeverafter.com/