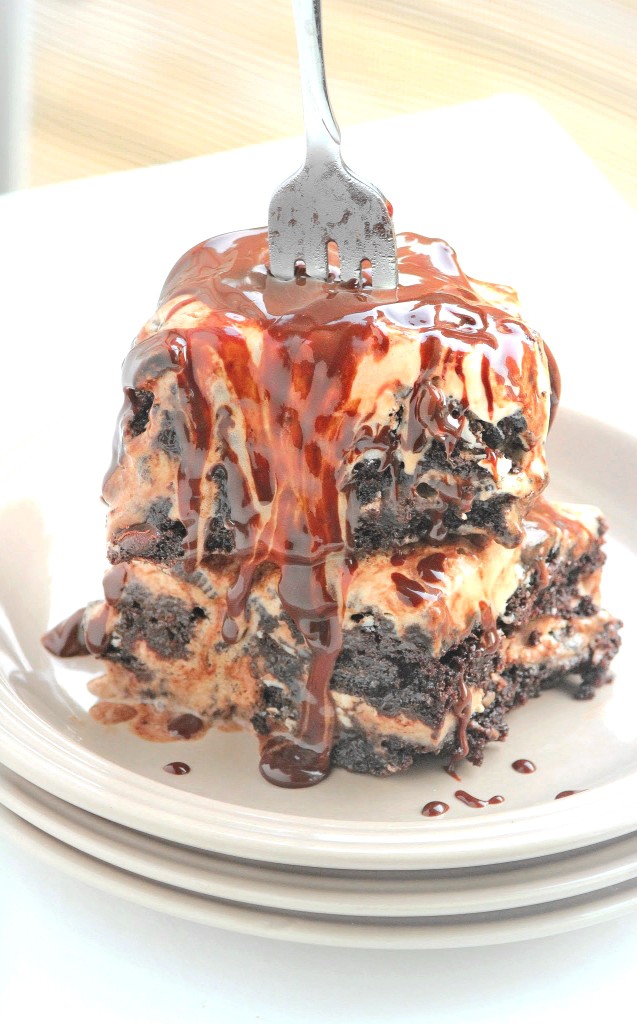 Dave's birthday was last week. What'd we do to celebrate?
(Oh, we ate BBQ too)
Dave's not a huge dessert person, but any chance I have an actual reason to whip up a dessert, I do! And so "Dave's Birthday Cake" (I didn't even have candles. #WifeOfTheYear) was this quick and easy Ice Cream Mud Pie – layers of brownie – oreo- coffee ice cream- and of course, shameful hot fudge drizzzzzlage.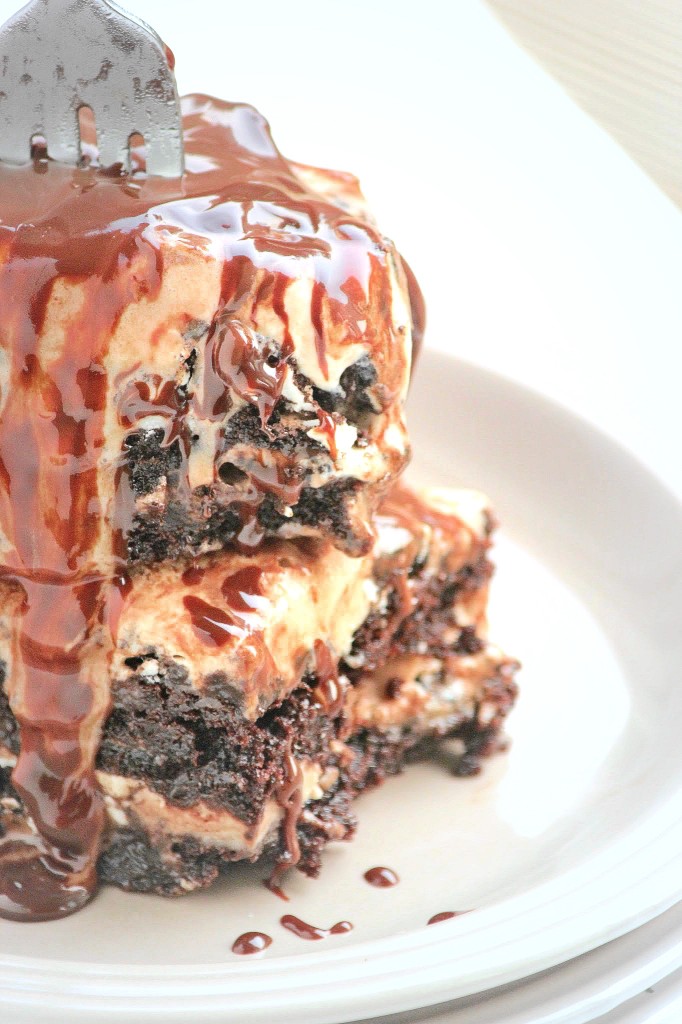 Wish that special someone in your life who could care less about dessert a happy 'whatever' day with it. Chances are, you'll get to eat their piece!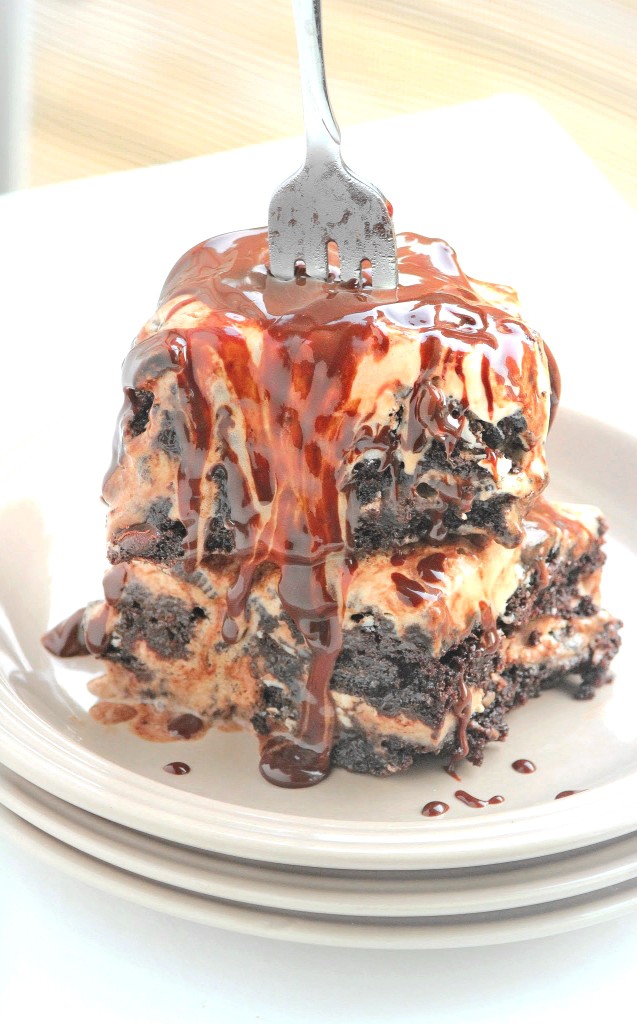 Easy Ice Cream Mud Pie
2015-07-06 17:06:45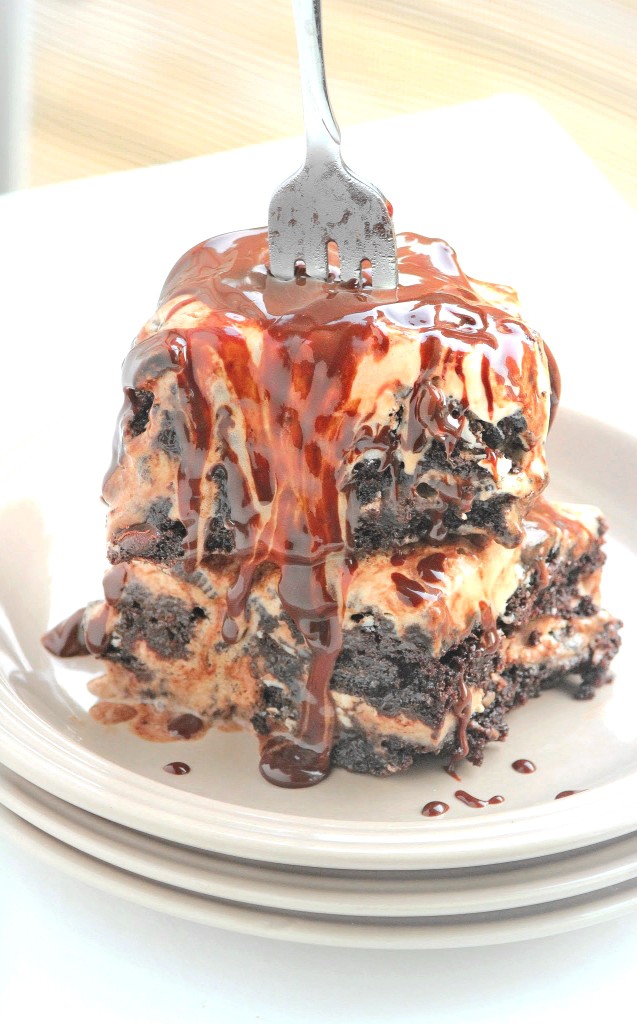 Serves 10
If you like all things melty, gooey, ice creamy and chocolate'y, than you're gonna want to make this quick and easy Ice Cream Mud Pie
Ingredients
1 batch of your favorite boxed brownies, prepared according to instructions ("cake like" vs. fudgey)
24 oreo cookies, smashed into pieces
1 quart coffee ice cream (you could really use any flavor you like)
Hot fudge (as little or much as you like)
Instructions
Prepare your boxed brownies in an 8x8 or 9x9" baking pan. Be sure to line the pan with foil before baking - this will help you to remove the brownies from the pan easily when it's time to cut them. You also want to prepare the 'cake like' version vs. fudgey, as it will make them a bit fluffier and easier to cut.
Let your brownies cool to room temperature. With about 10 minutes left for your brownies to cool off, take your ice cream out of the freezer to let it soften. You want it to not be completely melted, but melted enough so that you can spread it easily.
Place your oreos in a ziplock bag and smash them (gently!) with a large wooden spoon or another flat object. Smash them until they reach your desired size. I like to leave mine 'chunky' vs 'crumb like', but that's up to you! If you like a really fine oreo crumb, you can food process them.
Once your brownies have cooled and your ice cream has softened, pull the sides of the foil and lift the brownies from the pan. Take a sharp knife and slice the brownies in half, horizontally, down the middle, so that you have two layers of brownie.
In the same pan that you baked your brownies in, start layering your mud pie, starting with a layer of brownie on the bottom, than a layer of oreo pieces, then spread about 1/2 the quart of ice cream over the oreos. Repeat layers so that the ice cream is on the top. Return mud pie to freezer until ready to serve.
When ready to serve, let sit for about 5 minutes to soften a bit. Drizzle with hot fudge and serve!
And They Cooked Happily Ever After http://www.andtheycookedhappilyeverafter.com/