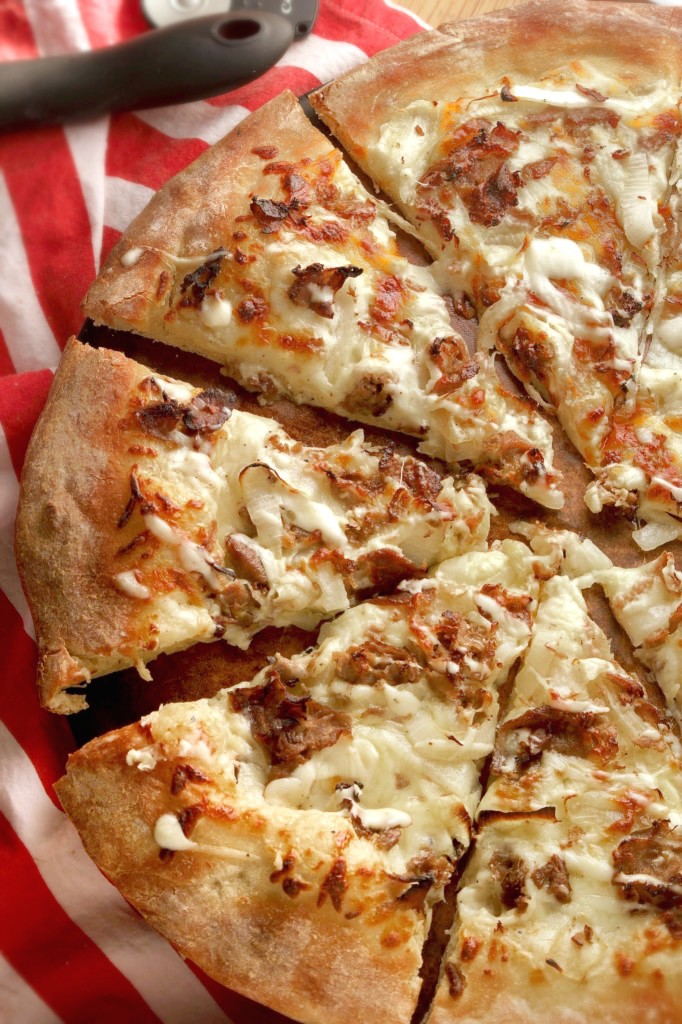 One of our (orrrr maybe just my) biggest fears when we moved out to the big bad suburbs was not having a 'place' to go. That on any night of the week when you felt like turkey burgers weren't gonna cut it, you could go to said place and it'd be close by, a place you could count on to be delicious every single time, and in your head you could hear the lyrics to the 'Cheers' theme song playing every time you stepped through the door (well, maybe that's a stretch).
We had heard whisperings of this place in Hudson called
Rail Trail
that had an outstanding beer selection, a fabulous atmosphere and flat bread combos that would make your head spin. We tried it out our first weekend after moving in and ladies and gents….WE HAVE A 'PLACE'. We daydream about it on weeknights – have told every fellow 'suburbanite' we know about it – and even though we're not quite considered 'regulars' yet, we're gonna make it our life's mission to become them (#dreambig).
One of their most famous flatbreads is the 'Steak in the Grass', a play on a philly cheesesteak slapped on top of a pizza. But like way better than Papa John would do it. I decided to give it a whirl at home last pizza-friday (its not just friday – its pizza friday) and it was DEEElish!
Pepperoni's great, yeah – but give this guy a try. You won't be mad you did.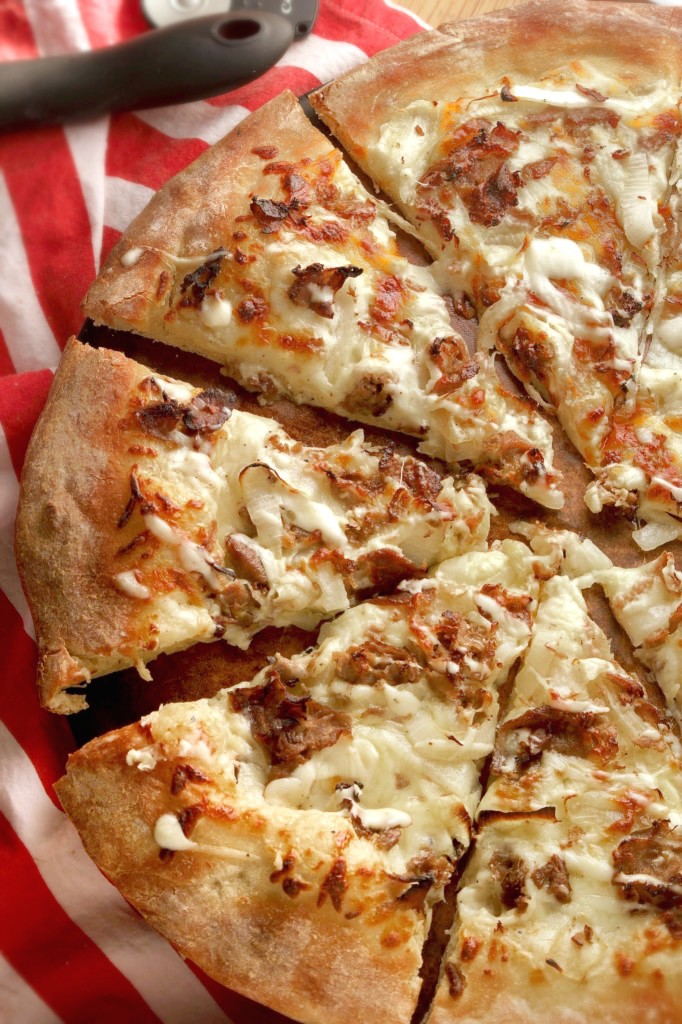 Philly Cheesesteak Pizza
2015-03-26 18:10:11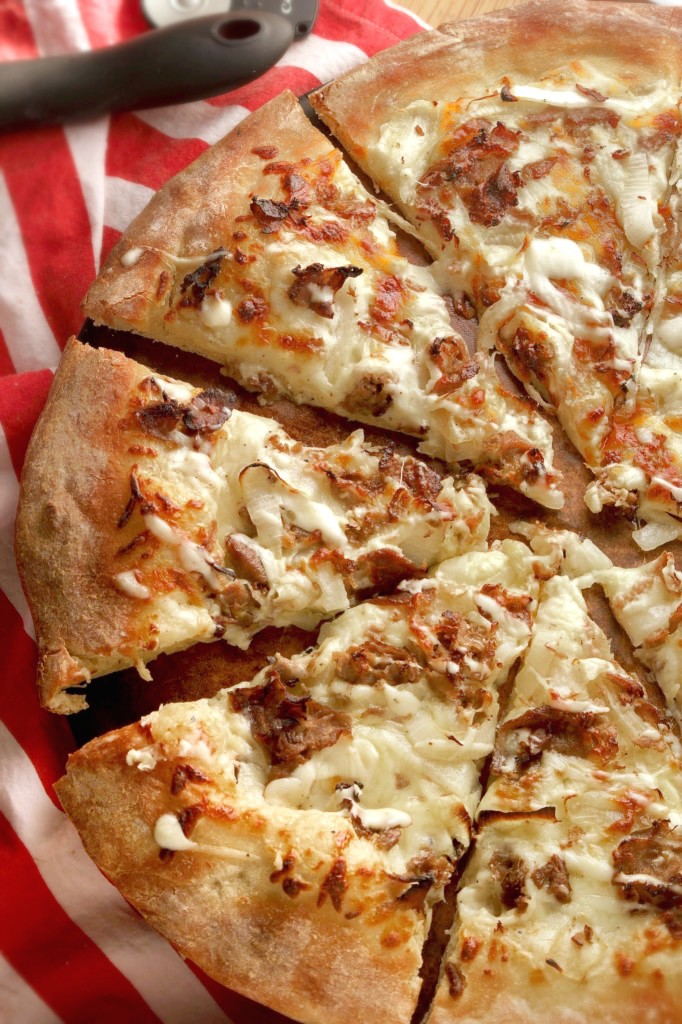 A classic sandwich in pizza form - shaved steak, onions and cheese sauce on top of your favorite dinner and mine on Friday nights, PIZZA
For the pizza
1 ball of your favorite pizza dough
1 tablespoon olive oil
1lb thinly sliced steak (most likely called 'shaved steak' in the meat section)
1/2 large onion, sliced
1 large garlic clove, minced
salt & pepper to taste
2 cups pizza cheese (I used a mozzarella/provolone mixture)
cheese pizza sauce (recipe below)
For the cheese sauce
2 tablespoons unsalted butter
2 tablespoons flour
1/2 teaspoon salt
1/4 teaspoon black pepper
1 cup skim milk (or regular is fine - we only had skim and it worked just fine)
1 large garlic clove minced
1/2 cup shaved parmesan cheese (you could use grated too)
Instructions
Preheat your oven to 550 degrees F.
Roll out your pizza dough onto your pizza stone.
In a large skillet, heat your olive oil over medium heat. Once heated, add your shaved steak, cooking until it's no longer pink. Then, turn heat down to low and add your sliced onion, minced garlic, a couple shakes of salt and pepper, and continue to cook until the onions shrink in size by about half (3-5 minutes), stirring occasionally. Lay your steak/onion mixture out on a paper towel and set aside.
Prepare your cheese sauce by melting the butter and garlic in another medium saucepan, stirring so that the garlic doesn't burn. When the butter has melted, whisk the flour into the butter until a pasty roux forms. Then, whisk in your milk and parmesan cheese, stirring until sauce starts to thicken.
Reserve 1/4 cup of your cheese sauce for drizzle and then spread the remaining sauce onto your rolled out pizza dough. Sprinkle with pizza cheese and then top with the cooked steak and onion mixture. Bake in preheated oven for 10-12 minutes, or until the cheese reaches your desired level of golden brown. Remove pizza from oven, drizzle with reserved cheese sauce, and serve hot!
And They Cooked Happily Ever After http://www.andtheycookedhappilyeverafter.com/