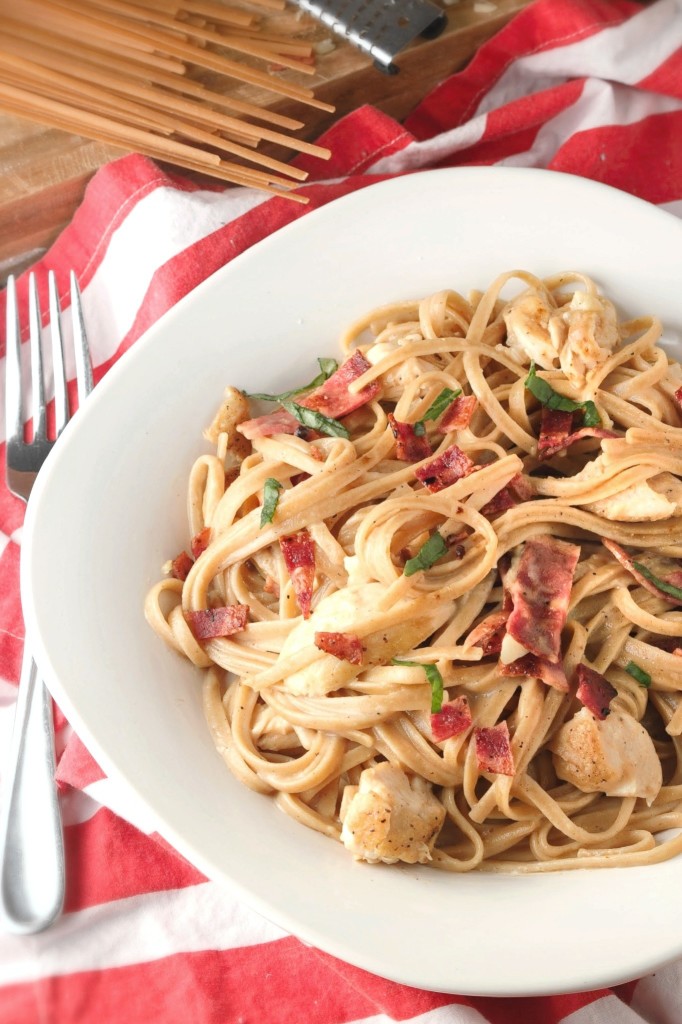 HAPPY NEW YEAR peeps! (I know – it's been 2015 for like 3 weeks now, get with the program Kate). Sorry – the usual excuses – holidays – cookies – too many cookies – at the gym to work off cookies – work busy season – more cookies – and wine….you know the drill.
ANYHOW, per usual, I'm in "Ew my pants are snug" holiday gluttony regret. Every year right before Thanksgiving I tell myself that I'm gonna take it easy with the edible and drinkable holiday cheer, and every year I seem to find myself in this exact same spot, wishing that I had listened to my mid-November, wiser and slimmer self. But alas – here we are.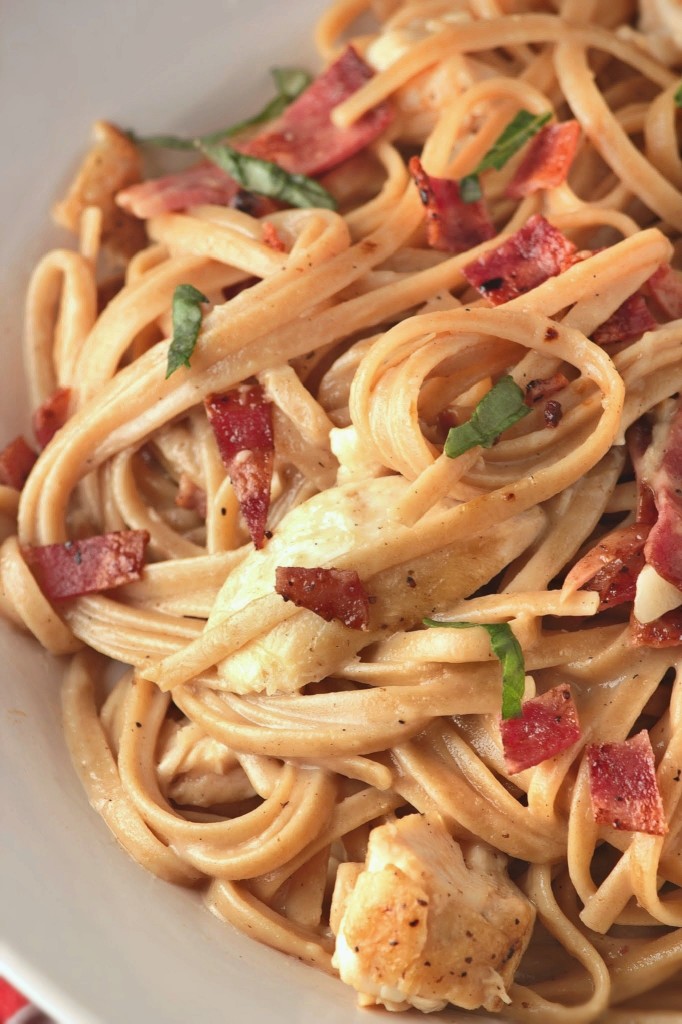 Luckily in this stage of life, I concocted this recipe for Lightened-Up Chicken Carbonara. I like chicken – and I like carbonara (i.e "a pasta sauce made with bacon or ham, egg, and cream" – thanks Webster). But Webster didn't mention that you can still make carbonara delicious by holding the heavy stuff and swapping it out with some lighter stuff. And trust me folks – we've had this twice in one week, and it is every bit as tasty and lick-the-bowl worthy.
Hope everyone's have a fab new year so far!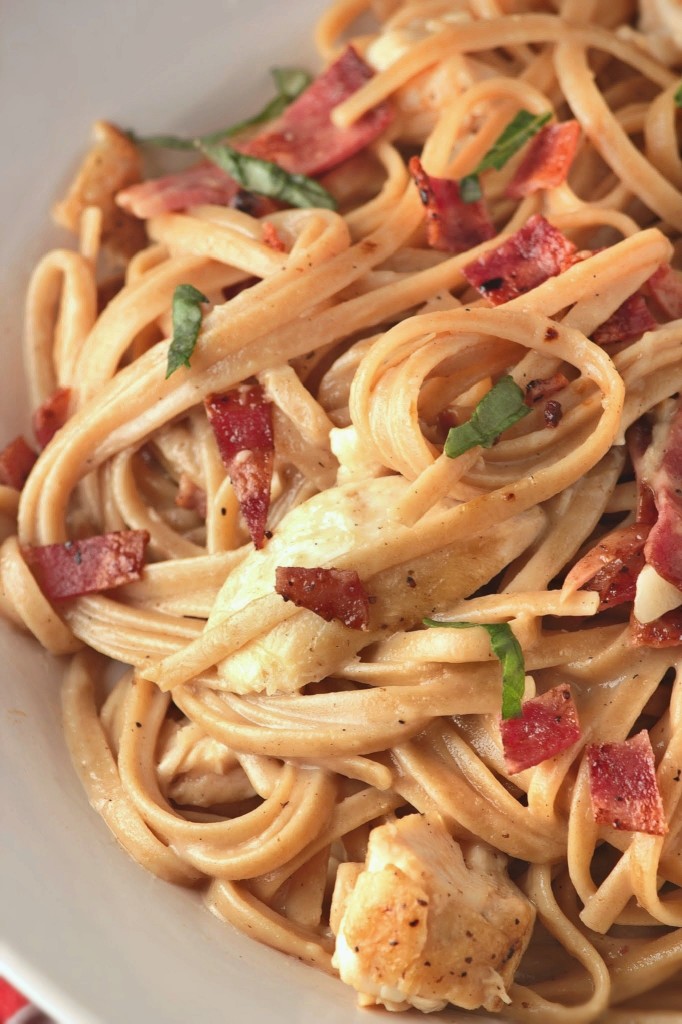 Lightened-Up Chicken Carbonara
2015-01-12 17:53:58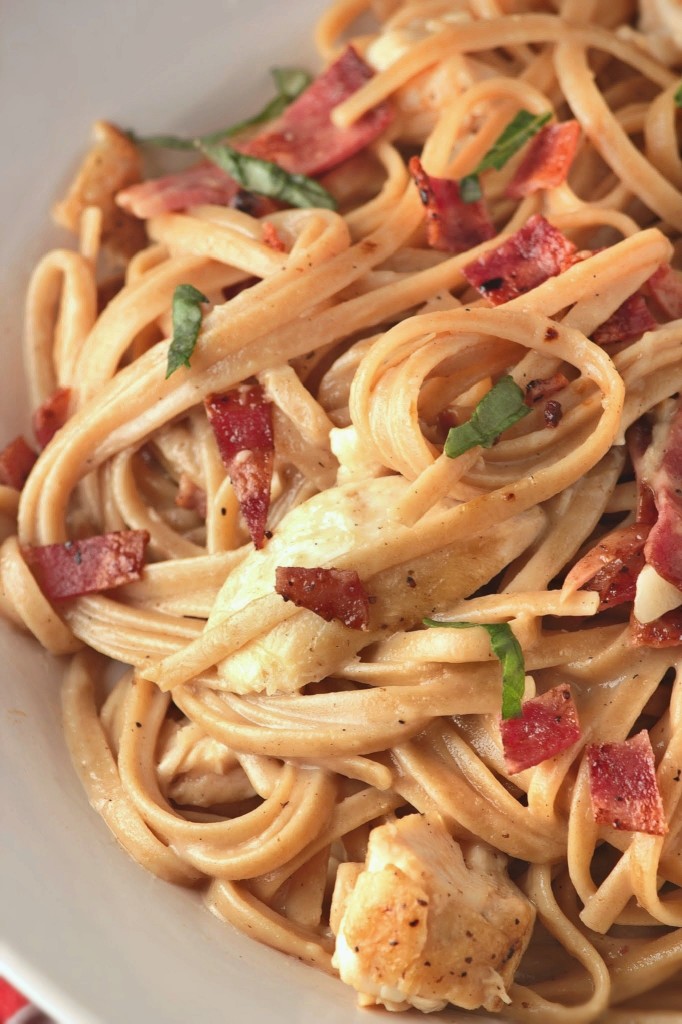 Serves 2
A lightened up version of a classic pasta dish that is perfect for those cold winter nights - and made with healthier ingredients for a win win!
Ingredients
8oz whole wheat linguini or fettucini (1/2 the box - you can use any pasta really – ziti or bow tie would work too)
5-6 slices turkey bacon, cooked crisp (add more or less bacon if you wish)
1 lb. 99% fat free chicken breast
salt/pepper
1 tablespoon butter
2-3 garlic cloves, minced (depending on your garlic tastes)
1 tablespoon flour
3/4 cup skim milk
3/4 cup chicken broth
3/4 cup freshly grated parmesan cheese
basil or parsley for garnish
Instructions
In a large pot of lightly salted water, cook your pasta until al dente, drain, and set aside. (try to time it so that your pasta is ready just around the same time as your sauce to avoid it getting too clumpy)
Cook your turkey bacon in a large skillet over medium-high heat until cooked through and crisp. Set aside on paper towels to soak up the grease and then chop bacon julienne style (or just crumble it). Set aside.
Turn skillet down to medium. Season your chicken breast generously with salt and pepper and then in the same skillet you cooked the turkey bacon, cook your chicken (about 3-5 minutes each side should do it). Remove chicken from skillet, slice into thin strips, and set aside.
In same skillet, melt your butter and garlic, stirring constantly to make sure the garlic doesn't burn. The skillet will be quite warm so the butter will melt fast. When the butter has melted, whisk the flour into the butter until thick, and then whisk in the skim milk, chicken broth and parmesan cheese. Bring to a rolling boil and then lower the heat and simmer until the sauce thickens, stirring frequently. When sauce has thickened to your liking (about 5-8 minutes should do the trick), fold in the cooked pasta, chicken and bacon. Season with additional salt and peper to taste, then garnish with fresh basil or parsley and serve immediately.
And They Cooked Happily Ever After http://www.andtheycookedhappilyeverafter.com/