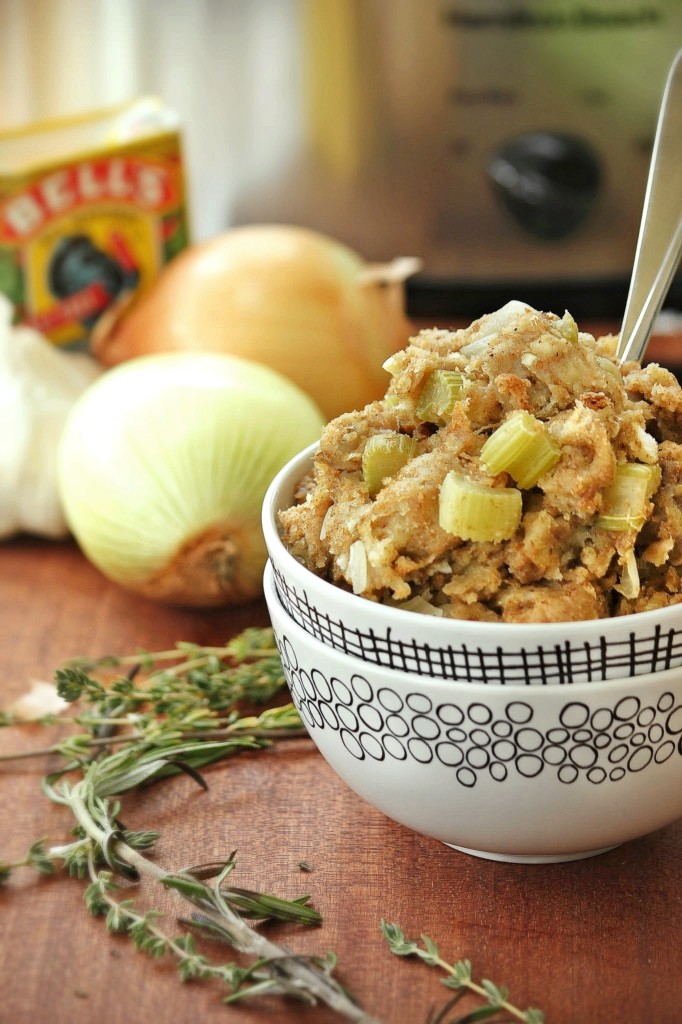 It's ironic that I waited until I moved into a house with two ovens to do a series on how to save time and oven/stove top space by making Thanksgiving dishes in your crock pot. But my crock pot and I are having a love affair lately – don't worry, Dave knows about it. And if there is any day of the year when your crock pot can really throw you a bone, it's Thanksgiving. Turkey – mashed potatoes – stuffing – squash – green bean casserole – dinner rolls – pies – cookies. All with one oven/stove top. And they all have to be ready at the same time. And hot. NBD.
But you can make this all happen – get all your favorite Thanksgiving dishes ready at the same time, piping hot and on the table to your family and friends without breaking a sweat. And you can do it by utilizing the crap out of your crock pot. These next few recipes are Thanksgiving classics that can be made in your crock pot, leaving you extra time, oven space, and the most important thing at any holiday, your sanity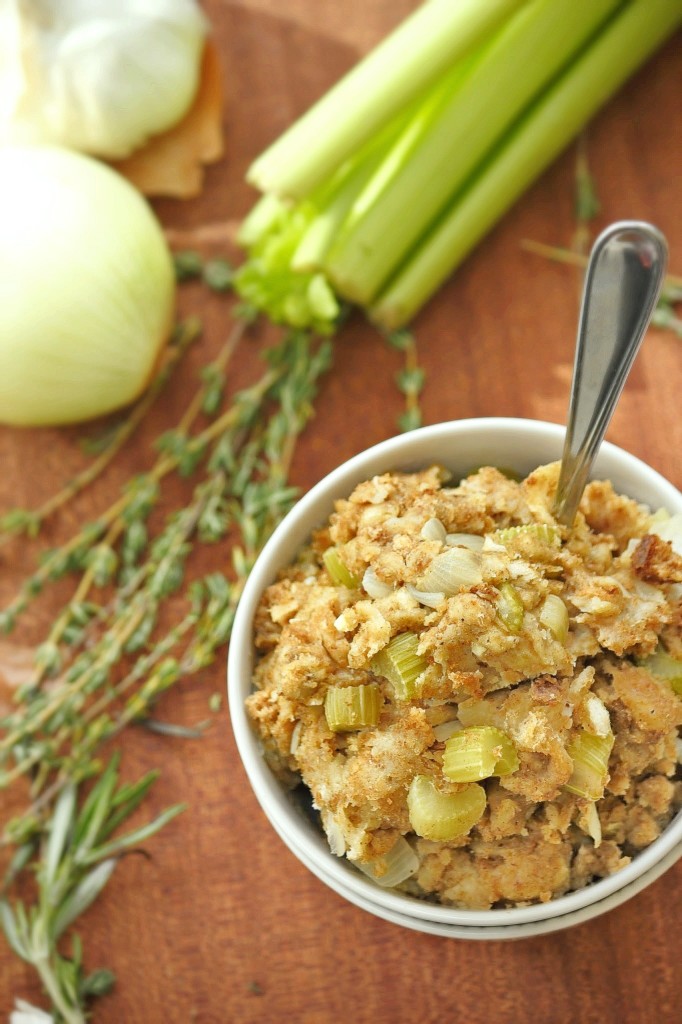 First up, Crock Pot Thanksgiving Stuffing. There is NEVER enough stuffing. Never. I'm kind of plain Jane when it comes to stuffing – I like it straight up, how nature and god intended. But you could easily add meat, swap out the bread options using wheat or even cornbread. Get creative. It yields a moist, soft and fluffy stuffing that cooks up perfectly in your crock pot, without you even having to think twice about it! Double this recipe for a big crowd, or it's perfect for a smaller sized one (4-6 people) – well – that is if they don't eat stuffing for breakfast lunch and dinner on Thanksgiving day. Not that I do that.
Nope.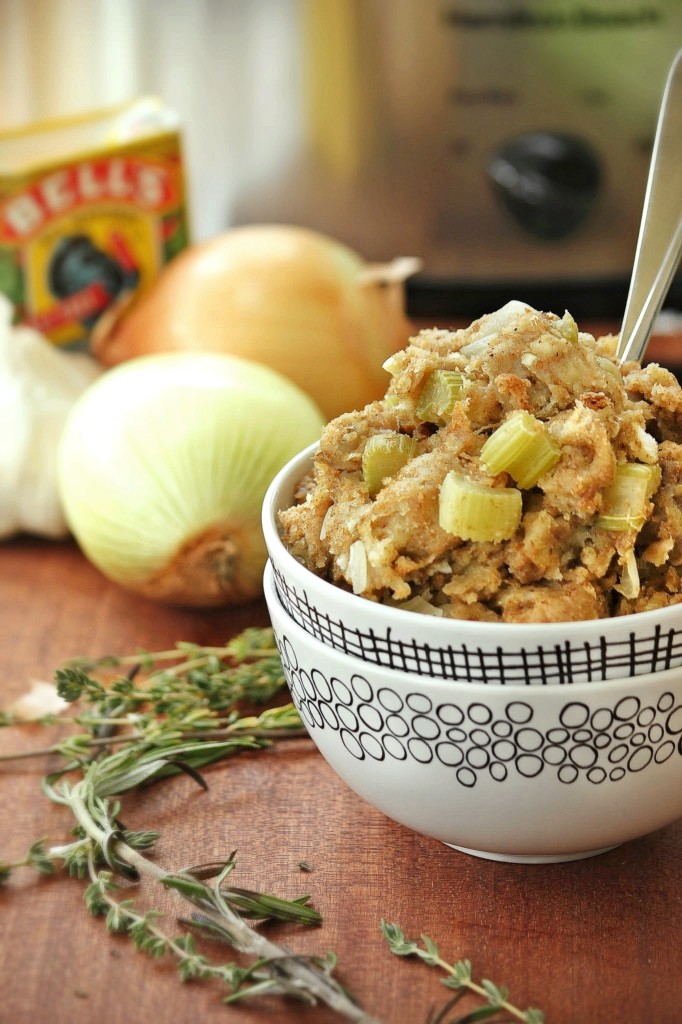 Crock Pot Thanksgiving Stuffing
2014-11-16 17:36:38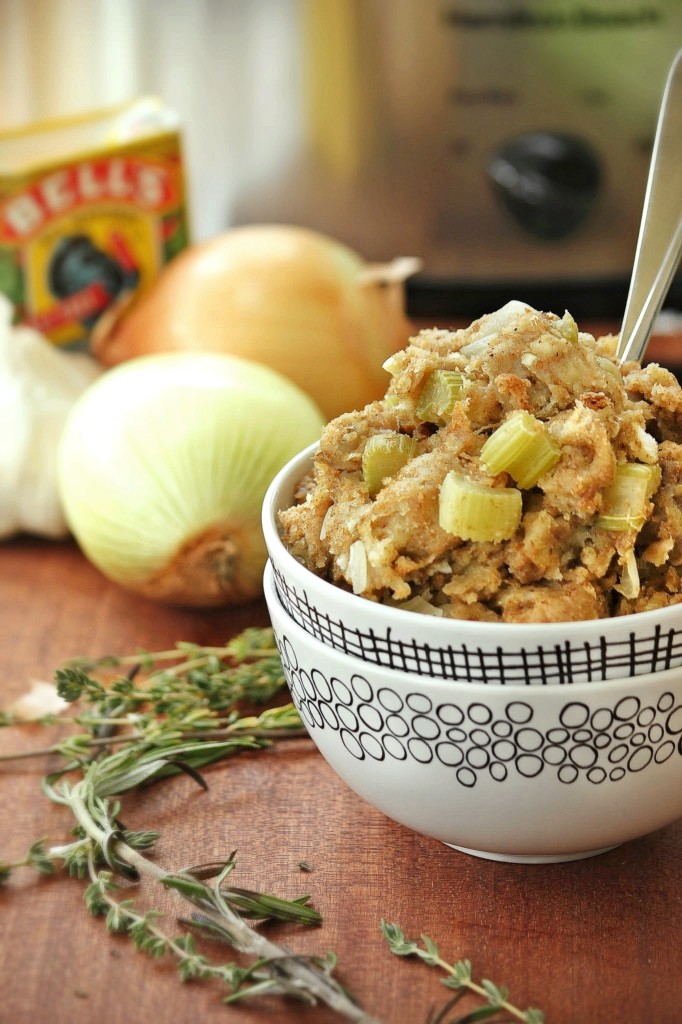 Serves 6
There is just NEVER enough stuffing at Thanksgiving. This recipe is literally perfect - moist and flavorful and made in your crock pot to save on time and stove top space!
Ingredients
6 cups unseasoned dry bread cubes for stuffing (I used Pepperidge Farm)
1 tablespoon butter
1 tablespoon olive oil
1 cup chopped celery
1 cup chopped onion
1 large garlic clove, minced
1 teaspoon salt
1/2 teaspoon black pepper
2 teaspoons Bells Poultry Seasoning
1 egg, beaten lightly
2 & 1/2 cups chicken broth plus an additional 1/2 cup
Instructions
In a large mixing bowl, place your dried breadcrumbs.
Melt your butter and olive oil over medium heat in a saucepan. Once melted, add your celery, onion and garlic and saute for 3-4 minutes. Season the veggies with salt and pepper.
Pour the cooked veggies over the dried bread cubes and season with the Bells seasoning. Add 2 & 1/2 cups of the chicken broth and the beaten egg to moisten the cubes, combining until the stuffing starts to come together. You can always add more chicken broth if you feel the stuffing isn't your desired texture.
Spray the dish of your crockpot liberally with non-stick cooking spray, and then place the stuffing in it.
Cook stuffing on high for 45 minutes. After 45 minutes, stir stuffing, add an additional 1/2 cup of chicken broth, turn crock pot from high to low, and cook for an hour, stirring once or twice. The occasional stirring with help the stuffing to not burn on the edges.
Serve stuffing hot!
And They Cooked Happily Ever After http://www.andtheycookedhappilyeverafter.com/