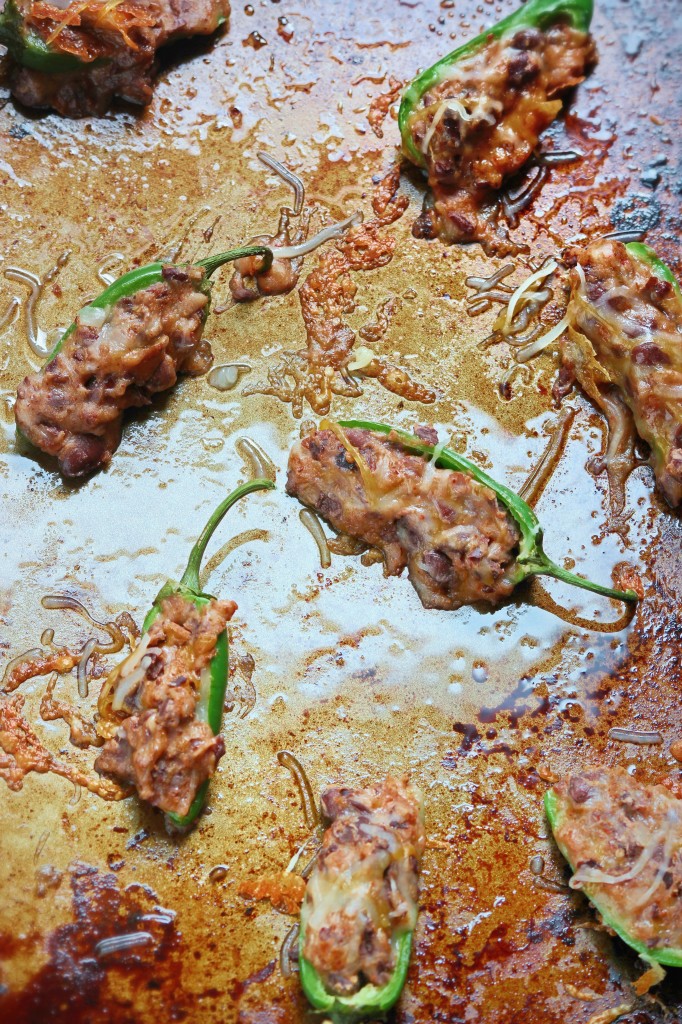 Hello my LLBF's (long lost blog friends) Were you all like "pssssssh – who does she think she is just leavin' us hangin' for like – TWO MONTHS?" I know –I'd be mad at me too. Or I am mad at me. But wait wait, I can explaiiiiin!
In short, this summer has been BANANAS – and not in warm out of the oven in a loaf of bread form. In the form of like every weekend, something going on. Fun things – family things – friend things. Oh and then Dave and I put an offer in on a house – and it got accepted – and it kind of looks like we might like, be home owners in like a WEEK. WHAT? The process was fast, stressful, exciting, scary – all the things that you'd expect getting tied into a 30+ year commitment that doesn't involve an engagement ring and a big party with a fun dress and cake. But as scared as we may be, we're equally as excited.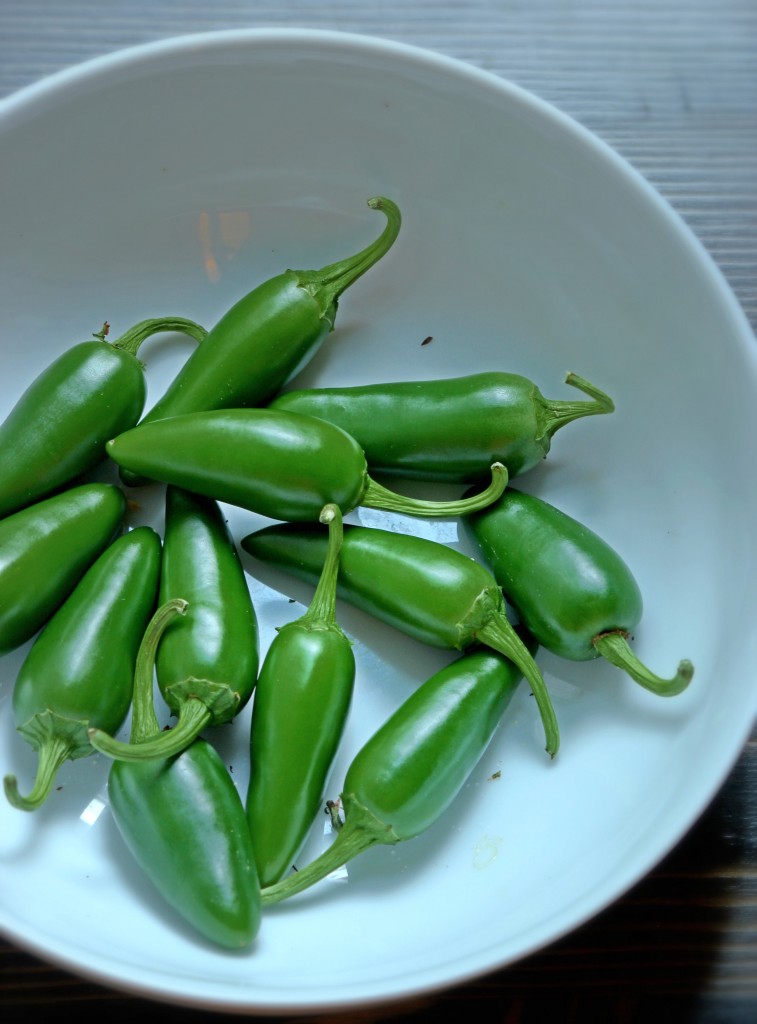 We're another couple lost to burbs. After spending the last ten+ years of our lives as foot loose, fancy and mortgage free kids just livin' it up in the city, that time is coming to an end. I'm sad – hearing "womp, womp" playing in my head a lot. Especially about leaving our current apartment, with great friends a stones (literally) throw away – the best restaurants you could ask for – and just overall awesomeness surrounding us everywhere. I'm pretty sure I'll cry when it's empty and I can hear my voice echoing throughout it. When we moved in 4 years ago, I'm not sure I really thought about how long we'd be there, but it feels like it's been forever. And as much as we complain and stomp our feet about things that have come up over the years, like the non-existent counter space and the soft hum of the MBTA bus' as our 5am wake up call, it's become home. We started our life together here – brought our first (4-legged) baby home here – I started my blog here. We've been through some happy times and some not so happy times here, and when we shut the door for the last time next week, we'll be closing in a whole bunch of memories that I'm sad to leave behind. But, we'll be starting some new ones in a different house, with actual counter tops, lots of sexy blog lighting, a yard for Hairy to run in, and space for friends to hang in (well, that is if our friends will come visit us – guys? GUYS?) So it's like bittersweet chocolate – its kinda like "ew" for a minute, and then it's like "yum" (analogy win).
So as much as we've been running around like chickens with our heads cut off these last couple months and 90% of our kitchen stuff is in a box somewhere, I simply could not do a couple last minute meals in the kitchen where it all began. And this one is extra special because these jalapenos came from our very own garden – the first successful one we've had in 4 years! We've got jalapenos coming out of our ears. It's ridic. So I popped 'em, stuffing them with that heavenly black bean filling from those Black Bean Taquitos from a while back. I could eat it with a spoon (and I might have). Its awesome hot – cold – and stuffed in pretty much anything (mostly my mouth). Enjoy!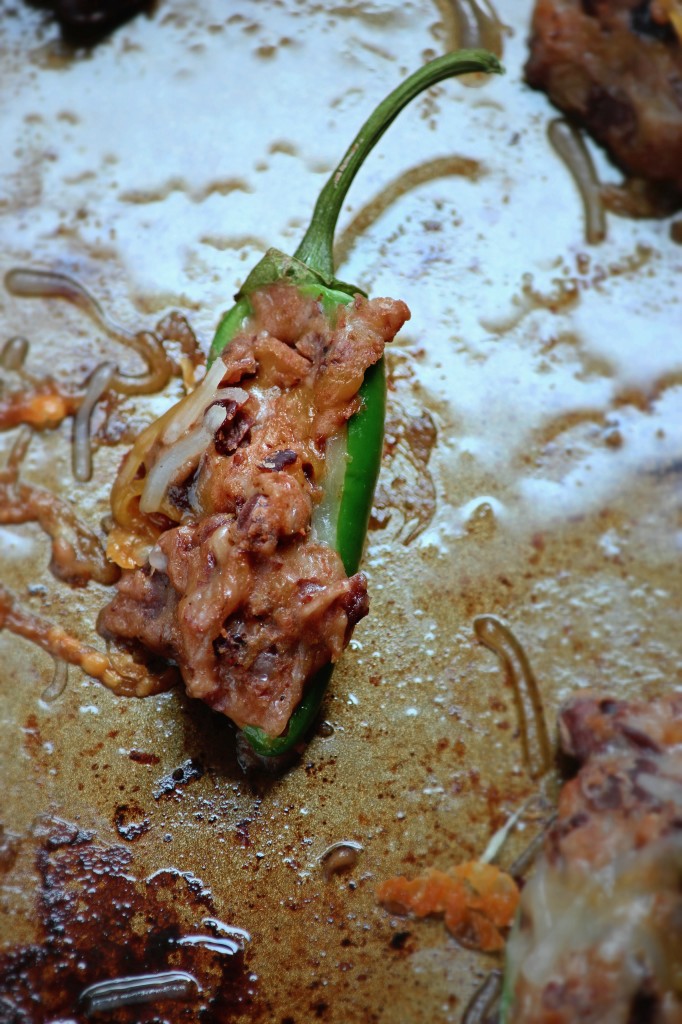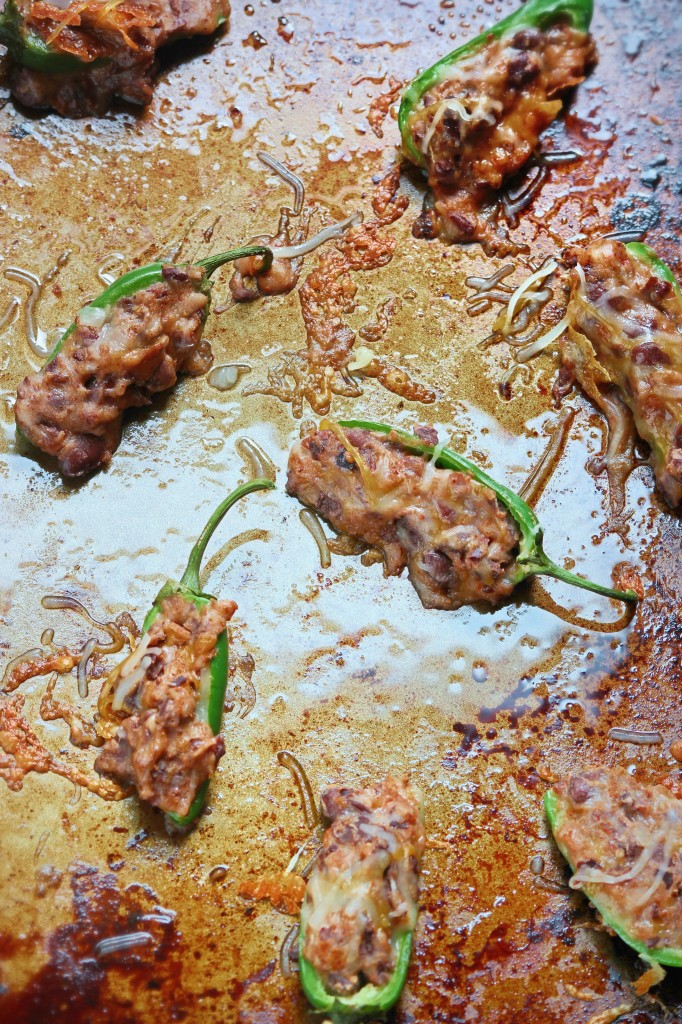 Black Bean Jalapeno Poppers
2014-08-20 17:43:23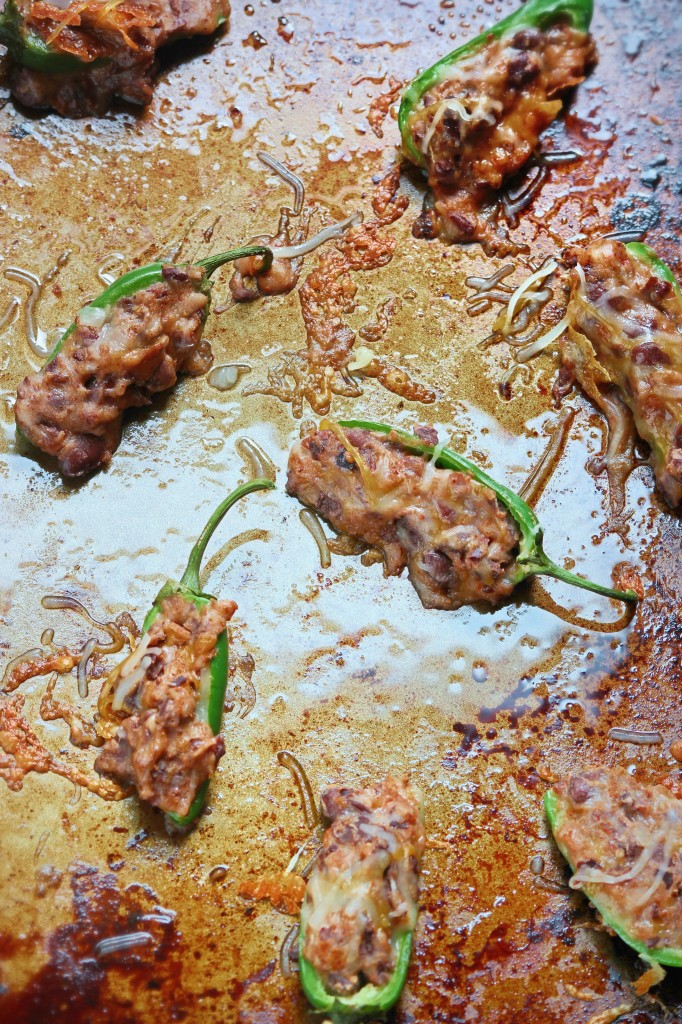 Spicy jalapenos stuffed with a tasty black bean filling makes a clean and good for you snack!
Ingredients
12-14 small-medium jalapenos, sliced in half vertically and de-seeded
1- 15oz. can of black beans, rinsed and drained
2 tablespoons fat-free plain greek yogurt
1/2 teaspoon cumin
1/2 teaspoon chili powder
1/2 teaspoon kosher salt
1/4 teaspoon ground black pepper
1 cup mexican blend cheese + more for sprinkling
Instructions
Preheat your oven to 350 degrees F.
Line a baking sheet with foil and spray lightly with cooking spray. Lay your halved jalapenos out on the sheet, hollowed side up.
In a medium mixing bowl, combine black beans, greek yogurt, cumin, chili powder, salt, pepper and cheese together. With the back of a wooden spoon (or your hands) mash the ingredients together until a paste-like texture starts to form. Alternately, you could use a food processor to do this step as well (I would have, if it wasn't in a box somewhere!) However, the mashing with your hands/spoon process give a bit more texture because the beans won't be fully pureed. Taste will still be great!
Stuff each jalapeno half with the black bean mixture. Depending on the size of your jalapenos, about 1/2 tablespoon to a tablespoon should do it. Sprinkle the tops with additional cheese if you like.
Bake them in the preheated oven for about 10 minutes. This will yield a crunchy pepper, which I like, but if you like a softer more cooked pepper, leave them in for about 15-20 minutes. Don't be alarmed if when you go to take your poppers out of the oven the black bean mixture has shifted (or just plain fallen out of the pepper). Black beans do weird stuff when they're baked, as I've learned. All you need to do is just push the filling back into the peppers with your finger or a spoon, preferably while it's still hot so it'll mold into the pepper. This happened to maybe half of mine - the other half the filling stayed in. Who knows!
Notes
The amount of poppers this recipe will yield will really depend on the size of your jalapenos and how much stuffing you put in them so the yield amount is a rough estimate.
And They Cooked Happily Ever After http://www.andtheycookedhappilyeverafter.com/