This is a love story about 2 of my favorite summer friends: margaritas and watermelon. Last Friday afternoon, I introduced them to each other in my kitchen and well, lets just say they hit it off. You may think it was a little soon for them to make a cocktail baby, but I disagree. Their cocktail baby is one you will love. Its low in calories, full of fresh ingredients and oh so tasty!
One of the best things about a margarita is that with a little elbow grease, you can make it light and low in calories vs. a traditional margarita made with yucky pre-made mixes that pack tons of sugar and a mean caloric punch (in the thighs – ouch). This recipe uses ALL fresh juices – lime, watermelon and orange. It also uses one of my most recent obsessions, Trader Joe's Organic Liquid Stevia. All you need is 3-4 drops to sweeten your margarita versus using simple syrup or triple sec.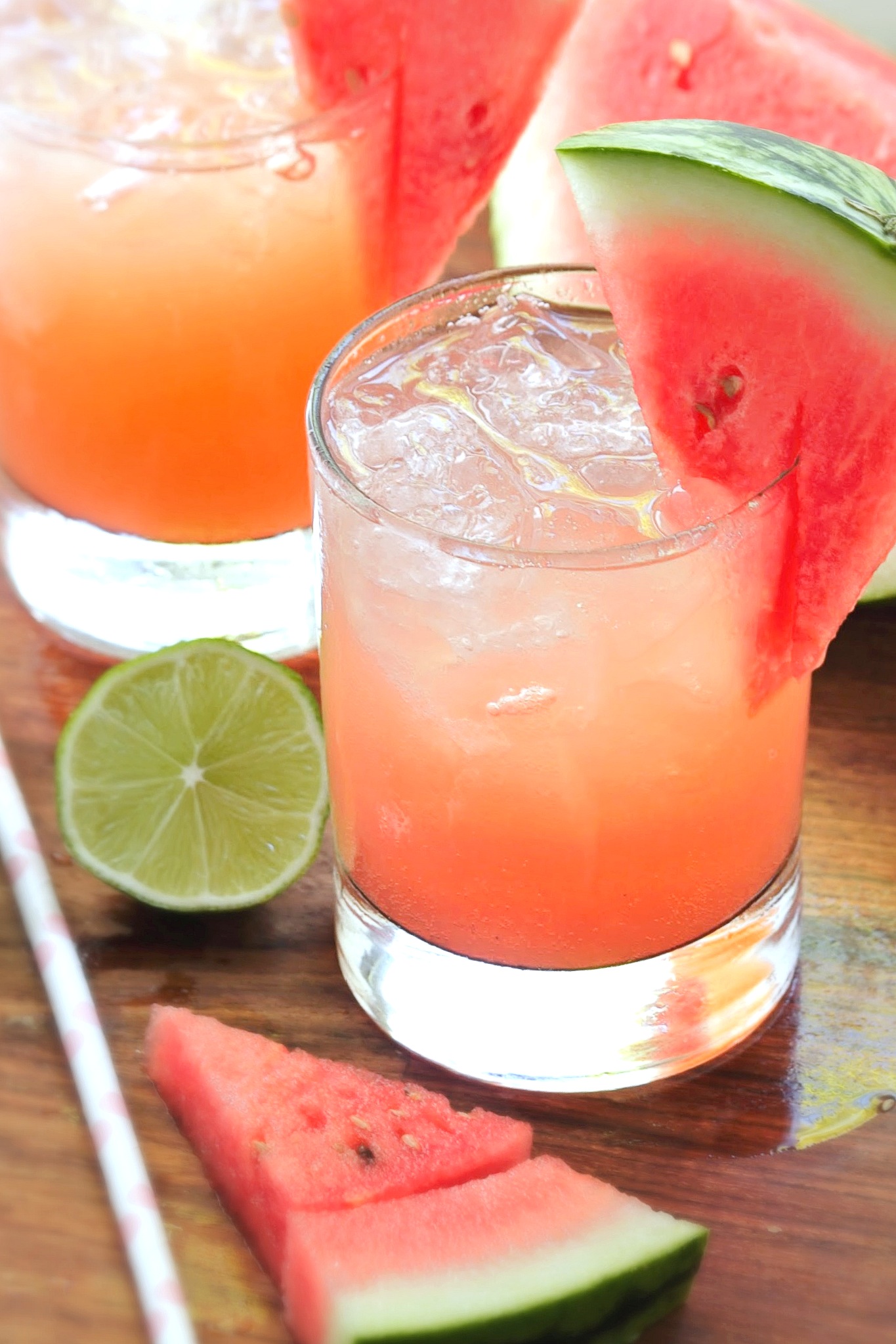 Happy summer cocktailing!
Skinny Fresh Watermelon Margaritas
2014-06-08 09:08:41
A classic summer cocktail made with all fresh juices, leaving you with a low calorie Margarita with a fresh watermelon taste!
Ingredients
2 ounces (4 tablespoons) fresh lime juice (juice of about 2 large limes)
3 ounces Silver Tequila
2 ounces (4 tablespoons) fresh orange juice (juice of 1 large orange)
4 ounces (8 tablespoons) fresh watermelon juice (juice of about 1/4 of a small watermelon, approximately)
4-8 drops Trader Joe's Organic Liquid Stevia (if you don't have liquid stevia, you can use alternately prepare a simple syrup with your sweetener of choice; see notes below)
Instructions
Combine all ingredients in a cocktail shaker with 1-2 ice cubes. Shake vigorously for about a minute, and then pour over ice in a margarita glass. Adjust the flavors adding more of each juice/sweetener as you like.
Notes
To prepare simple syrup in place of liquid stevia, use equal parts water and sweetener of your choice. Heat the water over low heat in a saucepan and gradually dissolve the sweetener into the water until fully incorporated. Let the syrup cool and then add 1 teaspoon to your tequila and juice mix.
And They Cooked Happily Ever After http://www.andtheycookedhappilyeverafter.com/