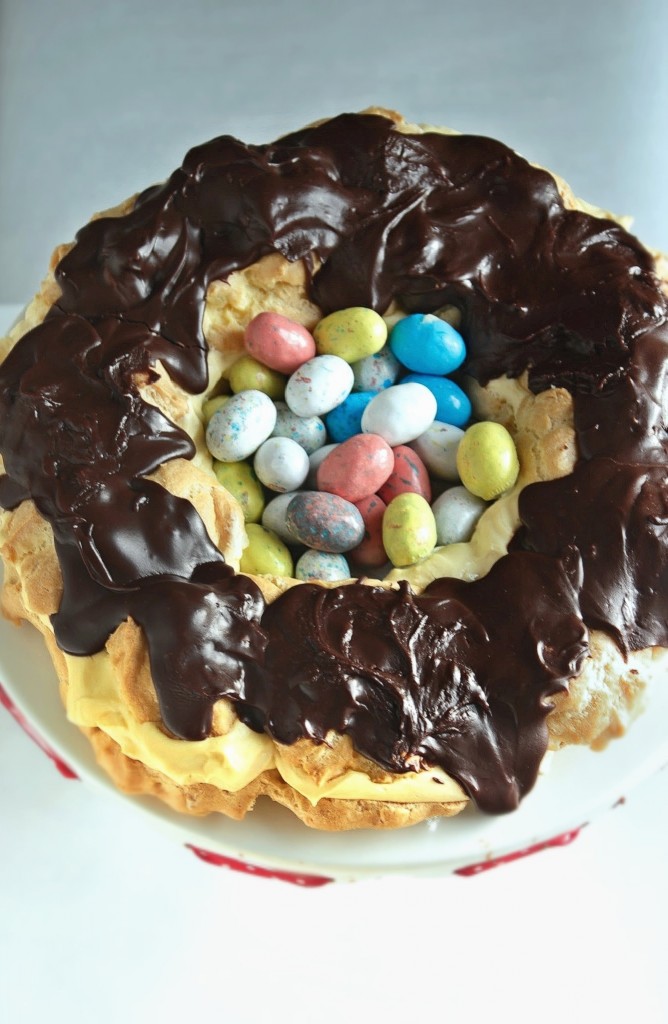 For most people "The Ring" is a series of scary movies about a girl that fell in a well and comes back to haunt people (in a nutshell).
For my family however, "The Ring" is something different. It's a dessert that has been made for years by my Aunt Kathy (husband to my Uncle Jimmy, responsible for these). I can't remember when she first started making it honestly. All I know know now is that the Murphy Dessert table doesn't look complete without it. And when it's time for dessert, everyone surveys their options – and sure there's cookies and cupcakes and Jen's Chocolate Covered pretzels which are a good appetizer. But everyone is secretly waiting for the first person to say "Well, I'm gonna have some of the ring" – and the minute it's cut, well, it's every man for himself.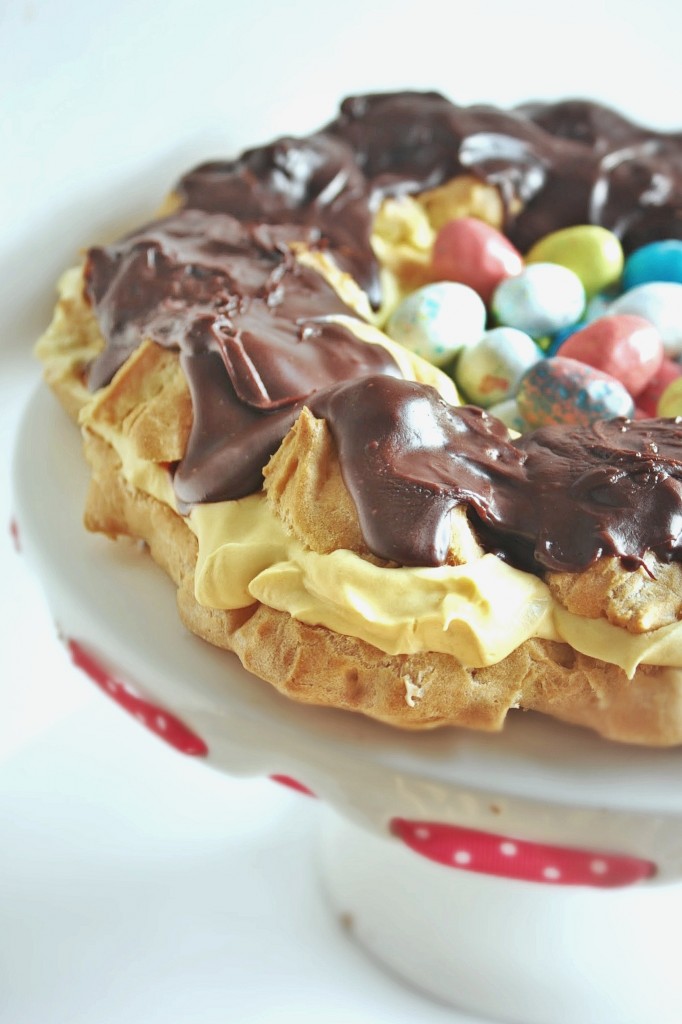 Since Easter was on the low key side this year and there wasn't an official Murphy Dessert table, I decided to make the ring. The best part about it is that the gaping hole in the center is just asking to be filled with seasonal candies which makes it the perfect dessert for any gathering really. And when you go to snag one, 9 times out of 10 it will be covered in custard. BONUS!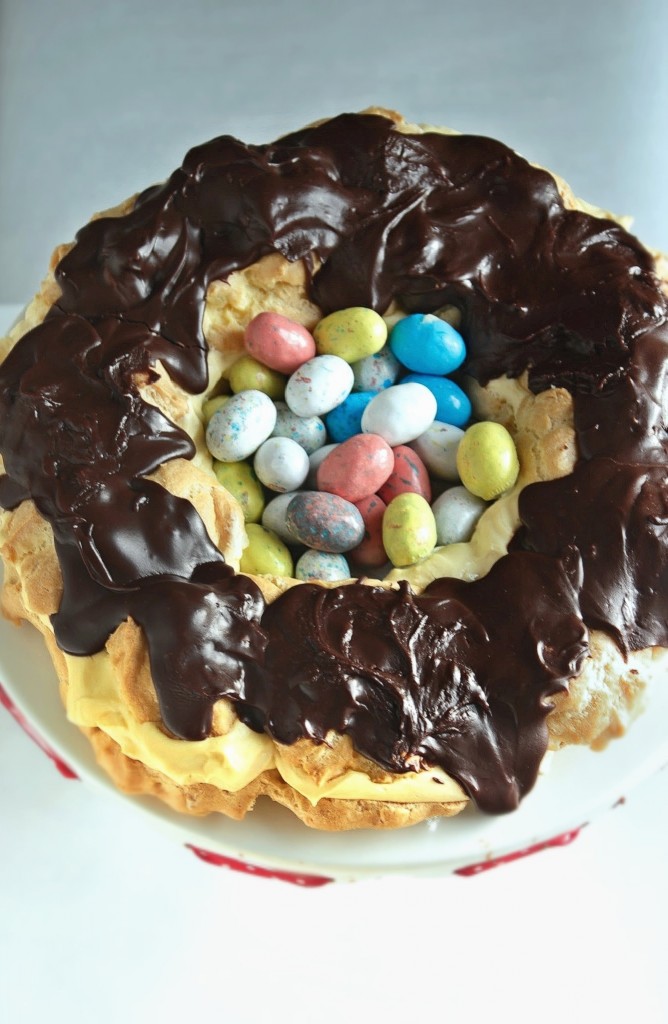 Aunt Kathy's Chocolate Eclair Ring
2014-04-21 09:32:20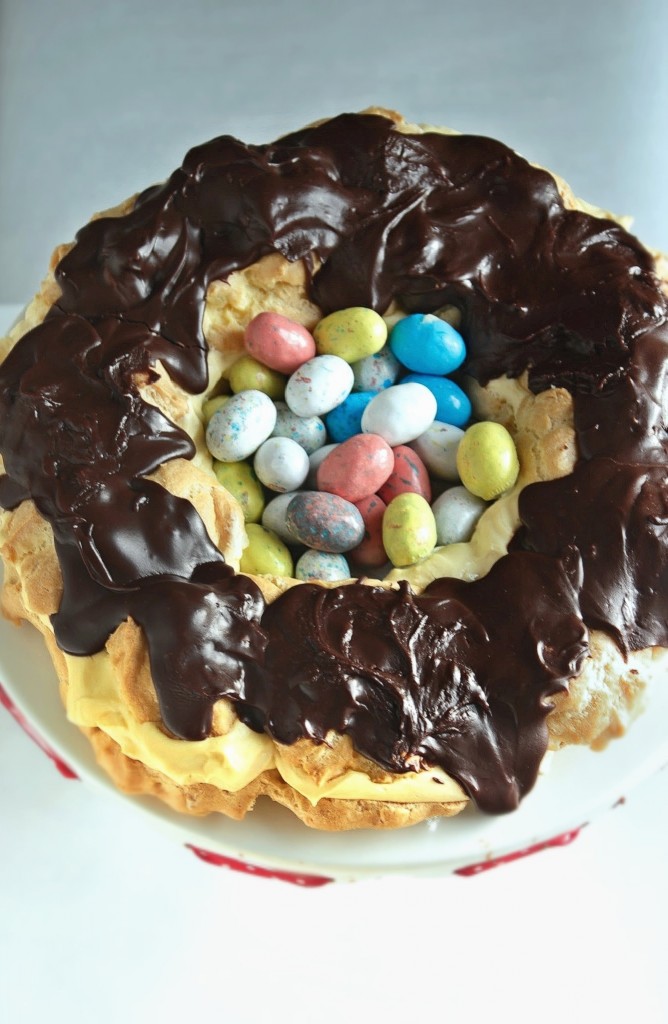 A wreath of Chocolate Eclair, perfect for any Holiday gathering
For the pastry ring
1 stick of unsalted butter
1 cup of water
1 cup of all-purpose flour
1/4 teaspoon salt
4 eggs
For the custard filling
2 packages french vanilla instant pudding
2 & 1/4 cups milk
1/2 cup heavy cream
1/4 cup white sugar
1 teaspoon vanilla
For the chocolate glaze
2 1oz. squares semi-sweet chocolate
2 tablespoons unsalted butter
1 cup confectioners sugar
1 teaspoon vanilla extract
2-4 tablespoons hot water
To prepare your pastry dough
Preheat oven to 400 degrees F.
Melt your butter and water together in a medium saucepan over low heat, letting come to a boil. Add the flour and salt and stir the mixture rapidly until the dough starts to leave the sides of the saucepan, forming a ball.
Remove the dough from heat, letting it cool for about 10 minutes, and then start adding the eggs one at a time, mixing them into the dough until it becomes smooth and shiny (this will take quite a bit of mixing - the eggs will initially give the dough a strange look but just keep mixing until it becomes dough-like again).
Lightly grease a baking sheet or pizza pan/stone and start dropping heaping tablespoons of the dough onto the greased pan, overlapping them slightly so that they're connected. The dough will expand a bit while baking, but not a lot so depending on how large you would like the center of your ring to be, you can arrange the balls of dough accordingly.
Bake the pastry ring in the preheated oven for 40 minutes. After 40 minutes, turn the oven off and then let it sit in the warm oven for 15 minutes. After 15 minutes, remove from the oven and let cool completely before splitting it in the center.
To prepare your custard filling
While the pastry ring is baking, you can prepare your filling. Start by preparing the vanilla pudding mixture - add the two packages of pudding mix with the 2 &1/4 cups of milk, whisking for 3-5 minutes until the pudding forms, and set aside.
In a separate bowl, whip your heavy cream, white sugar and vanilla together until a light, fluffy whipped mixture forms (you'll know it's done when the mixture forms soft peaks). Gently fold your vanilla pudding mixture into the whipped cream mixture to form your custard filling. Chill until you are ready to assemble your ring. I recommend freezing your bowl and beaters for an hour or so before whipping the cream - the colder the better!
When your pastry ring has cooled, split it down the center with a serrated knife (very gently). If it splits a bit, that's ok. The custard will hold it together. Remove the top half and start placing dollops of the custard filling onto the bottom half of the ring, replacing the top when all the custard has been used.
Prepare your chocolate glaze by melting the semi-sweet chocolate and butter together over low heat in a medium saucepan. Gradually mix in your confectioners sugar and vanilla, stirring until combined. The mixture will appear clumpy. Start thinning it out tablespoon by tablespoon of hot water until the glaze reaches your desired texture (I used 2 total for a thicker glaze, but it really depends on your preference). Glaze the top of the eclair ring. Fill the center with candy and chill until ready to serve.
And They Cooked Happily Ever After http://www.andtheycookedhappilyeverafter.com/