A couple weekends ago, some of my bestest and oldest friends from home met in the big apple to visit my friend Casey who lives there. You may remember Casey from the Kitchen Bitchin' archives a while back. Well – pssssh – that was soooooo last year. She has majorly upgraded and has a sweet bachelorette pad with closets (YES PLURAL) a stove AND a freezer. Baller status.
One thing I love the most about these gals is our shared love of eating. We ate our way right through NYC (don't worry we did other stuff – like drink some beer and sangria and sing karaoke). But we hit up some of the best spots in the city and in just about 24 hours I think we may have collectively consumed enough calories to feed an army (for like a week). Sunday morning, we rolled out of brunch, waddling through central park, thinking we couldn't stomach one more morsel. Until Casey said "So, there's this place that has really good cookies". And suddenly, my stomach started to rumble.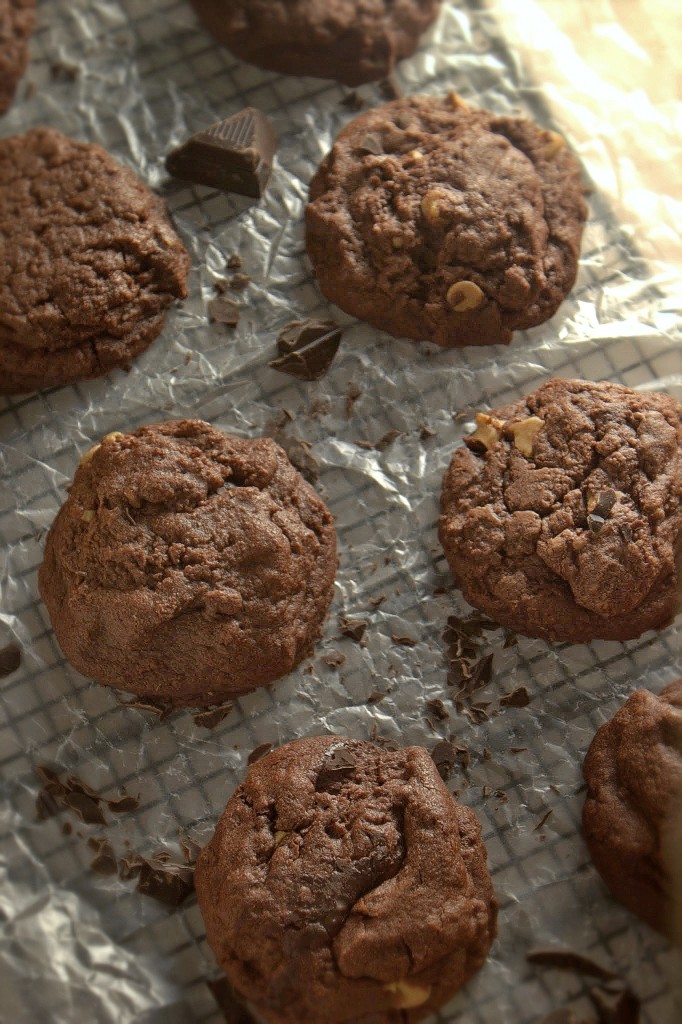 We arrived at Levain Bakery and instantly I said "Ohhh this is the place that was on the Throwdown with Bobby Flay". Thank god, because I think if I said "Ohhh that's that place where this happened in Sex and the City" one more time, the gals were gonna send me on a slow boat across the Hudson. It's a teeny, tiny, hole in the wall. With cookies. MASSIVE cookies. So natch, I got two: the chocolate chip w/ walnuts and the dark chocolate with PB chips. And while I'm usually a sucker for a chocolate chip (especially if it's the size of my palm) I gotta tell you, this dark chocolate cookie with pb chips was devine. So devine that I came home, researched, went to the store TWICE to get the ingredients, and even made two separate recipes to try to recreate the magic that was. And I gotta say, these.are. AWESOME!
They're huge (1 batch only makes about 10 cookies). They use bread flour and all purpose flour, which helps hold their shape. The first batch I tried wasn't quite chocolatey enough. So I tried again, adding more chocolate and switching a few steps up. And hello nail. Here's the hammer, hitting you on the head (get it? I hit the nail on the….ah, nevermind….)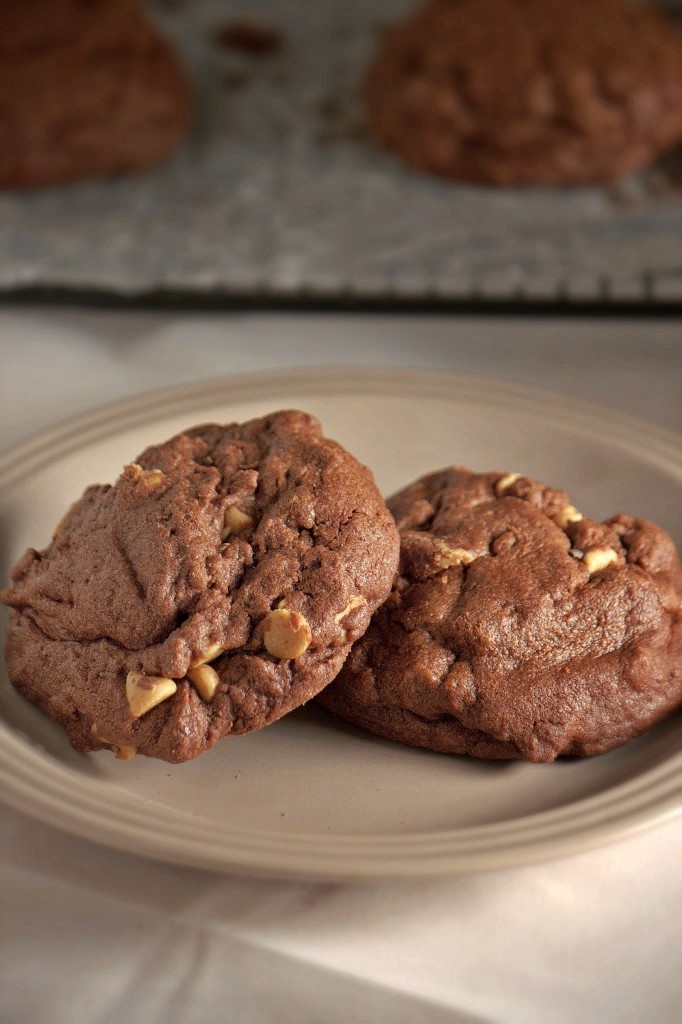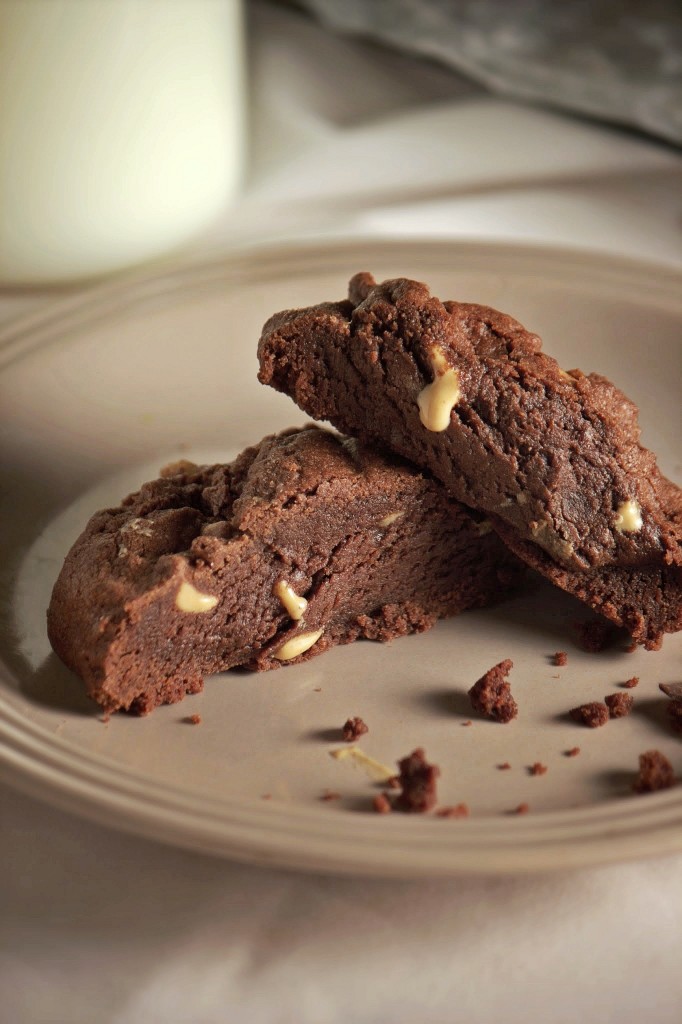 Copycat Levain Bakery Dark Chocolate & PB Chip Cookies
2014-04-01 18:56:38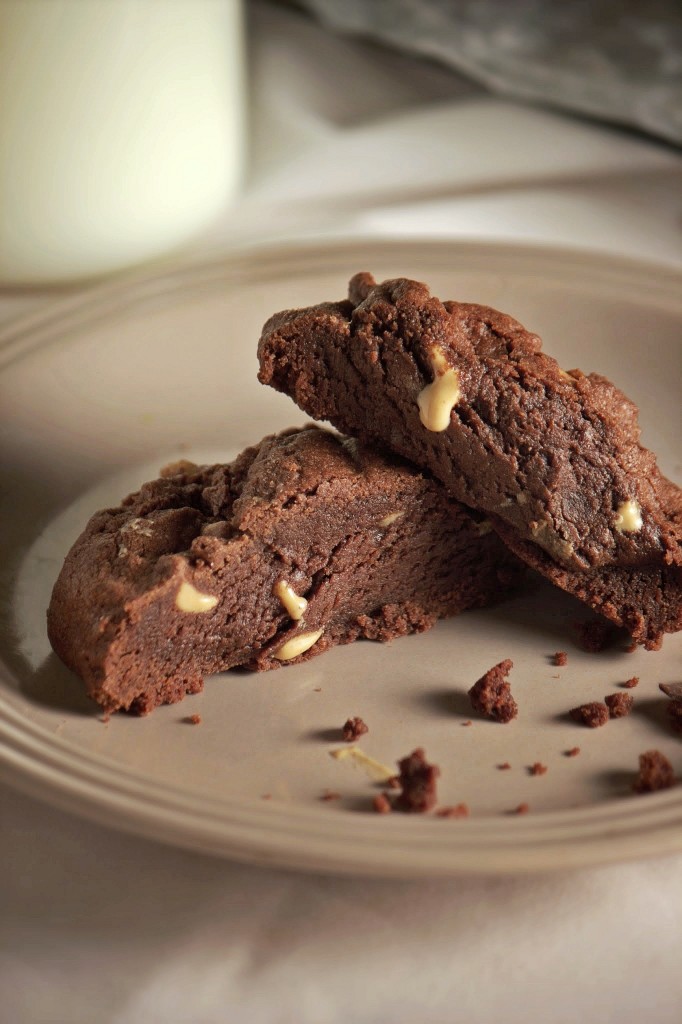 A copycat recipe for Levain Bakery's thick, chewy, dense Dark Chocolate cookies with Peanut Butter Chips
Ingredients
1 & 1/4 cups all-purpose flour*
1 cup plus 2 tablespoons bread flour*
1/2 cup good quality cocoa powder*
1 teaspoon baking powder
1/4 teaspoon salt
8 oz semi-sweet chocolate bars, roughly chopped (I used TJ's dark chocolate 1lb bar)
1 cup (2 sticks) unsalted butter, cold and cubed
1 & 1/4 cups sugar
2 eggs, cold
2 cups peanut butter chocolate chips
Instructions
In a medium bowl, sift flours, cocoa powder, baking powder, and salt together; set aside.
In a medium saucepan, melt your dark chocolate over a very low flame, stirring frequently until all pieces are melted. Set chocolate aside and let cool, but not so much that it starts to harden (about 5 minutes).
In a stand mixer fitted with the paddle attachment, cream together cold butter and sugar on medium speed. Add cold eggs, mix on medium speed. With the mixer still running, slowly pour your melted chocolate into the butter/sugar/egg mixture until all are fully incorporated.
Slowly add the flour/cocoa mixture in small batches, continuing to mix on low speed until fully combined. Turn mixer off and gently fold in your peanut butter chips.
Take about 1/2 cup of the dough (it will be very sticky), roughly roll between your palms and place on a lightly greased baking sheet. You should get just about 10 balls of dough. Freeze the balls of dough for 1 hour.
Preheat your oven to 350 degrees F.
On a parchment lined baking sheet, place 6-8 of the dough balls (they don't spread much so don't worry about them running into each other during baking). Bake cookies in preheated oven for 18-24 minutes. If you like a gooey center, 18-20 minutes; if you like more of a cooked center 22-24. Let them cool on the baking sheet for 5 minutes, and then transfer them to a wire rack to cool completely. Serve right away or store in an air tight container for 4-5 days.
Notes
The proper way to measure flour entails gently whisking it in the canister or bag and then spooning it into your measuring cup, then leveling the excess off with a knife. If you just dunk the measuring cup into the bag or canister of flour, you could end up using twice as much flour as necessary, which will totally throw off your recipe.
I used just regular cocoa powder for these cookies. But you could also use Dark cocoa powder to make them that much more dark chocolatey.
Adapted from Recipe Carr
And They Cooked Happily Ever After http://www.andtheycookedhappilyeverafter.com/