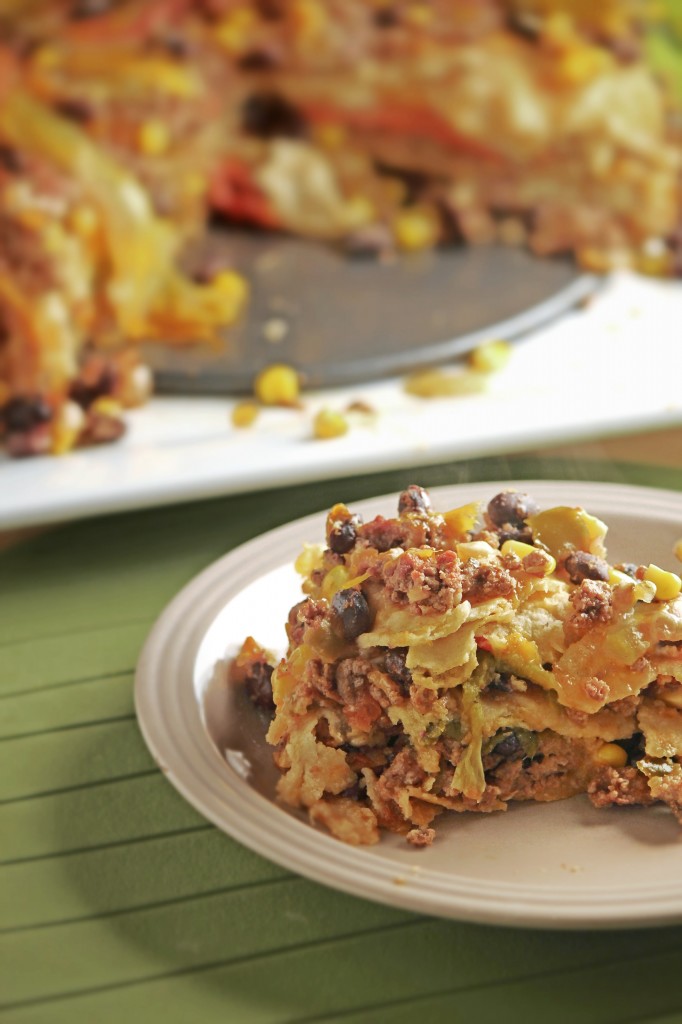 Dave plays adult league men's hockey. Anyone who knows someone who plays in these leagues knows that these games occur at the most ungodly hours of the evening when most normal people would be getting into bed. Normally, a wife would get aggravated when she's awoken in the early hours of the morning by her husband, who has the winning smell combo of the inside of his hockey bag with a hint of BO, and wants to chit chat like its dinner time.
The only good part of this scenario is that he usually comes back with a great new recipe from Pat, my mother-in-law, who knows her way around the kitchen. Dave usually stops in for dinner before his games, being that his mom and dad live close to the rink. And nine times out of ten, he comes home raving about "this thing my mom made that you should make".
And that's just what these stacked enchiladas are – straight from Pat's kitchen, made with a pinch of mothers love and lots of pinches of classic, simple, mexican ingredients: corn tortillas – black beans – cheese. AND if you've been staring at your Springform pan wondering what in the world else to make in it besides cheesecake, well here's your answer. It locks all the layers of the enchiladas in while its baking in the oven and then with just one pop of that outside latch you have a beautiful mosaic of enchilada goodness.
Pat's Stacked Enchiladas
2014-02-10 16:27:55
A classic mexican dish served a bit different than normal!
Ingredients
3 - 4 ancho chilis or pablano peppers, roasted
1 clove garlic, minced
l lb ground beef (or turkey)
1 can black beans, drained and rinsed
1 can niblets corn (about 1 cup or more if you like)
1 jar of your favorite chunky salsa
12 corn tortillas
1 16oz bag of shredded mexican cheese
Instructions
Preheat oven to 400 degrees F.
To roast your peppers: Arrange the peppers directly over the flame of your gas stove, turning occasionally until all sides of the pepper are blackened and blistered (about 3-5 minutes). Transfer the peppers into a ziplock bag and let sit for about 15 minutes until their cool enough to handle. Peel the skin off of the pepper and then remove the seeds and the stems as well. You can rinse under cold water to get all the blackened skin off and the seeds out. Set roasted peppers aside.
In a medium sauce pan, saute beef and garlic until browned and cooked through. Add black beans, corn and salsa and continue to cook for another 2-3 minutes until all ingredients are heated.
Cut tortillas in half. Place 4 halves in a circular pattern on the bottom of a round Springform pan. Top with 1/3 of beef mixture, 1/3 of chiles, 1/3 cheese. Repeat 2 more times, ending with the last 1/3 of the cheese on the top. Bake about 35-40 minutes until the cheese is brown and bubbly on top. Let sit in pan for 5-10 minutes before removing the outer edge of the pan to allow layers to settle. The layers will fall apart a bit when you cut the enchiladas, but the longer you let it sit, the better chance of it falling apart (kind of like lasagna).
Serve with sour cream or toppings of your choice.
Notes
*We used ancho chilis but poblanos would be a nice substitute. If you don't want a lot of heat, you can always use just regular red bell peppers.
And They Cooked Happily Ever After http://www.andtheycookedhappilyeverafter.com/