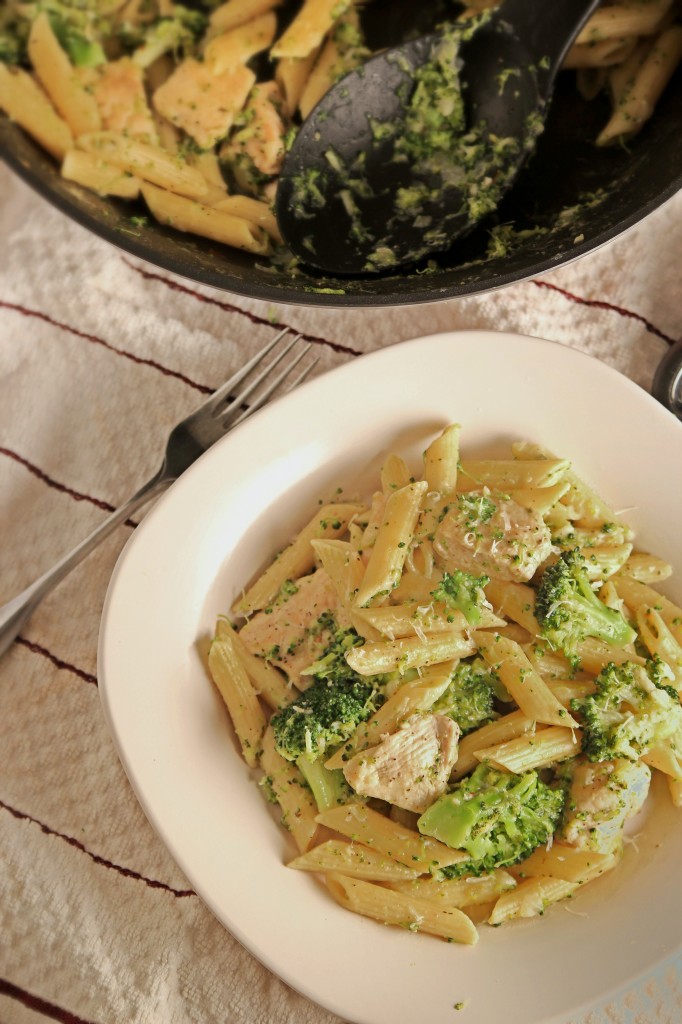 Life is hectic. Eating Dinner is mandatory. That is why one-pot dishes exist.
Ever since making this, I've been trying to find the best one-pot dishes around. But I never expected to find an entire SECTION in an old America's Test Kitchen cookbook that my mom got me for Christmas ages ago. That's where I found this – and have made it twice since and will again many many MANY times over!
I'm not sure how many ATK fans there are out there but I have a new found obsession with them. They have tested these recipes, probably a hundred times to make sure that the process is perfect. Some of the instructions may seem odd or a bit tedious, but sometimes those few extra steps make the outcome that much more fabulous.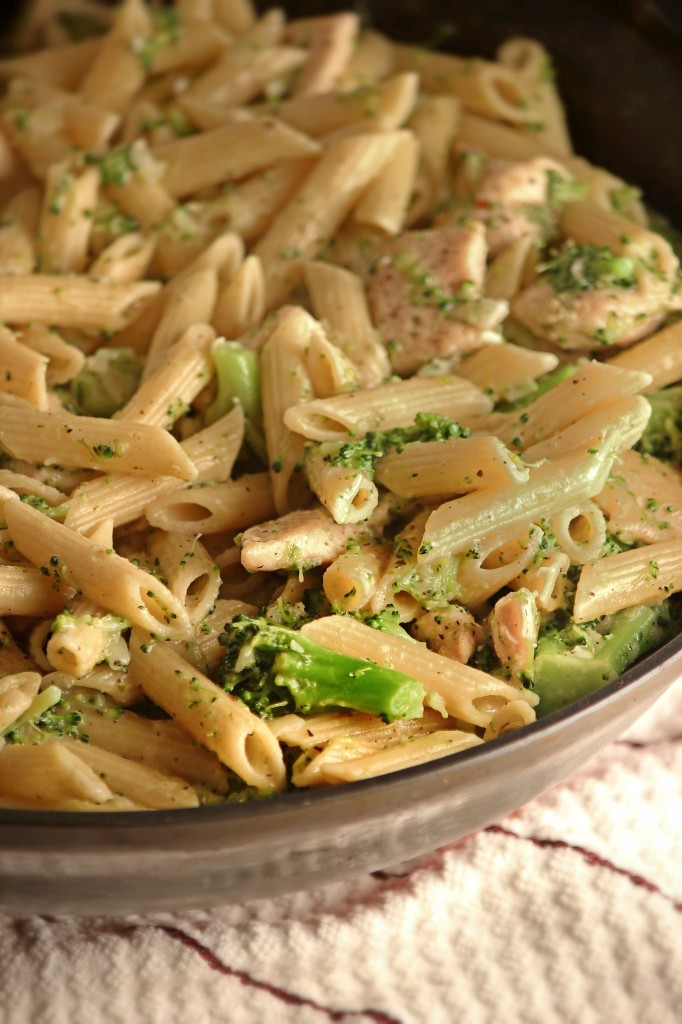 Dave actually made his the first time around (when I was sans camera). We both took our first bites and said nothing. Took a few more bites. Said nothing. We finally looked at each other and said 'Wow, this is really good'. By the end, after licking the bowl clean, we both decided it was the best Chicken Broccoli Ziti we had ever had – homemade or at a restaurant.
And it was made in one pot.
Yessssss….
P.S – Many thanks to Michele from The Lovely Bits as she is responsible for turning me on to this pretty and fun recipe card update below! Her (and Krista's) blog is gorge – there are lots of lovely bits in it (see what I did there?)….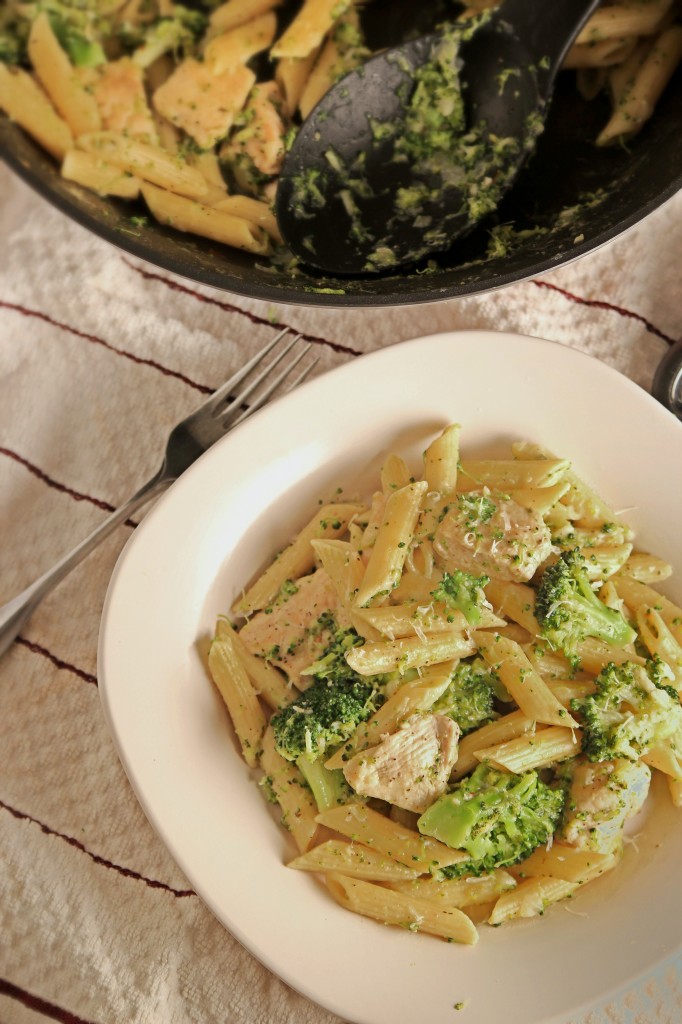 One-Pot Chicken Broccoli Ziti
2014-01-23 17:25:52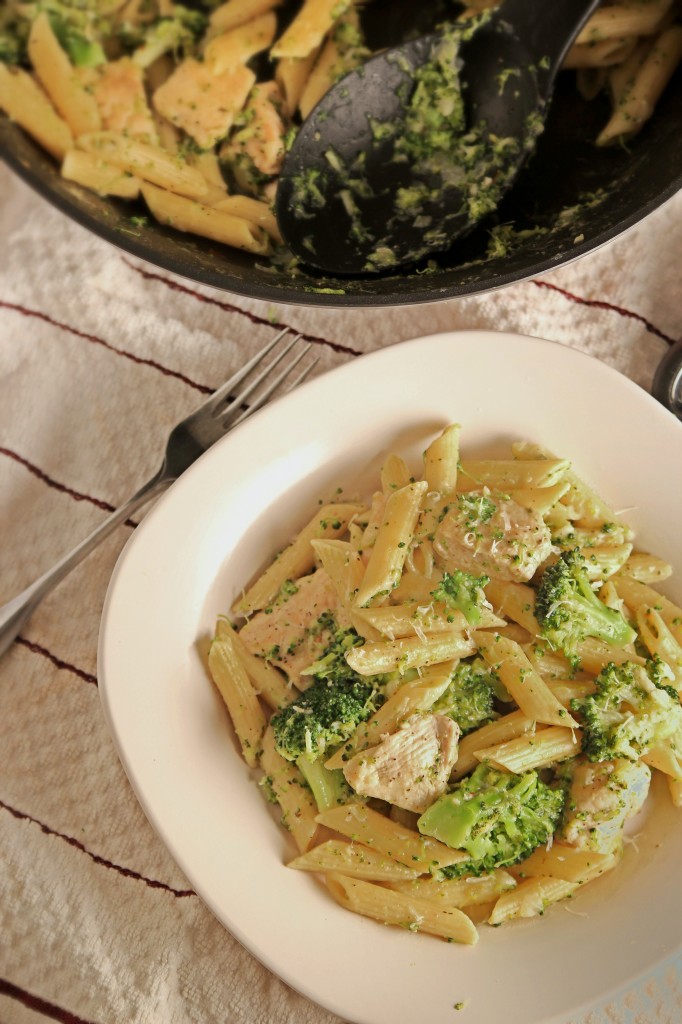 A delicious recipe for one-pot Chicken Broccoli Ziti - a perfect weeknight dinner!
Ingredients
1 pound boneless, skinless chicken breasts cut into 1-inch cubes
salt and ground black pepper to season the chicken
2 tablespoons olive oil
1/2 teaspoon salt
1 medium onion, minced (about 1 cup)
3 medium cloves garlic, minced or finely chopped
1/4 teaspoon dried oregano
1/8 teaspoon red pepper flakes
8 ounces ziti (2 cups)
2 & 3/4 cups water
1 & 2/3 cups low-sodium chicken broth
12 ounces broccoli florets (about 3-4 cups)
1/2 cup half & half (you can also use heavy cream)
1/2 cup grated Parmesan cheese, plus extra for serving
1 tablespoon fresh lemon juice (about 1/2 of a large lemon)
Instructions
Season the chicken generously with salt and pepper. Heat 1 tablespoon of the olive oil in a large nonstick skillet over medium-high heat until just smoking. Add the chicken in a single layer and cook for 1 minute without stirring. Stir the chicken and continue to cook until most, but not all, of the pink color has disappeared and the chicken is lightly browned around the edges, 1 to 2 minutes longer. Transfer the chicken to a clean bowl and set aside (this may seem odd that you're not cooking the chicken through completely, but trust me, it works!)
Add the remaining tablespoon of oil, minced onion, and 1/2 teaspoon salt to the skillet. Return the skillet to medium-high heat and cook the onion, stirring often, until the onion is softened, 2 to 5 minutes. Stir in the garlic, oregano, and pepper flakes, and cook until fragrant, about 30 seconds.
Add the ziti, 2 cups of the water, and the chicken broth. Bring to a boil over high heat and cook until the liquid is very thick and syrupy and almost completely absorbed, 12 to 15 minutes.
Add the broccoli and the remaining 3/4 cup water. Cover, reduce the heat to medium, and cook until the broccoli turns bright green and is almost tender, 5 minutes.
Uncover and return the heat to high. Stir in the half and half, parmesan cheese, and reserved chicken with any accumulated juices and continue to simmer, uncovered, until the sauce is thickened and the chicken is cooked and heated through, 1 to 2 minutes. Remove the ziti from the heat and stir in the lemon juice. Season with salt and pepper to taste. Garnish with more parmesan cheese if desired.
Adapted from America's Test Kitchen
Adapted from America's Test Kitchen
And They Cooked Happily Ever After http://www.andtheycookedhappilyeverafter.com/