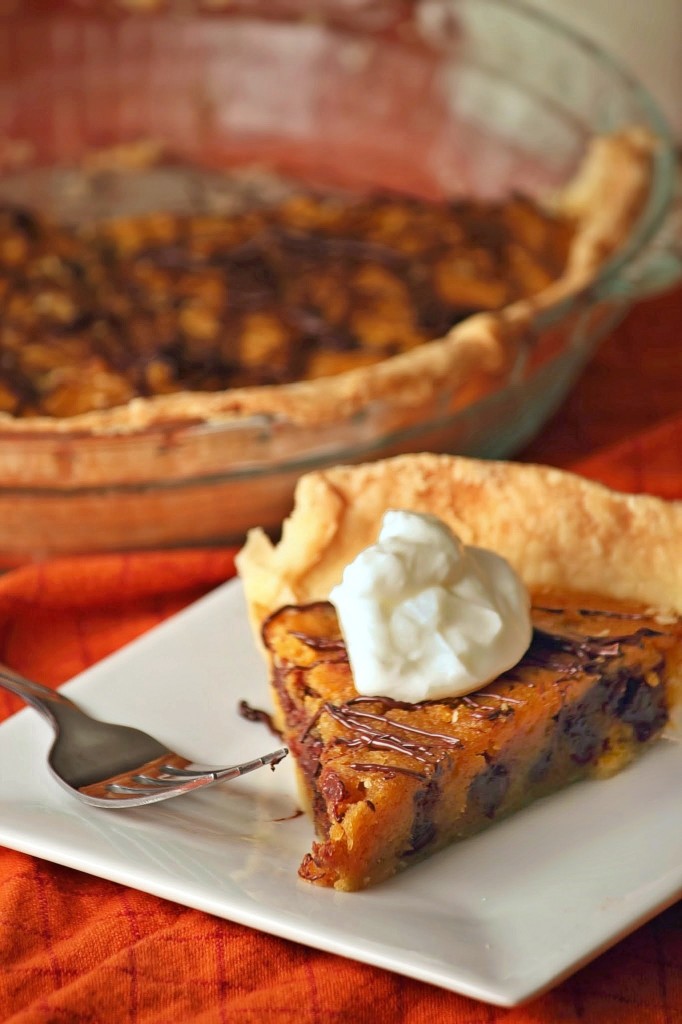 THIS.
Ok. I don't often throw rose petals at myself, but I've been covered in them since the minute this came out of the oven. I don't know how this idea popped in my head. Maybe it was these from last year. Or the fact that there are only a couple of weeks left to use a shameful amount of pumpkin in anything possible.
I'm not even gonna say a lot about this because I don't have to. I mean, I could have just tossed a couple pictures in here with no words and the recipe (but then that defeats the whole purpose of that whole 'blog' thing). This title speaks for itself. It's Pumpkin Chocolate Chip Cookie – baked in a pie crust – drizzled in chocolate – and then topped with whipped cream and/or (go with and) ice cream. Its just….well….I can't even….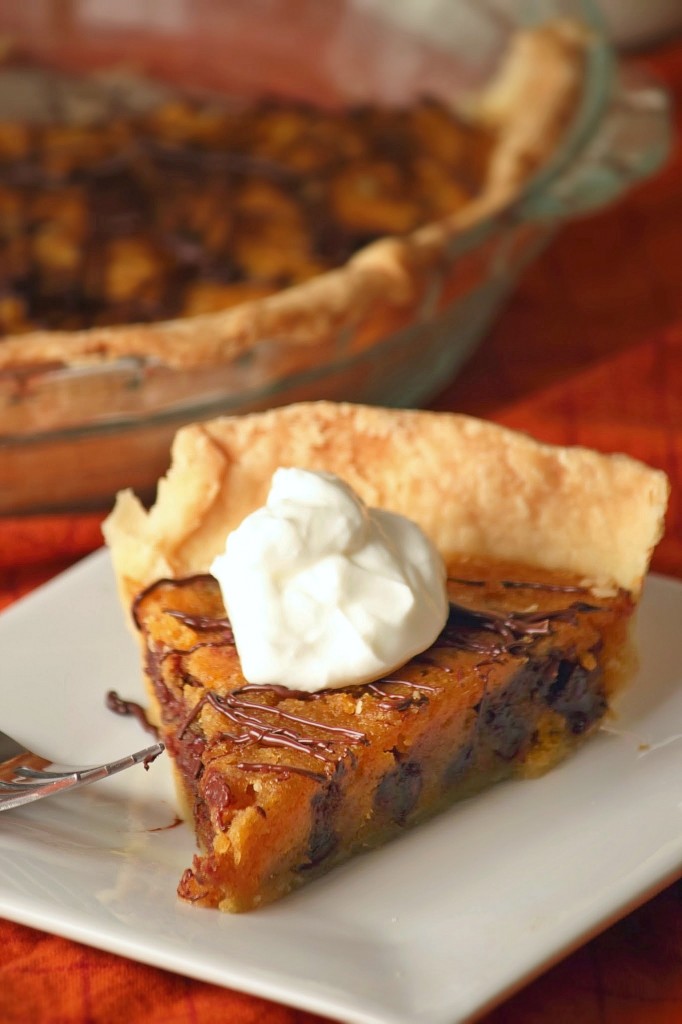 Pumpkin Chocolate Chip Cookie Pie
*adapted from Very Best Baking
Ingredients
1 unbaked pie crust (store bought works wonderfully! Especially the frozen crusts that are already in the pie dish, usually in the ice-cream/cool whip/frozen fruit section at the store)
1 cup all-purpose flour
1/2 teaspoon pumpkin pie spice
pinch of salt
1/2 cup (1 stick) unsalted butter, softened
1/2 cup granulated sugar
1/2 cup packed brown sugar
2 large eggs
1/2 cup pumpkin puree
1/2 teaspoon vanilla
1 cup semi-sweet chocolate chips, plus about another 1/2 cup for drizzle
*Sweetened whipped cream or ice cream (optional)
Instructions
1) Preheat oven to 325 degrees F.
2) In a medium sized mixing bowl, whisk together your flour,pumpkin pie spice and pinch of salt.
3) With an electric mixer or in the bowl of a stand mixer, cream together your butter and sugars until fluffy. Slowly mix in the egg, pumpkin puree and vanilla until fully combined. Add the dry ingredients a little at a time, mixing between each addition. Turn mixer off and fold in chocolate chips.
3) Take a 9" pie plate (preferably glass). Lay the unbaked pie crust in the pie plate (or into the frozen pie crust). Then spoon the pumpkin chocolate chip cookie batter into the crust. Bake for 45 to 50 minutes or until knife inserted in the center of the pie comes out clean. Melt your additional chocolate chips in the microwave and drizzle over the top of the cookie pie. Serve warm with ice cream or whipped cream (I say BOTH).
http://www.andtheycookedhappilyeverafter.com/2013/11/14/pumpkin-chocolate-chip-cookie-pie/
Copyright And They Cooked Happily Ever After