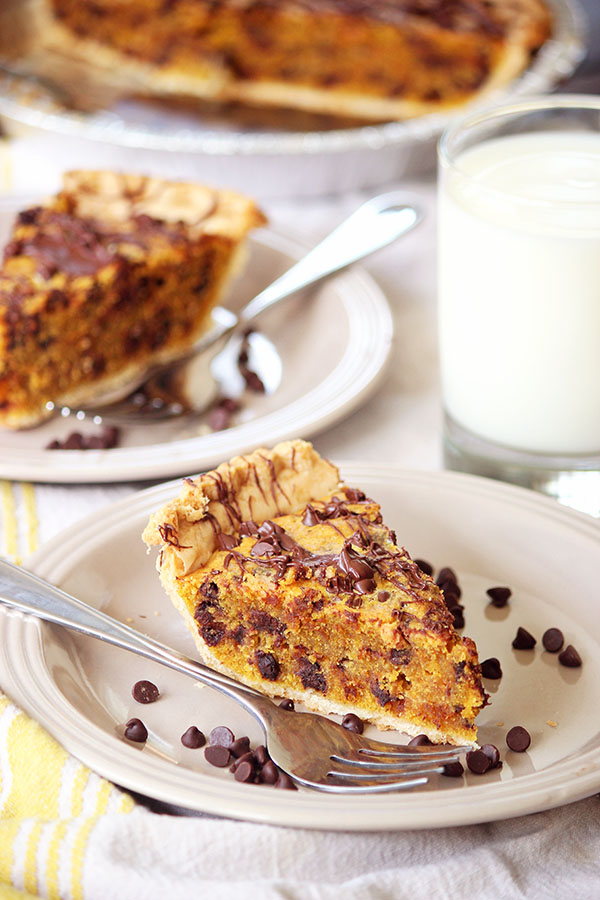 There are some recipes in life that are like an old friend – one you can always count on to tell you when your hair looks funny, or you have a stray hair on your chin that needs plucking (or, that's what I consider to be a good friend).
This Deep Dish Pumpkin Chocolate Chip Cookie Pie is that old friend – my old Fall friend. This post as you can see is from 2013 – back in my earlier blog days. But in those 4 years, this is my jam every time that air starts gettin' a little crisp (or um, balmy and in the 70s like it's been this Fall) – the football games start takin' over – and I break out allllll the pumpkin thinnnnngs. Mostly pumpkin chocolate chip things. If you've read this blog ever, you know that I like my Pump Choc Chippy things. I like them ALOT. But this is always a hit at any fall gathering. And while it's not present in the photo and video, vanilla ice cream is the cherry on top of this fall sundae. Good night – DEEP DISH COOKIE DREAMS everyone!
Oh P.S. – I'll share the original photo from 4 years ago. Looks like I've learned a thing or two about some things, including how NOT to take a food photo. WOOF.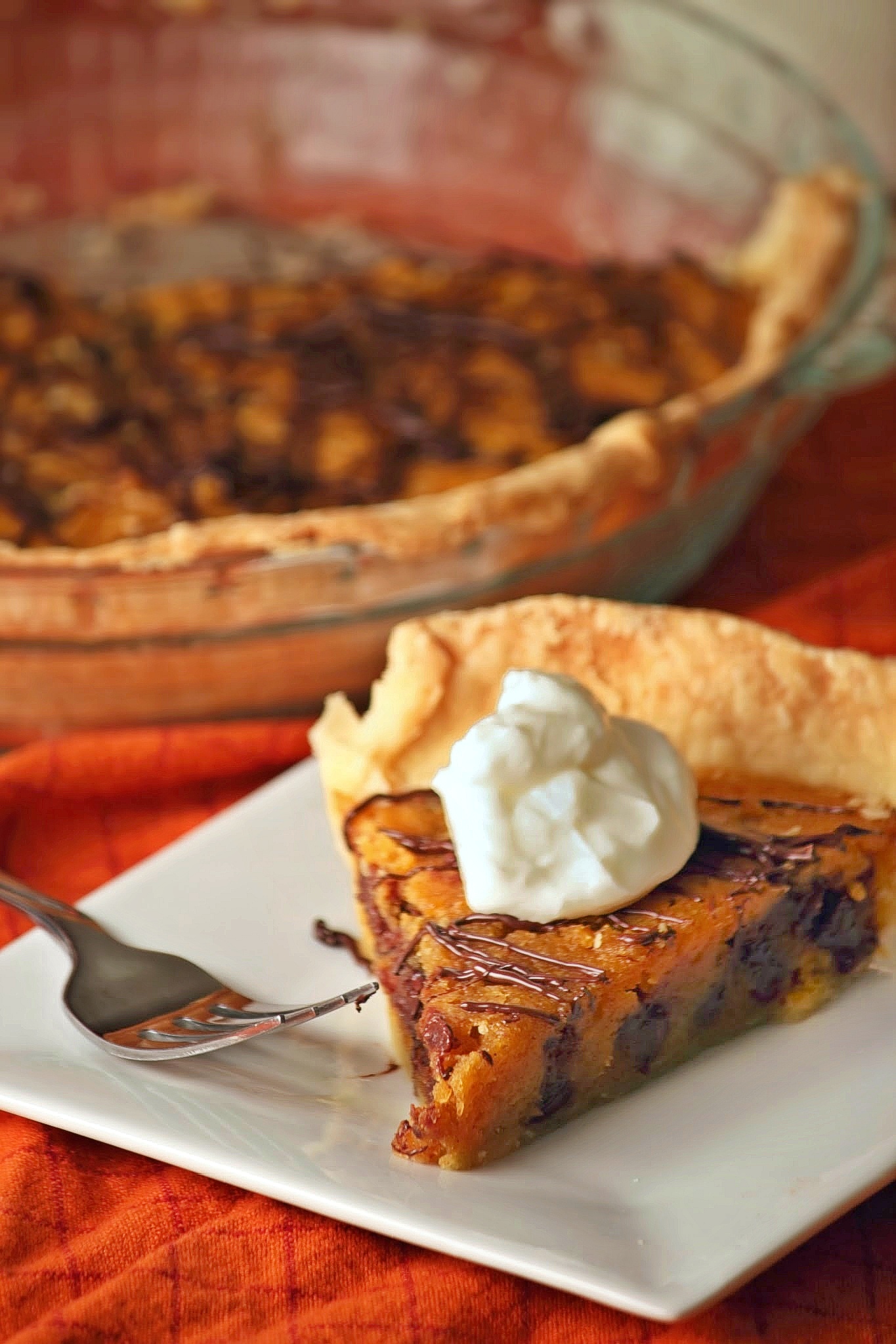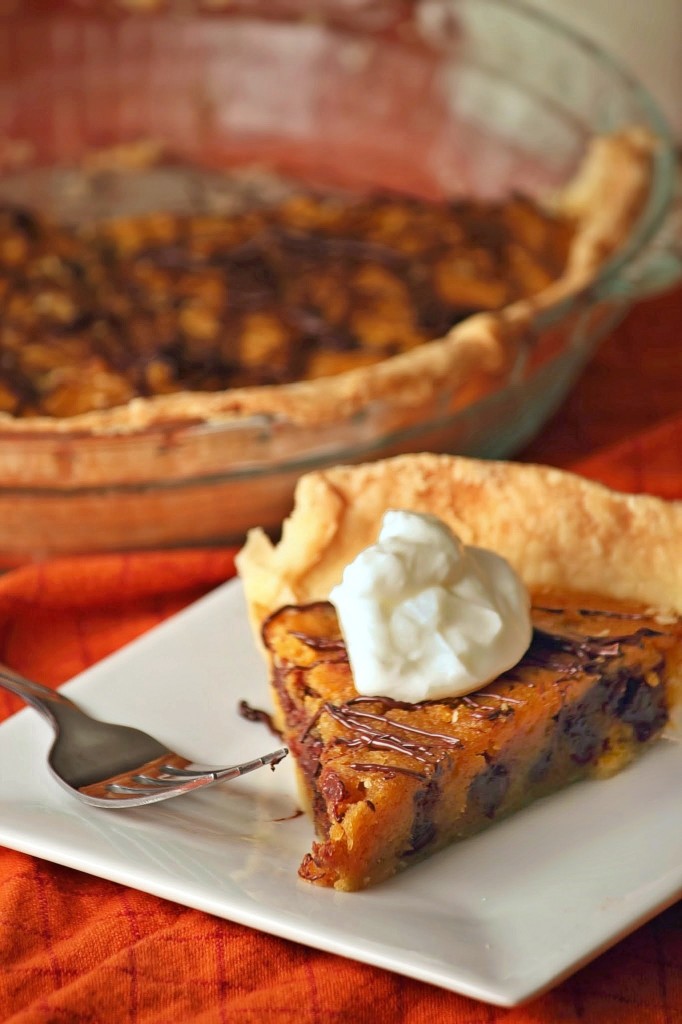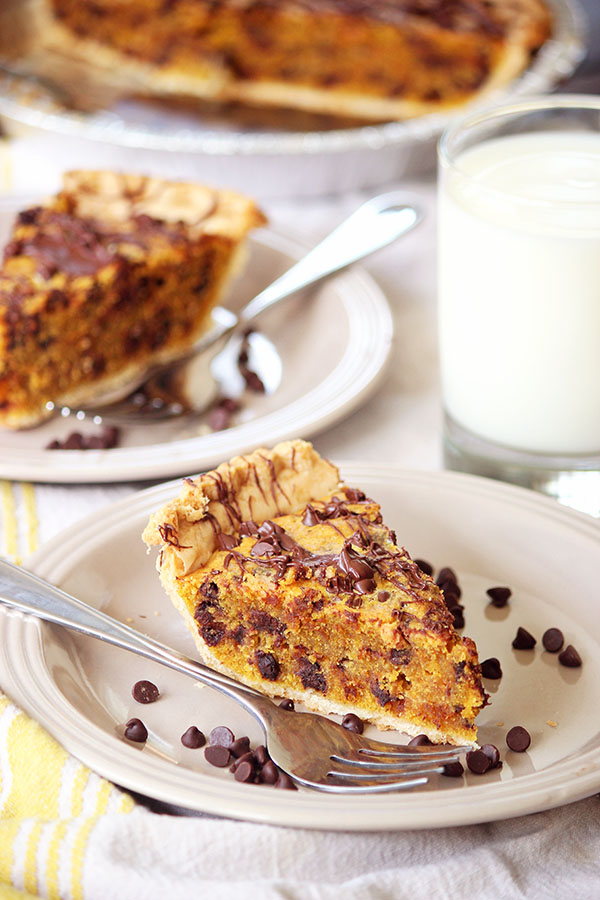 Deep Dish Pumpkin Chocolate Chip Cookie Pie
2017-10-23 11:41:16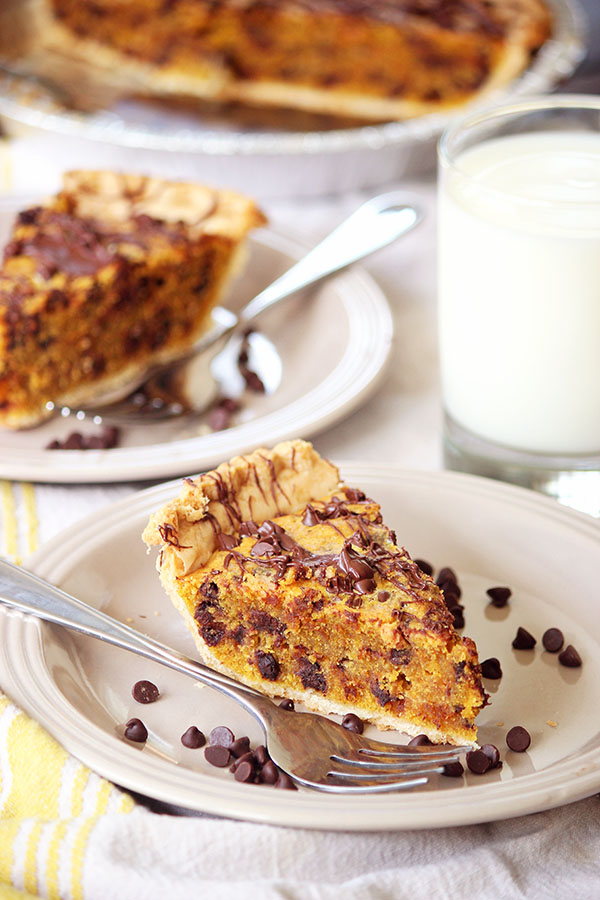 Serves 8
A thick, deep dish pumpkin chocolate chip cookie baked into pie crust. Fruit pie is so last season!
Ingredients
1 unbaked pie crust (store bought works wonderfully! Especially the frozen crusts that are already in the pie dish, usually in the ice-cream/cool whip/frozen fruit section at the store)
1 cup all-purpose flour
1/2 teaspoon pumpkin pie spice
pinch of salt
1/2 cup (1 stick) unsalted butter, softened to room temperature
1/2 cup granulated sugar
1/2 cup packed brown sugar
2 large eggs
1/2 cup pumpkin puree
1/2 teaspoon vanilla
1 cup mini semi-sweet chocolate chips, plus about another 1/2 cup for drizzle
*Sweetened whipped cream or ice cream (optional)
Instructions
Preheat oven to 325 degrees F.
In a medium sized mixing bowl, whisk together your flour, pumpkin pie spice and pinch of salt. Set aside.
With an electric mixer or in the bowl of a stand mixer, cream together your butter and sugars until fluffy. Slowly mix in the eggs, pumpkin puree and vanilla until fully combined. Add the dry ingredients a little at a time, mixing between each addition. Turn mixer off and fold in chocolate chips.
Take a 9" pie plate (preferably glass). Lay one unbaked pie crust in the pie plate, folding or cutting off the excess around the edges. Or, use 1 prepared frozen pie crust (like the one in the video). Spoon the pumpkin chocolate chip cookie batter into the crust. Bake for 40-45 minutes or until knife inserted in the center of the pie comes out clean. Melt your additional chocolate chips in the microwave and drizzle over the top of the cookie pie. Serve warm with ice cream or whipped cream (I say BOTH).
Adapted from Very Best Baking
Adapted from Very Best Baking
And They Cooked Happily Ever After http://www.andtheycookedhappilyeverafter.com/