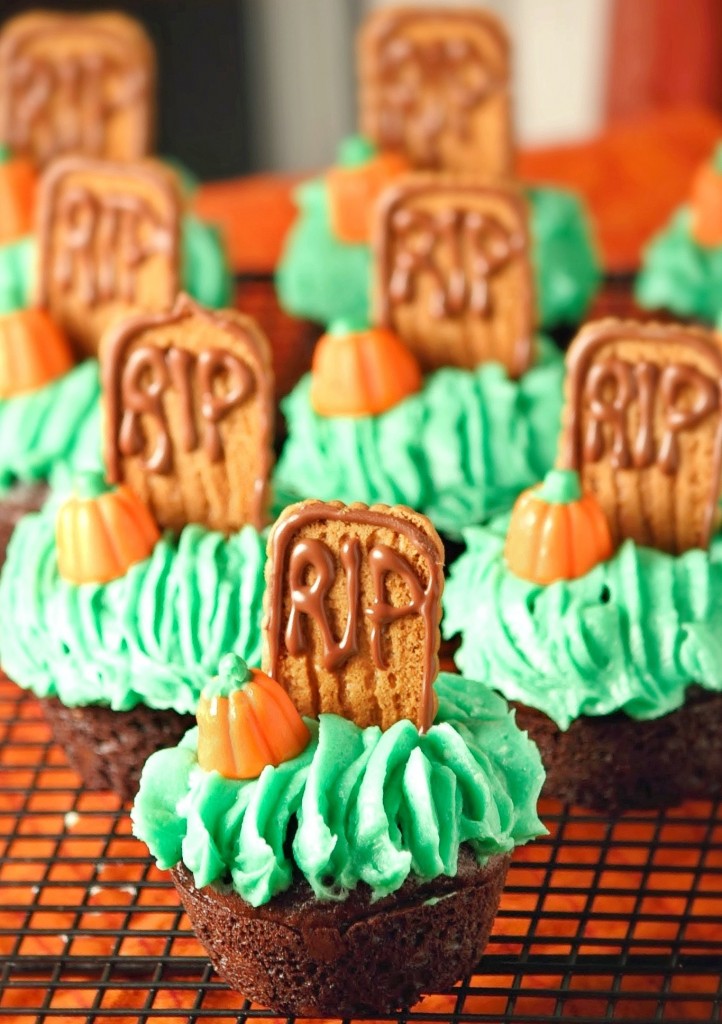 The city of Boston is waking up today as world champs. What a year it's been for the city, but alas, finally, something to celebrate (mostly that everyone can finally get to bed at a reasonable hour!) oh and, that whole world series thing too

Not only is today the day after the big win, it's also Halloween! And it's forecasted to be in the 60's today – I mean, talk about the heavens smiling down. There's not a whole lot to these cupcakes – boxed mix, frosting, candy pumpkins and some chocolate writing on a cookie. But, what they lack in technical skills they make up for in cuteness, big time. I got the idea from Damn Delicious's instagram feed. She used brownies and Milano cookies – I used cupcakes and Biscoff Cookies. There's probably a million ways you could put these Tombstone Cupcakes together. They're fun – festive – and most of all, a perfect Halloween dessert.
That is unless you're Dave and you don't eat dessert….maybe it was his name on the tombstone that was off putting….hmmmf oh well.
Happy Halloween everyone – be safe tonight! And GO SOX! Thanks for giving the city something to cheer about!
*Adapted from Damn Delicious
Ingredients
1 Box of your favorite chocolate cake mix, prepared according to instructions
4oz milk chocolate or small tube of chocolate icing (the gel kind)
24 biscoff cookies
24 candy pumpkins

For the Frosting:

2 sticks of butter
3 cups confectioner sugar
1 teaspoon vanilla
1-3 tablespoons heavy cream
green food coloring
Instructions
1) Prepare your cupcakes according to the instructions on the box and let cool
2) To prepare your tombstones: Melt your chocolate in a double boiler or in the microwave. Using a squeeze bottle like this one, line your cookies around the edges with the chocolate, and then write RIP (and any other fun things you can fit on there!). Set cookies aside. Make sure the chocolate is completely dry before sticking cookie in the cupcake.
3) To prepare your frosting: With an electric mixer, combine the sugar and butter until the mixture looks crumbly. Then, add the vanilla, cream and food coloring until the frosting reaches your desired texture (and shade of green). You can certainly tweak the amount of cream depending on how fluffy you like your frosting. Place frosting in a piping bag and set aside.
4) With a butter knife, make a slit in the middle of the cupcake. Stick the tombstone cookie into the slit, pushing down until it stands on it's own (but not all the way through the bottom of the cupcake). Then, pipe the green frosting around the cookie, creating a grassy look (I tried a couple of different tips - there's several you can use to give the illusion of grass. Or you can just slather with a knife if you don't have a piping bag). Finally, place your candy pumpkin in front of the tombstone.
http://www.andtheycookedhappilyeverafter.com/2013/10/31/tombstone-cupcakes/
Copyright And They Cooked Happily Ever After