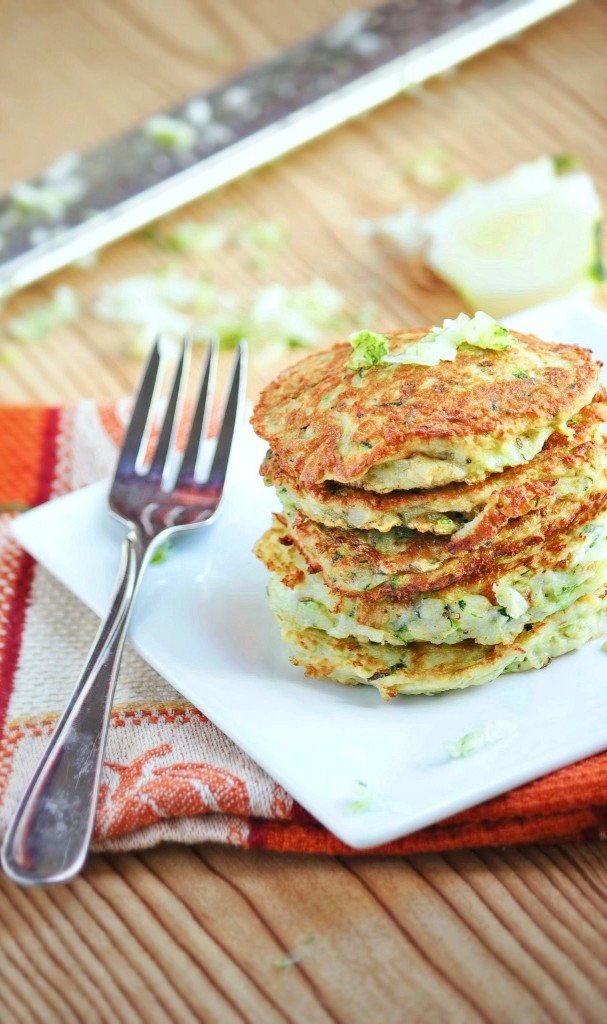 If there was a time of year that I'd say would be the WORST possible time for me to have a broken oven, I'd say it'd be Fall.  And as luck would have it, in the throws of one of my favorite baking seasons, I have just that.  Siiiiiiiiiiigh.  So no-bake land is where I've bee livin' for the last two weeks. And it's a land I want OUT of – STAT. I'm dreaming of pumpkiny fall goodies – thinking new ones up in my head when going to bed at night. And somehow, they all require a functioning oven.
So in the meantime, I've got these Zucchini Pancakes, which I concocted wistfully last night for dinner.  In my head I thought "Ok, I've gotta do something with these on the stove top, and I don't want to sautee them, cuz' well, I do that all the time. And I can't make those tasty Zucchini Crisps, cuz' well, you need to bake those".  For some reason though hash browns popped into my head – but using shredded zucchini instead of potatoes. Yeah, that's the ticket! Dave watched me prepping these, adding a dash of this, and a pinch of that, and  I could see the fear in his eyes, knowing that whatever the outcome was, he was going to have to at least sample and swallow regardless of how good or bad they were.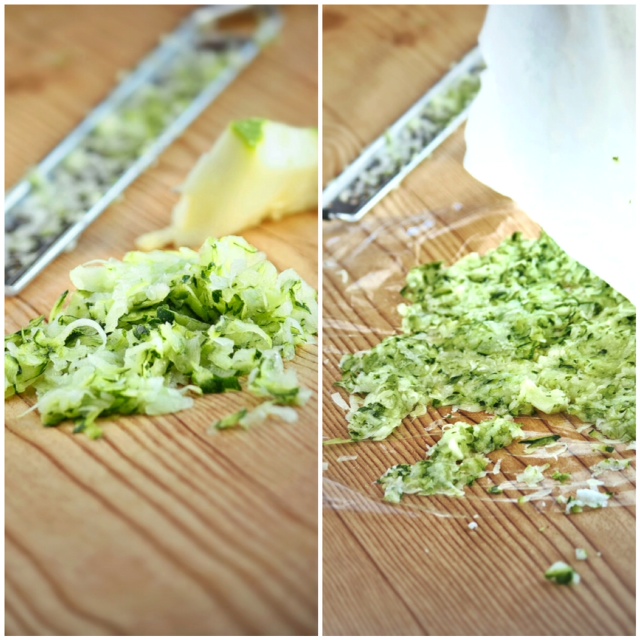 And wouldn't ya know, he ended up eating 4 of them! They came out a little more like pancakes than a hash brown, but still, a great way to serve up zucchini at dinner without the audience hemming and hawing over another dish of sauteed zucchini.
Oh and, they're healthy too, clocking in at just a hair over 1 weight watchers point per serving.
I guess you're not so bad after all no bake land (although, I'm still moving the minute our new oven comes in).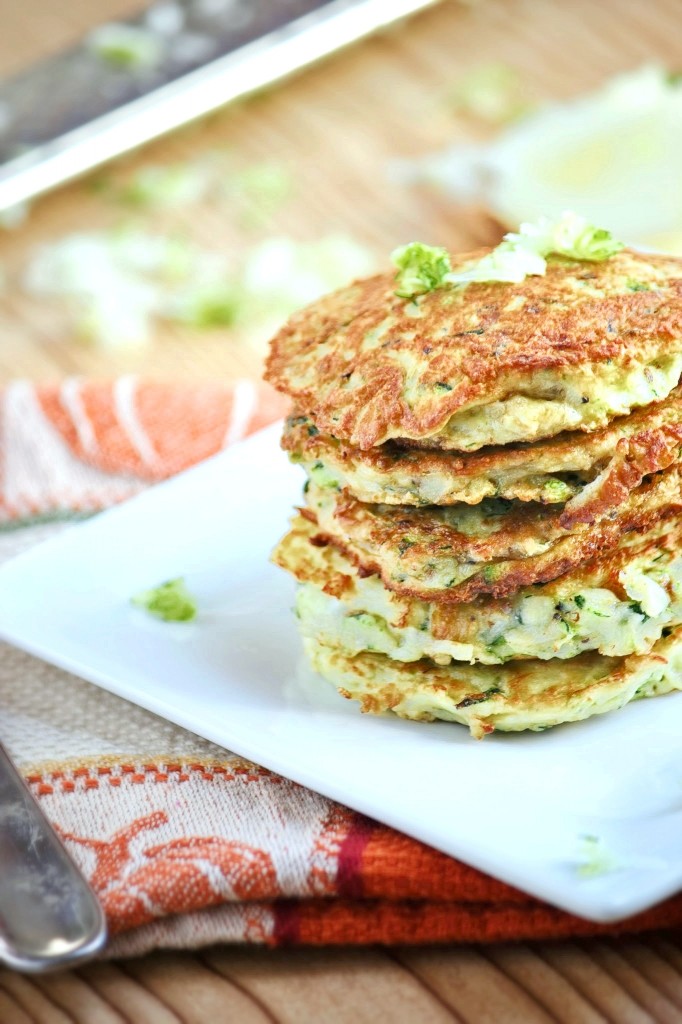 Ingredients
1 medium zucchini, shredded (about 2-3 cups)
1 teaspoon kosher salt
1/2 teaspoon ground black pepper
1/2 teaspoon onion powder
4 tablespoons all-purpose flour
2 tablespoons shredded parmesan cheese
1 egg
Instructions
1) Shred your zucchini. After it's shredded, you want to try to get as much water out of it as possible. You can do this by spreading the zucchini out flat on a piece of plastic wrap or a paper towel, and then press another paper towel (or two) on top of the zucchini and press out the water. I did this a couple of times to try to get as much out as possible. The dryer the zucchini, the better your pancakes will come out. Place your dry, shredded zucchini in a medium sized bowl.
2) To the shredded zucchini, add the salt, pepper, onion powder, flour and parmesan cheese and fold it into the zucchini. Then, lightly beat your egg in a separate small mixing bowl, and then fold it into the zucchini mixture.
3) Heat a large skillet over medium heat and coat with non-stick cooking spray (you could also use vegetable oil, but the cooking spray will save quite a few calories). Let the pan heat for 2-3 minutes so that it's hot and then place 1/4 cup of the zucchini mixture in small dollops onto the heated pan. Let cook for about 2 -3 minutes, until the bottom feels firm and can be easily scooped up by a spatula. After 2-3 minutes, flip over and cook on the other side for another 2-3 minutes. You'll know the pancakes are done when they're golden brown on both sides.
http://www.andtheycookedhappilyeverafter.com/2013/09/25/zucchini-pancakes/
Copyright And They Cooked Happily Ever After