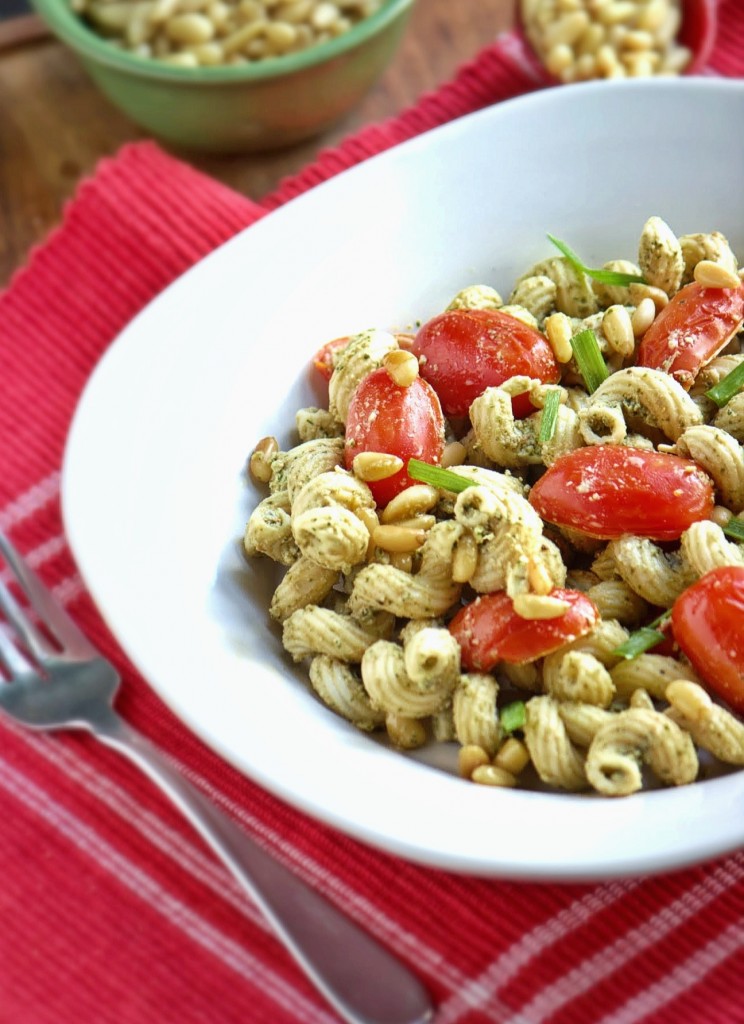 There's no better smell in the world than a heaping bunch of fresh basil plucked right out of the garden (or the produce aisle at Market Basket – someday I'll have a sprawling herb garden that I can skip around in…some dayyyyy). And there's a whole bunch you can do with it of course, but probably the most simple and my most favorite is to make fresh pesto. It could be the worlds best topping/condiment/meh, I don't know what you'd call it. But any time of year, I love using it in as many things as I can, especially as a substitution for red sauce on a pizza. I've tried to make pesto using other things like cilantro and parsley, but I always come back to Basil pesto. It is just the bomb.com.
This time around, I wanted to put it in a pasta salad, but needed another savory flavor that would really compliment it well.
Que the goat cheese, roasted tomatoes and toasted pine nuts.
And just like that, I have my new favorite pasta salad. Let's raise our forks and say cheers!
Pesto and Goat Cheese Pasta Salad with Roasted Tomatoes
Ingredients
For the pesto:

yields about 1 cup - you will only need 1/2 cup for the pasta)

2 cups packed fresh basil
2 cloves garlic, minced
1/4 cup pine nuts
1/2 - 1 cup extra virgin olive oil (depending on your desired texture)
1/2 cup freshly grated parmesan cheese
salt and pepper to taste

For the salad:

1 lb. cavatelli pasta (or whatever type you prefer - I like the curliness)
1 tablespoon extra virgin olive oil
2 garlic cloves, chopped fine
1 quart grape tomatoes, diced in halves
salt and pepper to taste
1/4 cup pine nuts
1/2 cup fresh pesto
4 oz. goat cheese
*a few chopped basil leaves for garnish (optional)
Instructions
1) To prepare your pesto: - combine your basil leaves, garlic and pine nuts in a food processor until they form a thick paste. Add 1/2 cup of the olive oil and pulse until it's fully combined with the mixture. Season with salt and pepper to taste and then add additional oil if it hasn't reached your desired texture. 1/2 cup will leave it somewhat thick while adding 1/4 - 1/2 cup more will make it more like a dressing. Once pesto has reached your desired texture, fold in the grated cheese, season with salt and pepper, and set aside.
2) To prepare your pasta salad: - bring a large pot of lightly salted water to a boil and cook the pasta for 8-10 minutes until al dente.
3) While the pasta is cooking, roast your tomatoes. Heat 1 tablespoon of olive oil in a skillet over medium heat. Add the minced garlic to the oil, making sure to keep stirring so the garlic doesn't burn, and heat the garlic until it's just fragrant (about 1 minute). Add your tomatoes and let them cook for about 2-3 minutes. You don't want them to cook through completely, just lightly roasted on the edges. Add salt and pepper to taste.
4) Toast your pine nuts in a small skillet over medium heat, stirring frequently, until they just start to brown.
5) When the pasta is cooked, drain the pasta and place it in a large mixing bowl. Immediately add your goat cheese and 1/2 cup pesto and fold to cover all of the pasta forming a pesto/goat cheese sauce. Then fold in your roasted tomatoes and toasted pine nuts. Garnish with chopped basil. Serve warm or at room temperature (although warm is best!).
*This yields quite a bit of pasta salad, so feel free to cut the recipe in half for a smaller crowd.
http://www.andtheycookedhappilyeverafter.com/2013/08/16/pesto-and-goat-cheese-pasta-salad-with-roasted-tomatoes/
Copyright And They Cooked Happily Ever After