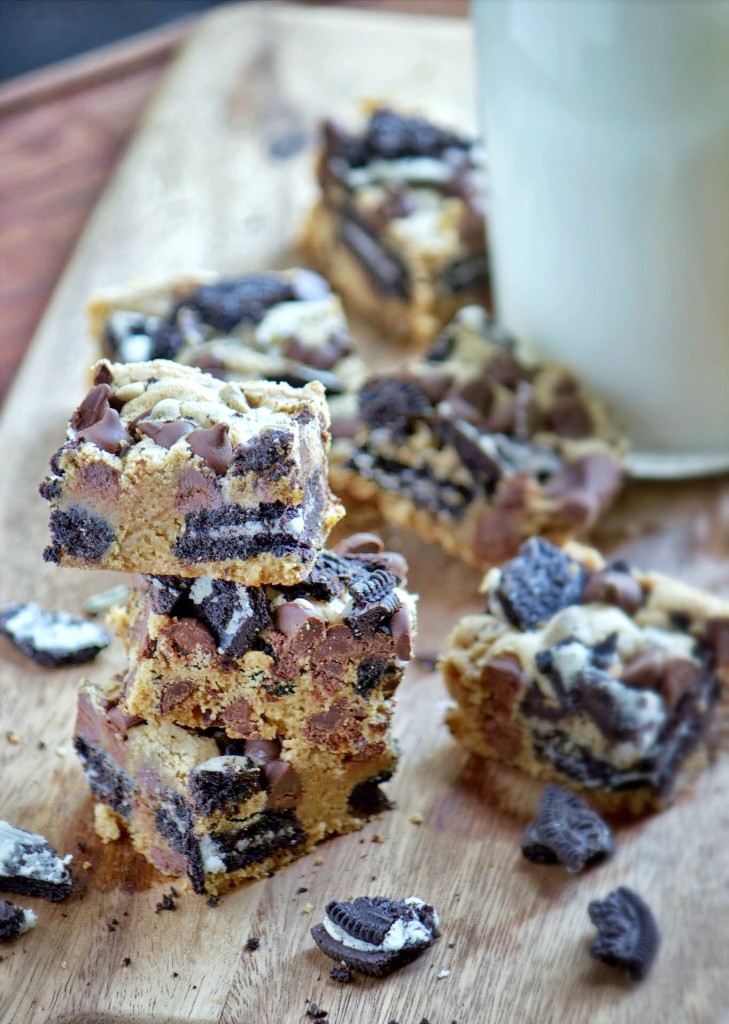 Dave and I had a wedding up in Maine this weekend.  And besides dancing til' our (er, mine) calves hurt (still sore today – so pathetic) we also ate – A LOT.
There was this monster loaf of bread at the wedding…
This amazing poutine and grilled cheese sammies from Duckfat…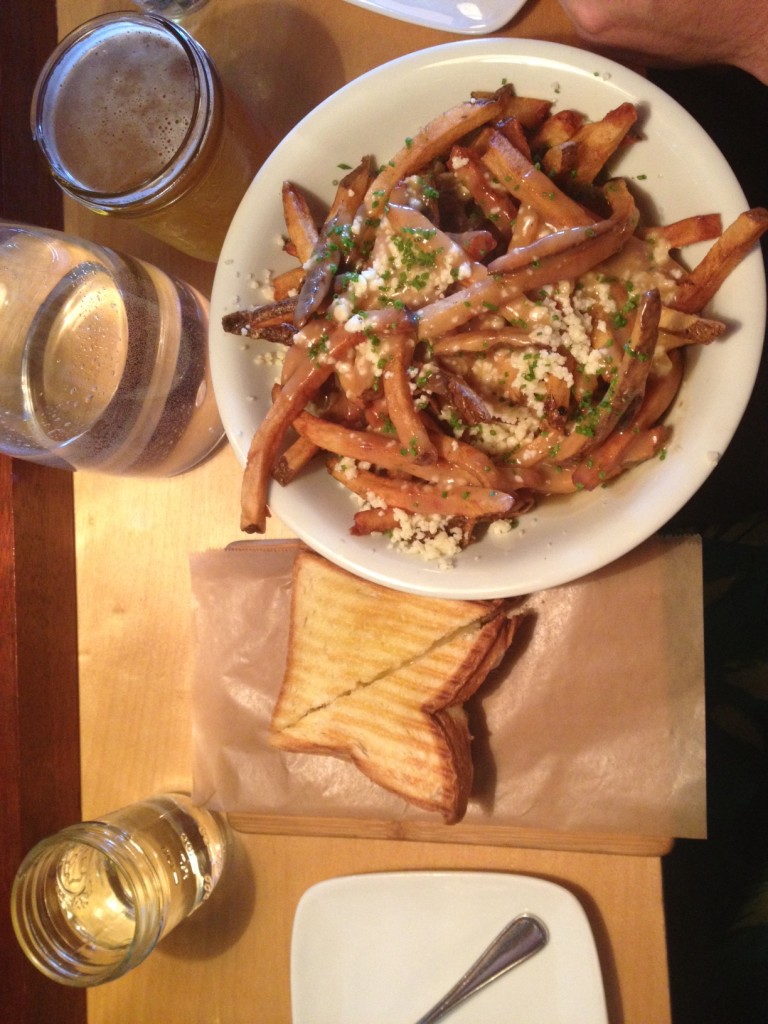 And stupidly – I decided it was necessary to pack a few of these Biscoff Cookie Bars that I made – ya know, cuz' "Dave's friends' will get hungry and want a snack."
Translation – Kate ate almost all of them herself – Dave's friends didn't even know of their existence.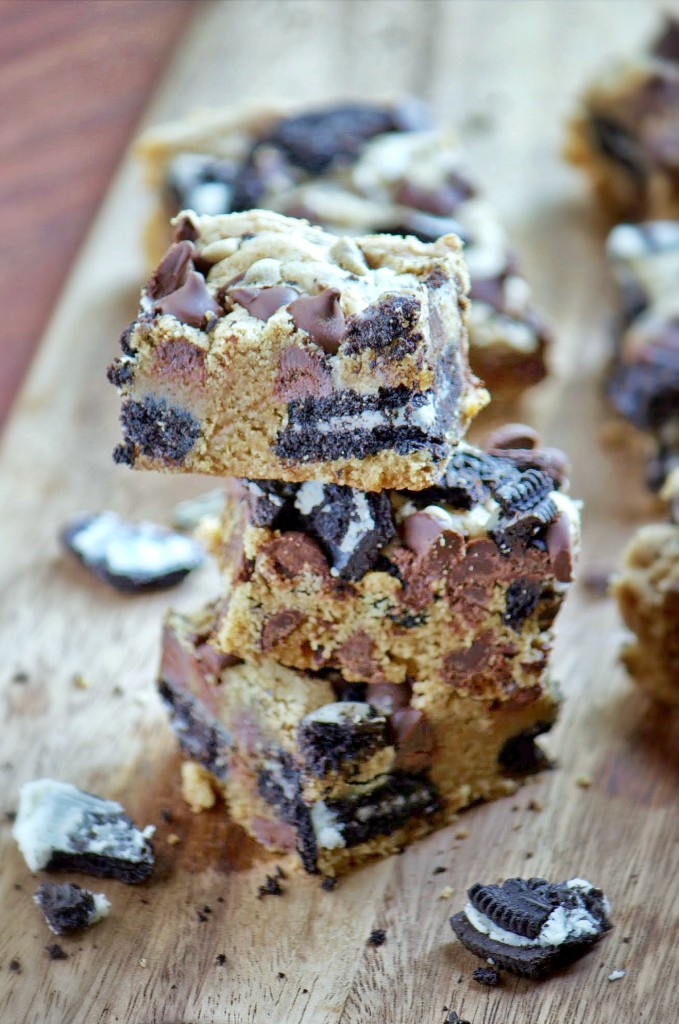 I love blondies, and since I still had that 1/2 jar of Biscoff Spread from the Biscoff Spread Cinnamon Buns that has been softly whispering my name in the middle of the night, saying "Kaaaaate – I'm heeeeere – and I really love the accommodations inside your belly".  So I knew I had to get rid of it.  And blondies was how it would happen.  And then I went nuts and added almost an ENTIRE bag of chocolate chips. Oh, and Oreos for good measure. It was like I blacked out and woke up and there were these Biscoff Cookie Blondies sitting in front of me.
Best. Blackout.Ever.
Ingredients
2 sticks (1/2 lb) unsalted butter, melted and cooled
1/2 cup light brown sugar
1/2 cup dark brown sugar
1 egg
1 egg yolk
1/2 cup Biscoff Spread
1 teaspoon vanilla extract
1 & 1/2 cups all-purpose flour
1/2 teaspoon salt
1/2 teaspoon baking powder
20 Oreo cookies
2 cups semi-sweet chocolate chps
Instructions
1) Preheat oven to 350 degrees F. Grease a 9"x9" (or 8x8") baking pan with non-stick cooking spray.
2) In a large mixing bowl, mix the melted butter and brown sugars together until fully combined. Add the egg and egg yolk - mix again - then add the Biscoff spread and vanilla and stir until fully combined.
3) In a separate mixing bowl, mix the flour, salt and baking powder together. Slowly add the dry ingredients into the wet mixture, a little at a time, stopping when all ingredients are just combined (be careful not to over mix). Fold in 1 cup of the semi-sweet chocolate chips.
4) Pour 2/3 of the cookie mixture into the greased baking pan, spreading to cover the bottom. Take 16 Oreo cookies and make 4 rows of 4 Oreo cookies across, gently pressing the Oreos into the cookie dough. Then, take the remaining cookie dough and place globs of it over the Oreos. Gently spread the globs over the Oreos with the back of a spoon. The Oreos don't need to be completely covered by the dough as it will spread out when it bakes. Break the remaining Oreo cookies up into pieces. Take the Oreo pieces and the remaining cup of chocolate chips and sprinkle both over the top and in any creases between the dough and the Oreos.
5) Bake for 25-28 minutes. Be sure not to over cook - blondies may appear to be undercooked but they will continue to bake in the pan. Let them cool in the pan for about 1/2 hour before cutting and serving.
http://www.andtheycookedhappilyeverafter.com/2013/08/06/biscoff-cookie-bars/
Copyright And They Cooked Happily Ever After