Another "Bob's Burger" inspired burger concoction – the "Chorizo Your Own Egg-Venture" Burger – because the ground beef is never enough – you can always add more meat!
When deciding how to create this silly sandwich, there were a few things to figure out.  Chorizo is a spicy sausage, but there are a couple different types. There's Spanish & Portugese chorizo (the type I used), get their color and flavor from dried smoked red peppers while Mexican chorizo is typically made with chilli peppers.  So regardless of which type you use, chorizo will add a spicy kick to any dish you're using it in.  I also wanted to make sure that I was using a proper cheese that would compliment the chorizo, and knew that your standard cheddar or american probably wouldn't do the job.  So I decided on Oaxaca, which I had never used before, but I knew that it's often used in many mexican dishes. It reminded me a bit of feta cheese almost, and was a bit on the crumbly side to slice, but really complimented the spicy chorizo.  Top it off with a sunny side up fried egg and slap it on a fresh burger bun? I think Bob would approve!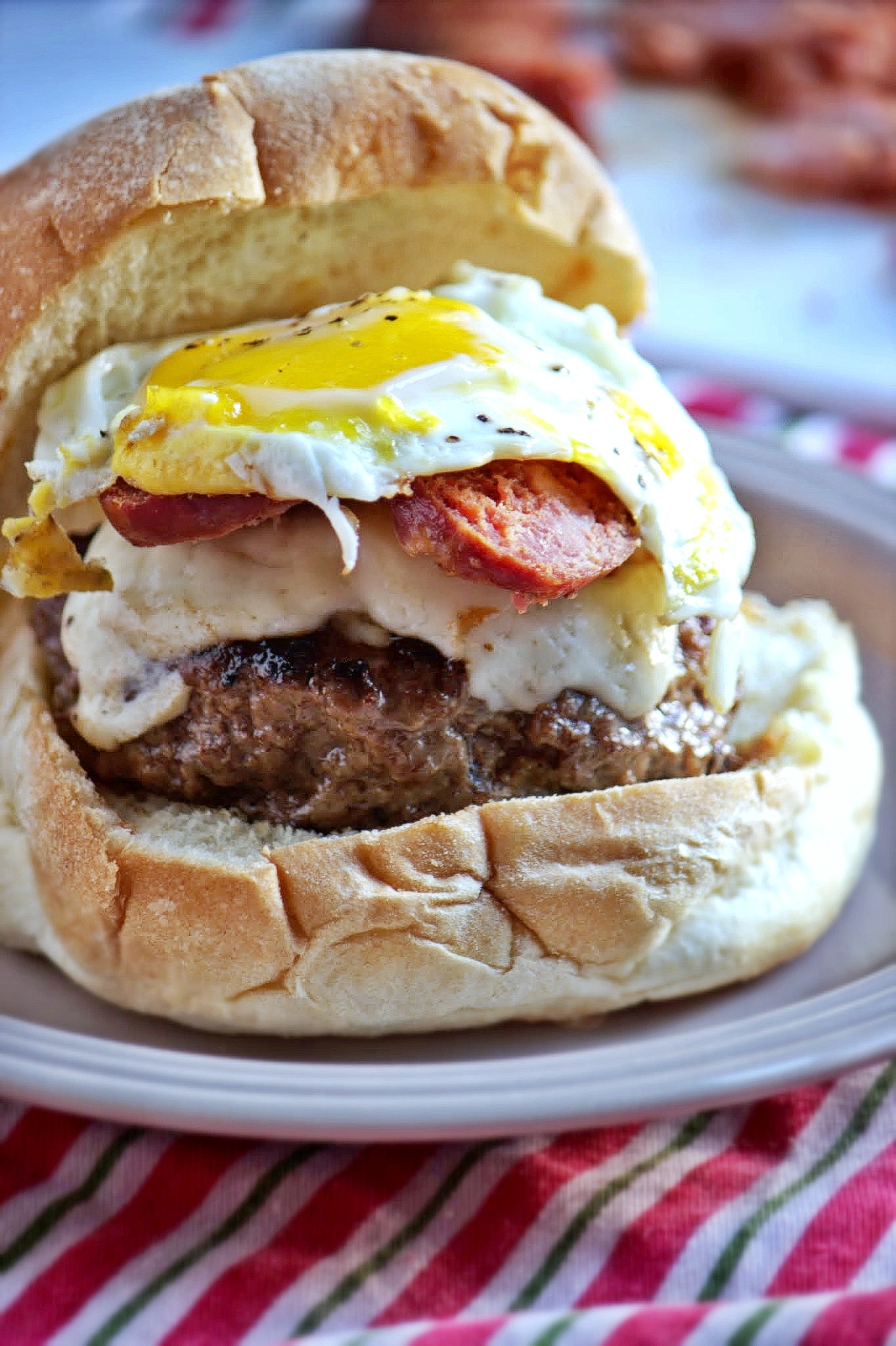 The "Chorizo Your Own Egg-Venture Burger" from Bob's Burgers
Ingredients
1 lb. 85/15 percent fat ground beef

For Hamburger Seasoning

1/2 teaspoon salt
1/2 teaspoon pepper
1/2 teaspoon onion powder
1/2 teaspoon garlic powder
1/2 teaspoon cumin
1/2 teaspoon chili powder
1/2 teaspoon brown sugar

For Burger

2 large chorizo links
1/2 cup water
4 eggs
salt and pepper to taste
4oz oaxaca cheese
Instructions
1) Combine all the spices for the hamburger seasoning in a small mixing bowl and gently knead the mixture into the ground beef. Split the ground beef into 4 sections and shape into 4 patties. Set patties aside.
2) To cook your chorizo - Place your chorizo links in a medium skillet. Turn to medium heat and let the links cook for 5 minutes, turning frequently to brown on both sides. After 5 minutes, add 1/2 cup water, turn heat down to low and let the chorizo links cook for another 12-15 minutes, until cooked through (food thermometer will read 160 degrees F). Slice your links in half and then slice each half horizontally down the middle so you have 8 chorizo slices total. Set aside.
3) To Cook Your Eggs-Place skillet (or griddle) on stovetop and turn to medium-high heat. Crack eggs over skillet and let cook until the egg is cooked through.
4) To Cook Your Burgers: In a cast iron skillet or grill pan, cook your burgers to your liking. After burgers are cooked, place about 1oz (feel free to add more) of oaxaca cheese. Place burgers under a low broiler for 2-3 minutes until cheese just starts to melt. Then, add 2 slices of chorizo and the fried egg on top of the cheese, and place burger back under the broiler for another 2 minutes until cheese melts completely (keeping an eye out to make sure it doesn't burn). Serve hot on a burger bun.
http://www.andtheycookedhappilyeverafter.com/2013/07/21/the-chorizo-your-own-egg-venture-burger-from-bobs-burgers/
Copyright And They Cooked Happily Ever After