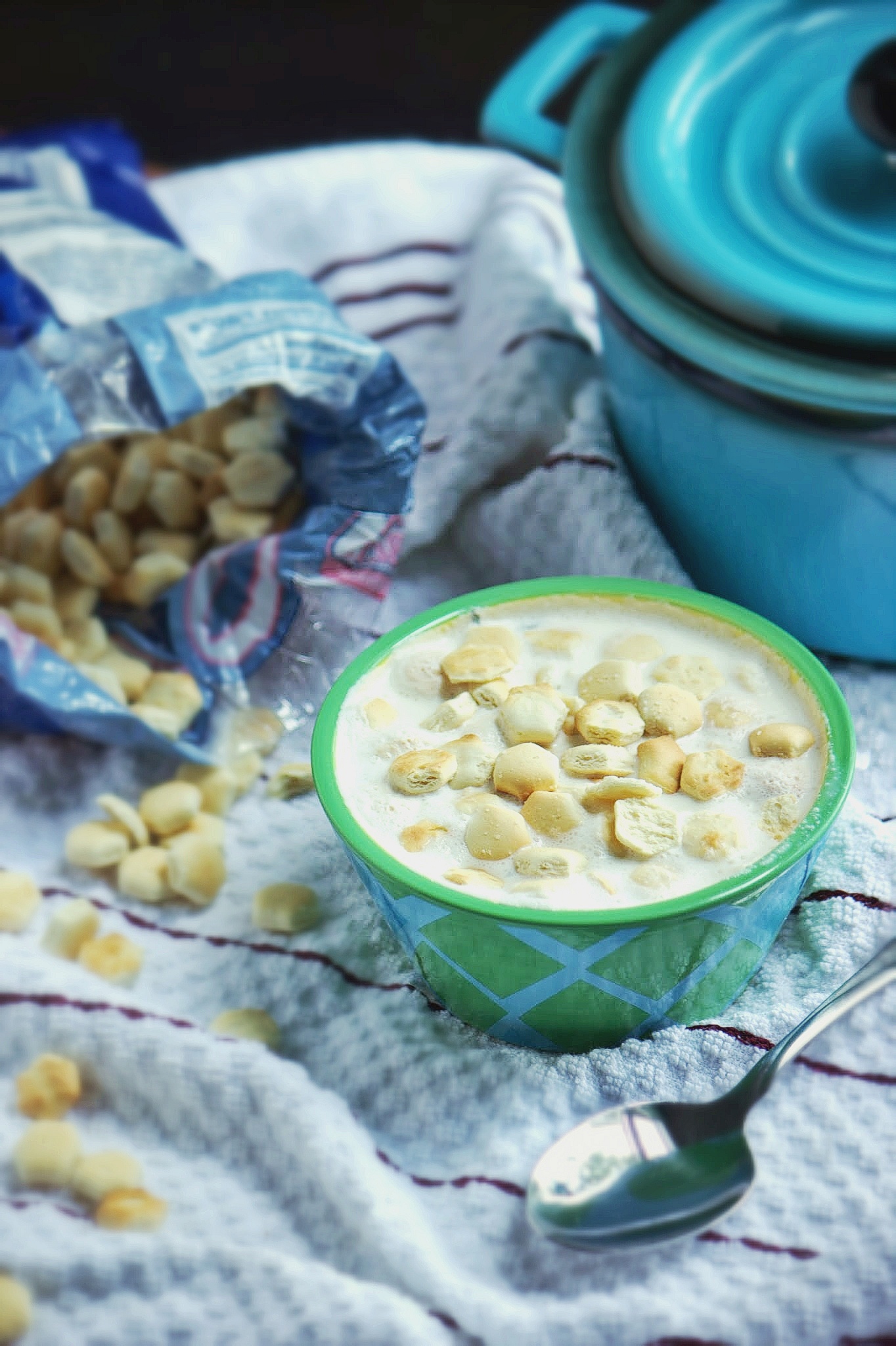 Summer is in FULL swing (as I sit with the shades drawn under the air conditioner in the middle of a heat wave in Boston).  The seafood around here is the best around, all year.  But there's something about eating seafood in the summer time after a long day at the beach or when you're on summer vacation that makes it taste that much better.  When I was little, seafood used to gross me out. But as I've mentioned in previous posts, being able to stomach seafood was a bit of a deal breaker to be married to Dave.  So slowly, I've come to really enjoy certain seafoods.  Baby steps!
One of my most favorite seafood treats though is a steamy hot cup (or bread bowl – yeah actually, bread bowl) of New England Clam Chowder.  It's creamy, totally bad for you, and a perfect pallette wetter for a summertime seafood feast.  I've always wanted to make it myself, but  had it built up in my head that it would be a process to make.  So I finally bit the bullet and realized that the only 'process' is the steaming and cleaning of the clams. The rest is cake.  With lots of frosting.
I wanted to go all out in trying to make this as authentic as possible, but I know there are some short cut recipes out there that involve store bought clam juice and pre-chopped clams.  And next time, I may try that. Just to see if the taste is the same.  Dave says that it wouldn't taste the same without all the 'blood, sweat and tears'.  (Easy for him to say as he was bike riding while I was steaming myself and clams in the 90 degree weather!)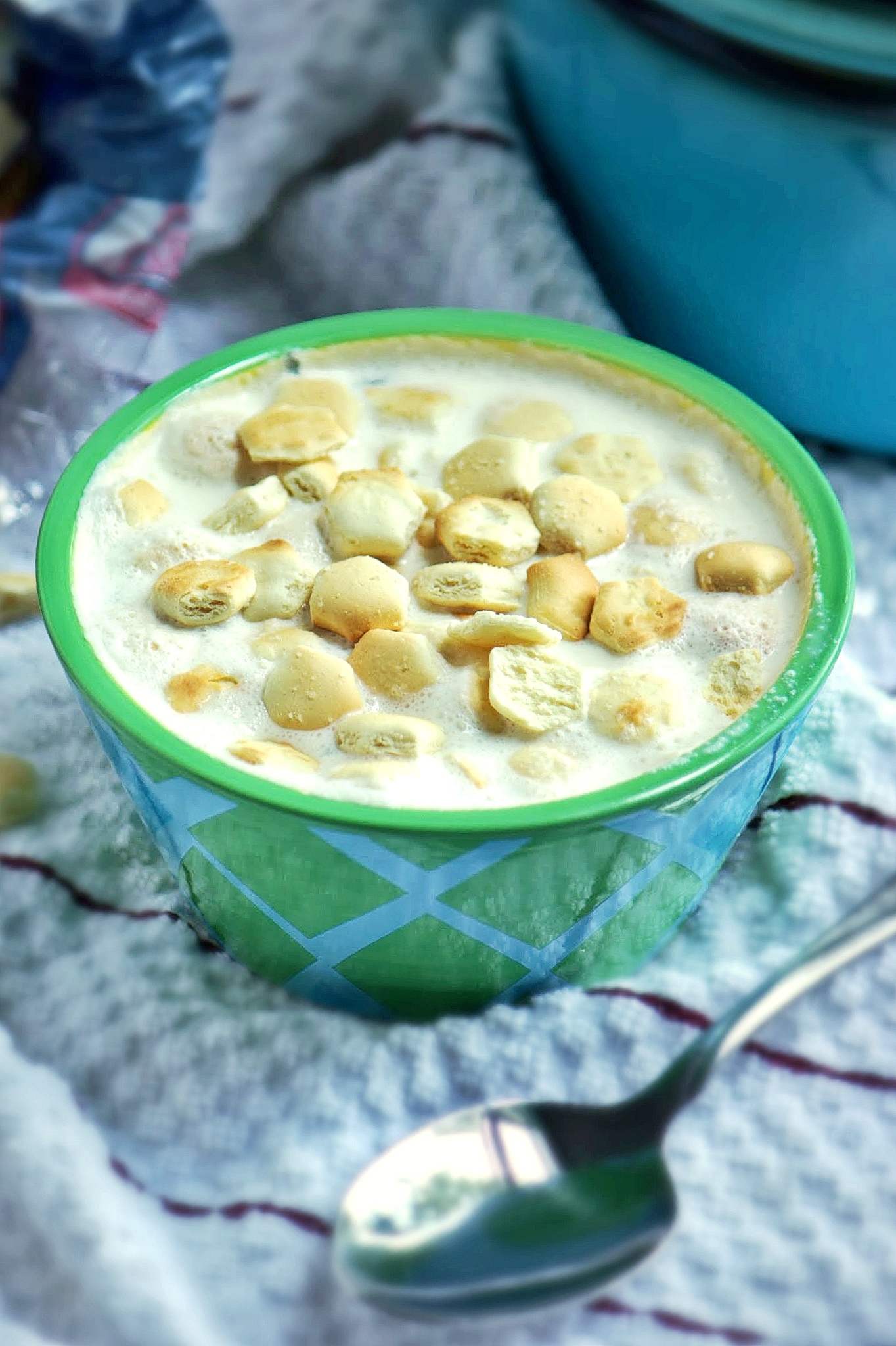 Modified slightly from Chef Anne Burrell
Ingredients
4 lbs. Long Neck Clams, rinsed and scrubbed (long necks are larger than little necks - 4lbs was about 16 clams but if you prefer more clams, you can certainly use more)
4 thick slices of bacon, chopped small
1 garlic clove, minced
1 large onion, chopped
kosher salt
ground black pepper
1 & 1/2 lbs yukon gold potatoes, chopped small (or large, depending on how large you want your potato chunks to be)
4 tablespoons flour
1 & 1/2 cups heavy cream
1 & 1/2 cups whole milk
2 bay leaves
Instructions
To Clean Your Clams:
1) Start by cleaning your clams thoroughly. Take clams and rinse each one individually under cold water, scrubbing all dirt off the shell and in the crease of the shell. Place scrubbed clams in a large bowl of cold water, making sure they're completely submerged in the water. Let them sit in the water for about 20 minutes. After 20 minutes, rinse the water (you'll notice quite a bit of sand at the bottom of the bowl). Place clams back in the bowl, cover again with cold water and place about a teaspoon of salt in the water. This will help draw the dirt out of the clams even more. Let sit for another 20 minutes and drain. At this point, they should be sufficiently cleaned, but you can always let them sit in cold water for another 20 minutes if you'd like.
To Steam the Clams:
1) Place the clams and 2 cups of water in a large pot. Cover and place over a high heat and cook the clams for about 7 minutes. Uncover and remove the open clams. At this point, most if not all of the clams should be opened. But if not, cover the pot again and continue cooking the unopened clams for another 2-3 minutes. After another 2-3 minutes, discard any clams that haven't opened.
2) Strain the clam juice from the pot through a mesh strainer lined with a coffee filter or paper towel and reserve the juice in a separate bowl. Remove the cooked clams from their shells, mince them and then set aside.
To Prepare Your Chowder:
1) Drizzle a few drops of olive oil into the bottom of the clam pot and toss in the bacon. Bring the pan to a medium heat. When the bacon starts to become brown and crispy, toss in the onions and minced garlic and season lightly with salt and ground black pepper. Cook the onions and garlic until they are very soft and translucent (about 7 to 8 minutes). Be sure to stir them frequently as to not burn the onions and garlic. Add the chopped potatoes and cook for another 5 minutes.
2) Sprinkle the flour over the onion and potato mixture and stir to combine. Gradually whisk in the reserved clam juice. When the clam juice has been whisked in and there are no lumps, whisk in the milk and heavy cream and toss in the bay leaves. Taste for seasoning and adjust if needed. Bring to a boil and reduce to a simmer and simmer until the potatoes are cooked through, 10 to 15 minutes. Serve hot with oyster crackers!
http://www.andtheycookedhappilyeverafter.com/2013/07/16/new-england-clam-chowder/
Copyright And They Cooked Happily Ever After