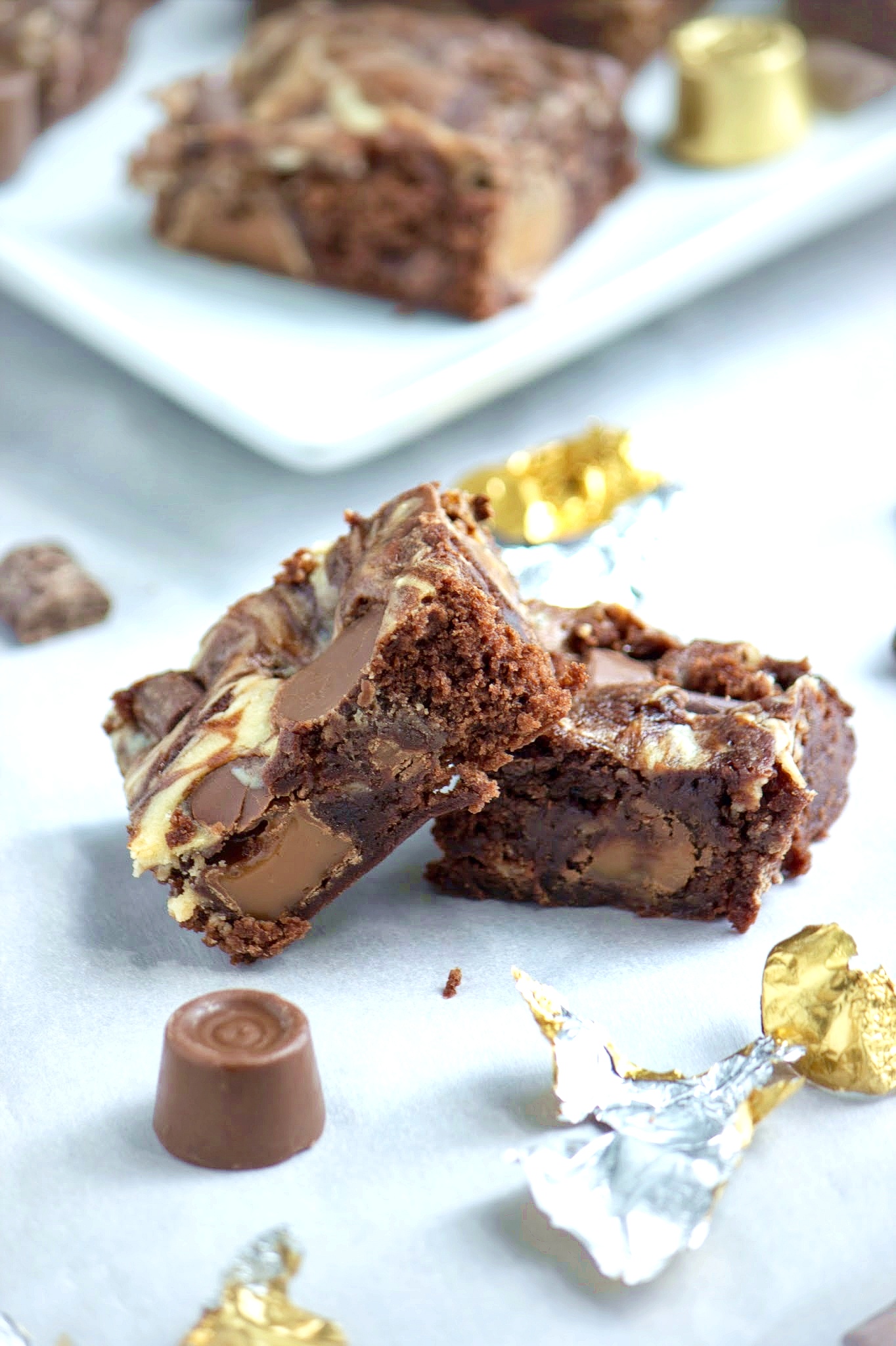 Sorry for the blog slackage lately everyone. Life has been pretty busy lately, but it's no excuse.  Today, I will make up for my lack of blogging consistency with a dessert that is still blowing my mind.
Caramel Cheesecake Rolo Brownies.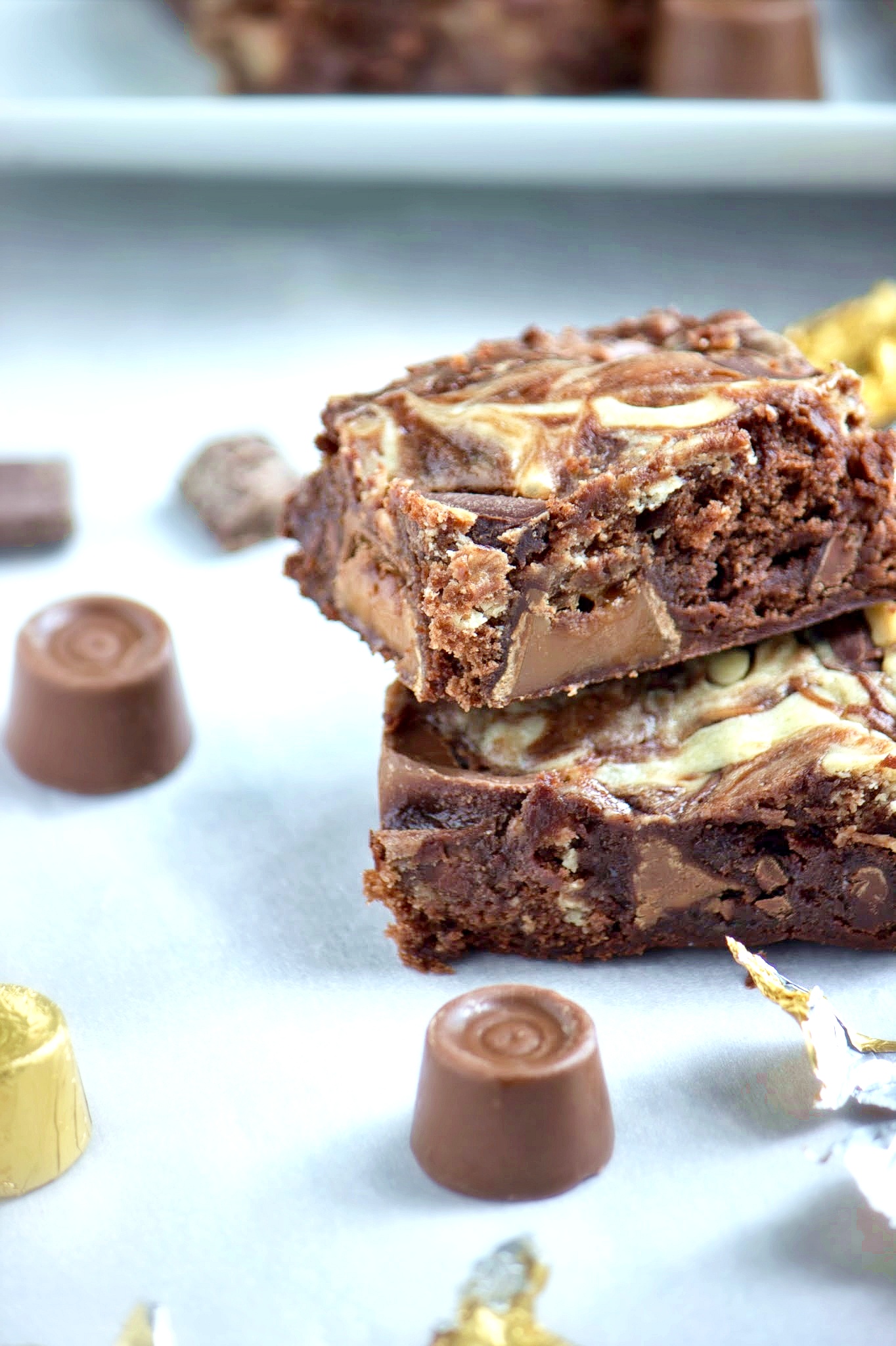 Ever since making those Magic Rolo Bars  I haven't been able to get Rolos out of my head.  So I've been trying to think of other ways to incorporate them into dessert – and I gotta say when I thought of this concoction in my head, I never in a million years dreamed it would come out as amazing and delicious as it did.
To save some time I used boxed brownie mix, but of course if you have a go-to homemade brownie recipe that you love to use, swap it out for the boxed mix.  You could also certainly add more caramel sauce to the cheesecake topping if you wanted the cheesecake layer to be more caramel'y.  But I thought three tablespoons gave a perfect subtle caramel flavor to the cheesecake layer of the brownies.  And well, the rolos, they just melted absolutely perfectly into the brownies.  I used the full size rolos for this particular recipe, but the mini ones would also work great as well.
So come on friends, it's Monday! Get your Rolo on to start the week off right!
Caramel Cheesecake Rolo Brownies
Ingredients
1 box of your favorite brownie mix (or homemade recipe), prepared according to instructions
1 block of cream cheese, softened to room temperature
1 egg, lightly beaten
1/4 cup sugar
3 tablespoons caramel sauce
1 bag of regular sized rolos, unwrapped
3/4 cup semi-sweet chocolate chips or chunks
Instructions
1) Preheat oven to 325 degrees F.
2) Spray a 9"x9" baking pan with non-stick cooking spray.
3) With an electric mixer, combine the softened cream cheese, beaten egg, sugar and caramel sauce until smooth.
3) Pour 2/3 of the prepared brownie mix into the pan. Take dollops of the cream cheese mixture and place on top of the brownie mix, finishing off with the remaining brownie batter on the top. Take a knife and swirl the brownie and cream cheese mixture together to create a marble pattern.
4) Before placing in the oven, take the unwrapped rolos and push them lightly into the brownie cheesecake batter. You can use as many or as few as you like, but if you use the entire bag it will give you a very dense layer of rolos in the brownies. Sprinkle the top with the chocolate chips/chunks.
5) Bake the brownies in a preheated oven for 35 - 40 minutes until a toothpick inserted in the center comes out clean. Let them cool to room temperature before cutting. They may be a little gooey still, but cutting them before they get too hard is better because the rolos can be hard to cut when they harden.
6) Store in the refrigerator until ready to serve.
http://www.andtheycookedhappilyeverafter.com/2013/06/24/caramel-cheesecake-rolo-brownies/
Copyright And They Cooked Happily Ever After