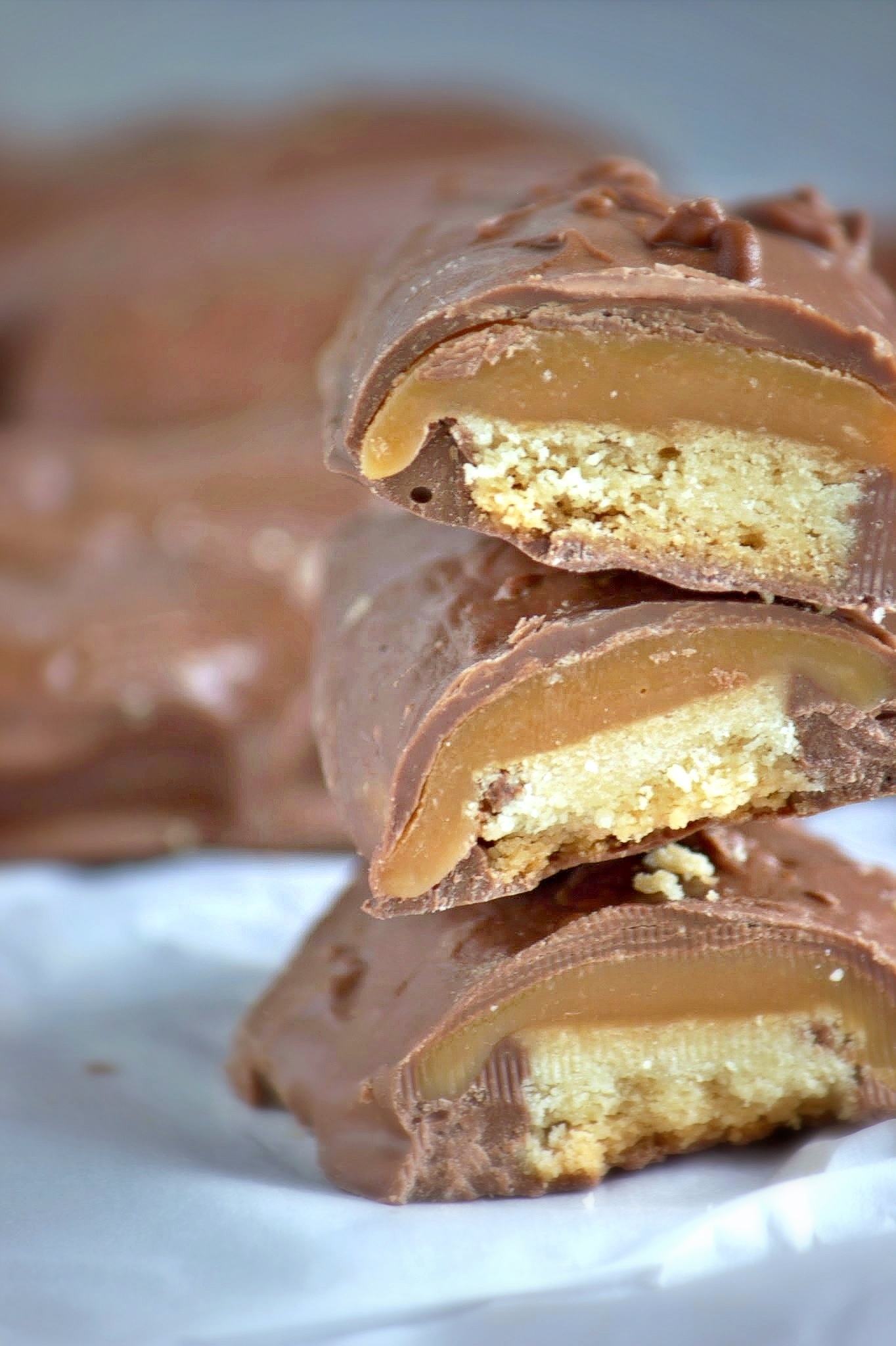 Since the last two posts have been from the skinny archives, I figured we're due for a non-skinny appearance.  It's ok – everything in moderation, right? RIGHT? That sounds so much better in my head than when I had these fresh, homemade Twix™™ bars in front of me.
Since I was a kid, Twix™ have always been one of my favorite candy snacks.  And when making them I tried to figure out why. Sure it's three of my favorite sweets on earth, shortbread, caramel and chocolate wrapped into a perfect piece of  confectionery heaven.  But I think it's because just when the first bar is gone, and you get all sad like "Aw man, I'm so sad that's gone" – low and behold, there's it's twin brother, right next to him, saying "Don't be sad, you still have me!".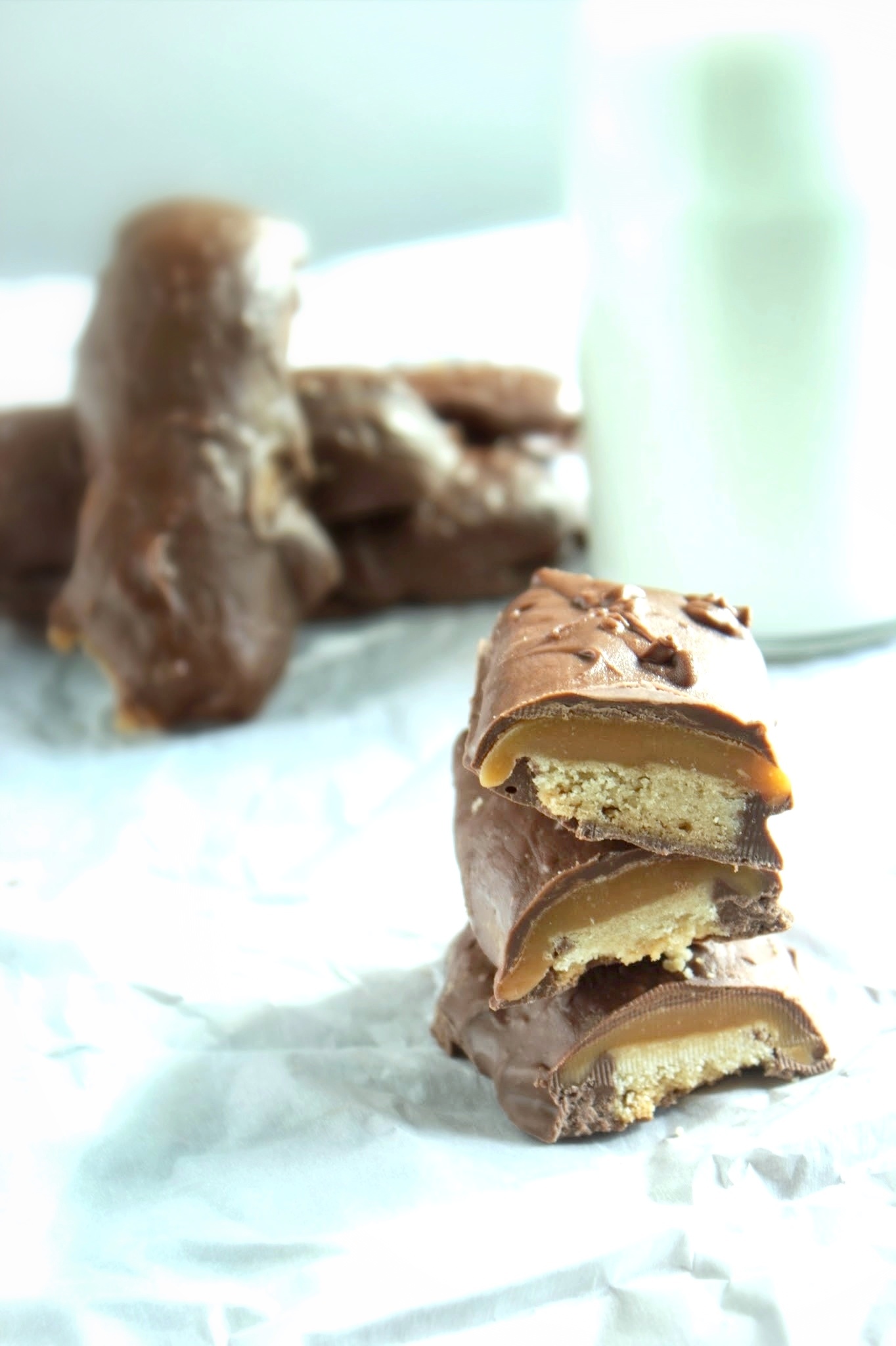 Ever since making those devine pecan squares and realizing how easy it is to create a layer of shortbread that can be the base for so many great desserts, I've been itching to try to come up with another.  And naturally, those Twix™ twins came into my head. An easy layer of shortbread, an even easier layer of caramel and a nice final bath in milk chocolate, well I may never go back to the store bought version.
And now, does anyone want to come over for Twix™? Before I eat them all myself? You had best move fast – I've done some serious damage (and have the chocolate stache to prove it).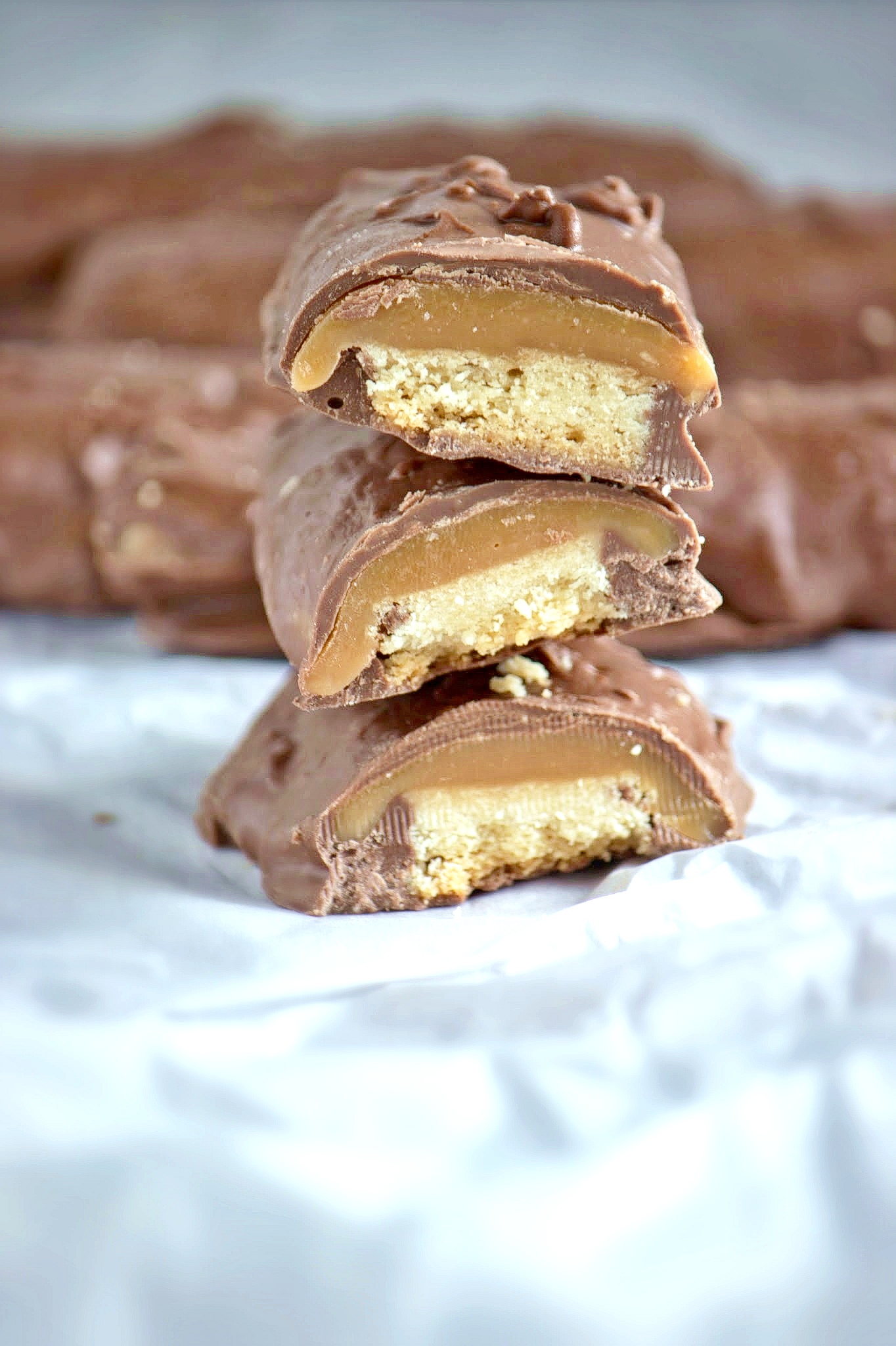 Ingredients
For Crust:

2 sticks unsalted butter, softened
2/3 cup packed brown sugar
2 & 2/3 cups all-purpose flour
½ teaspoon salt

For Caramel Layer:

2 - 11oz bags of soft caramels, unwrapped
2-3 tablespoons heavy cream
1 lb. milk chocolate (bars or chips)
Instructions
1) Preheat the oven to 350ºF and line a 9×13-inch pan with foil, spraying with non-stick cooking spray, leaving enough for a 2-inch overhang on all sides.
2) First make the crust by creaming together the butter and brown sugar until fluffy in a stand mixer fitted with the paddle attachment. Add in the flour and salt and mix until crumbly.
3) Press the crust into the foil-lined pan and bake for 25-30 minutes until golden brown. Once baked, remove from oven and let cool.
4) While the crust is cooling, melt your caramels over low heat in a saucepan, stirring frequently. As the caramel melts, add 1-2 tablespoons of cream to help smooth the caramel. Add more as needed to thin out the caramel. I used about 3 tablespoons total.
5) When the caramel is melted and smooth, pour it over the shortbread layer and smooth out to cover the entire shortbread layer. Let harden in the refrigerator for about 1/2 hour, or until the caramel is stiff to the touch.
6) After caramel is solid, remove from the refrigerator. Remove the shortbread/caramel from the pan by lifting the foil over hang. Flip it over so that the shortbread layer is facing up. With a large knife (serated preferably), cut once vertically down the middle and then cut each half into 6 horizontal bars. You can certainly cut the bars larger or smaller or even in squares if you like depending on your preference. Also keep in mind that the shortbread layer can be very delicate so just cut very gently. Set bars aside.
7) In the meantime, melt your chocolate either in a double boiler or a microwave. Let the chocolate cool for about 5 minutes and then dip each bar in the chocolate, let the excess drip off, and then place on a layer of wax paper to dry. Serve at room temperature or freeze for up to a month.
Notes
http://www.andtheycookedhappilyeverafter.com/2013/06/09/homemade-twix-bars/
Copyright And They Cooked Happily Ever After