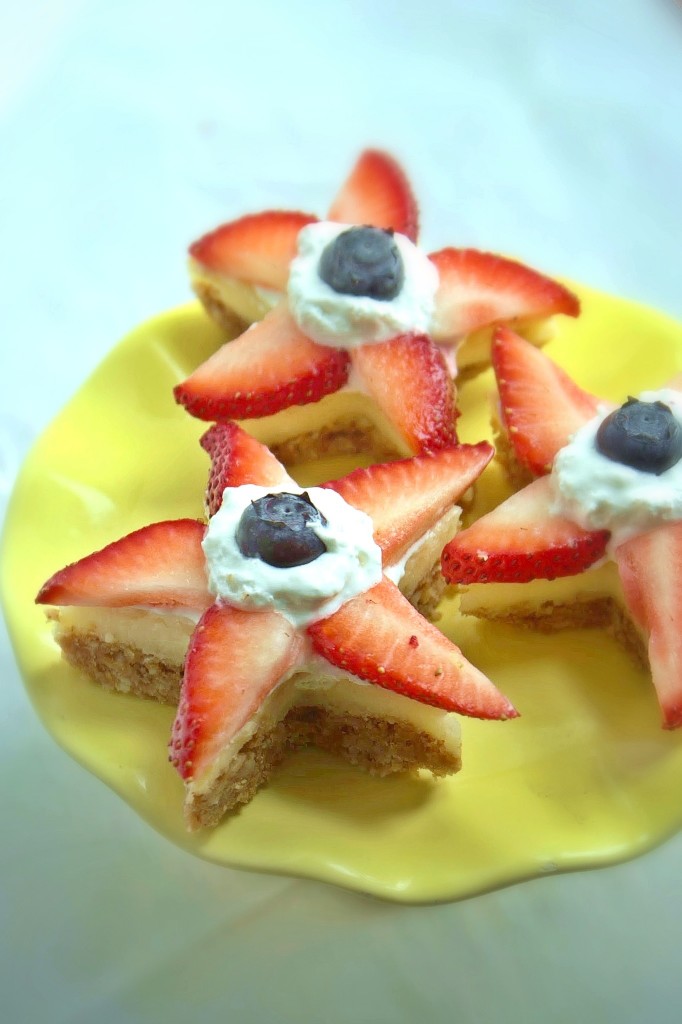 Some Memorial Day Weekend forecast.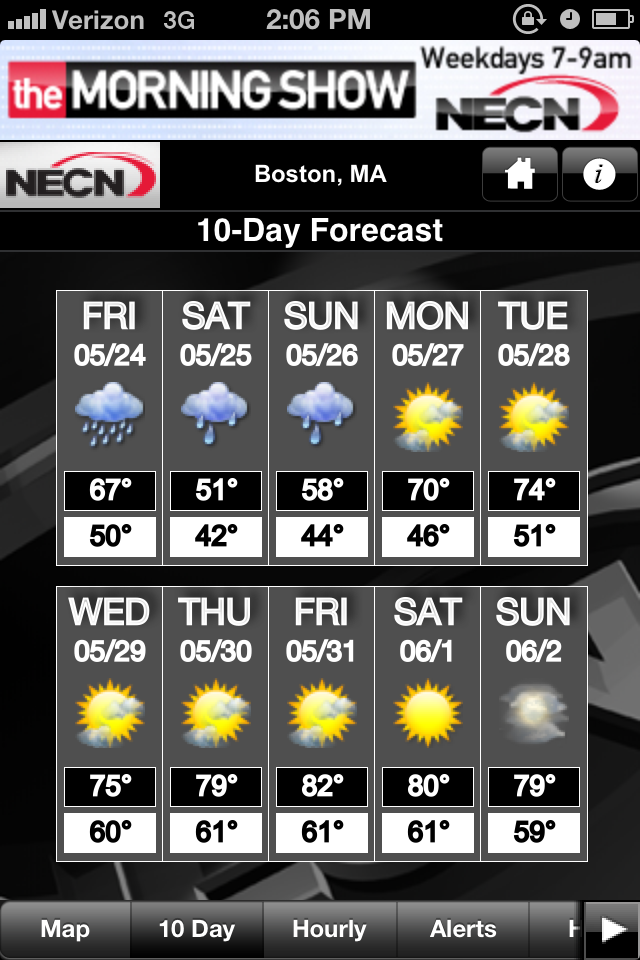 Guess I'll be stuck inside eating these – shucks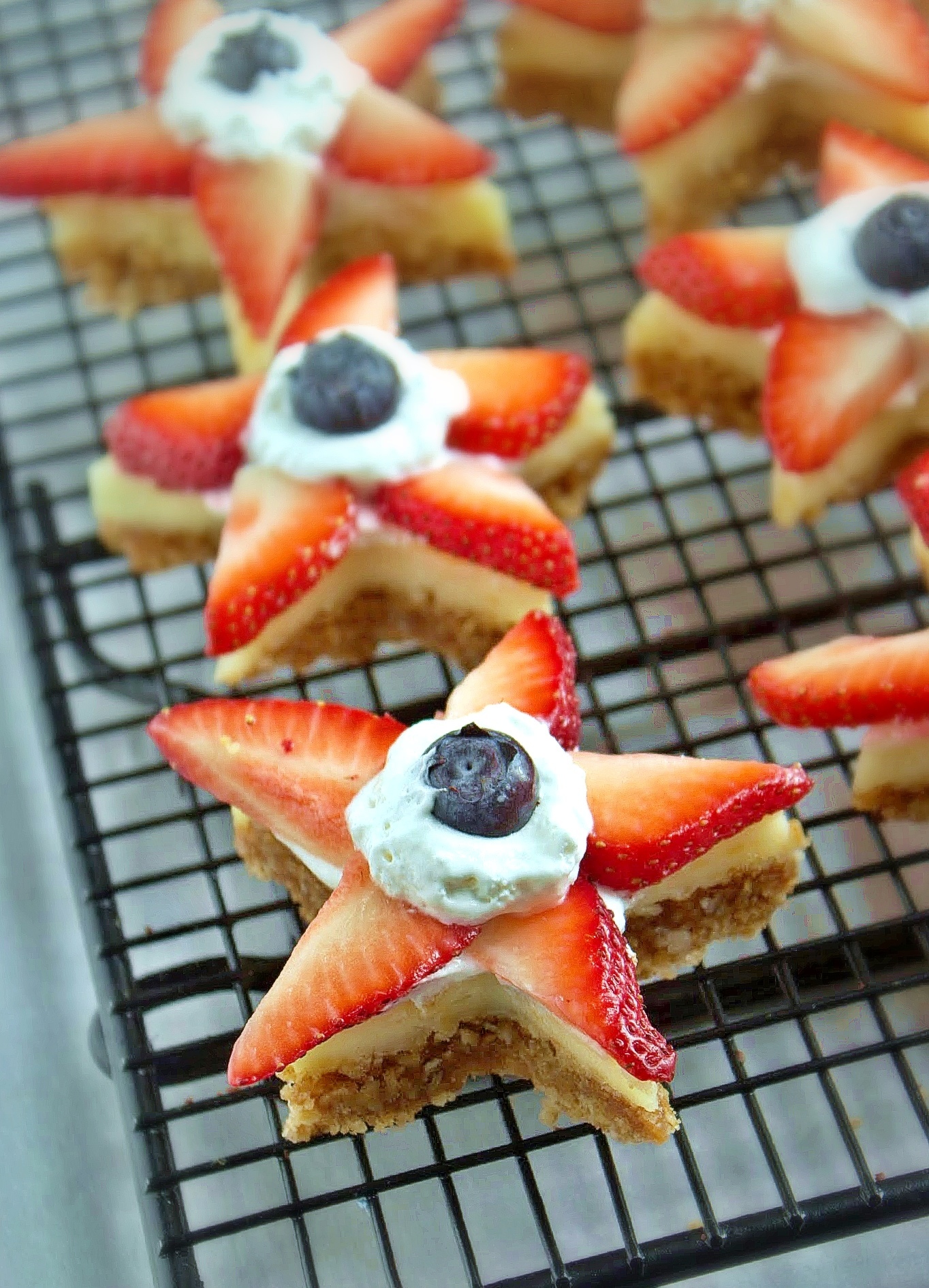 Remember those Apple Streusel Cheesecake Bars from the fall? Augh – delightful.  I was trying to think of a fun Memorial Day dessert and for some reason these popped into my head.  I basically cut out the apples and the streusel topping which left a layer of oatmeal cookie on the bottom and cheesecake on the top.  Luckily, I've had this fab star shaped cookie cutter  that served as a napkin ring for our rehearsal dinner and I've been dying to do something fun with it. You'll be left with the 'scraps' from the star cut outs and probably will wonder what to do with them.  Well, stay tuned.  Your mind will be blown when you see how I used my leftovers.
These fruity stars are not only cute to look at, but patriotic and a perfect flavor combination of creamy cheesecake and oatmeal cookie, topped with a little red, white and blue to ring in the first official weekend of summer (and three days of rain!)
Oatmeal Cheesecake Fruit Stars
Ingredients
1 pouch Betty Crocker oatmeal cookie mix
1/2 cup cold butter or margarine, cut into small squares
2 packages (8oz each) cream cheese, softened
1/2 cup sugar
2 tablespoons all-purpose flour
1 teaspoon vanilla
1 egg
10-12 strawberries, sliced vertically into 6 slices, and then those 6 slices cut down the middle
10-12 blueberries
cool whip or whip cream
star cookie cutter
Instructions
1) Preheat oven to 350 degrees F. Line a 13x9" baking pan with aluminum foil, leaving enough to have about an inch overhang, and then spray foil with non-stick cooking spray.
2) Place cookie mix in large bowl. With pastry blender or fork, cut in butter until mixture is crumbly and coarse (I actually used my hands to do this part). Press the oatmeal cookie crumbs in bottom of pan and bake for 10 minutes
3) Meanwhile, in large bowl, beat cream cheese, sugar, flour, vanilla and egg with electric mixer on medium speed until smooth. Spread cream cheese mixture evenly over partially baked crust and then bake for 35-40 minutes, until the edges of the cheesecake start to turn golden brown.
4) In the mean time slice your strawberries - stand the strawberry vertically so that the narrow part of it is facing up. Slice vertically down the middle, and then cut each half into 3 slices (so you'll have 6 total). Then take each half and cut it again down the middle so you have 2 halves (this will leave you with a total of 12 slices per strawberry).
5) Once your cheesecake/cookie bars have baked, let them cool for at least 30 minutes. You want them to be just about at room temperature when you go to cut the stars out of them.
6) Once they've cooled, use the foil overhang to lift them out of the pan. Place them on a flat surface and pull the aluminum foil down on the sides. Start at the top lefthand corner and cut your stars, making sure to press down firmly to make sure you get both the cheesecake layer and the cookie layer. Gently lift the cookie cutter and give it a couple gentle shakes to allow the cheesecake/cookie to come away from the cutter. Place each cheesecake star on a piece of wax paper.
7) Once you've cut all your stars, take the cool whip or whip cream and place a dollop on the center of each star. You don't have to completely cover the star with the cool whip - it's really just to give the edges of the strawberries something to stick to. Take your cut strawberries and place one on each point of the star (5 total). Each slice will be a different size so you can pick and choose which fit the points of the star the best.
8) After arranging your stars, take another small dollop of the cool whip or whipped cream and place it in the center of the star (there will be a little hole where all the edges of the strawberries meet). Place a blueberry on top of each dollop and press it gently into the cool whip.
9) Serve immediately or refrigerate until ready to serve.
http://www.andtheycookedhappilyeverafter.com/2013/05/24/oatmeal-cheesecake-fruit-stars/
Copyright And They Cooked Happily Ever After