Did you guys hear? Memorial Day is this weekend which means that summer is just around the corner.
Last Memorial Day weekend, I was up to my eyeballs in pretzels for Katie and Sarin's wedding.  This year, it's all red, white and blue all weekend long.  I suspect that some of you out there may have some Memorial Day BBQ's to attend this weekend, so I've got some really fun recipes for the occasion.
Potatoes are a perfect starchy side dish to compliment burgers, dogs and steak tips alike.   And these particular potatoes are not only deliciously tangy with a touch of stone ground dijon mustard and maple syrup, but they are also red, white and blue!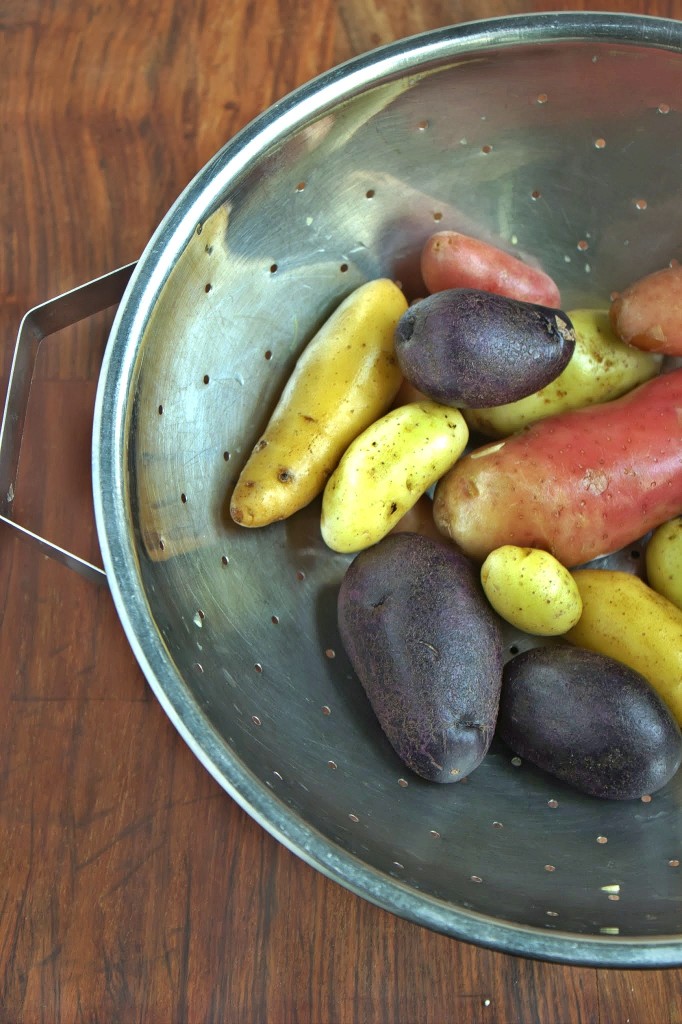 This combination of festive colors ironically comes together in a bag at Market Basket.  But, if you can't find them together at your local grocery store, you can typically find all three types of potatoes loosely.  The official name of the blue potato is Adirondack Blue.  The rich blue color of these potatoes adds a colorful punch to any side dish, and luckily the brightness of the blue doesn't fade after the potatoes are cooked.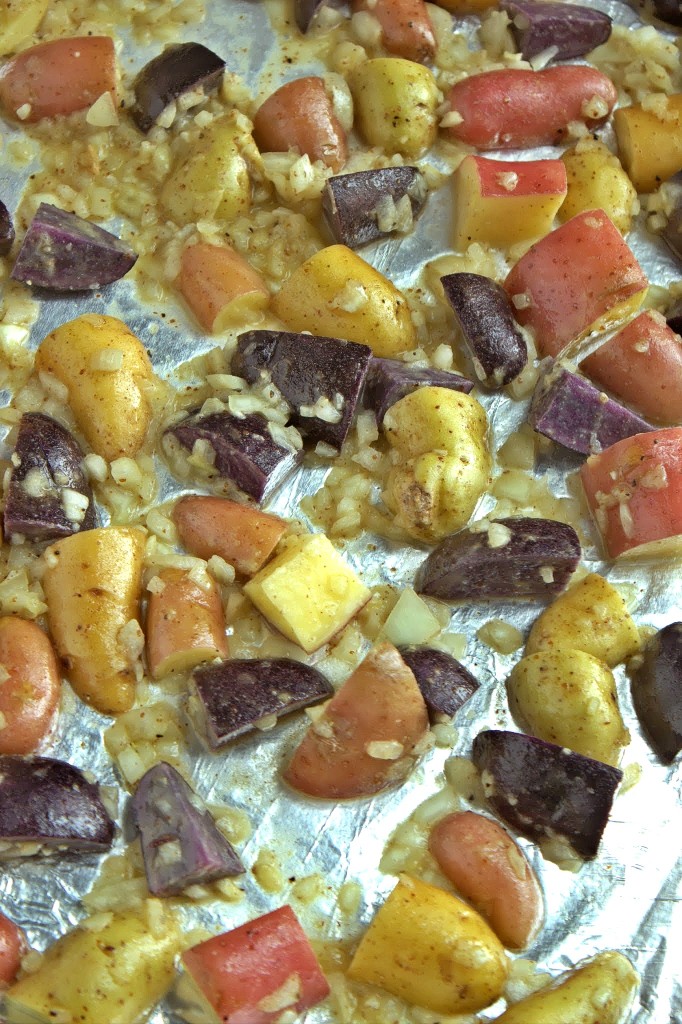 The potatoes are dressed with a combination of minced garlic and onion, dijon mustard and a surprisingly sweet addition of maple syrup that cuts the tanginess of the dijon mustard just a smidgen, while adding a vague hint of sweetness to the potatoes.
Red, White and Blue Dijon Roasted Potatoes
Ingredients
2 pounds (total) of red, white and adirondack blue potatoes (about 2/3 of a pound of each color)
1 tablespoon stone ground dijon mustard
3 tablespoons olive oil
1/2 tablespoon maple syrup
1/2 large onion, minced
1 large garlic clove, minced
salt and pepper to taste
fresh parsley for garnish
Instructions
1) Preheat oven to 400 degrees F. Line baking sheet with aluminum foil and spray with non-stick cooking spray.
2) Cut the potatoes into 1" cubes and place in a large mixing bowl. Whisk together the dijon mustard, olive oil and maple syrup until it becomes a thick paste and then pour over the potatoes.
3) Mince the onion and the garlic and mix into the potatoes until fully combined. Season the potatoes with salt and pepper.
4) Lay out the potatoes on the baking sheet in a single layer. Bake in a preheated oven for 35-40 minutes until the potatoes are tender.
5) Serve hot!
http://www.andtheycookedhappilyeverafter.com/2013/05/22/red-white-and-blue-dijon-roasted-potatoes/
Copyright And They Cooked Happily Ever After