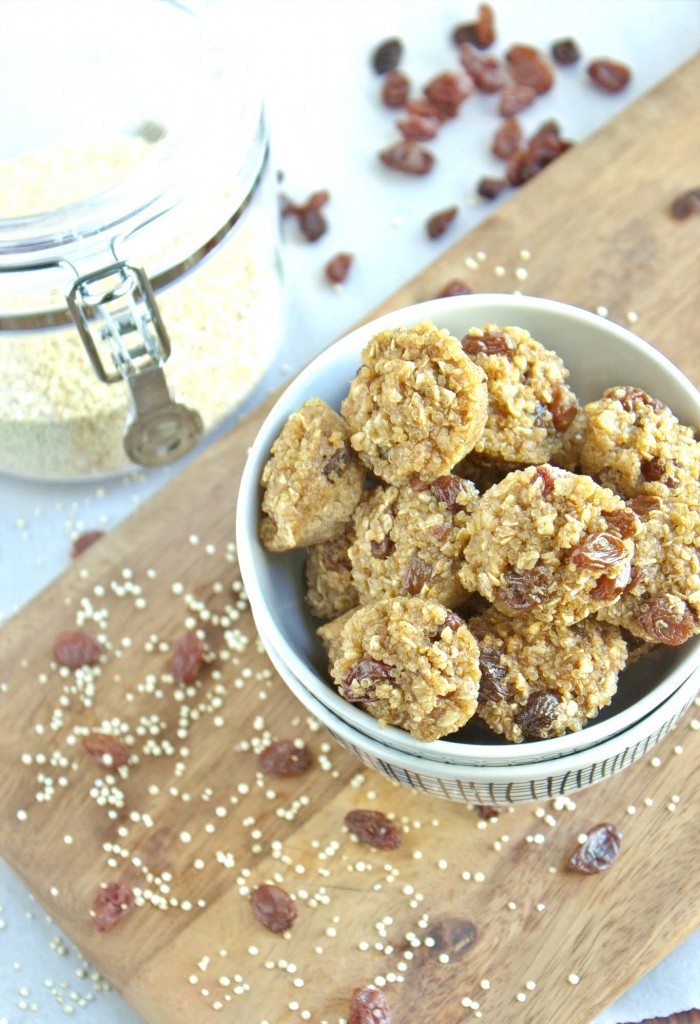 2 days til' showtime folks.  I've drank enough water to float a cruise ship and feel like I'm going to give birth to a carb baby any minute now, but other than that, I'm feeling pretty ready for my first marathon.  Or, as ready as I'll ever be is probably a better way to put it.
A few months ago, when I was getting ready to train for the Princess Half Marathon, I posted this recipe for Apple Cinnamon Quinoa bites.  And well you guys liked those  – you REALLY liked them.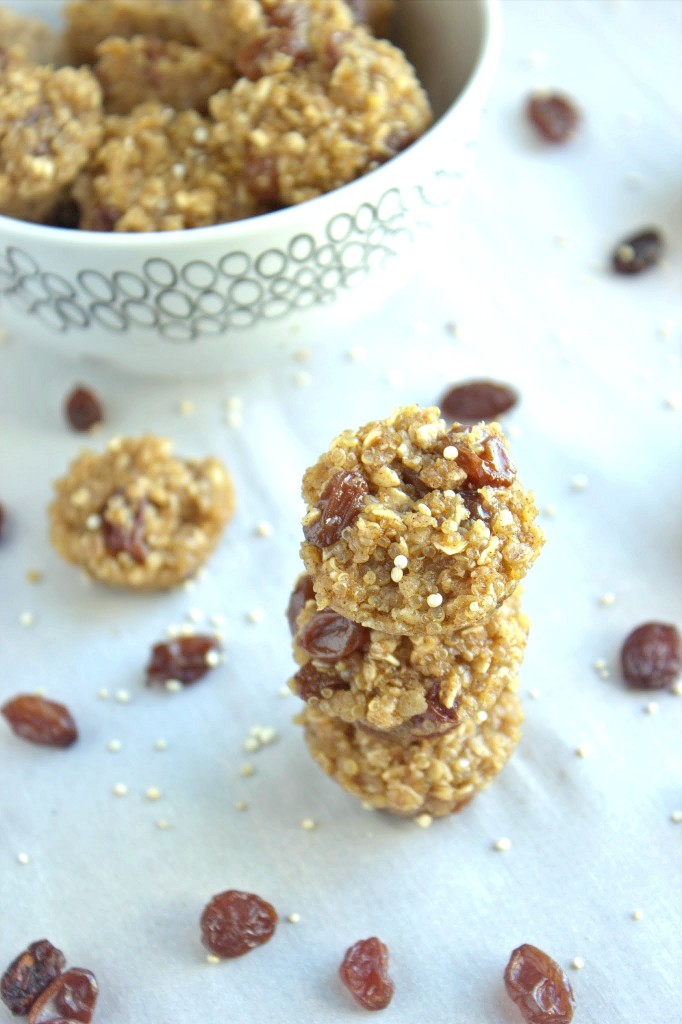 So I was trying to think of another quinoa bite combo (like this one and this one) that'd be a winner.  And well, I have it for you right here.  Cinnamon Raisin Quinoa Bites. They're very similar to the Apple Cinnamon but I'm gonna go out on a limb and say that I actually like them better.  I experimented with a few different ingredients this time around, using dark brown sugar instead of light brown, honey instead of maple syrup, adding a touch of vanilla, and obviously using raisins instead of apples and well I think we have another winner folks. But, I'll let you be the judge

Cinnamon Raisin Quinoa Bites
Ingredients
1 cup cooked quinoa
1 cup quick oats
1 teaspoon ground cinnamon
2 tablespoons dark brown sugar
1 tablespoon honey
1 teaspoon vanilla extract
2 eggs
3/4 cup raisins
Instructions
1) Preheat oven to 350 degrees F.
2) In a medium sized mixing bowl, combine the cooked quinoa and the quick oats. Add the cinnamon and brown sugar and mix together again.
3) In a separate small mixing bowl, whisk together the honey, vanilla and eggs until just combined. Pour the mixture into the quinoa/oat mixture and mix together. Then mix in the raisins.
4) Spray a 24-count muffin tin with non-stick cooking spray. Take 1 tablespoon of the quinoa mixture and place in each mini muffin slot.
5) Bake for 15-20 minutes until spongy to the touch. Serve warm out of the oven or refrigerate for up to a week for a quick snack!
*Nutritional Information per Bite
-
Calories - 48
Fat - 0.8 grams
Carbohydrates - 9.5 grams
Fiber - 0.8 grams
Protein - 1.5 grams
Weight Watchers Points Plus - 1.25 pts
© And They Cooked Happily Ever After
http://www.andtheycookedhappilyeverafter.com/2013/05/10/cinnamon-raisin-quinoa-bites/
Copyright And They Cooked Happily Ever After