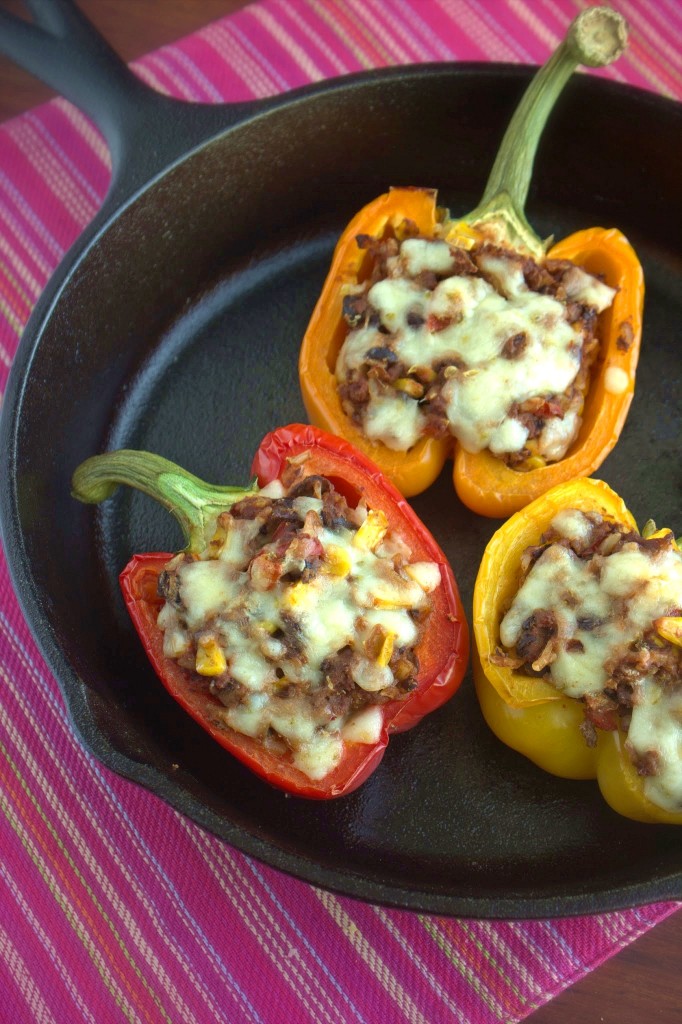 It's hump day folks – 1/2 way there.  And maybe it's Taco night at your house too – it sure is at ours.  But it's not your regular old Taco night.
It's Taco Stuffed Pepper night.
Hold the taco shell or tortilla and add big, colorful beautiful bell peppers.
Then stuff your brains out.
(AND they're Gluten-Free GF GF's!!!)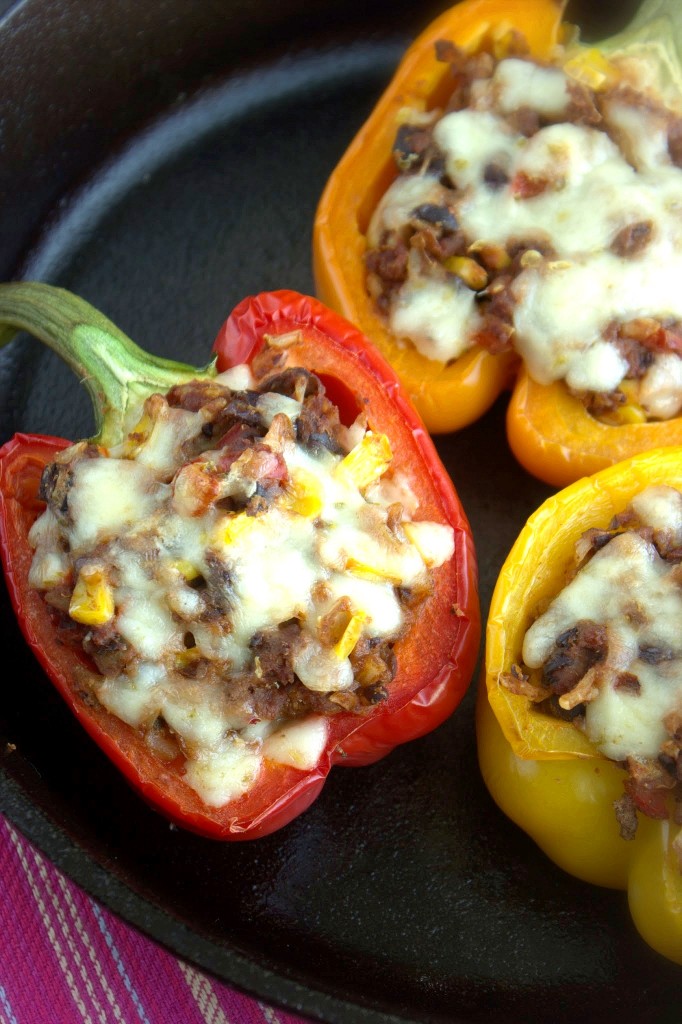 Ingredients
3 large bell peppers, color of your choice
1/2 of a large red pepper, chopped
1 small or 1/2 large onion, chopped
1 large clove of garlic, minced
1/2 lb ground beef (uncooked)
salt & pepper to taste
1 tablespoon chili powder
1 tablespoon cumin
1/2 teaspoon garlic powder
1/2 teaspoon onion powder
2 cups black beans (a 15oz can of black beans yields just a hair over 2 cups)
1 cup crushed tomatoes
1 cup

cooked

quinoa (or brown/white rice)
1 cup corn
shredded pepper jack cheese (to your liking)
Instructions
Preheat oven to 375 degrees F.
If you're planning to leave the peppers whole, slice the tops off, cleaning out the inside, and set aside. If you're cutting them in half, slice them vertically down the center and clean the inside out (you may have to remove some of the ribs from the inside of the pepper to make room for the meat).
In a skillet over medium/high heat, sautee red pepper, onion and garlic for about 2 minutes, until tender. Then add the ground beef and cook until the beef is browned and thoroughly cooked. Season beef mixture with salt/pepper, chili powder, cumin, garlic powder and onion powder.
Take one cup of the black beans and the cup of crushed tomatoes and puree them together in a food processor (if you don't have a food processor, you can just mash them with a wooden spoon).
Once the ground beef is cooked through, you can add the other cup of black beans, cooked quinoa, corn and black bean/tomato puree to the mixture. Stir everything in the sauce pan for a couple of minutes to incorporate everything.
Lay your peppers on a foil lined baking sheet. If using the whole peppers, stuff each with about 1 cup of the mixture. If using pepper halves, about 1/2 cup (this will vary depending on the size of the pepper). Sprinkle the tops with shredded pepper jack cheese.
Cook in preheated oven for 25-30 minutes until the cheese on the top starts to brown (I always throw them under the broiler, on low, for the last 2-3 minutes, so that the cheese gets nice and brown).
Serve hot!
http://www.andtheycookedhappilyeverafter.com/2013/04/24/taco-stuffed-peppers/
Copyright And They Cooked Happily Ever After