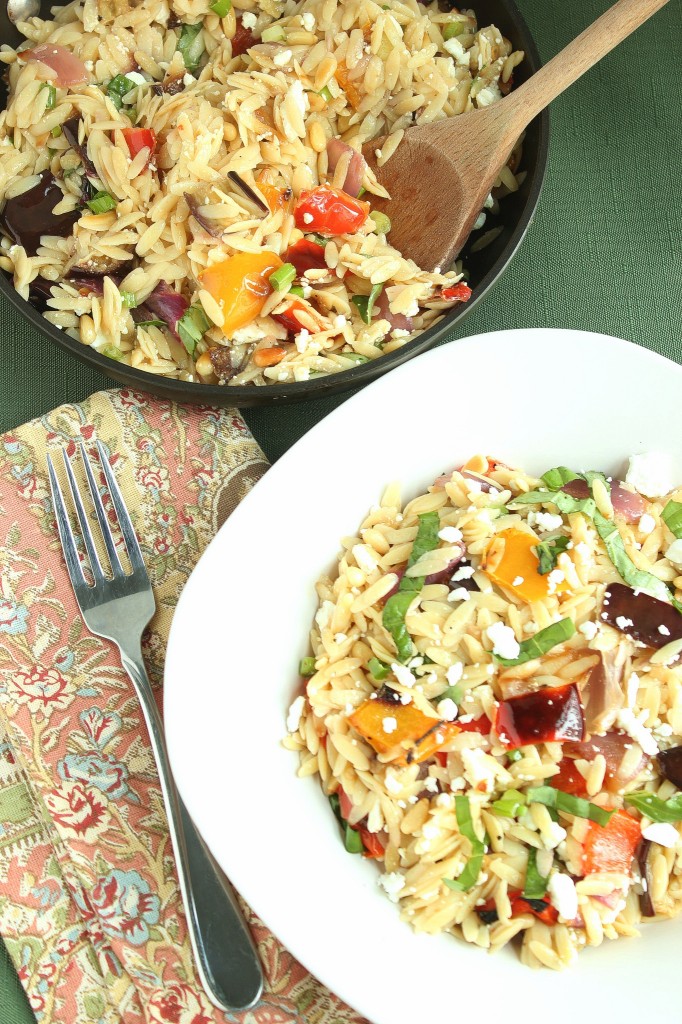 Everyone has that one celebrity that they play out meeting someday over and over in their heads, some never getting the chance to actually do so, but even just the fantasy is enough.
But for myself, my mom, my cousin Jen and Aunt Kathy, we got that chance two weeks ago when we joined a few thousand other women (and surprisingly quite a few men) at the Hanover Theatre in Worcester and met the one, the only, Ina Garten, aka The Barefoot Contessa.
In my "Easier than Ina's Pecan Squares" post a while back, I mentioned how there's some Ina controversy in my family – some mixed emotions as to her fabulousness.  But that generally, we all consider her to be like another member of the family, showcasing at least one of her recipes at at least every holiday gathering.  But when I was searching high and low for the perfect Christmas gift for my mom, I discovered that Ina was coming to town in March.  And I thought "bingo!".  When my mom opened the tickets on Christmas Eve, it was like a little kid opening Nintendo (totally dating myself) or finding out they're going to Disneyworld.  Sheer excitement that she would finally get the chance to see Ina – in the flesh.
She sat up on stage with local Boston t.v. and radio personality, Billy Costa, and he covered everything from how she got her cooking beginnings to dishing about her favorite food network celebrity chefs (and let's just say, I don' t think that her and Rachel Ray are BFF's).  They then opened the floor up for questions – and OMG – hoards of people running to the aisles to get a chance at the mic to ask Ina all kinds of questions ranging from "Why do you use so many different kinds of salt" to "If you could describe yourself as one food, what would you be" (to which she replied that you should ask Jeffrey – oh Ina you naughty girl)
Then they whisked her away for the book signing out in the foyer, where I think every single person in the building waited in at least a mile long line to have the chance to get her sharpie signature on their favorite Ina cookbook.  It was serious business.  Like a bunch of teenie boppers at a Bieber concert.  "No photos behind a certain line" – "No stopping – keep moving".  I mean, wow.  This woman is a celeb.
But I took away some fun facts that I didn't know about my girl Ina, which I'll share with you fans:
Don't be fooled by the gallons of wine she serves at her on screen dinner parties – Ina's drink of choice is a Whisky Sour.
When asked what her all time favorite restaurant anywhere in the world (I think world) was, she said Al Forno in Providence! I mean OMG – I've been there!
She started off at Syracuse, but didn't finish – Jeffrey swept her off her feet and made an honest woman of her at the ripe age of only 20 and they've been happily married ever since.
She decided to open her specialty food store, Barefoot Contessa, in the Hamptons after reading the newspaper and discovering that there was a specialty food shop for sale – talk about eenie meenie minie moe!
The largest crowd she's cooked for is 1,000 people.
Before becoming a cooking oracle, she worked at the White House – on their budget – bet they're kicking themselves in the ass for that one.
She was largely inspired by Craig Claiborne and of course, Julia Child.
And last but not least, her favorite meal to serve to new friends is her roasted rack of lamb and roasted vegetable orzo.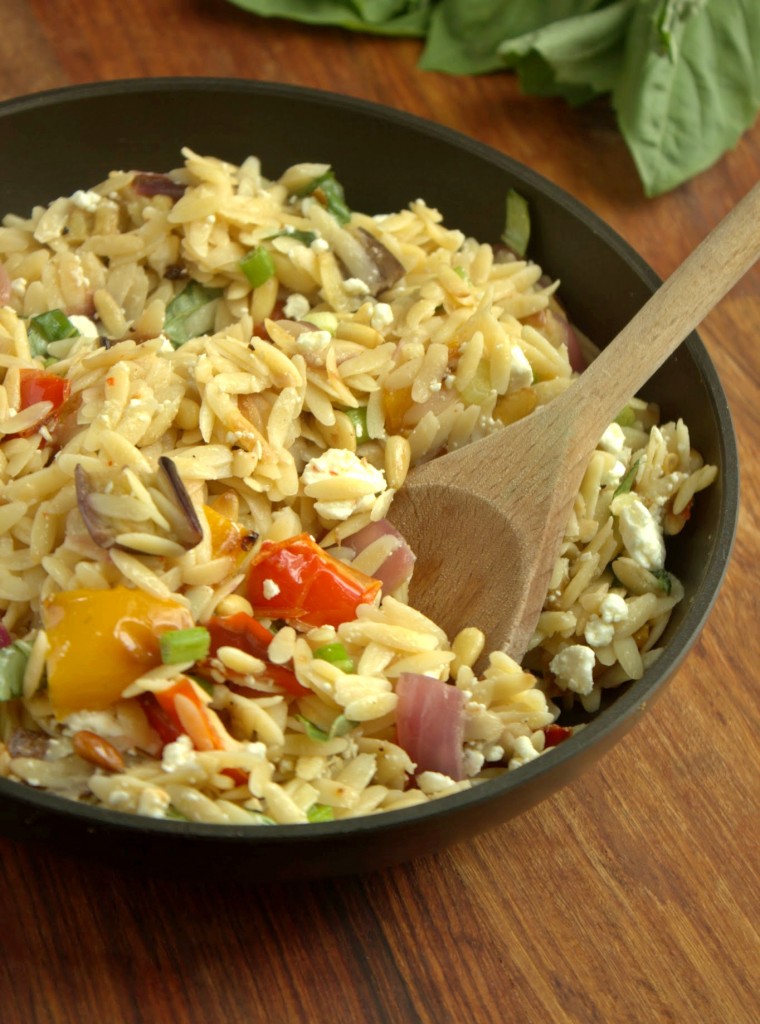 I'm not a lamb fan.  So I gave this roasted veggie orzo a whirl after probably 75% of the audience screamed out "Ohhhh I love that one!".  And boy did she hit the nail on the head with this dish.  It's absolutely perfect for this time of year when the weather is starting to get nicer.  Lots of yummy veggies, which really take on an entirely different flavor after being roasted, combined with a light, lemony dressing that will have you going for a double scoop.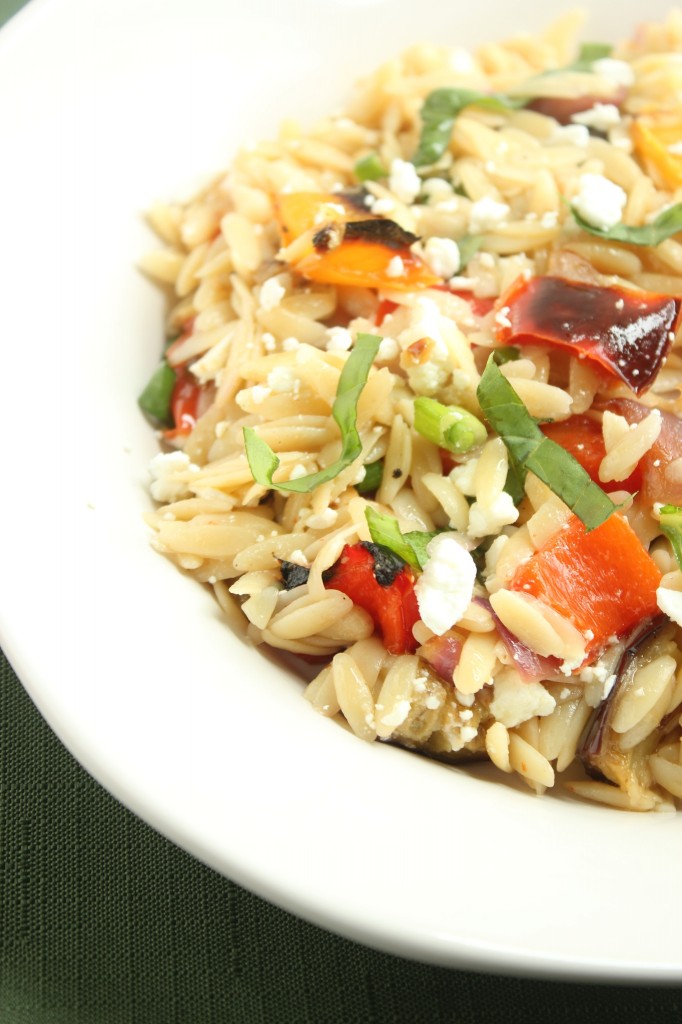 Ina Gartens Orzo with Roasted Vegetables
Ingredients
1 small eggplant, 3/4-inch diced
1 red bell pepper, 1-inch diced
1 yellow bell pepper, 1-inch diced
1 red onion, peeled and 1-inch diced
2 garlic cloves, minced
1/3 cup good olive oil
1 1/2 teaspoons kosher salt
1/2 teaspoon freshly ground black pepper
1/2 pound orzo or rice-shaped pasta

For the dressing:

1/3 cup freshly squeezed lemon juice (juice of 2 lemons)
1/3 cup good olive oil
1 teaspoon kosher salt
1/2 teaspoon freshly ground black pepper

To assemble:

4 scallions, minced (white and green parts)
1/4 cup pine nuts, toasted
3/4 feta cheese (Ina says "good" feta, not crumbled, but I used crumbled - sorry girlfriend)
15 fresh basil leaves, cut into julienne
Instructions
Preheat the oven to 425 degrees F.
Toss the eggplant, bell peppers, onion, and garlic with the olive oil, salt, and pepper on a large sheet pan. Roast for 40 minutes, until browned, turning once with a spatula.
Meanwhile, cook the orzo in boiling salted water for 7 to 9 minutes, until tender. Drain and transfer to a large serving bowl. Add the roasted vegetables to the pasta, scraping all the liquid and seasonings from the roasting pan into the pasta bowl.
Whisk together the lemon juice, olive oil, salt, and pepper to prepare the dressing and pour it on the pasta and vegetables while they're still warm, tossing to combine. Let the pasta/veggies/dressing cool to room temperature, then add the scallions, toasted pine nuts, feta, and basil. Serve at room temperature.
http://www.andtheycookedhappilyeverafter.com/2013/04/11/my-night-with-ina-and-her-orzo-with-roasted-vegetables/
Copyright And They Cooked Happily Ever After