Today is March 28th – and I would like to wish a very happy birthday to And They Cooked Happily Ever After.  It was born one year ago today, around 9pm on a Thursday night, with a recipe for Pineapple Mojitos.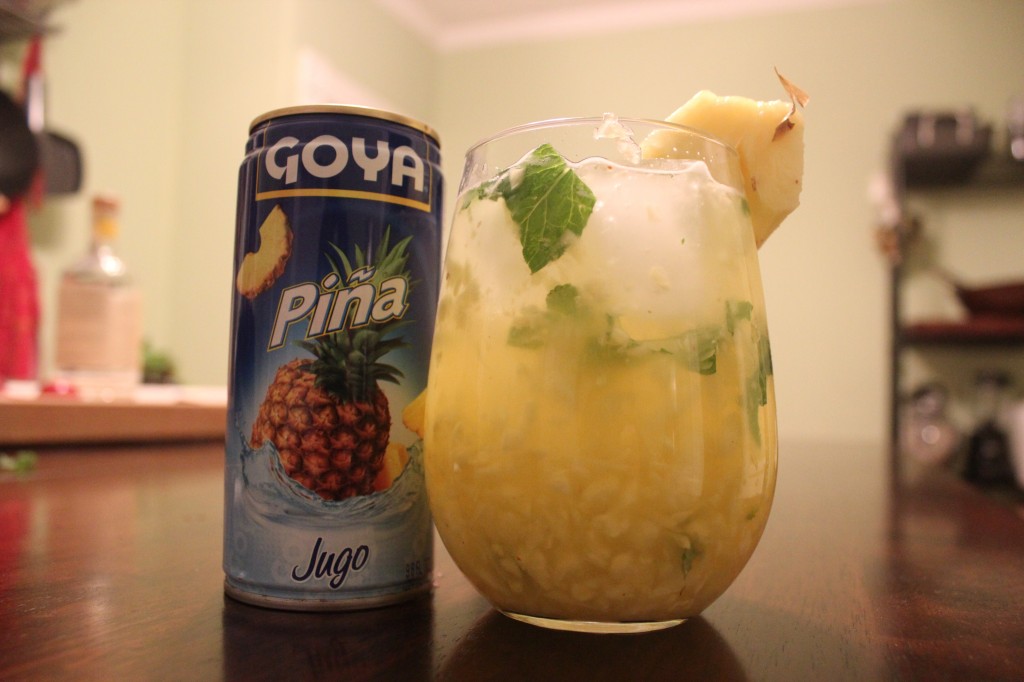 And I gotta say I'm pretty proud of what it's become in a year, and am even more excited to see how it continues to grow.
So there's 3 days left in March, and let's just say we're ready for it to be OVER.  It's been QUITE the month for Dave and I.  In the course of 2 weeks, we've lost:
1 car
1 job
2 testicles (Hairy's – poor pooch – he's the cutest lamp shade wearing puppy ever)
2 Friday's ago, as Dave was about to take Hairy out for his 'pees and poops' before bed, he was quite surprised to find that his car was on fire in our driveway!  Turns out, we had a little arsonist running around the neighborhood starting everyone's weekend off with a bang.  To say we were lucky is an understatement – things could have been a million times worse, but it still leaves you sitting there scratching your head saying "Really? REALLY?".
Then, less than a week later, I was handed my last paycheck from a company that I spent the better part of a decade with – on my birthday.  NBD.
And last but certainly not least, after 11 months of being a proud, strong lab with all his 'puppy parts' in tact, Hairy's manhood was stolen from him without his consent – but a few treats and peanut butter kongs, I'm sure he'll be back to his old self.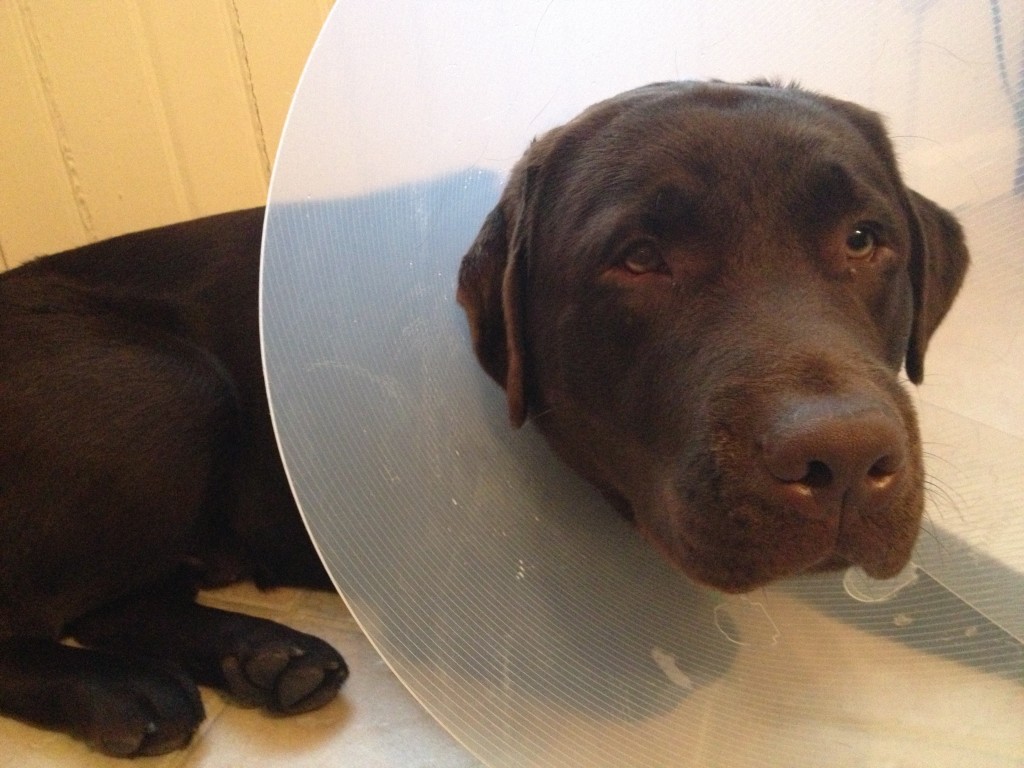 So this post is about more than just truffles – it's about celebrating –  moving onto bigger and better cars, jobs and neuticals (all the dogs are getting them) – and a brand new year for And They Cooked Happily Ever After.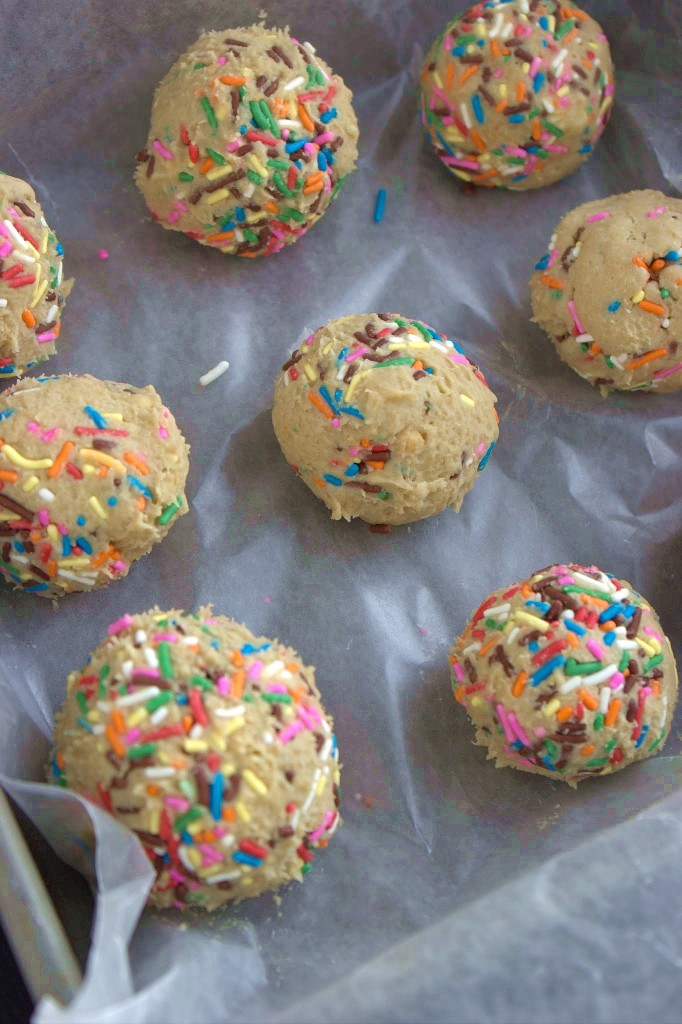 And I truly can't think of a better treat to celebrate with than these Birthday Cake Truffles.  They're very similar to all the other truffle recipes you've seen out there – cookies – cream cheese – chocolate coating – triple yum.  However, these took on a totally different flavor/texture than I was planning.  I decided to try the new Birthday Cake Flavored Golden Oreos, expecting that they would have a similar texture to the other Oreo based truffles I've made in the past (like this one and this one).  But these literally came out almost the exact same taste and texture as cake batter, without having to worry about the eggs.  This meant that the dough was much stickier and a little harder to handle than the typical oreo truffle dough, so I would highly recommend chilling it before you roll it into balls and also after the balls have been formed, before dipping them in the chocolate.  But once you have the chocolate coating on the outside, they'll hold up nicely and it'll be like biting into a big ball of cake batter.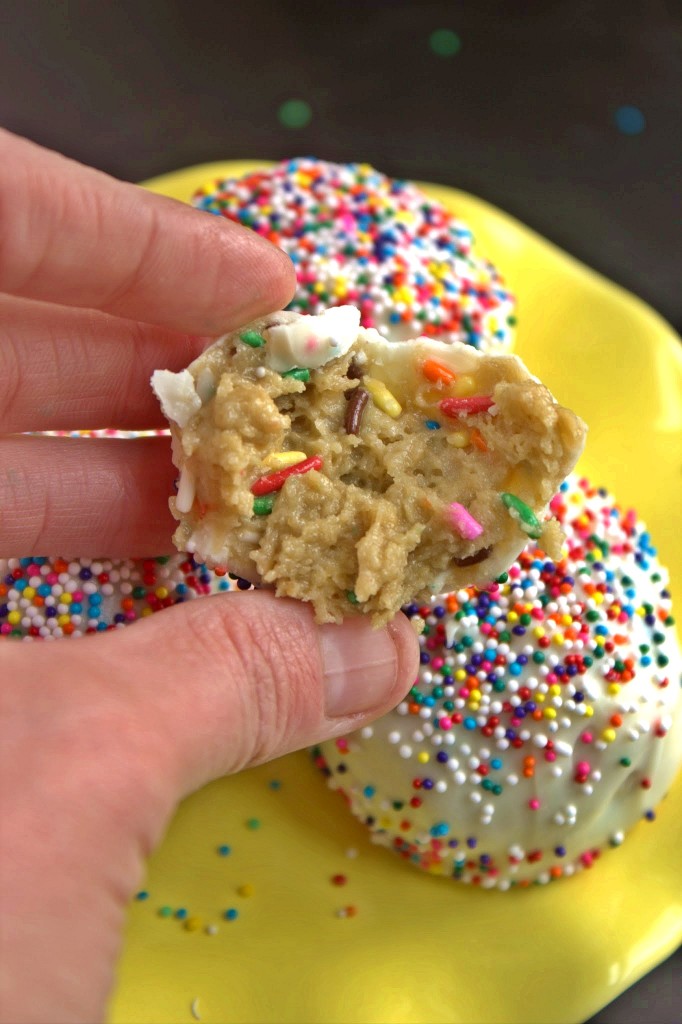 Thanks for having a birthday And They Cooked Happily Ever After!
Ingredients
1 box/bag Birthday Cake Flavored Golden Oreo Cookies
6 oz. cream cheese softened to room temperature (3/4 of an 8oz block)
1 cup candy sprinkles, plus more for post-dipping sprinkling
1- 12oz bag White Wilton Candy melts (I would recommend these vs. just regular chocolate only because they form a really firm outer shell and the doughiness of these truffles may not hold up as well with regular chocolate. But feel free to give it a shot!)
Instructions
Place all of your oreo cookies in a food processor and pulse until cookies become crumbs.
Add your softened cream cheese to the cookie crumbs in the food processor and turn food processor on low until a dough starts to form. Once the dough forms, remove it from the food processor and place in a mixing bowl. Add the cup of sprinkles and mix them into the dough. Cover bowl with plastic wrap and chill dough in the refrigerator for 1/2 hr - 1 hour to allow it to firm up a bit (this will make it easier to form the balls - the dough will be quite sticky).
After the dough has chilled, take about 1/3 cup of the dough (feel free to make them smaller - this will yield a rather large ball) and roll it into a ball between the palms of your hands. Place on a baking sheet or pan lined with wax paper until all your balls are formed. At this point, place the balls in the freezer for about 1/2 hour - 1 hour, as this will help them to stand up when you're dipping them in the hot chocolate.
Just before your truffles are ready to be taken out of the freezer, melt your Wilton candy discs in a double-boiler (or in the microwave). Remove truffles from the freezer and immediately dip each ball into the white chocolate, placing it back on the wax paper to dry. Before the chocolate dries though, sprinkle the top of each truffle with more sprinkles (try to move fast as the chocolate dries pretty quickly).
Let chocolate dry completely and dig in :)
http://www.andtheycookedhappilyeverafter.com/2013/03/28/birthday-cake-truffles/
Copyright And They Cooked Happily Ever After