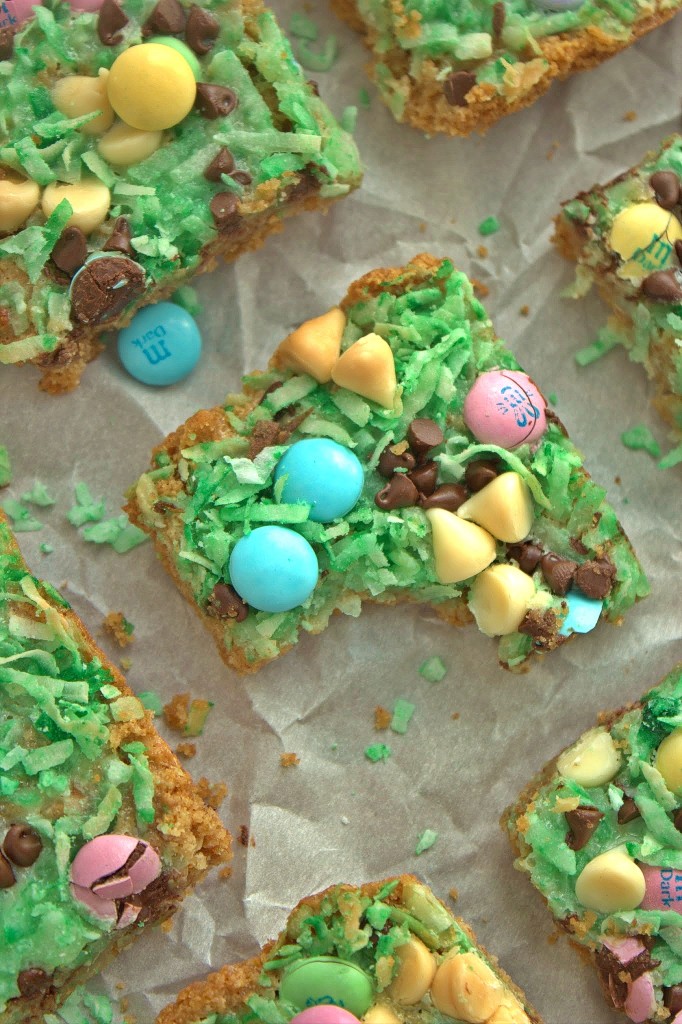 Another installment from the Kitchen Bitchin' Recipe Series up today!
My friend Kristine actually emailed this to me weeks ago, and I just got caught up with other recipes. But, I gotta act fast, cuz' she won't be bitchin' about her kitchen much longer, as she just signed off on a brand new condo in South Boston, complete with ACTUAL counters and appliances! Congrats Kristine!  I know you will so miss that Kitchen Cart of yours

Throughout my friendship with Kristine, she's had a signature dessert – a classic favorite but easy to make and always a crowd pleaser: Magic Cookie Bars.  And she has not let her small kitchen/lack of oven even stop her from bringing the MCB's to the party.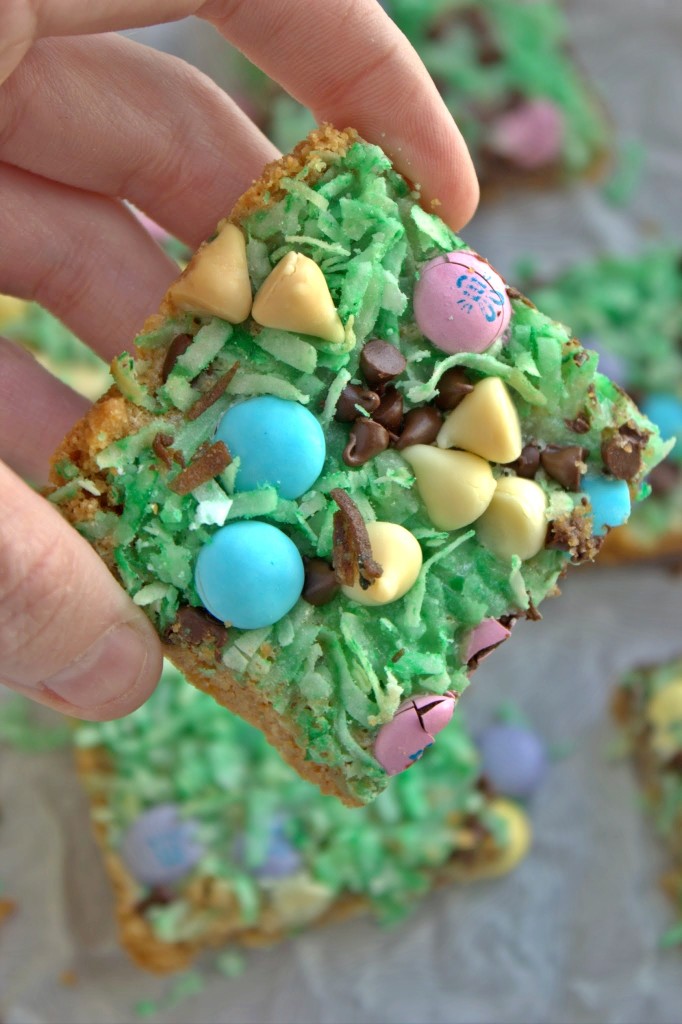 Let's hear about her kitchen – AND how she manages to make these gems in a toaster oven! (move over Sonja Morgan – there's a new toaster oven queen in town)
What are your living accommodations, more specifically your kitchen accommodations?  Tell us a little about your kitchen – the general layout – appliances/tools/etc. you have and which ones you use the most and your 'system' for making it all work.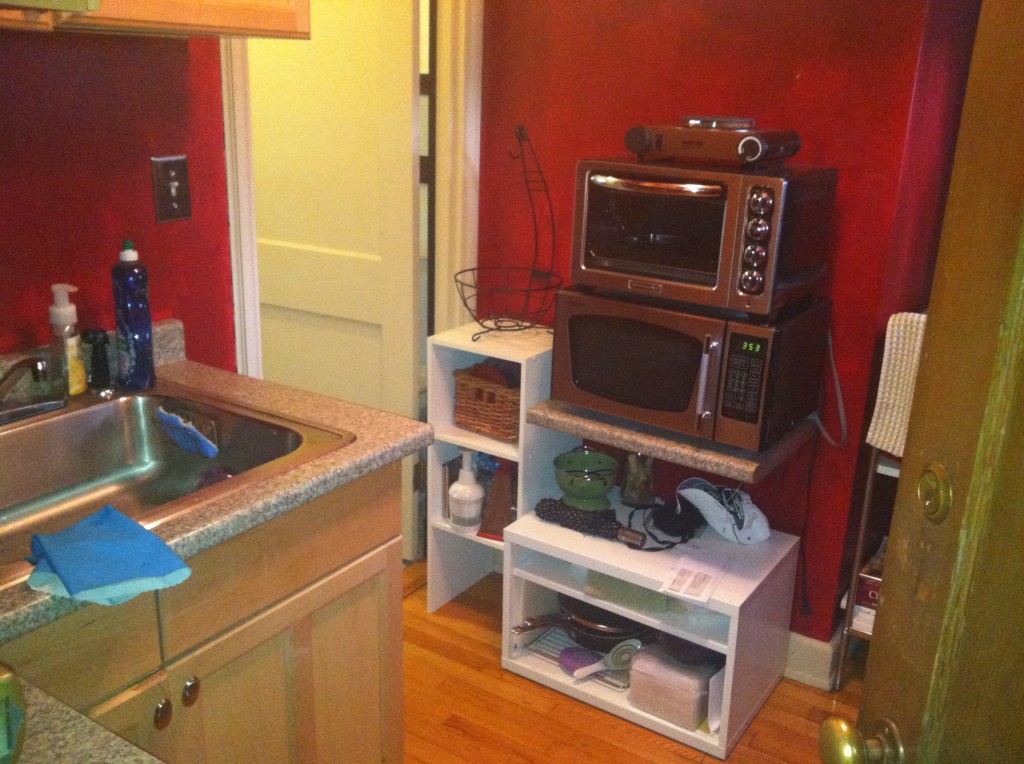 To call my space a kitchen might be a little generous! I have a sink with cabinets above it, an appliance tower where the hot plate sits on top of the toaster over, which is above the microwave, and in a random alcove is where the mini-fridge lives.  I rarely, if ever use the hot plate—it makes me nervous, plus in order to use it, it needs to be positioned nearly on top of the sink so the cord can reach the outlet–not ideal!  I did purchase a rolling kitchen cart from IKEA, which was my best purchase ever.  This at least gives me some "counter space" and a place to store flatware, cutting boards, pot holders, a cookbook or two and a random box of cereal.  I must for this place! Other tools that are stored in random cabinets or shelving space that I could live without are my immersion blender, Pampered Chef chopper, cheese grater, Crock Pot and various glass mixing bowls.  I would have to say my microwave is the most well used and loved appliance in my house.  It is quite versatile for a one-person cooking situation.  I nuke frozen veggies on a daily basis, make quinoa, defrost frozen fruit, etc.  As for making it work, I have to be organized.  If I'm making something that requires more than one bowl for the microwave, I have to be strategic about where it goes, when I cut stuff, etc. so I don't run out of room and end up with bowls falling on the floor!
If you could have one thing in your kitchen that you don't have now because of space constraints, what would it be?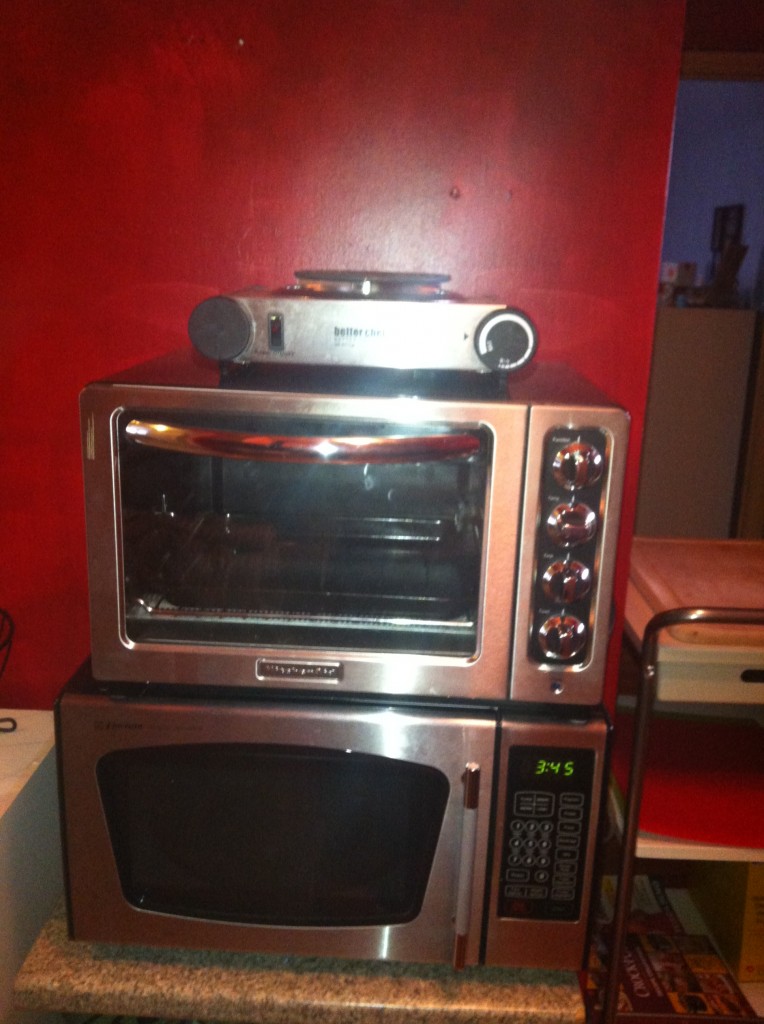 I would LOVE to have a stove top that is ready to use. I cannot tell you how annoying it is that I just cannot boil a pot of water or quickly heat something on the stove.  I have definitely learned to make do, but I miss my old stove top terribly.  I used to be able to make yummy soups and other meals on it and I have had to sacrifice that part of my cooking.  I'm ready to move to get a real sized (or at least apartment sized) kitchen back!
One thing you love and one thing you hate about your small kitchen: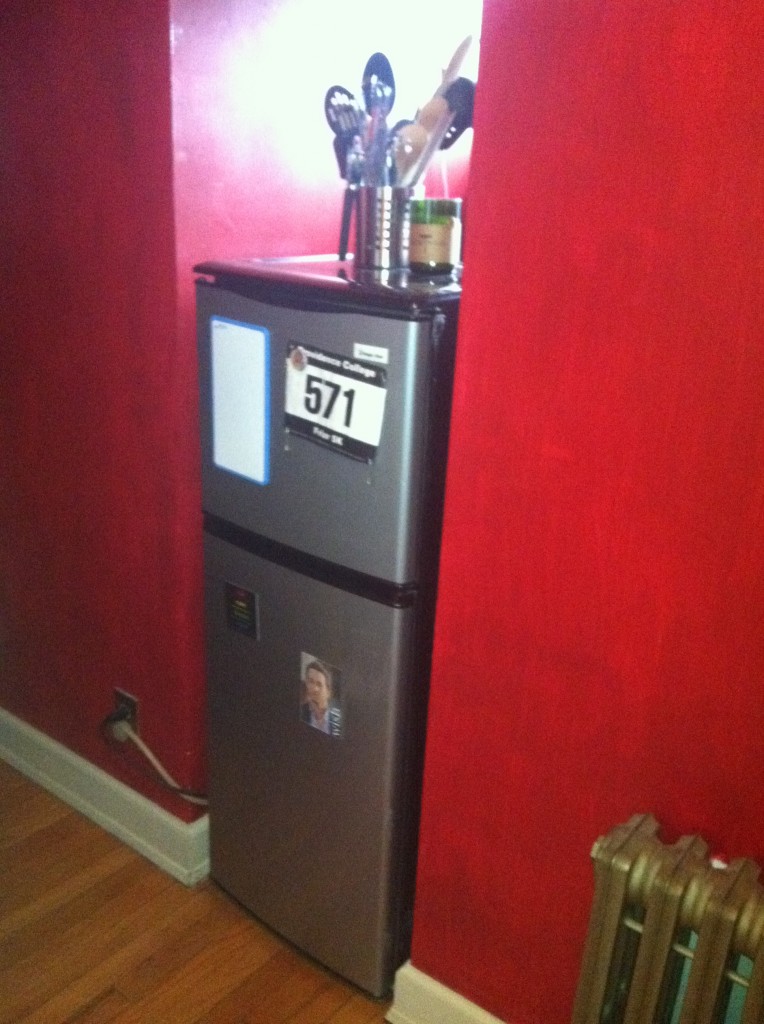 I actually do like that I was forced to microwave frozen vegetables.  I no longer feel the need to eat them with butter/olive oil, I can just eat them as they are.  This is a healthy benefit from my mini-kitchen.  What do I hate??  Well besides no stove top, I'd have to go with the mini-fridge.  I have a decent freezer space, but the refridgerator part is difficult to live with.  I have completely changed my buying habits because things no longer fit.  No more Costco-sized anything in that bad boy!  I had to also limit the amount of fresh vegetables that I bought because there is 1. no room and 2.  if say a package of spinach is touching the back of the fridge, it will freeze.  No one wants to eat slimy spinach or waste their money.  I can't prep much food either because of the lack of space.
Kristine had originally sent me a couple of recipes that she likes making that work well, but being that she is, was and always has been the queen of Magic Cookie Bars, I had to pay homage to her signature dessert. And what's her trick for making them happen? Cutting the recipe in half and preparing them in an 8×8 pan vs. the standard 13×9!  And I must say, I produced TWO failed batches of these "I thought were so easy to make" dessert treats and finally called Kristine – "what is your secret wise cookie bar sage?"  – and she asked me if I was sure I was using an 8×8 – so I measured.
Doh.  9×9.  What a difference an inch makes!
Oh and I made them fun and eastery.
Kristine's Toaster Oven Magic Cookie Bars - the Easter Version
Ingredients
3/4 cup graham cracker crumbs
1/4 cup (1/2 stick) unsalted butter
1/2 cup sweetened condensed milk (1/2 of a 14oz can)
1 cup shredded coconut
green food coloring
1/2 cup easter colored M&M's
1/2 cup white chocolate chips
1/2 cup mini semi-sweet chocolate chips
Instructions
Preheat your toaster oven to 350 degrees F. Place your butter in your 8x8" pan and allow it to melt while your pan is preheating (a genius trick shared by Kristine!).
In the meantime, prepare your graham cracker crumbs by taking 1 package (each box of graham crackers has 3 packages) and crushing them into crumbs either in the food processor, or if you don't have a food processor, take a large wooden spoon or hammer and crush them in a large zip-lock bag. Take 3/4 cup of your crumbs and add it to the melted butter in the pan, pushing the mixture into the bottom of the pan to create a crust on the bottom (you will have some crumbs left over).
Pour the sweetened condensed milk over the graham cracker crust.
Take a few drops of food coloring to make your coconut look like 'grass' and then sprinkle the coconut over the sweetened condensed milk. Then layer your M&M's, and white/milk chips (feel free to use more or less - I personally can never get enough chocolate!).
Bake in your preheated toaster oven for 25 - 30 minutes, until coconut just starts to turn a light shade of brown.
Let bars cool to room temperature and then chill in the refrigerator for at least an hour.
Cut and serve!
http://www.andtheycookedhappilyeverafter.com/2013/03/24/kitchen-bitchin-recipe-series-kristines-toaster-oven-magic-cookie-bars-the-easter-version/
Copyright And They Cooked Happily Ever After