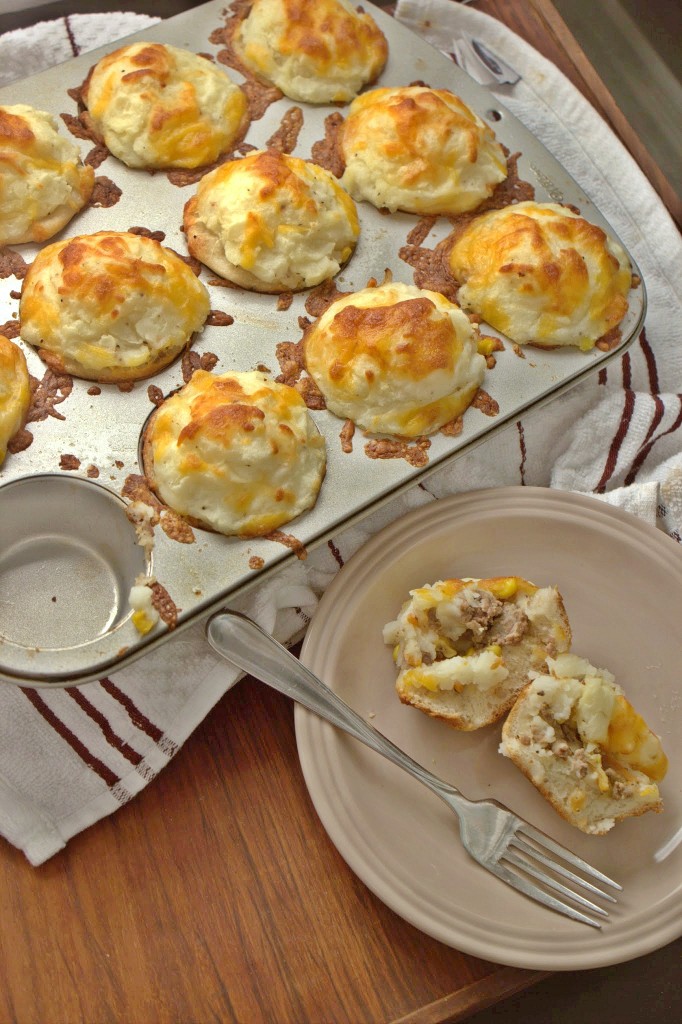 There's a certain buzz in the air this week in Boston.  Shamrocks are popping up everywhere – Guinness is on sale – there's a run on green clothing.
It can only mean one thing.
ST. PATRICK'S DAY is in 3 DAYS! Everybody do a jig!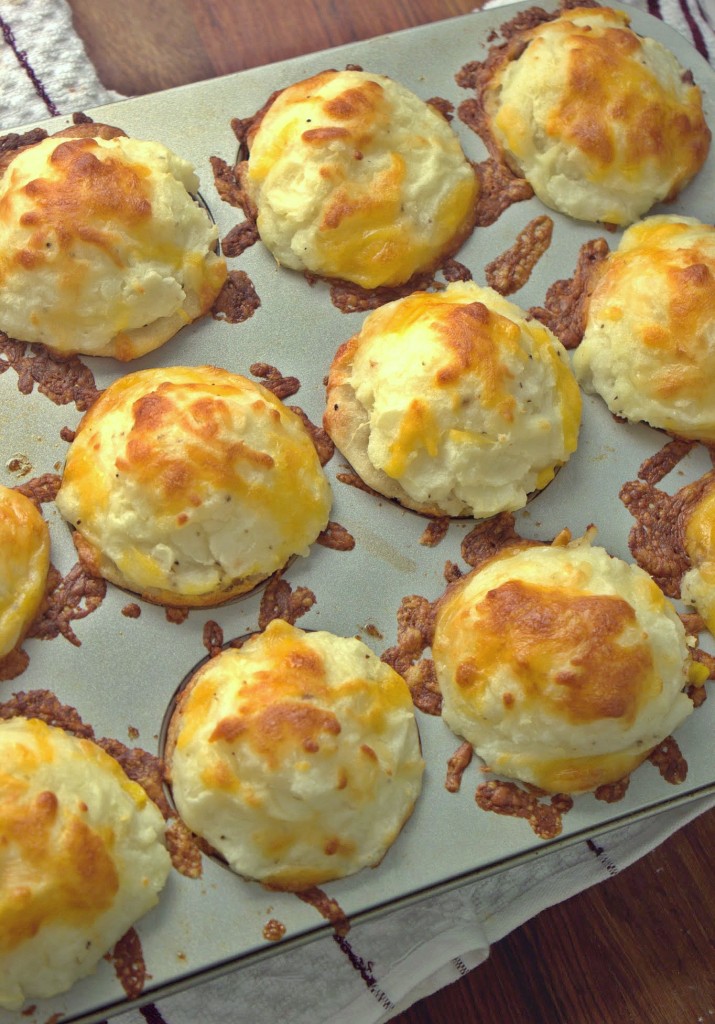 Everyone's Irish this coming Sunday, and chances are you may have a St. Pattys Day fiesta to attend.  So in addition to that case of Guinness and your Shamrock Antlers, make these mini shepherds pies.  Because they're an Irish favorite, you can eat them with your hands, and they'll soak up all that green beer you're drinking!
Ingredients
1 Pillsbury Italian Bread Loaf

For the Mashed Potato Topping

2 lbs. russet potatoes (about 3 large potatoes)
2 cloves of garlic, smashed
1/4 cup low fat sour cream
1 tablespoon unsalted butter
salt & pepper to taste

For the Meat/Veggie Layer

1 medium onion, chopped
1 cup carrots, shredded or chopped (I used the pre-shredded ones and just chopped them to save some time)
1 pound ground beef
1.5 cups kernel corn
1 cup beef broth
1 tablespoon ketchup
1 teaspoon soy sauce
salt & pepper to taste
1 cup shredded cheddar cheese (for topping)
Instructions
Preheat your oven to 400 degrees F.
Spray a 12-count muffin tin with non-stick cooking spray. Take the Pillsbury Italian Loaf and slice into 12 circles (about 1" wide). Flatten each circle out so that it becomes about 2.5" - 3" in diameter and place inside each muffin tin and up the sides so that the dough almost covers the inside of the muffin slot (if the dough scootches down a bit, that's fine!) Set muffin tin aside.
Peel your potatoes and cut them into chunks. Place the potatoes and smashed garlic cloves in a large pot of salted water, bring to a boil and let cook for about 20 minutes until the potatoes are fork tender. Drain the potatoes of all liquid and return them to the pot. Add to the potatoes your sour cream, butter and salt and pepper and mash the potatoes until they're soft and fluffy. Set them aside.
Sautee your onion and carrots in a large skillet over medium-high heat until onions are transluscent (about 3 minutes). Add your ground beef to the onion/carrot mixture and cook until the meat has browned (about 5 minutes). After the meat has browned, you can add your corn.
In a small bowl, whisk together the beef broth, ketchup and soy sauce, stir it into the beef/veggie mixture and bring to a boil. Once it has come to a boil, turn heat down to low and simmer for about 10 minutes until mostly all of the liquid has absorbed. Season mixture with salt and pepper to taste.
Take 2-3 tablespoons of your meat mixture and place inside the italian bread dough lined muffin slots. Then take about 1/2-3/4 of a cup of the mashed potatoes and place on top of the meat mixture. It's ok in this step if the mashed potatoes pop up over the muffin slot - they'll stay in place.
Sprinkle each mini pie with shredded cheddar cheese and bake in your preheated oven for 30 minutes. Cheese will be golden brown on the top.
*Notes: You will have quite a bit of the meat/veggie mixture left over. I put mine in the freezer for the future, but if you wanted to make more than 12 pies, I think with the amount of meat/veggie mixture that was left over, you could probably get another 8-12 pies out of it. So that would mean that you could buy another Italian Bread Loaf and double the mashed potato ingredients.
© And They Cooked Happily Ever After
http://www.andtheycookedhappilyeverafter.com/2013/03/14/mini-shepherds-pies-for-st-patricks-day/
Copyright And They Cooked Happily Ever After