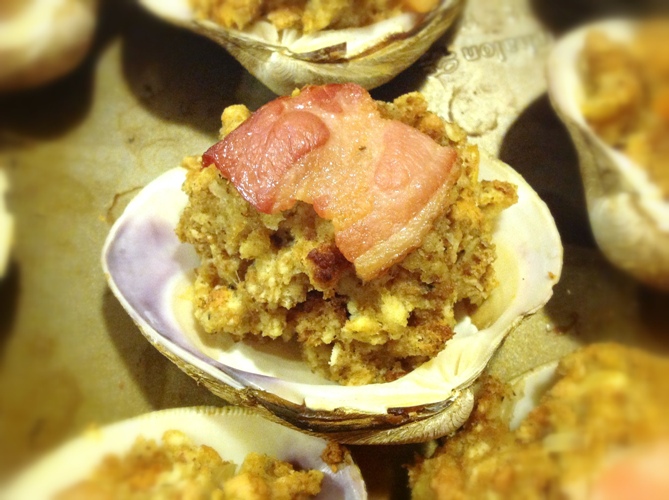 First post on the new blog! So many bells and whistles to figure out – I like bells and whistles though.  They're shiny.
You've noticed Dave's Dish of the Week was kind of a 'Dave's Dish Every OTHER Week' feature – I blame that solely on myself and my Buffalo Chicken obsession last week.  Poor Dave and his blog spotlight got pushed back in the que – but he's back.  And he's got a good one.
A while back, I shared my first 'seafood eating' experience with Dave's family and how I felt as though it was some sort of tribal experience where I was a journalist who had been invited to witness the rituals of this strange group of people who eat things out of the ocean.  But over the years, I've come accustomed to this tribal behavior, the fact that Dave's favorite food has the word 'smelt' in it, and myself, a once seafood-phobe have actually come to enjoy the stuff! (not all of it – not sure 'smelt' will ever be a word I can utter with out sticking my tongue out immediately afterwards).
Dave's Dish this week is coming to you straight from the banks of Naragansett Bay, better known as his Nana's backyard.  These have been a favorite of Dave's family for years – the kind of recipe that will be passed down from generation to generation, probably tweaked and adjusted here and there over the years, but the finished product tastes like a little piece of heaven from the sea – served in a Quahog shell.
They're certainly a bit of work, primarily the cleaning and meat extracting, but in the end, it's well worth the effort!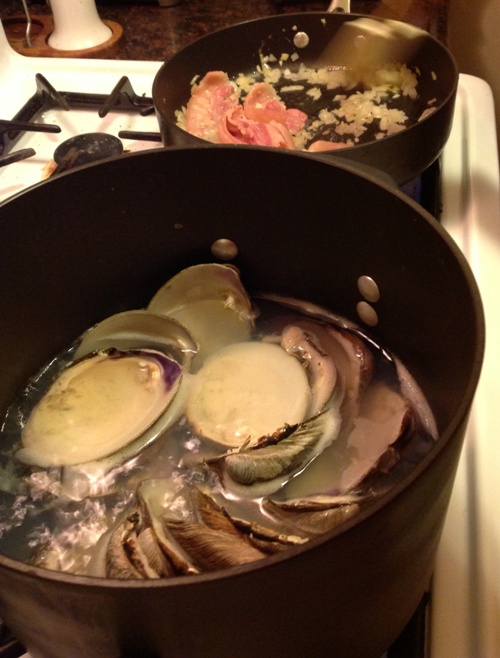 Dave's mom Pat (whose birthday is today! Happy Birthday Pat!!) was nice enough to interpret Nana's legendary recipe for Stuffed Quahogs, better known in those parts as 'Stuffies'.  Because the recipe isn't written down on any piece of paper, or measured down to the 1/2 teaspoon of this or 1/3 of a cup of that – it's the "I've made this so many times I don't even need to look at the instructions" type of recipe – which sometimes are the best kind!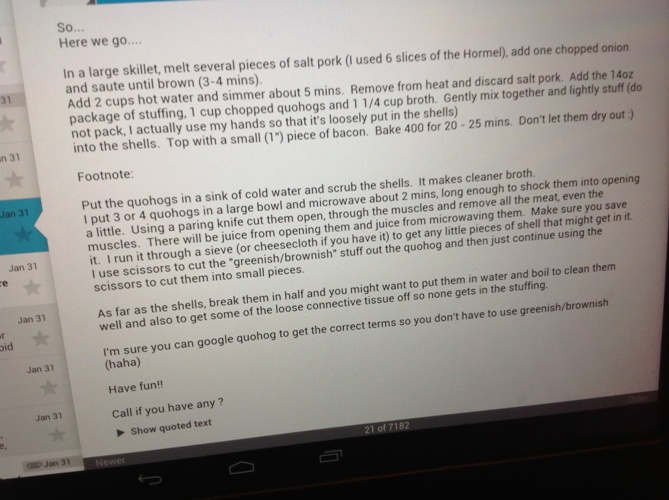 Dave's Dish of the Week: Nana's 'Stuffies' (Stuffed Quahogs)
Ingredients
12 Quahogs, cleaned with meat removed and chopped small
6 slices Salted Pork (we used Hormel - you can find it in the pork section at the store - looks very much like a piece of bacon, only smaller)
One large onion, chopped
1 & 1/4 cup reserved Quahog juices
14oz. package Stuffing (we used Pepperidge Farm)
3-4 slices of uncooked Bacon, Cut into 1" Pieces
Instructions
Preheat your oven to 375 degrees F.
To Clean Your Quahogs:
Place your Quahogs into a sink full of cold water and scrub the shells to remove sediment.
Put 3-4 quahogs at time into a large bowl and microwave for about 2 minutes to shock them into opening. Then with a pairing knife, open the Quahogs. Make sure to do this over a bowl to capture all the juices, which you will use later. Be sure to also reserve the juices from the microwave bowl as well.
Once the quahog is open, there are 3 main parts to pay attention to:
The Stomach & intestine - the "greenish/brownish" stuff located near the hinge of the shell - you don't want to use/eat this. Remove it with your pairing knife and discard.
The Quahog belly - the pink colored meat inside the shell - you do want to eat this! Remove it from the shell with your pairing knife and then use meat scissors to cut it into small pieces - set aside in a bowl.
The Muscles - two 'scallop shaped' muscles on either side of the belly meat - you also want to use these. Use the pairing knife to remove them, cut them into pieces with the meat scissors, and place into the bowl with the chopped belly meat.
Break the shells in two and throw them into a pot of boiling water. This will help in cleaning the shells before you stuff them by loosening up any remaining connective tissue on the quahogs.
Remove the shells from the boiling water and allow to cool off for a couple minutes. Using your fingers you can then remove any remaining tissue. Once all the shells have been cleaned, lay them flat on a baking sheet.
To Prepare Quahogs:
Take the reserved Quahog juice and run it through either a sieve or cheesecloth to remove any shell/tissue/sediment. Set aside 1 and 1/4 cups of the juice.
Heat a large skillet over medium/high heat and cook/melt the salted pork for approximately 5 minutes.
Add the chopped onion and saute until the onions start to brown (4-5 minutes).
Add 2 cups of hot water to the pork/onion mixture, reduce heat to low and bring to a simmer for about 5 minutes.
Remove the mixture from heat, discarding the pork, and then add the 14oz package of stuffing mix, the chopped Quahog belly & muscles, and 1 & 1/4 cups of reserved Quahog juices.
Gently mix together and place the stuffing into the shell halves on the baking sheet (do not pack the stuffing in). Top each shell half with a 1" piece of bacon and drizzle lightly with olive oil.
Bake in preheated oven for 20-25 minutes.
© And They Cooked Happily Ever After
http://www.andtheycookedhappilyeverafter.com/2013/02/06/daves-dish-of-the-week-nanas-stuffies-stuffed-quahogs/
Copyright And They Cooked Happily Ever After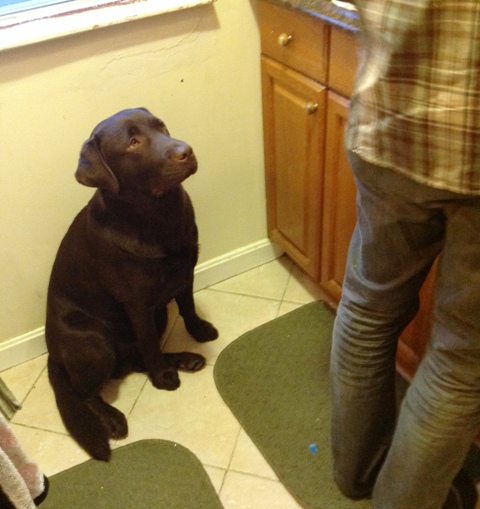 "Those look pretty slippery – maybe he'll drop one!"