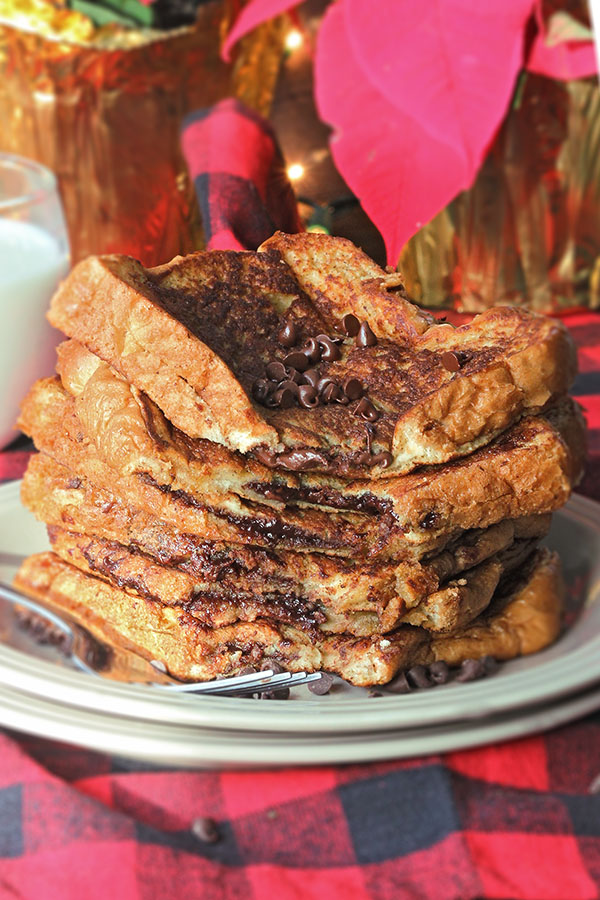 "da da da daaaaa – da da da da daaaaa – da da da daaaaa – da da da da da da" (It's the tune to the "FINAL COUNTDOWN' guys, COME ON). And this IS the final countdown gang. But it's not too final for you to run to the store to get the ingredients for this Chocolate Stuffed Eggnog French Toast. Chances are you may even already have the ingredients – because there are only six, and they're ones that are pretty basic. Esp. the nog – cuz' who doesn't have a stash of nog sitting in the fridge during the holidays?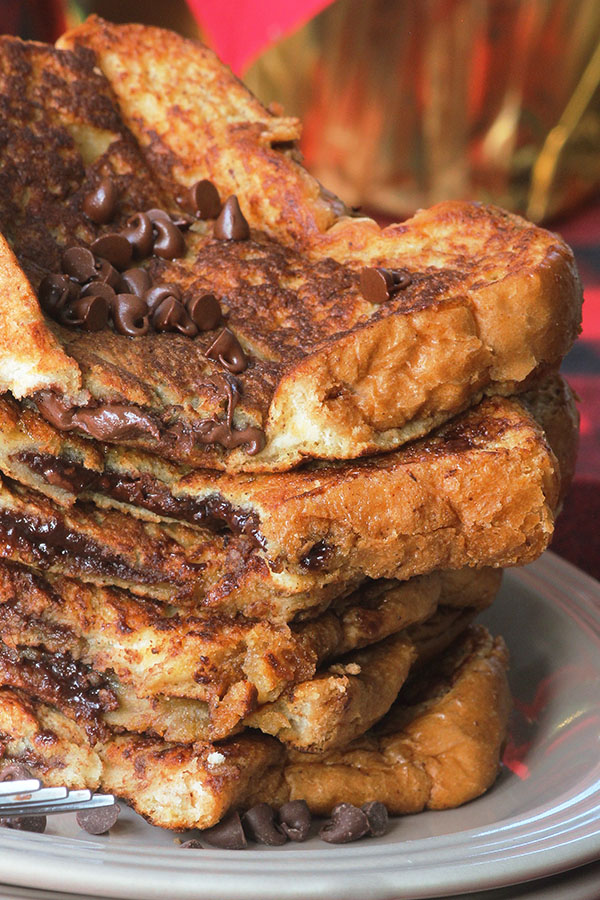 Truth is, I've never been a fan of the nog in drink form. Turns out if you soak bread in it and turn it into breakfast, you give it new life! I did this Overnight Eggnog French Toast Casserole a couple years ago for a gals brunch, and it was devine. A couple weeks ago I was thinking about Christmas morning breakfast and I remembered this Chocolate Stuffed Pumpkin French Toast from the Fall and that my friends is how this Chocolate Stuffed Eggnog French Toast came to life – just like Frosty with professor Henkel's hat (we've watched it at least 390578405865 times in the last 2 weeks) and unlike Frosty, this dynamite Christmas morning breakfast is HERE TO STAY.
Chocolate Stuffed Eggnog French Toast
2017-12-21 18:46:11
The most perfect Christmas morning breakfast - thick slices of french toast dipped in eggnog and stuffed with chocolate
Ingredients
4 eggs
1 cup eggnog
2 tablespoons maple syrup
1 teaspoon cinnamon
10-12 slices of thick cut bread (challah or texas toast are perfect)
1 cup chocolate chips
Instructions
Slice your challah bread into thick slices (10-12) or you can use 12 slices of texas toast. Take a small, sharp knife and gently slice a slit in the side of each slice of bread, gently making a small pocket with the tip of the knife. Be careful to not slice through the other end of the bread (see note below). Gently sprinkle the chocolate chips into the pocket. You don't need a ton of them as they'll melt when cooking. I'd say maybe about 1/2 - 1 tablespoon per slice. You can kind of push them gently into the pocket with your fingers, and then press the slit together gently between your palms.
In a large bowl, whisk together your eggs, eggnog, maple syrup and cinnamon. Carefully dip each slice of bread into the mix, covering the bread completely.
Heat a large skillet to medium/high heat and then place your challah slices on the heated skillet. Cook on one side for about 2-3 minutes, until golden brown - then flip and cook on the other side for another 2-3 minutes. Serve hot with extra chocolate chips, maple syrup and a sprinkle of powdered sugar.
Notes
It helps to freeze the bread before slicing the slits - it's not mandatory but knife cuts a little easier when the bread is frozen.
And They Cooked Happily Ever After http://www.andtheycookedhappilyeverafter.com/