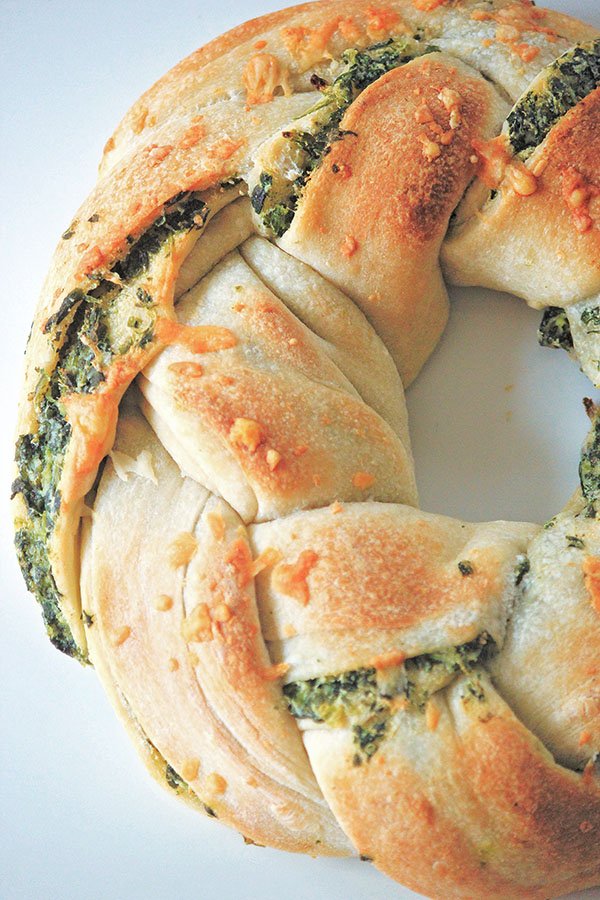 I've been seeing so many amazing looking bread products in wreath form lately – I just HAD to get in on the festive carb train! I dreamt this up one night and I gotta say guys, it came out even better than I imagined. It's one of my favorite appy combos of all time – creamy, cheesy spinach dip with as much bread you can stand to dip it in. And for the holidays, turns out you jam the spinach dip in between some dough and make a wreath out of it making it festive AF.
Use your favorite spinach dip recipe – I included mine, although it's not included in the video. I feel like a lot of people have their "go to" spinach dip recipe, whether it's homemade or store bought. And the star of this anyway is THE WREATH. The best part about this gem is that you can make a few in advance, toss them in the freezer, and have a festive appetizer ready in minutes.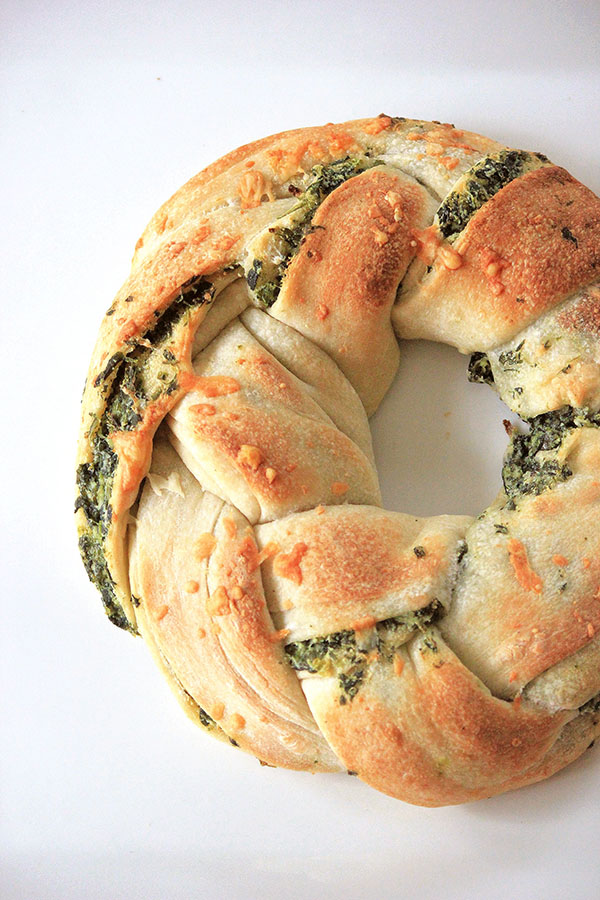 Spinach Dip Bread Wreath
2017-12-07 20:14:27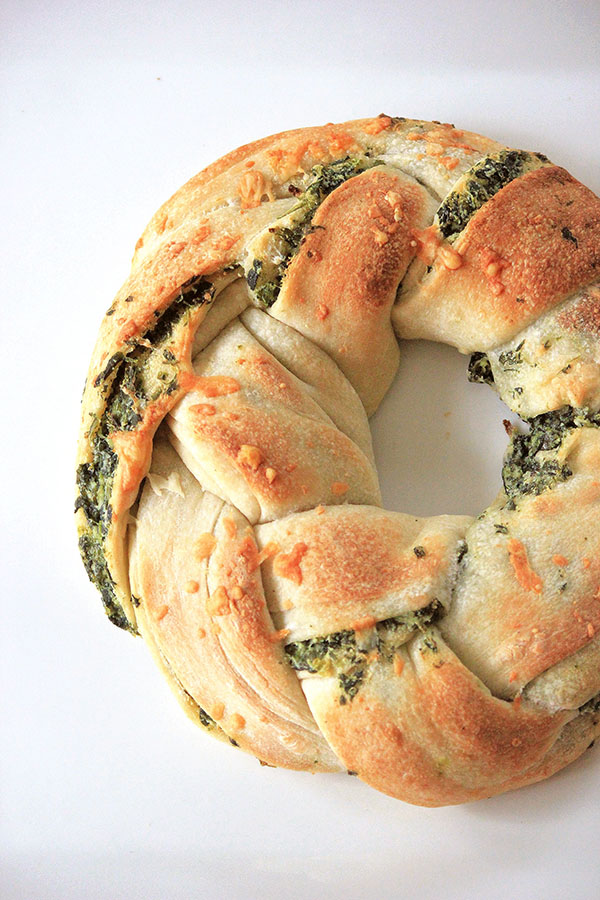 Creamy spinach dip baked into a bread wreath - the PERFECT appetizer for the holidays!
For the spinach dip
1 lb frozen spinach
1 teaspoon salt
1/2 teaspoon pepper
1 garlic clove, minced
1 cup whipped cream cheese (you could use regular as well)
1 cup part-skim ricotta cheese
1 cup grated parmesan cheese
For the spinach dip bread wreath
1 ball of your favorite pizza dough
your favorite spinach dip (recipe for mine below which will yield enough dip for two wreaths)
1 tablespoons butter
1 tablespoon grated parmesan cheese
To prepare your spinach dip
In a large skillet, cook your frozen spinach, seasoning with salt and pepper. With 1 minute left to cook, add the minced garlic. After the spinach is cooked through, press it through a strainer to get rid of the excess liquid, and then return it to the skillet.
Mix in your cream cheese, ricotta and parmesan cheese until fully combined. Serve hot, or store in the fridge for 3 days or freeze for up to 1 month.
To prepare your spinach dip wreath
Heat oven to 400 degrees F.
Roll your pizza dough out into a rectangle. I actually rolled mine out on top of a square pizza stone as a guide. It doesn't have to be a perfect rectangle either - just in the ball park.
Spread your spinach dip out on half of the dough* (see notes). Then, take the other half and fold it over the top of the spinach dip, pinching your seams to enclose the dip. Cut the rectangle into three even strips. Then, braid the strips and enclose them together into a circle, pinching the seams where the two ends meet.
Baste the wreath with melted butter and sprinkle with parmesan cheese.
Bake in preheated oven for 20-25 minutes, until the top turns golden brown. Serve hot or freeze for up to a month.
Notes
You want to make sure that your spinach dip is either cool or atleast at room temperature before spreading onto your dough. This will make it much easier to cut the strips and braid the dough. If the dip is hot, it'll ooze a bit more and be harder to manipulate.
And They Cooked Happily Ever After http://www.andtheycookedhappilyeverafter.com/