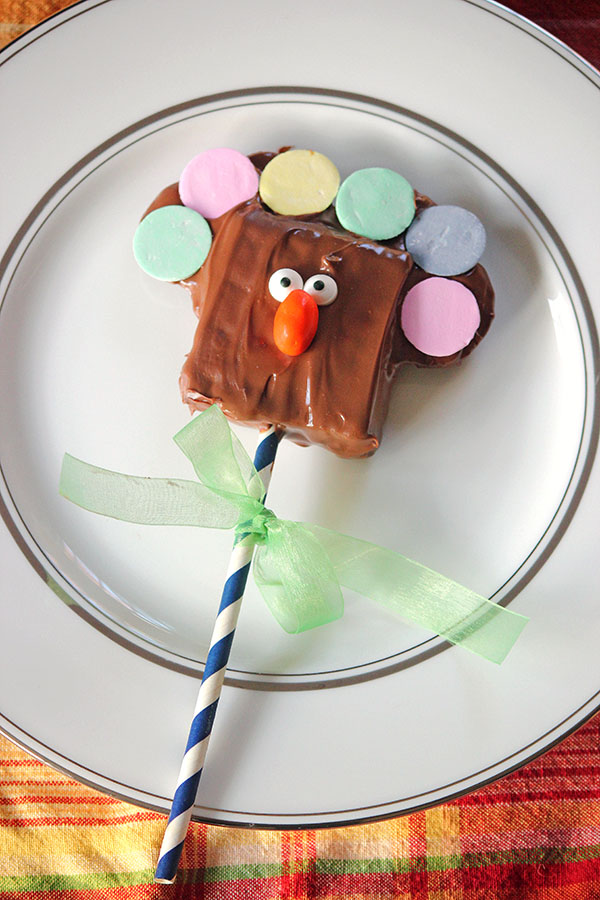 When I made these beauts this past summer, I had no idea how many life occasions would call for them. Spiders at Halloween – and now TURKEYS at Thanksgiving!
These took some time, mostly in trying to figure out how to put together. I gotta say, I have never searched higher or lower for a candy I strongly dislike, that being candy corns. All the turkey things I've seen on the Pinterest have candy corn beaks. So I legit stood in front of the candy section at the checkout and thought "hmmm, howmigonna make this turkey." I still had those peering eyeballs left over from the failed Frankenstein brownie pops. Then I spotted peanut M&M's and thought that was a great sized beak! The last part, that I was scratchin' real hard to figure out was the feathers. Nothing seemed to be a fit, until I spotted some Necco wafers sitting in a sad roll of wax paper in the very bottom row and I thought "YES Necco Wafers! This holiday season you will be something other than shingles on a gingerbread house! You will be my turkey feathers, and you will be perfect!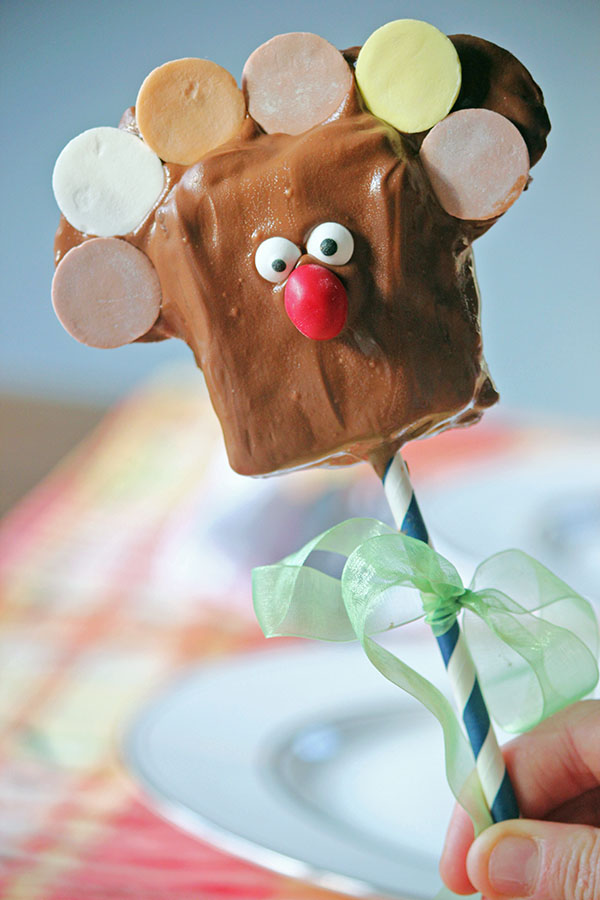 And alas, these Turkey pops were born. They're real cute. And honestly not that hard to make – and if you want to win at Thanksgiving, you could place one one each plate with the name of your guest attached in place of a traditional place card.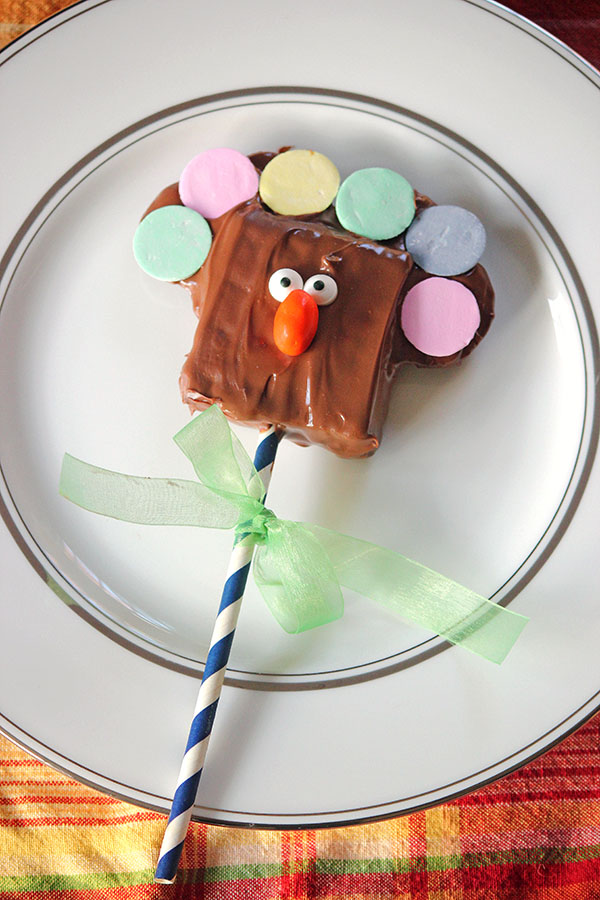 Chocolate Caramel Turkey S'More Pops
2017-11-12 18:35:33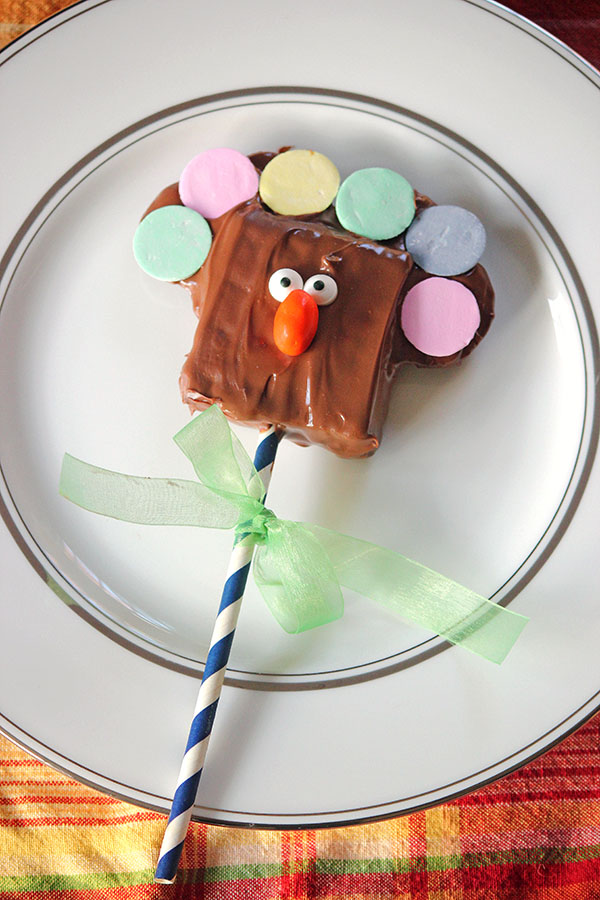 Chocolate covered chocolate caramel s'mores all dressed up as Tom the turkey for thanksgiving - perfect for the dessert table or even as an edible place card for each of your guests
Ingredients
6 chocolate graham cracker sheets (2 squares per sheet = 12 squares total)
12 large marshmallows
36 rolo candies
12 candy eyeballs
12 pretzel slims
6 orange or red peanut M&Ms
36 necco wafers
1lb milk chocolate (about 4 large sized or 6 regular sized hershey bars)
6 popsicle sticks or decorative paper straws
Instructions
Preheat your oven to 400 degrees F.
Break your chocolate graham cracker sheets in half and then lay them out on a sheet pan. Tear your marshmallows into two halves (horizontally) and then place 4 marshmallow halves on 6 of the graham cracker squares. On the other 6 halves, lay out 6 rolo candies per square.
Place your grahams in the oven for 5 minutes, until the tops of the marshmallows start to turn golden brown. Remove from the oven and let sit for 5 minutes.
To assemble your pops, take 2 pretzel slims and press them lightly into the melted rolos. Place your paper straw in the center, and then lightly press the marshmallow graham cracker on top of the melted rolos. Place the assembled pops on a tray and freeze for 10-15 minutes to set.
Melt your chocolate while the pops are setting in the freezer. After they've set, remove the pops and dip them in chocolate, covering the s'more and pretzel slims entirely. Place the chocolate dipped pops on a baking sheet lined with parchment paper. Prepare the turkeys by placing two eyeballs, a red or orange peanut M&M for the beak, and then 6 assorted color Necco wafers for the feathers. Place the pops in the freezer or fridge to set the chocolate. Keep refrigerated until ready to serve!
And They Cooked Happily Ever After http://www.andtheycookedhappilyeverafter.com/