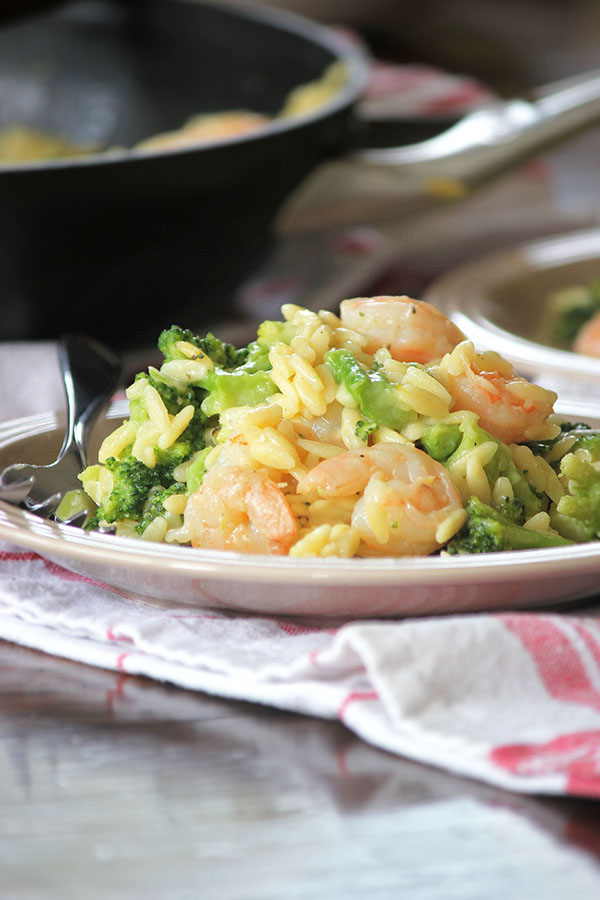 I'm a big fan of one pot recipes, primarily during the week, when time is non-existent and dinner is a thing that needs to happen every night. I've seen some "one pot" recipes out there that technically are one pot, but there's a little bit of "non-one-potness" to them, meaning you have to do some steps out of the pot, and then bring them back to the pot, and then take them out of the pot – you catch my drift, eh?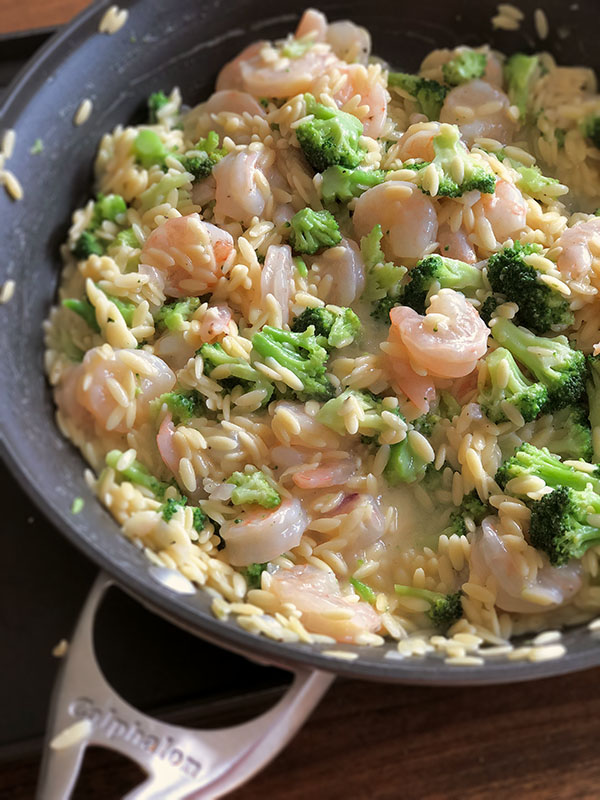 THIS IS LEGIT ONE POT. It doesn't get any easier than a bit of choppage, a bit of sauteeage, and a bit of simmerage, and in about 30 minutes, you've got a delicious lemony pasta with shrimp and broccoli that took practically no time to make! THEN YOU GET A COOKIE!
One Pot Lemony Shrimp Orzo with Broccoli
2017-11-05 12:56:10
Serves 4
This creamy, dreamy lemony orzo with shrimp and broccoli is made in ONE POT in less than thirty minutes
Ingredients
1 tablespoon butter
1 tablespoon olive oil
1 shallot, chopped
1 large garlic cloved, minced
1 cup orzo (uncooked)
2 cups chicken broth
1 cup freshly grated parmesan cheese
Juice of 1 large lemon (2 tablespoons)
1 lb. shrimp, peeled and deveined
2 cups broccoli florets (I used frozen, but fresh broccoli would work too)
Instructions
In a large skillet, melt your butter and olive oil over medium heat. Add your chopped shallot and sautee for 2-3 minutes. Add your garlic, and sautee for another minute or so, until fragrant. Keep stirring the garlic to prevent burning.
Add your cup of orzo, stirring into the oil/butter/shallot/garlic mix, and then add your chicken broth. Bring mixture to a boil, and then simmer for 10 minutes, covered. After ten minutes, uncover, fold in your parmesan cheese and lemon juice. Then, place your broccoli florets and shrimp on top of the pasta. Cover again for 10 minutes. After ten minutes, remove the cover, and continue to stir until all the liquid is absorbed and shrimp are fully pink (should only take another 2-3 minutes).
And They Cooked Happily Ever After http://www.andtheycookedhappilyeverafter.com/