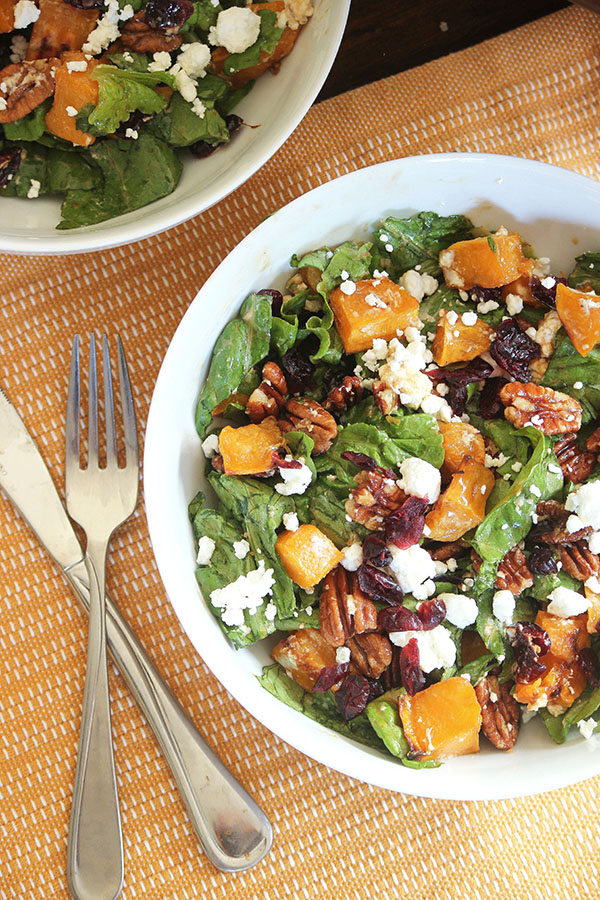 In truth, I never thought a whole lot about maple syrup until I married into Dave's family (such as with Seafood). It was sweet and delicious and you put it on your pancakes and French toast on Saturday mornings. But When you have a SIL and BIL (sister and brother in law) that like, OWN their own maple syrup company, let's just say that syrup is on the brain more than usual.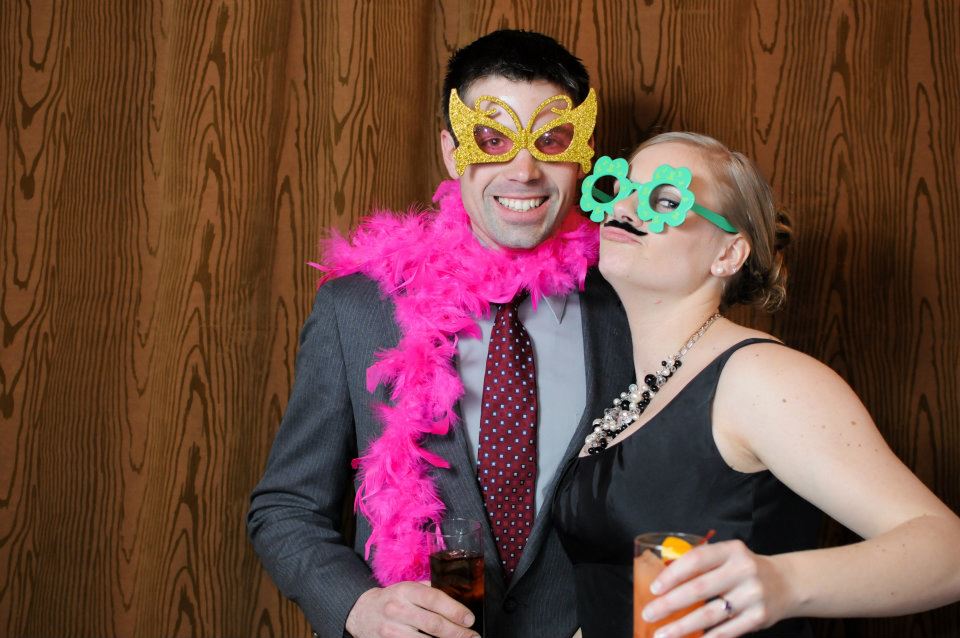 Amy, Dave's sister, and my SIL, and her hubby Ty, my BIL, live in VT and like I said, they don't go to the store and buy a vat of Log Cabin for Sunday pancakes. For months and months, Ty actually TAPS maple trees, and has his own SUGAR HOUSE, and they like, MAKE THE SYRUP THEMSELVES. WHAT? And we're related???? They've been working hard bringing Hollow Brook Farms to the world, and over the years they've won tons of awards for their epic syrup skills, and sell it all over New England. OH and they just got certified to be ORGANIC. BUZZ WORD. Ty does all the tapping, boiling, aka the manly things, and then amy makes them cute and pretty by picking the perfect jugs, bottles and tins to put them in. They EVEN make Maple Sugar! I mean, these are power couple goals people. And thanks to them, I now realize that there is such a huge difference between the stuff you buy in the store and the stuff that your BIL and SIL make. And not just cuz' they're your BIL and SIL and you're biased – but because it just tastes soooo much better.
So what's the point of this? Obvi I'm trying to sell you syrup – but, I'm also sharing with you this dynamite Fall salad, which is great on it's own, but the star is for sure the Maple Balsamic Vinaigrette Dressing, made with ORGANIC Maple Syrup straight from the maples of the woods of VT. They served with a kale salad at Amy's bridal shower a couple years ago, and I never stopped thinking of it (I think the massive dollops of fried goat cheese on the top of the salad helped a smidge). I've made this fantastical dressing so many times, but it pairs so well with this salad combo, in addition to many others! Perfect for the next few weeks of Fall, or even on the Thanksgiving table, ya know if you're a "offer a salad at Thanksgiving to make people feel like they're eating healthy" type of host.
OH AND SYRUP MAKES REALLY GOOD CHRISTMAS GIFTS. Just sayin. Check them out – and don't forget it's organic – so healthy – so more on your pancakes.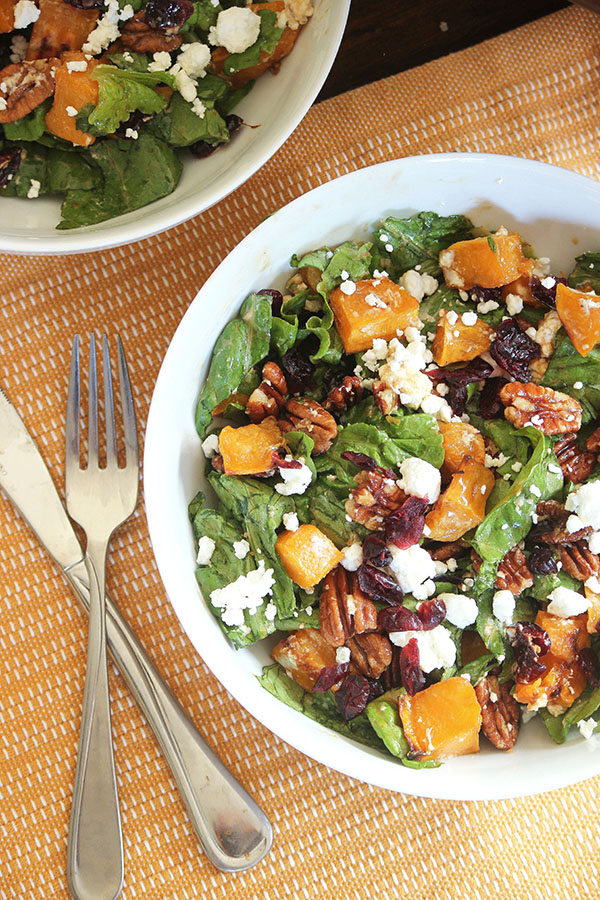 Butternut Squash Salad with Maple Vinaigrette
2017-10-26 19:20:16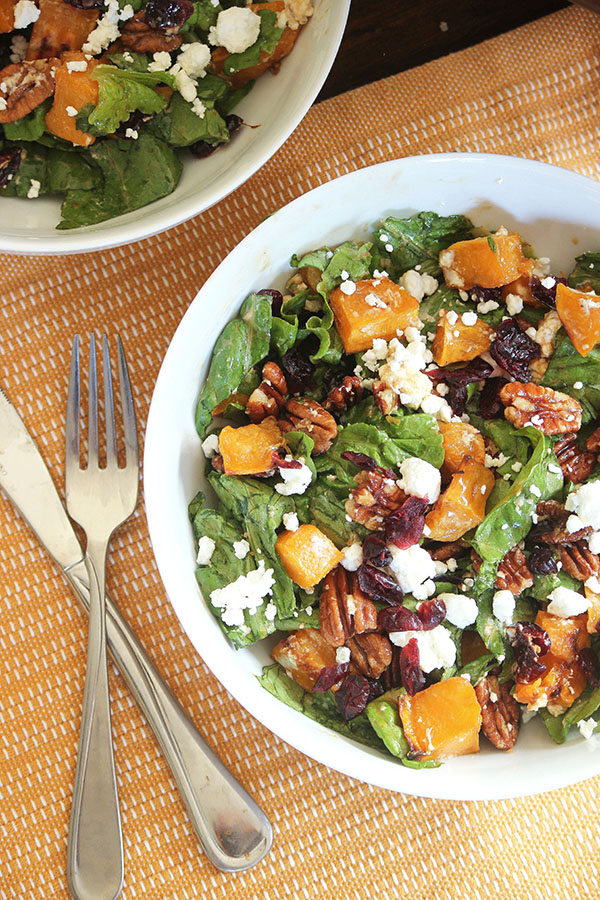 The perfect combination of fall flavors with a sweet and tangy homemade maple vinaigrette to top it all off
Ingredients
1 head of mild flavored greens (I used a bibb style, but mixed greens or spinach would be great too)
1/2 large butternut squash, peeled and cubed (yields about 2 cups total after roasted)
1/4 cup maple syrup
1/2 cup crumbled goat cheese
1/2 cup cranberries
1/2 cup pecan halves
For the dressing
1/4 cup balsamic vinegar
1 teaspoon dijon mustard
1 teaspoon sugar
1/2 teaspoon salt
1/4 teaspoon freshly ground black pepper
1 clove garlic, peeled and minced
1/2 cup extra-virgin olive oil
3 tablespoons maple syrup*
Instructions
Preheat your oven to 400 degrees. Cube your squash into 1" pieces, and then toss it in 1/4 cup of maple syrup. Spread cubes out on a baking sheet lined with parchment paper and roast for 40 minutes.
In the meantime, prepare your dressing by combining all of the ingredients into a mason jar, and then shaking vigorously until well combined and thick.
After your butternut squash has roasted, combine your greens, butternut squash cubes, goat cheese and cranberries and then toss with the maple vinaigrette dressing, just before you're ready to serve.
Notes
Feel free to adjust the amount of maple syrup - I think 3 tablespoons is perfect - the dressing is sweet but still has that great tanginess from the balsamic vinaigrette, but feel free to add more if you want it sweeter (or less if you think it's too sweet)
And They Cooked Happily Ever After http://www.andtheycookedhappilyeverafter.com/