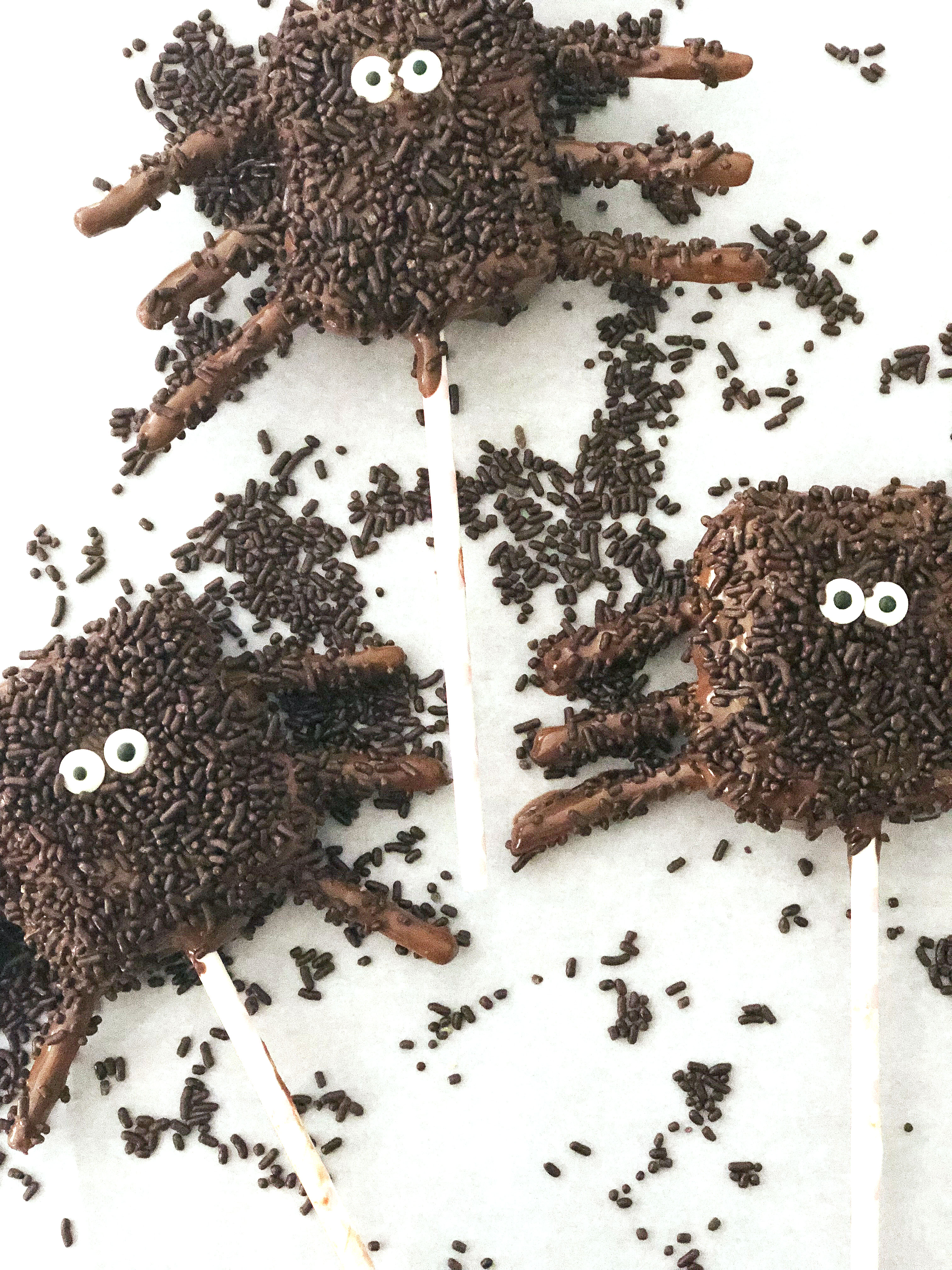 If you saw my Insta story from a couple of weeks ago, you know that I had a massive fail with at attempt at Frankenstein Brownie Pops. In my head, I saw cute, green chocolate covered Frankenstein faces on top of a chewy chocolate brownie, then plopped on a stick for convenience and cuteness. In reality, they were a hot mess of green chocolate covered lumps of brownie that just would not stay on the stick no matter how hard I tried.
And all I was left with was a ziplock bag of 30 candy eyes that sat on the counter and mocked me every time I looked at them. I needed to give these eyes a meaning in life, mostly because they were making me feel inadequate.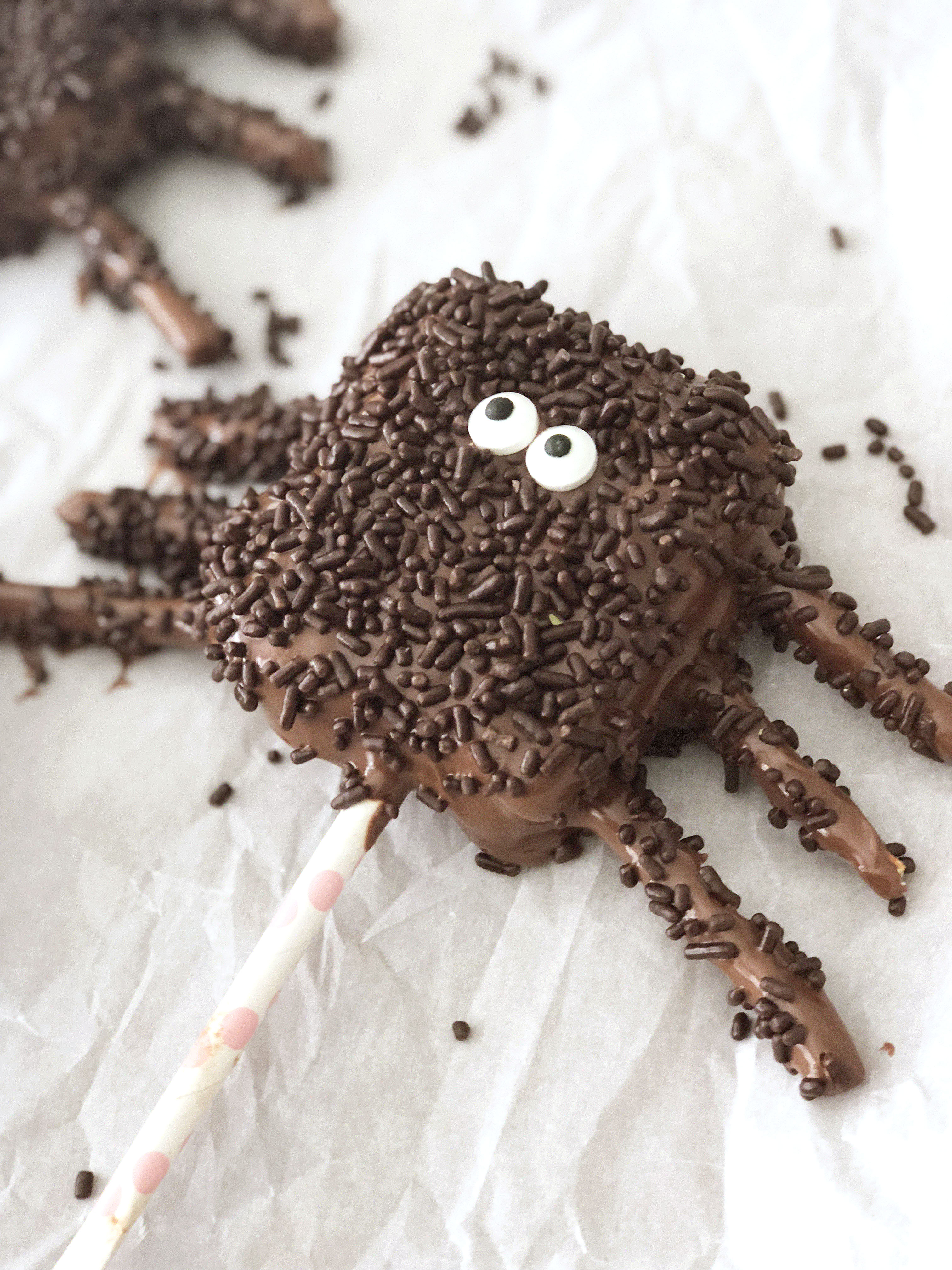 So that my friends is how these super cute Chocolate Covered Spider S'More Pops came to life. I was still dreaming of these Chocolate Caramel S'More Pops from the summer – these are basically them, with eyeballs, chocolate sprinkles for "spider hair" and pretzel sticks for "spider legs". Easy, cute, great for Halloween parties, and a dozen less candy eyeballs to make eye contact with every day.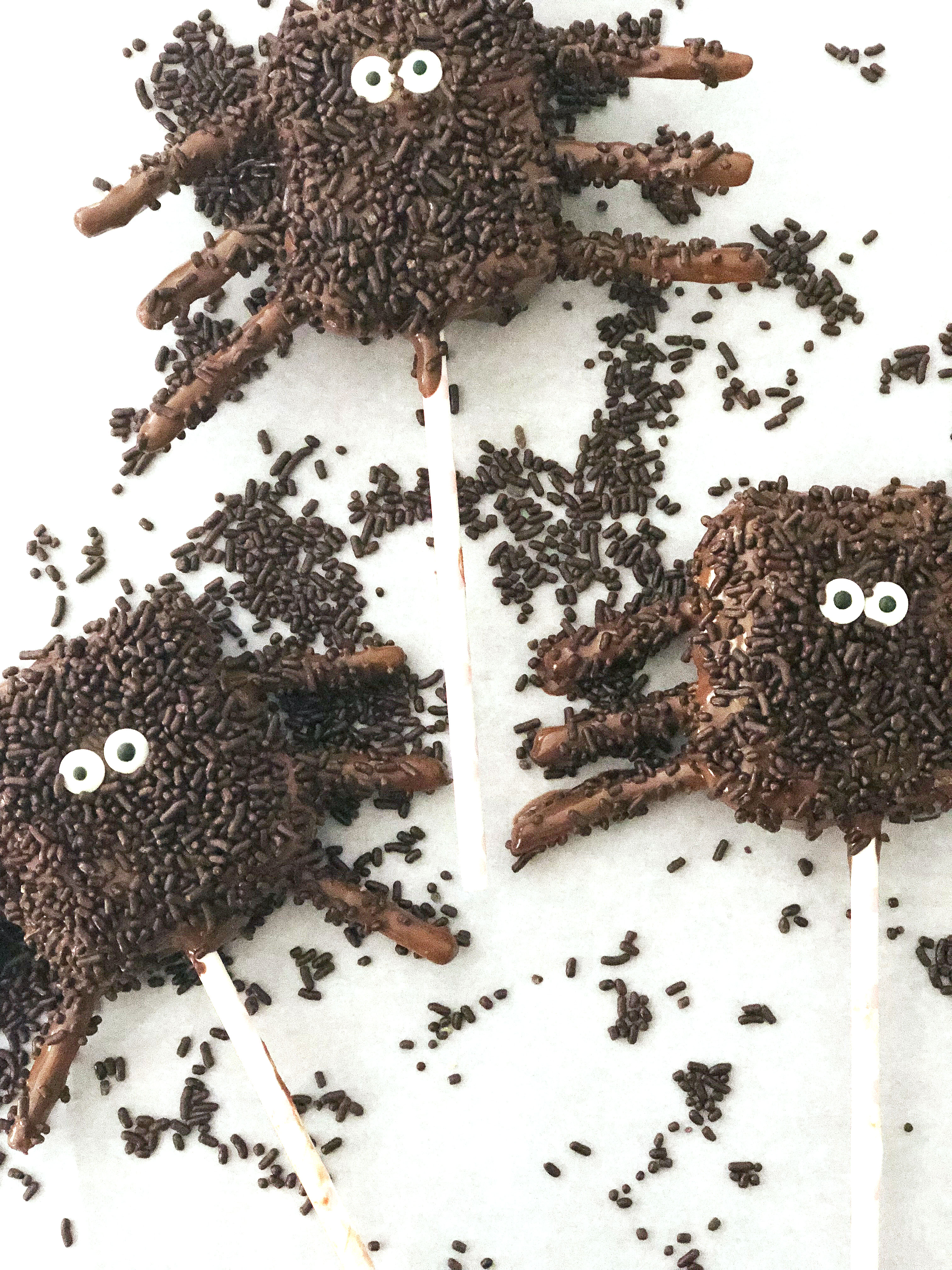 Chocolate Covered Spider S'More Pops
2017-10-29 06:07:40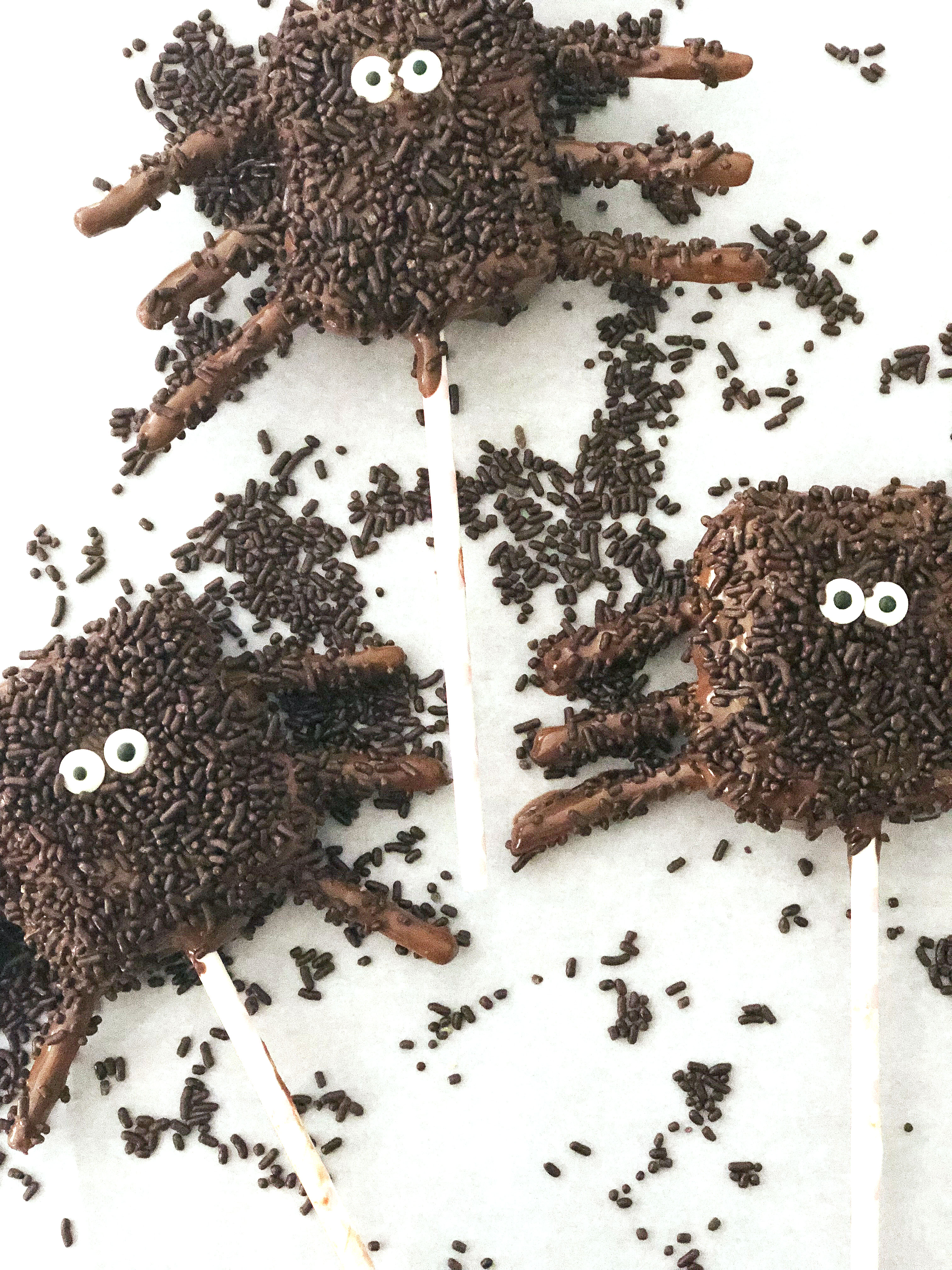 S'mores on a stick dressed as spiders - happy halloween indeed!
Ingredients
6 chocolate graham cracker sheets (2 squares per sheet = 12 squares total)
12 large marshmallows
36 rolo candies
12 candy eyeballs
36 thin pretzel sticks
1lb milk chocolate (about 4 large sized or 6 regular sized hershey bars)
6 popsicle sticks or decorative paper straws
Instructions
Preheat your oven to 400 degrees F.
Break your chocolate graham cracker sheets in half and then lay them out on a sheet pan. Tear your marshmallows into two halves (horizontally) and then place 4 marshmallow halves on 6 of the graham cracker squares. On the other 6 halves, lay out 6 rolo candies per square.
Place your grahams in the oven for 5 minutes, until the tops of the marshmallows start to turn golden brown. Remove from the oven and let sit for 5 minutes.
To assemble your pops, take 6 pretzel sticks, placing 3 on each side, sticking them in the center of each rolo (when the caramel in the center of the rolo solidifies, it will help keep the pretzel stick in place). When the pretzels are secure in the rolo, place the straw or popsicle stick in the center of the rolos, and then top with a marshmallow graham square and lightly press together. If there is a lot of excess marshmallow that squeezes out, simply scrape the sides with your finger. Place assembled pops in the freezer or refrigerator to set (about 10 minutes).
In the meantime, melt your chocolate in the microwave in 15 second increments until fully melted. Alternately, you could melt it in a double boiler also.
Dip your s'more pops in the melted chocolate, using a spoon to cover the entire pop with chocolate, also covering the pretzel sticks with chocolate. Place the dipped s'more pops on a baking sheet lined with parchment paper. Place the two eyeballs in the center and then sprinkle the s'more pop with chocolate sprinkles. Let them sit at room temperature or in the refrigerator until the chocolate has set. Enjoy!
And They Cooked Happily Ever After http://www.andtheycookedhappilyeverafter.com/