I have so many buzz words for you in this post. QUICK – EASY – ONE SHEET – HEALTHY – MEAL PREP. Did I win buzz word scrabble??? No but for srsly – 4 ingredients, 1 sheet, and it's low in fat and cals while being HIGH in flavor and general awesomeness.
These Buffalo Shrimp Tacos from some years ago have become a staple weeknight dinner that saves lives and marriages. I didn't think it could get much easier than these beauts. But then I kept seeing all these recipes for sheet pan shrimp fajitas and I realized that it COULD actually get easier. Meaning you could just toss all the stuff on a baking sheet and carry on with your life until they're done!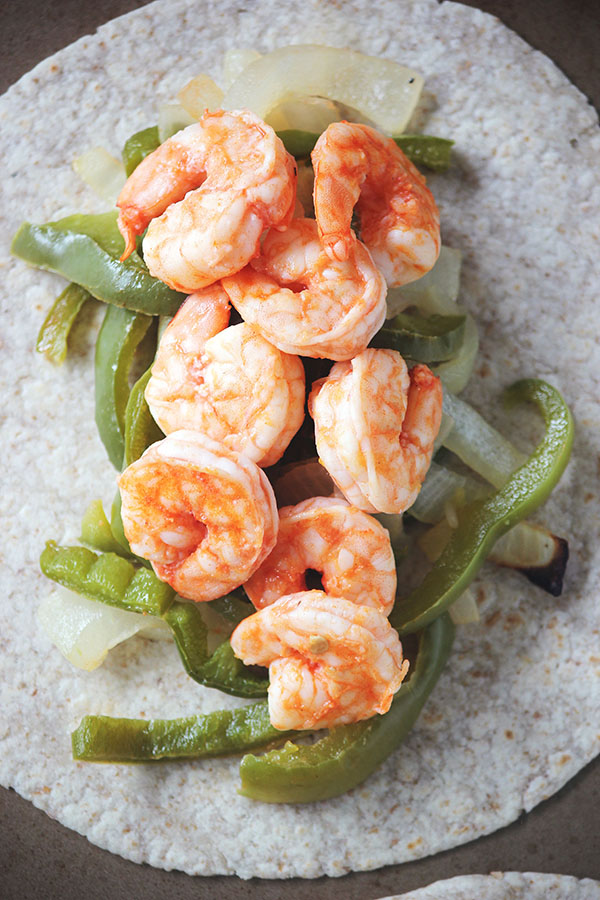 This is legit so easy it's not even fair. Chop some pepps and onions, lil' salt and pepp, toss those shrimpies in some hot sauce and in about 20 minutes you've got a dynamite dinner or a couple of lunches for the week. This will yield about 2 really good sized lunch or dinner portions. If you want more of a lunch-for-the-week sitch, double that shiz.
One Sheet Buffalo Shrimp Fajitas
2017-10-17 19:10:16
Serves 4
4 ingredients and one baking sheet - these One Sheet Buffalo Shrimp fajitas are a star of the easy weeknight dinner scene!
Ingredients
1 large onion, sliced thin
2 large green (or any color) peppers, sliced thin
1 tablespoon olive oil
1 teaspoon salt
1/2 teaspoon pepper
1 lb. shrimp, peeled and deveined
1/2 cup Frank's hot sauce (or hot sauce of your choice)
Instructions
Preheat your oven to 400 degrees.
Slice your onion and pepper, then toss them in olive oil and season with salt and pepper. Spread them out in an even layer on a large baking sheet lined with parchment paper or non-stick cooking spray, and cook them for 12 minutes.
In the meantime, toss your shrimp in the hot sauce and set aside. After 12 minutes, remove the sheet from the oven and add the shrimp to the sheet pan. Cook for an additional 8 minutes until shrimp are cooked through.
Serve warm on tortillas or pack them up in individual tupperware containers for lunch!
Notes
If you like your veggies a bit more on the 'crisp' side, you could cook the shrimp and veggies together. Since the shrimp cook so quickly, if you like your veggies a little more tender, they'll require a bit more cooking time.
And They Cooked Happily Ever After http://www.andtheycookedhappilyeverafter.com/