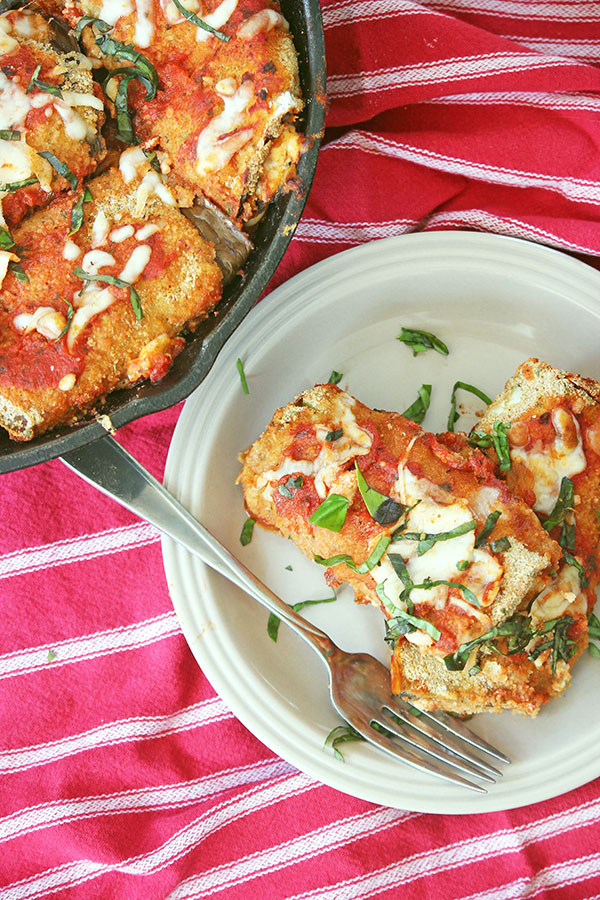 Even though it still feels like summer in New England, our garden is slooooowly getting' ready for winter. Tomatoes are rotten – corn is dead – HOWEVER the eggplants on the other hand are alive and kicking! We like eggplant – mostly breaded, in a caprese fashion, as you can see here and here. But this time I took our breaded eggplant and gave it a sauce and cheese bath and then rolled it up into a cute little burrito of delicousness.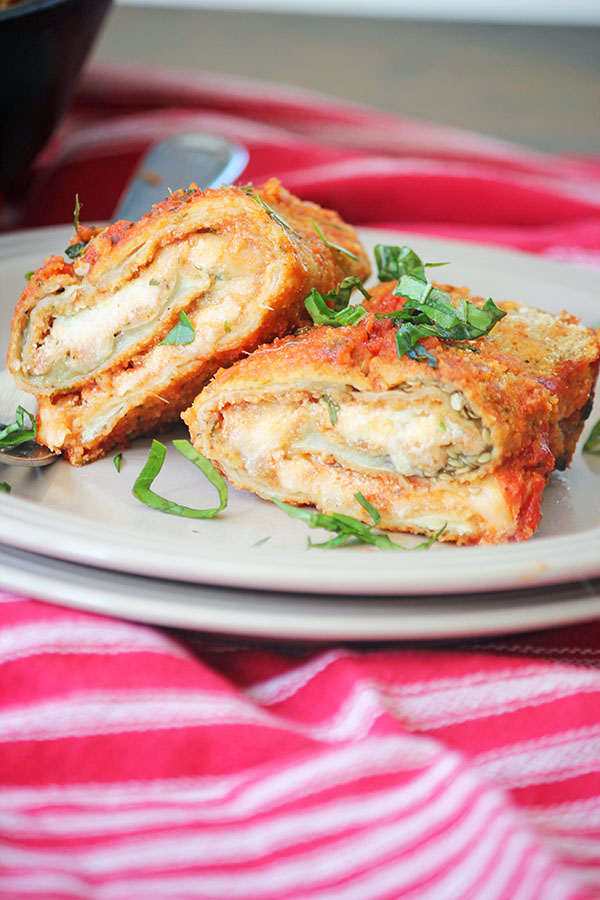 This Baked Eggplant Rollatini is like a hybrid of eggplant parm and lasagna – all the fabu flavors of eggplant parm but with an additional layer of ricotta cheese to give it that lasanga' like edge. And, given that each piece of eggplant is in it's own individual roll, it makes them super easy to toss in the freezer and grab whenever you want! Although, let's be real, ain't gonna be no rollatini's left.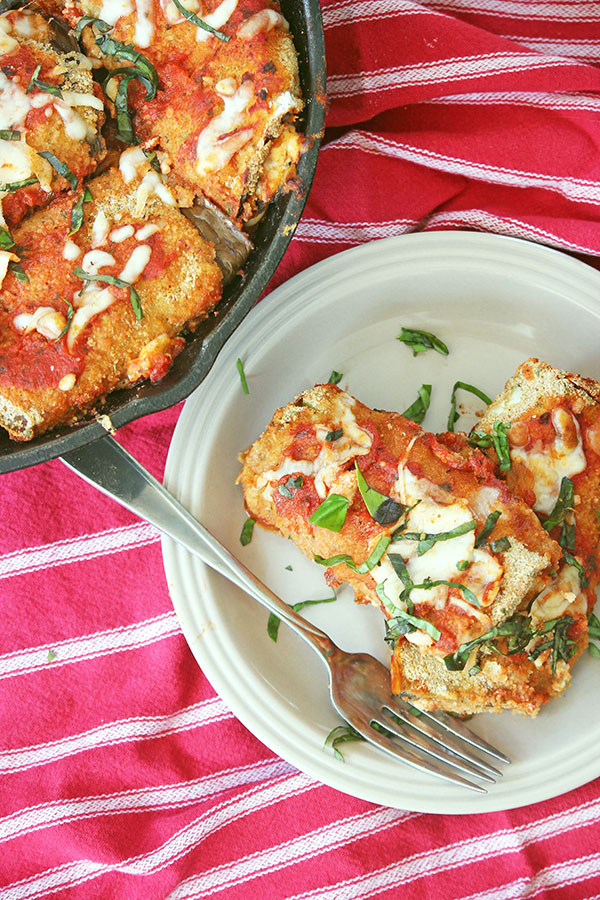 Baked Eggplant Rollatini
2017-10-09 13:48:14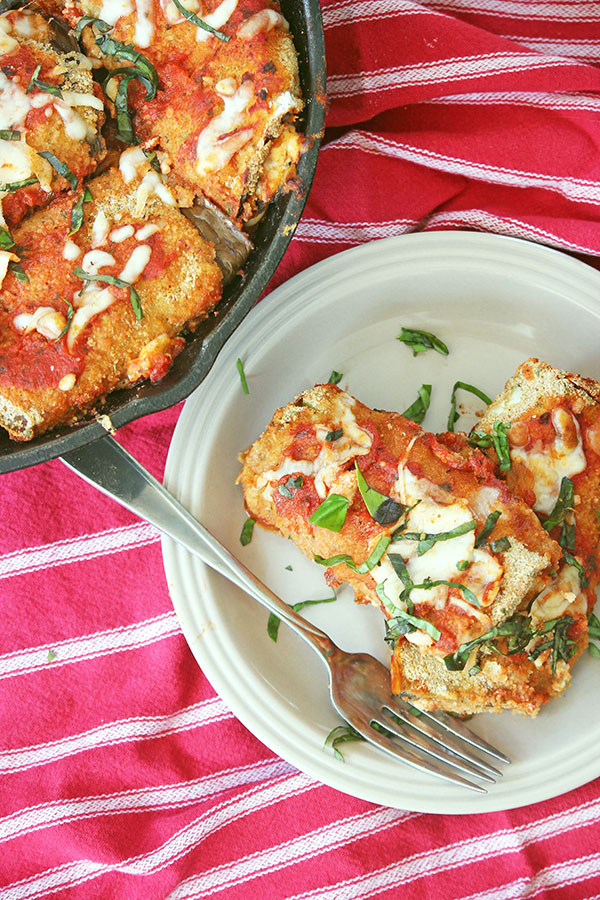 Serves 8
A delicious and easy to make mix between eggplant parmesan and lasagna!
Ingredients
1 medium to large eggplant, sliced into 8 slices (sliced vertically)
1 teaspoon salt
1/2 teaspoon pepper
1/2 cup flour
3 eggs
splash of milk
1.5 cups bread crumbs (i used the Italian Flavored ones)
1 cup part skim ricotta cheese
2 tablespoons fresh parsley, chopped
1 teaspoon salt
1/2 teaspoon pepper
1/4 cup shredded parmesan cheese
2.5 cups of your favorite jarred tomato sauce
1.5 cups shredded mozzarella cheese
8-10 basil leaves, sliced thin
Instructions
Preheat your oven to 400 degrees.
Slice the ends off of your eggplant, and then slice it vertically into 8 slices, about 1/8" thick. Season them with salt and pepper, letting them "sweat" for 5-10 minutes - you'll see little beads of water form on top of them. Dab the water with a towel.
In 3 large bowls, lay out your flour, eggs whisked together with a splash of milk, and then your breadcrumbs. Dredge each slice of eggplant in the flour, then the egg/milk wash, and then the breadcrumbs Lay the breaded eggplant slices out on a parchment lined baking sheet and bake for 20 minutes, turning half way through.
Let your breaded eggplant cool for about 10 minutes. While cooling, mix togehter your ricotta, parmesan cheese, egg, salt, pepper and parsley. Set aside. Then, spread 1 cup of the tomato sauce in a thin layer at the bottom of an 8" cast iron skillet or baking dish.
Spread out a thin layer of sauce over each eggplant slice. Then, a thin layer of ricotta, then a thin layer of mozzarella cheese. Gently roll the slice of eggplant, and then place it seam side down in the cast iron skillet or baking dish. Top with the remaining sauce and cheese and bake, covered with foil, for 25 minutes. Remove the foil and bake for another 10 minutes until the cheese starts to lightly brown. Garnish with fresh basil.
And They Cooked Happily Ever After http://www.andtheycookedhappilyeverafter.com/