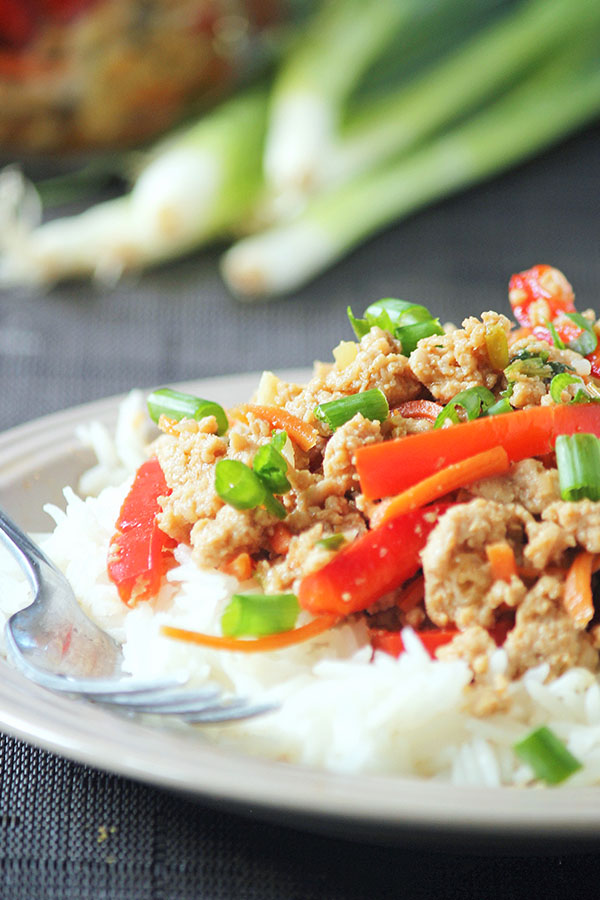 Have you heard this thing going around on the internet called MEAL PREP? Everyone's spendin' their sundays (#mealprepsunday) gettin' those breakfasts, lunches, and even dinners ready for the week, so that they can do the 309897659796 other things they need to do Monday – Friday without having to worry about said breakfasts, lunches and dinners. You just open the fridge, and take out one of the gems you spent your entire sunday in the kitchen making. And while the rest of the gang is out on sunday funday having bloody mary's before noon while you're slaving away over your stove, you can laugh at the gang on Monday when they're hungover and eating lefotver cheesy bread for dinner and you're having a delicious and ready-to-eat meal that you made yourself! WHO NEEDS BLOODY MARY'S ANYWAY? (ok me)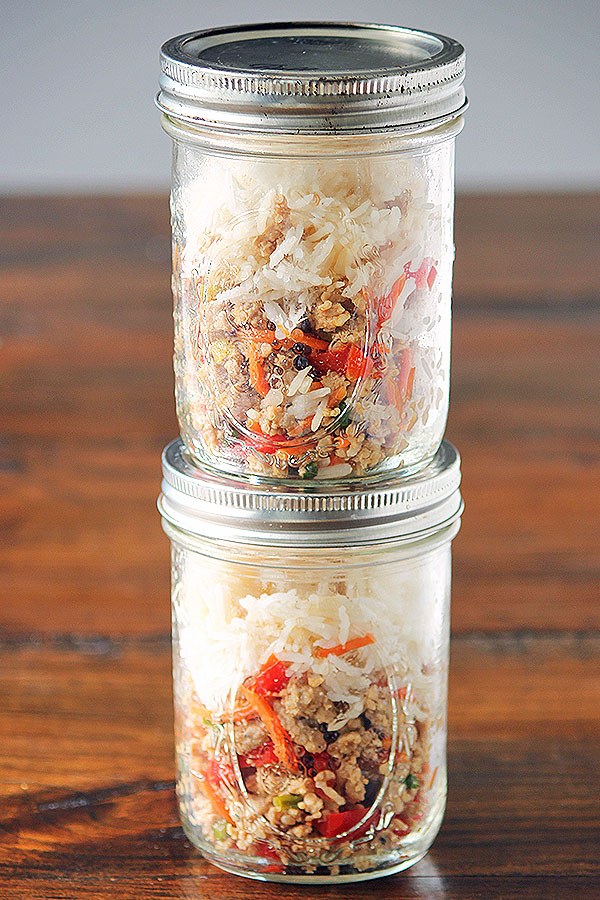 These Thai Chicken Rice Bowls are perfection for meal preppage – while they're super easy to prep, they're even easier to stuff in a mason jar, and then throw in the fridge for quick and healthy lunches for the week, or dinner for a night or two! This recipe will get you 4 mason jars – do it!
Thai Chicken Rice Bowls
2017-10-03 10:36:08
Serves 4
A nice light healthy lunch (or dinner) that can be served fresh off the wok, or packed up perfectly for meal prep!
Ingredients
1 tablespoon hoisin sauce
1 tablespoon teriyaki sauce
1 tablespoon soy sauce
1 tablespoon rice wine vinegar
1 tablespoon sesame oil
1lb ground chicken
1 teaspoon salt
1/2 teaspoon pepper
1 garlic clove, minced
1 cup shredded carrots
1 large red pepper, sliced thin
3 scallions, chopped (green and white parts)
2 cups white rice, cooked
Instructions
In a small mixing bowl, whisk together your hoisin, teriyaki, rice wine vinegar and soy sauce. Set aside.
Heat sesame oil over medium heat in a large skillet or wok. Add your ground chicken, season with salt and pepper until no longer pink. Then, add your garlic, carrots, red pepper and scallions and cook until the carrot and pepper are tender (about 5 minutes)
Add your sauce and coat the mixture, continuing to cook for another 3 to 5 minutes, allowing the chicken and veggie mix to soak in the sauce. Remove from heat.
Serve hot if eating right away. Or If using for meal prep, take 4 mason jars and divide the chicken mixture evenly amongst the 4 jars. Top the chicken mixture with 1/4-1/2 cup cooked white or brown rice and store in the fridge for 3-5 days or freeze for up to a month.
And They Cooked Happily Ever After http://www.andtheycookedhappilyeverafter.com/