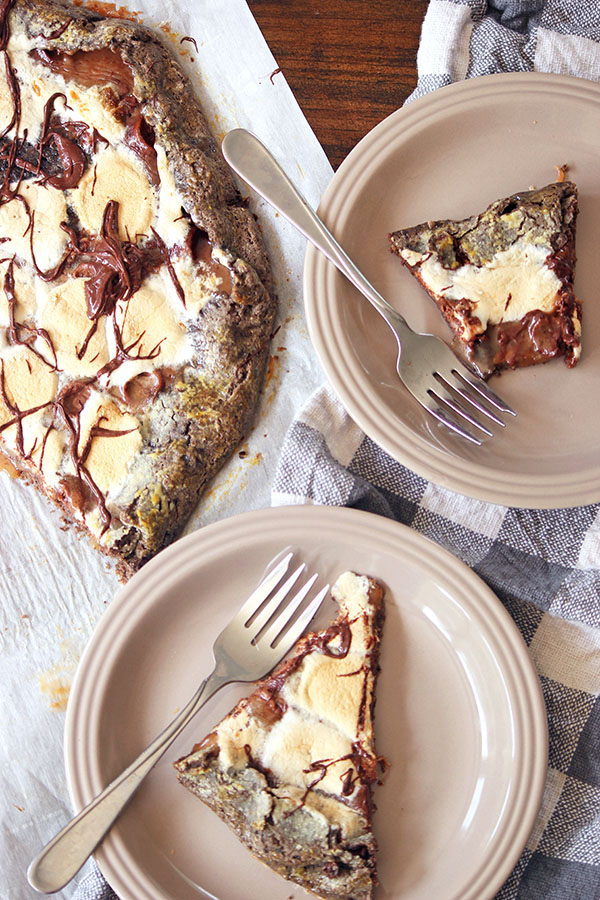 If you look up the word Galette in the dictionary, you'll see that it is "a very, very lazy version of a pie for people that don't have time to make an actual pie". Or, maybe that's not exactly the definition, but it's my definition.
Summer's wrapping up folks – the air is getting crisper – it's dark before 8. So those tastes of summer that we love, like s'mores are also going to be on their way out. That's way I decided to give one final "hollaaaaaa" at my favorite combination in the s'more world – Chocolate Caramel – why would you make a traditional one when you could have things like this – and this. And it's in lazy man pie form – aka galette – or kind of like a pizza – but either way a must make before summer's gone!
This chocolate graham galette base would also be perfect for a more "traditional" galette with fruit or berries!
Chocolate Caramel S'More Galette
2017-08-28 08:42:59
A chocolate caramel s'more in galette form - slice it up for all your friends who love a good s'more!
Ingredients
12 chocolate graham cracker squares (6 full sheets) to yield 1 cup of chocolate graham cracker crumbs
3/4 teaspoon kosher salt
2/3 cup flour, plus more for rolling
2 tablespoons sugar, plus more for dusting
1 egg, plus 1 for egg wash
6 tablespoons butter, melted
20-30 large marshmallows, sliced in half horizontally*
20-30 rolos*
1/2 cup dark chocolate chips
Instructions
Preheat oven to 325 degrees F.
In a large ziplock bag, crush your graham crackers using a rolling pin, crushing them into fine crumbs (some larger crumbs are okay).
Transfer crumbs to a medium bowl (you want to have 1 cup total). Add salt, ⅔ cup flour, and 2 tablespoons of sugar. Mix to combine, then add 1 egg and the melted butter.
Mix with fork until dough forms, no floury spots remain and dough is smooth. It'll be a little soft and slightly oily but thats ok.
Lightly flour a piece of parchment paper and place the ball of dough on top. Lightly flour top of dough, then cover with another piece of parchment.
Using bottle or rolling pin, roll dough into a round circle, about 12" in diameter and ⅛" thick. Periodically peel back parchment and dust with more flour to prevent sticking. Slide entire sheet of parchment paper onto a rimmed baking sheet.
Leaving about a 2" border, brush the outside of your dough with egg wash, and then sprinkle sugar over the egg wash. Add your marshmallows and rolos to the center of the circle, leaving the 2" border. You can pack the rolos and marshmallows in so that they're touching, or you can leave some space between them as they'll spread while baking (hence the variation in marshmallows in rolos above).
Using edges of parchment to help lift, fold empty border of dough up and over the rolos and marshmallows, working your way around in roughly 2" sections, overlapping folds as needed. Press all the way around to secure folds and keep dough in place. It might crack or tear in places, but don't worry! Just pinch it back together.
Bake the galette in the bottom rack of your oven for 25 minutes, until the tops of the marshmallows just start to brown. Take out and let sit for 5-10 minutes.
Melt your chocolate in the microwave in 15 second increments until fully melted, and then drizzle over the galette. Slice and serve.
Notes
*depending on how tight you want to pack your marshmallows and rolos in the galette, the amount will vary
Adapted from Bon Appetit
And They Cooked Happily Ever After http://www.andtheycookedhappilyeverafter.com/