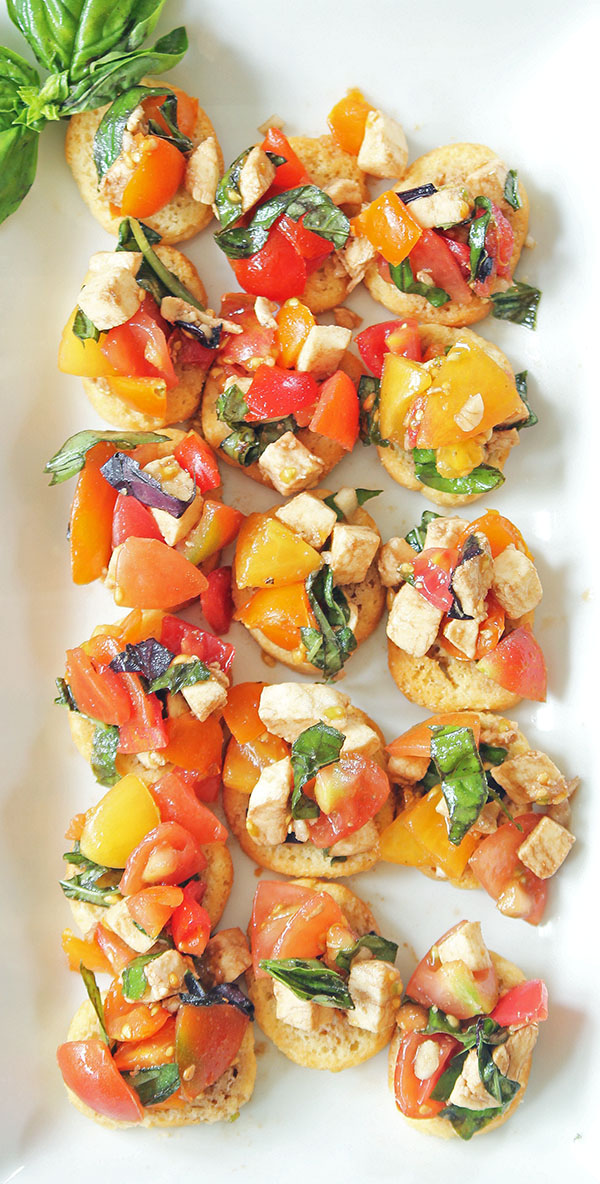 Dave's the gardener at our house. I just hate watering things, ya know? So they usually die – cuz I just don't feel like watering them. But Dave treats plants like his babies, especially his garden veggies. When it came time to plant seeds this year, I told him that I wanted tomatoes – lots and LOTS of tomatoes. And now we have tomatoes growing like weeds – on top of the weeds we have growing like weeds. But not to be confused with growing weed. We're not growing that kind of weed. Wait, what?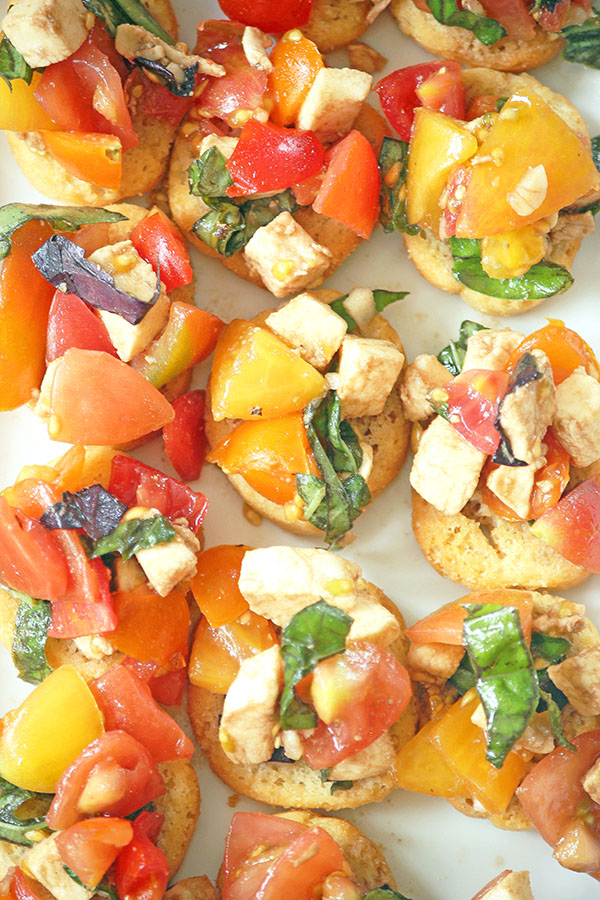 Anyway, there is no greater joy in the summer time than slicing a fresh tomato, sprinkling a little salt and eating it like a hamburger. Or maybe just like a tomato. But whatever. This time around, the tomatoes are accompanied by fresh mozzy, basil (also growing like a weed) and an easy marinade that will give you the most delicious, easy and FRESH appetizer for your next summer suaree! It's also great on top of chicken or a burger. Or just by the fistful. It's good that way too. Labor Day is a comin'! Make sure this beauty is on your menu!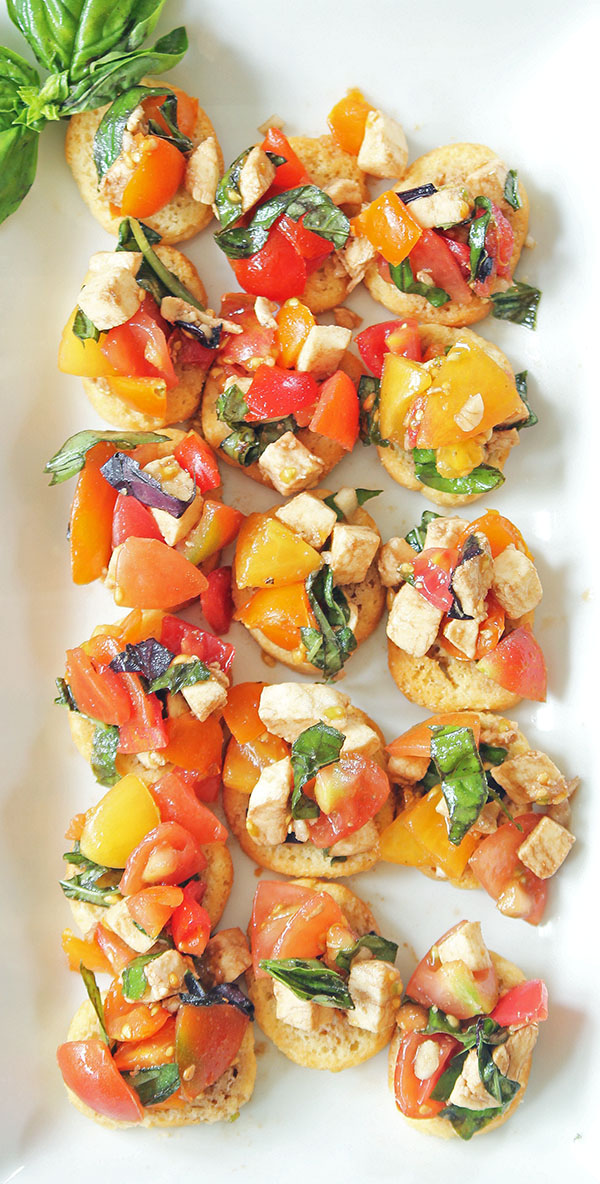 Caprese Bruschetta
2017-08-23 06:43:47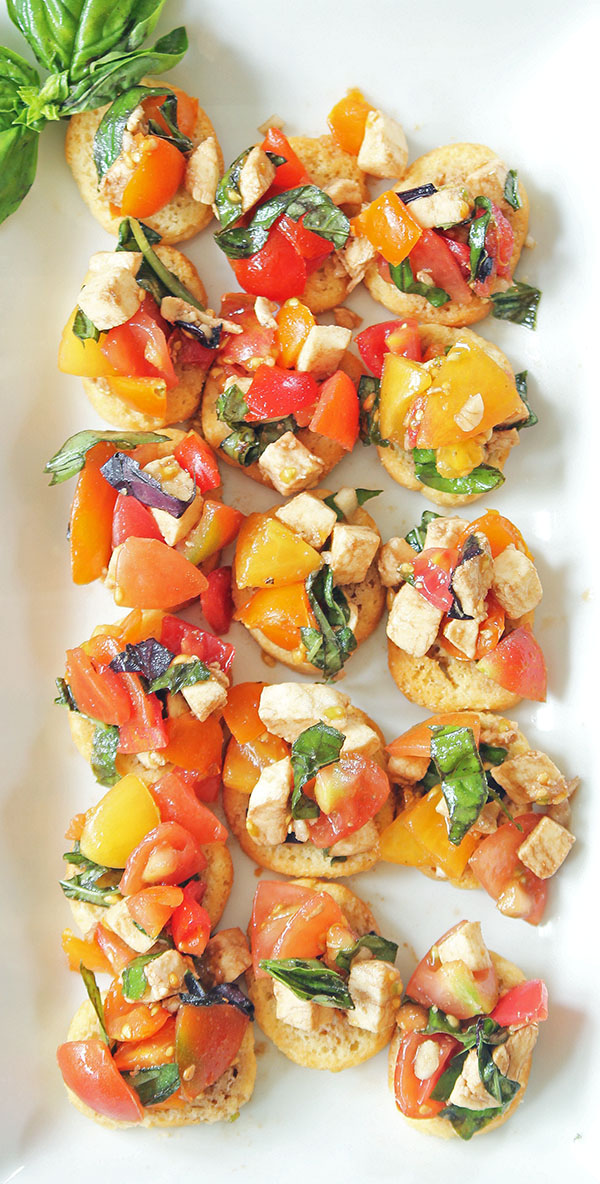 Bruschetta in caprese form with fresh tomatoes, mozzarella and basil!
Ingredients
1/4 cup balsamic vinegar
2 tablespoons italian dressing
1 clove garlic, minced
1 teaspoon salt
1/2 teaspoon pepper
2 cups chopped tomatoes
1 cup chopped fresh mozzarella
as much basil as you like (I used a ton - about 20 leaves) with some reserved for garnish
*crackers or bread to serve
Instructions
In a small mixing bowl, whisk together your balsamic vinegar, italian dressing, garlic, salt and pepper. Then, fold in your tomatoes, mozzarella and basil.
Chill for at least one hour up to overnight.
Before serving, garnish with more basil and then serve with crackers or bread.
And They Cooked Happily Ever After http://www.andtheycookedhappilyeverafter.com/