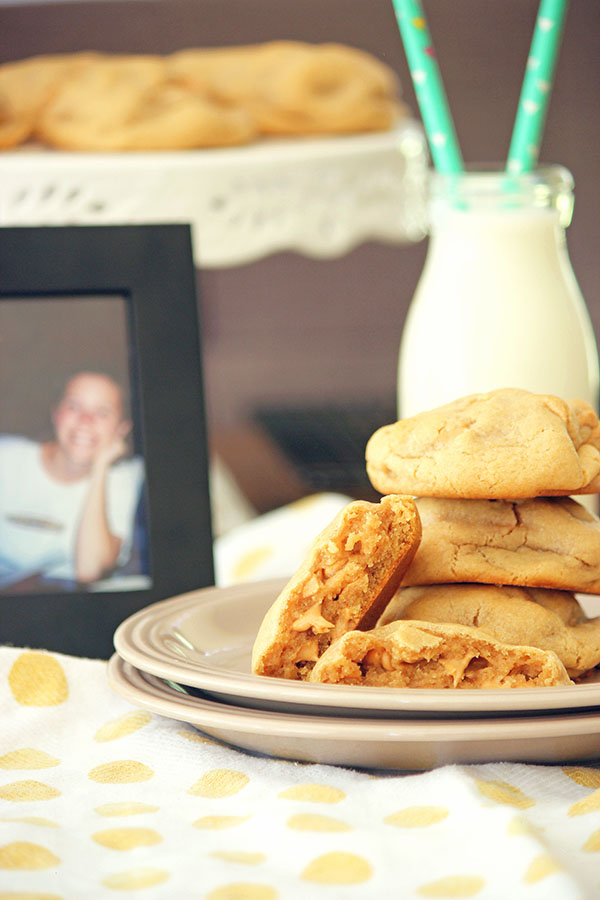 I want to share this recipe with all of you, mostly because it's a freaking amazing recipe for Peanut Butter Cookies, but also to share the story of how I came to discover them. Even though it's not a recipe of my own, I'm still always going to refer to these as my friend Casey's. I wrote about her in my Kitchen Bitch'n recipe series a few years ago – my hip NYC friend and her teeny kitchen. This girl loved to eat – she loved sweets – she loved life in general.
So the cookies…
Back in February, 10 of my high school girl friends and I trekked down to Disney World to run the Princess Half marathon in an effort to raise money for Mesothelioma Applied Research Foundation – Mesothelioma being the nasty, unforgiveable and life altering cancer that Casey had been diagnosed with a year and a half before. We ran – Casey cheered us on the whole way – we rode rides – we ate our weight in Disney treats – and Casey discovered these amazing Peanut Butter Cookies that she ate all weekend, among other things.
When I went to visit casey a couple of months after the race, she had lost a lot of her appetite – her health was declining – there wasn't a whole lot that was making her happy. I really wanted to make something special that she'd enjoy, so I googled "Peanut Butter Cookies from Walt Disney World" and this recipe from Crazy for Crust popped up. I made the dough and brought it down to NYC with me. Casey stayed on the couch most of the time while I tidied up, did laundry, etc. I asked her if she felt like a cookie – she didn't. So I just went ahead and popped four in the oven, left them on her counter, and then froze the rest of the dough into balls so she could have them when she felt like it.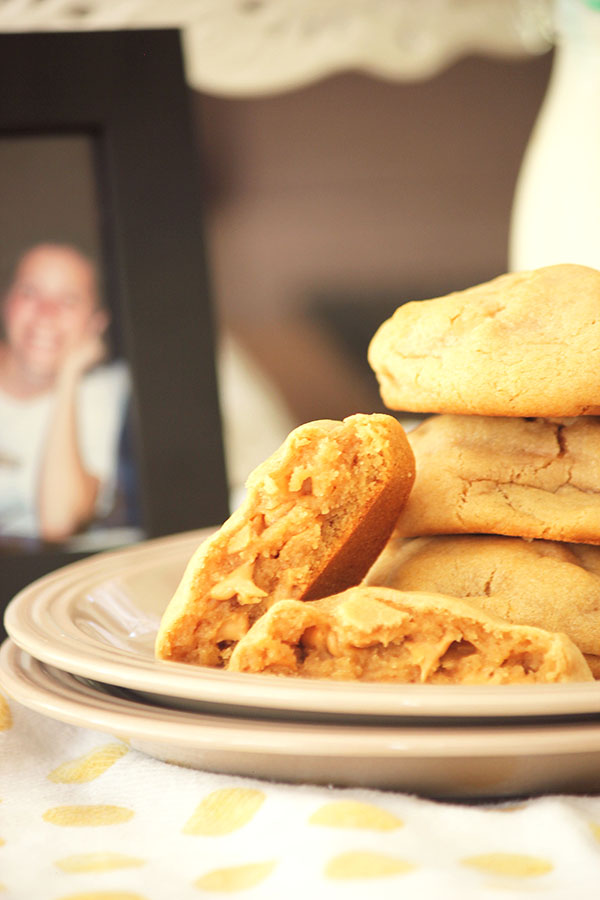 On my ride home that night, she texted me saying "Those cookies are the bomb". And I smiled and felt incredibly happy – not because the cookies came out good or because it was a great recipe that I could now call my "go to" peanut butter cookies. But because I was able to do something that made her happy. Even if just for a couple of minutes. The entire time that Casey fought her battle, she never complained – she never said why me – she never ever wanted to be pitied or felt sorry for. All she wanted to do was to put her all into fighting it. She fought like hell – and she went through hell – slowly having to give up all the things in her life that made her happy – traveling, exercising, working and even eating.
Some weeks later, she texted me again about the cookies. She had forgotten that I put the dough in the freezer and one night, she was feeling like a cookie. She wanted to know what temperature to bake them and for how long. Then she texted me later to tell me that she ate it fresh out of the oven, crumbled over some whipped cream.
Four weeks later she passed away. And for some reason I can't stop re-reading her texts, especially the ones about the cookies. Because for those few brief text exchanges, it wasn't about cancer or how she was feeling or an update about another setback or disappointment – but just a casual exchange between two pals about some really goddamn delicious cookies. And I'd give anything to have a casual text exchange like that one with her again, before cancer changed everything.
Now I imagine that she's on a long white sandy beach, with a drink in hand (non-alcoholic of course) surrounded by all the things she loves, with an endless supply of peanut butter cookies.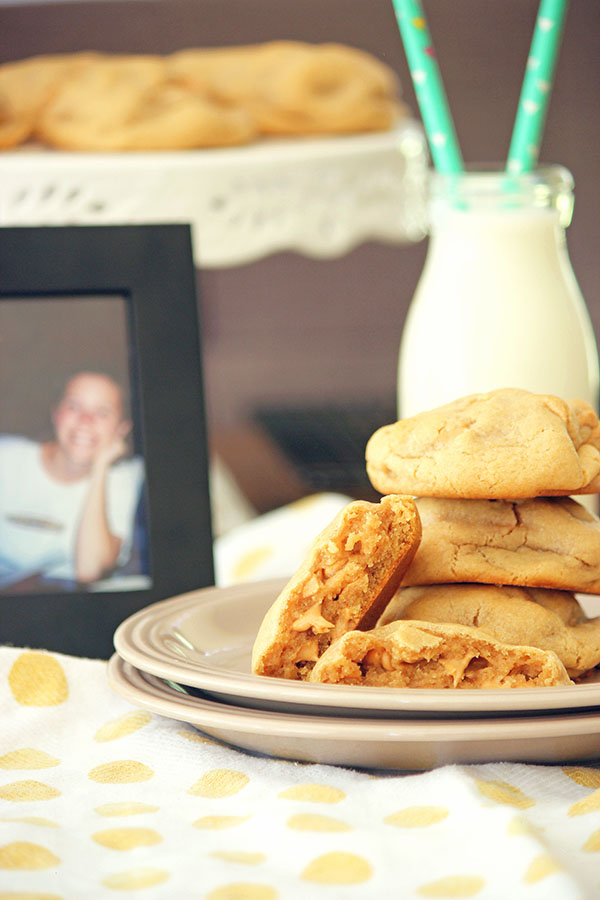 Casey's Peanut Butter Cookies
2017-08-14 13:37:35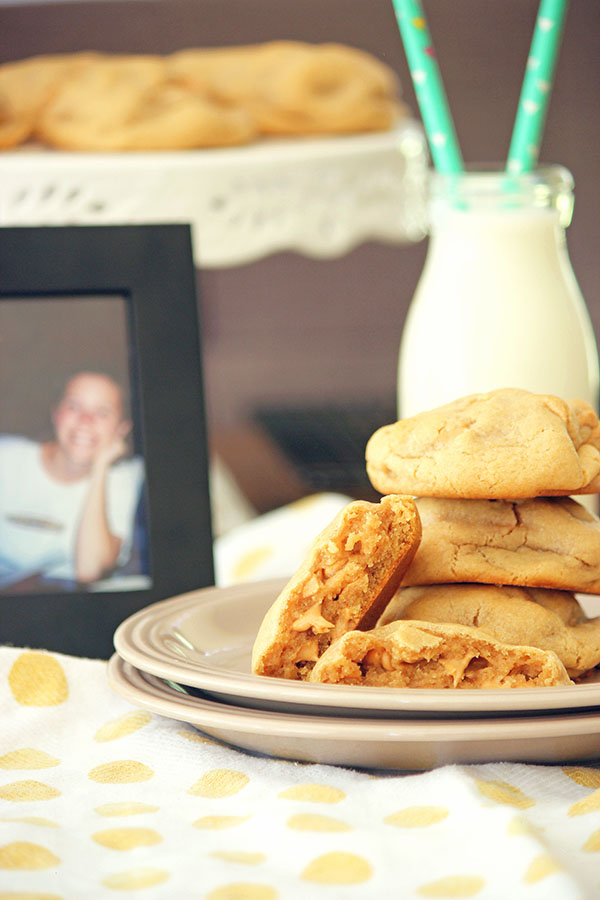 Soft, chewy, and pillowy Peanut Butter Cookies, just like the ones in Disney World - perfect for anyone special in your life that needs a peanut butter cookie pick me up
Ingredients
1/2 cup butter, softened
3/4 cup peanut butter
3/4 cup packed brown sugar
1/4 cup granulated sugar
1 large egg
1 teaspoon vanilla
1 tablespoon milk
1/4 teaspoon salt
1 teaspoon baking soda
2 cups flour
1 package (about 1 2/3 cups Reese's Peanut Butter Chips)
Instructions
Cream butter, peanut butter, and both sugars in the bowl of an electric mixer fitted with the paddle attachment, or with electric beaters, for about 2-3 minutes. Add egg, vanilla, milk, baking soda, and salt and mix until combined. Add your flour in shifts and mix until dough just comes together. Fold in the Reese's Peanut Butter Chips with a spatula.
Scoop 1/4 cupfulls of the dough, roll them into a ball, and place on a cookie sheet. Cover and chill your dough for at least 4 hours (the longer the better! Try at least 24 hours, but at the very least 4 hours).
Preheat oven to 350 degrees. Line 2 cookie sheets with parchment paper. Evenly space cookie dough balls on the cookie sheet, about 1.5" between each. Bake 11-14 minutes, until the bottoms start to brown. Let them cool about 5 minutes and then place them on a wire baking rack.
Eat warm with milk :) Or store in an air tight container for 3-5 days (or, pop in the freezer for when you're feeling like a cookie)
Notes
I made these three times - and the longer you chill, the more amazing they come out! I'd recommend at least 24 hours, if you can wait that long!
Adapted from Crazy for Crust
And They Cooked Happily Ever After http://www.andtheycookedhappilyeverafter.com/