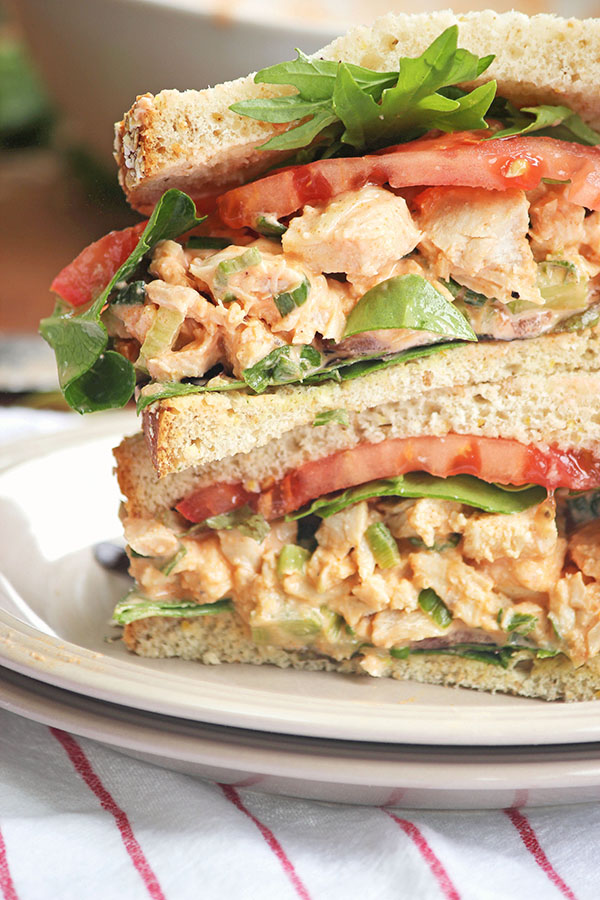 I'm comin' in LATE and I'm comin' in HOT with this Buffalo Chicken Salad.
Now, I know it's been a bit since I've graced you with my blog presence, and I'm real sorry about it. Does anyone else out there just feel like if they had all the money in the world, the one thing they'd buy themselves is some extra TIME? Like, time to do the things we love, and not the things we have to – the things that make us happy – visiting with friends and cooking big intricate dinners that use every dish we've got and takes hours to clean, but we've got time to do it and the dinner tastes delish? Well, on that side note, since I don't have much of that thing called time, and I know you guys don't either, this buff chick salad takes all of 5 mins to throw together and puts regular old chicken salad to SHAME.
It's made with greek yogurt instead of mayo, which is a phenomenal substitute – you still get that same creamy texture with half the fat and cals! Pair that with a couple splashes of hot sauce and some essential veggies that must accompany every buffalo dish, you've got this delicious sandwich filling that's bikini and/or weight watchers friendly at only 2 smart points per 1/2 cup.
Oh and also I made my first video – I thought to myself if I am going to make my comeback after over 6 months of blogging hiatus, I gotta come in with a BANG. A BUFFALO, VIDEO BANG!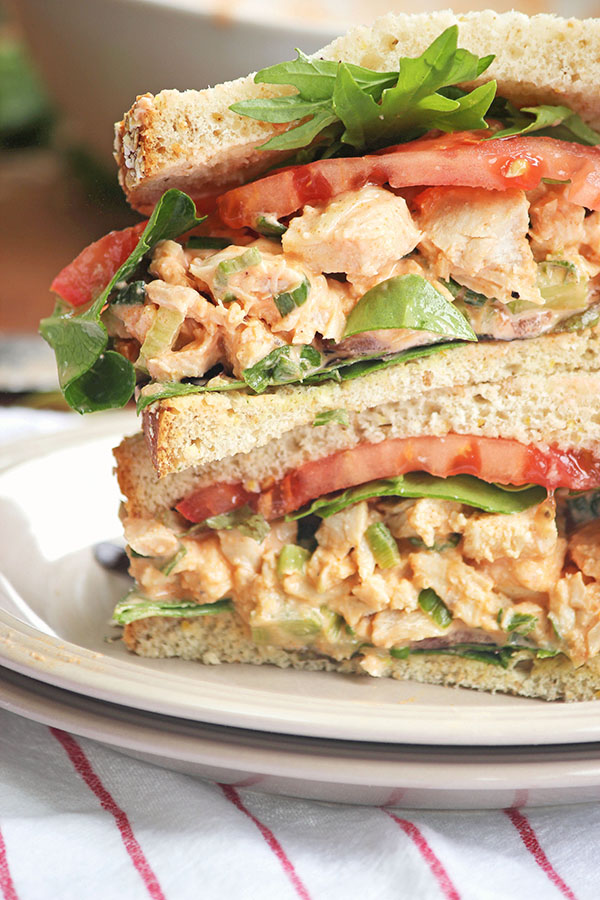 Buffalo Chicken - Chicken Salad
2017-06-21 13:06:01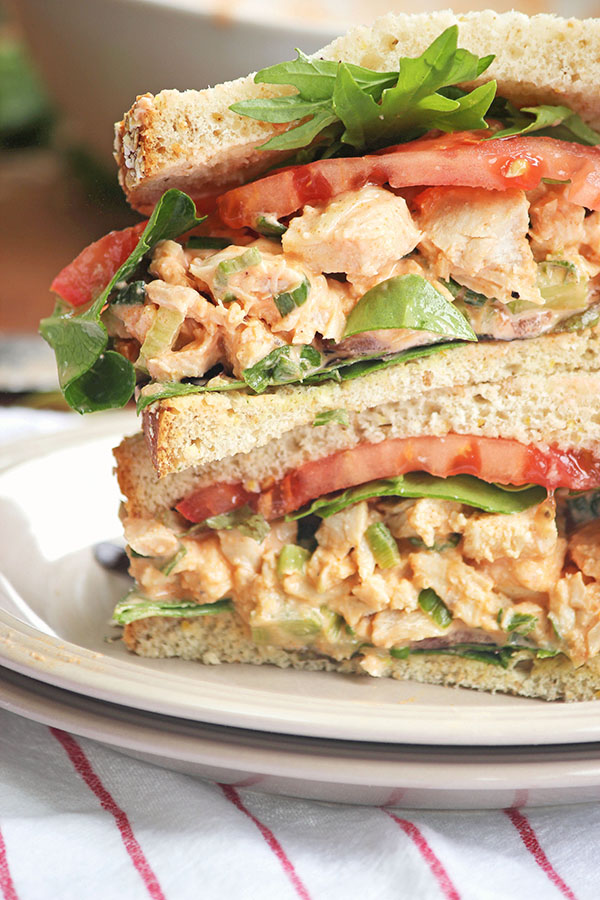 Serves 4
A classic lunch filling, with some KICK.
Ingredients
2 cups of cooked boneless, skinless chicken breast
1/2 cup non-fat plain greek yogurt
3 tablespoons of hot sauce (I used Franks)
1 teaspoon garlic powder
1 teaspoon salt
1/2 teaspoon ground black pepper
1/4 cup chopped carrots
1/4 cup chopped celery
3 scallions, chopped (green and white parts)
Instructions
In a mixing bowl, whisk together your yogurt, hot sauce, garlic powder, salt and pepper. Then add your chicken, carrots, celery and scallions and mix until combined. Serve immediately or store covered in the fridge for up to 5 days.
And They Cooked Happily Ever After http://www.andtheycookedhappilyeverafter.com/