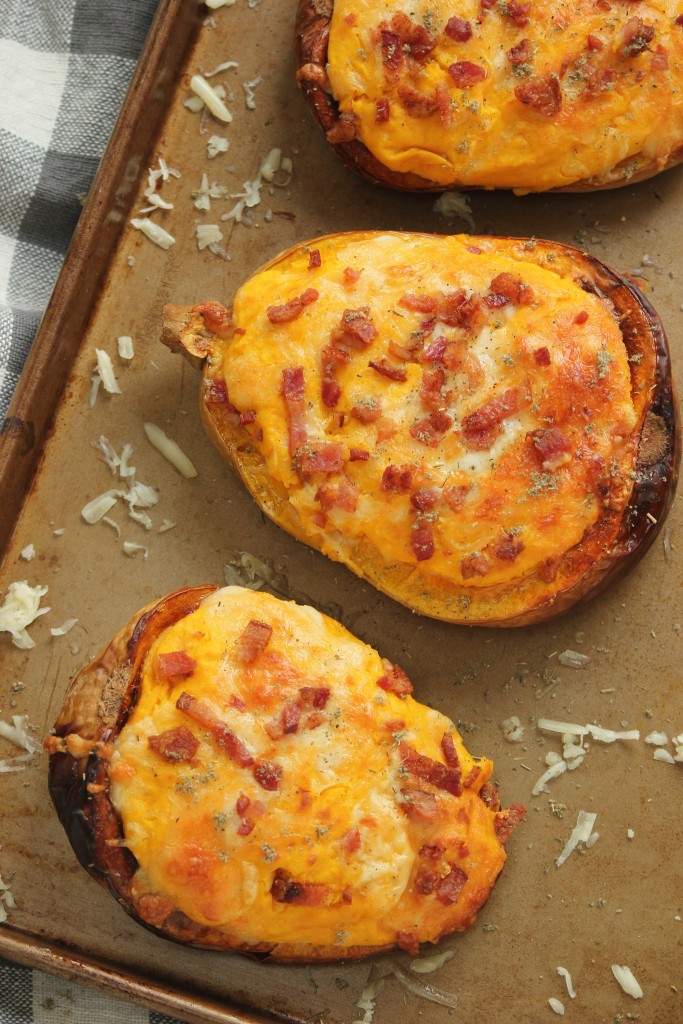 Never in my food blogging life did I think I'd be bringing you four Butternut Squash recipes IN A ROW. But alas, here's the fourth in a series of a girl whose slowly becoming a butternut squash liking woman, because according to Dave, you're not really an adult until you like squash. What?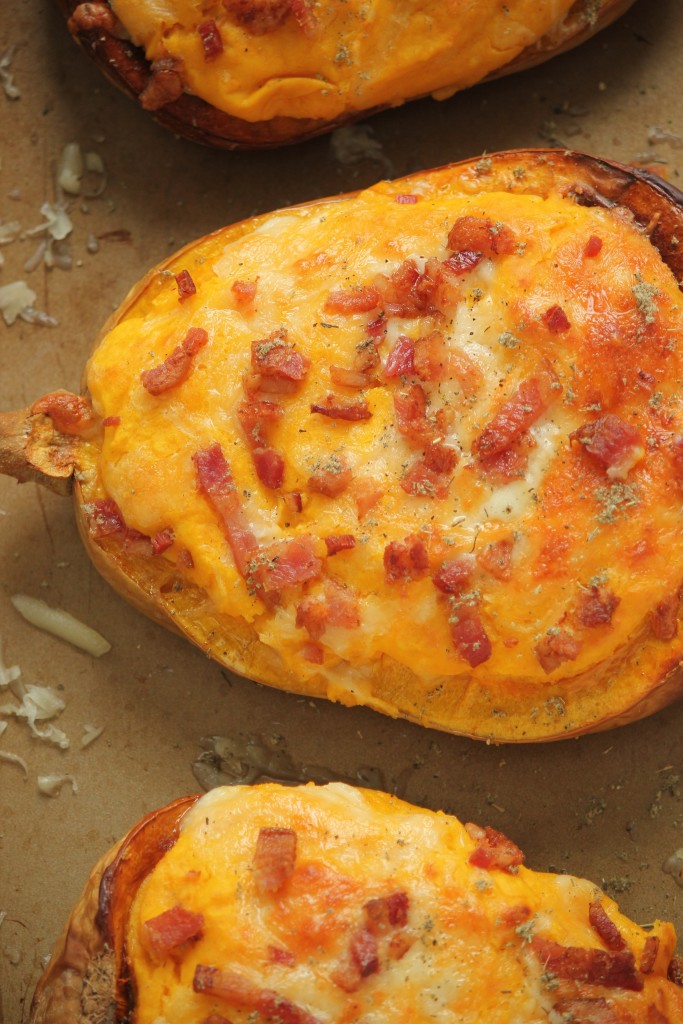 One of my favorite sides of all time is a twice baked potato – you take a regular old potato, bake it, take the insides out, add a bunch of bad things to it that make it taste delicious, and then bake it in it's shell til' its gooey and fabulous.
That's what this is. The 'squash' version of that heavenly side. You can bake the squash in the hollowed out skins or you can just bake it in a greased baking sheet (probably better for a larger crowd.) Perfect for Thanksgiving or even Christmas. OR even just like, a regular old Saturday night.
It's 4 and 2 legged guest approved (see below for proof).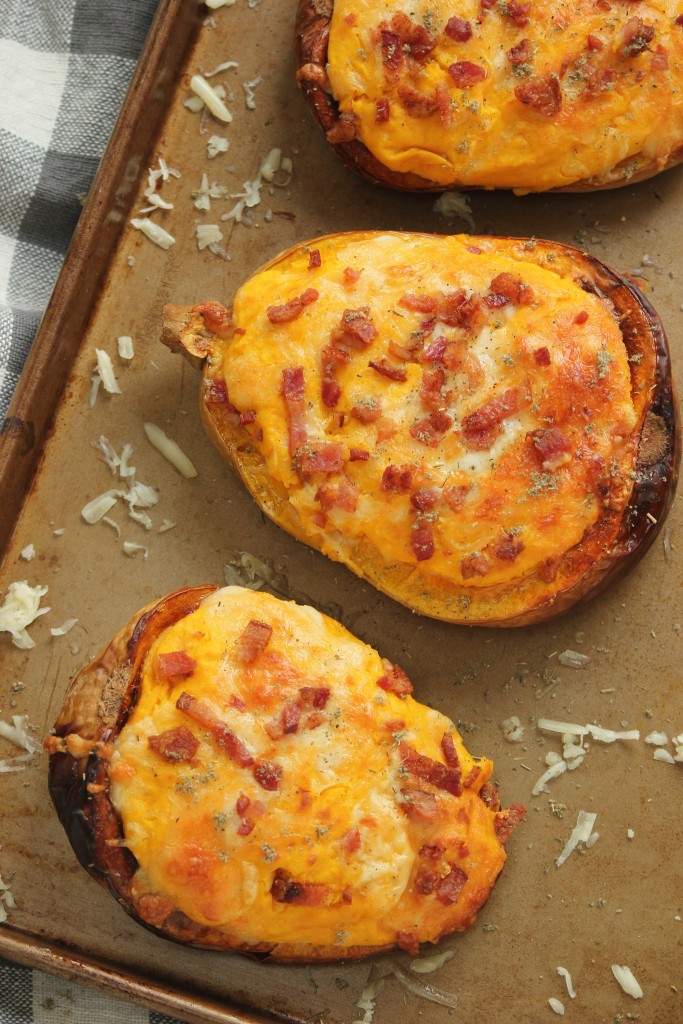 Twice Baked Butternut Squash
2016-11-23 06:44:18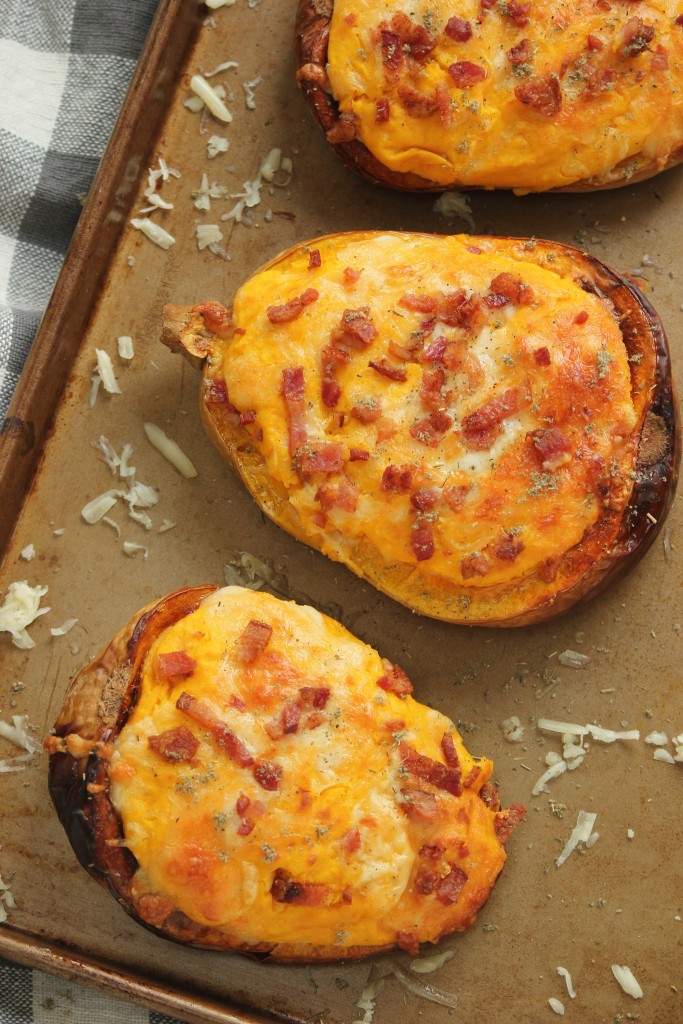 A twice baked potato, dressed as a twice baked butternut squash
Ingredients
4 medium sized butternut squash (5 cups butternut squash puree total)
2 tablespoons butter
1/2 large onion, sliced
1 small garlic cloved minced
1/4 cup sour cream
2 ounces cream cheese
2.5 cups shredded cheddar cheese
1 lb bacon, cooked crisp
2 eggs lightly beaten
1 teaspoon salt
1/2 teaspoon black pepper
Instructions
Preheat your oven to 375 degrees F.
Prep your squash puree by roasting your butternut squash. You want to end up with 5 cups (give or take) of squash. I typically roast in a 375 degree oven for 1.5 hours until the squash starts to brown. If you're planning to re-use the squash skins for the twice baked potato mixture, just be sure to leave about 1/2" of squash around the edges so that the skin will be sturdy when you replace the twice baked squash mixture.You could also buy the pre-cut squash cubes and roast those for 1/2 hour until they start to caramelize.
While your squash is roasting, melt the 2 tablespoons of butter and add your onions, letting them caramelize for about 1/2 hour, until they shrink in size by about half and start to turn a golden brown. Just before you're about to take them off the heat, add the garlic and cook for one additional minute until garlic becomes fragrant.
In your food processor, combine the 5 cups squash puree, caramelized onions, sour cream, cream cheese, 2 cups shredded cheddar and 3/4 of the cooked bacon. Pulse to combine. Add your beaten eggs as you're pulsing and continue until the mixture is smooth. Season with salt and pepper.
Option 1
Divide the mixture between the 4 hollowed out squash skins and top with remaining bacon and cheese.
Option 2
Place mixture in a lightly greased, 9x13" baking dish. Top with remaining cheese and bacon.
Bake for 25-30 mins at 375 degrees until cheese is golden brown. Let sit for 5 minutes before serving.
Adapted from The Recipe Runner
And They Cooked Happily Ever After http://www.andtheycookedhappilyeverafter.com/