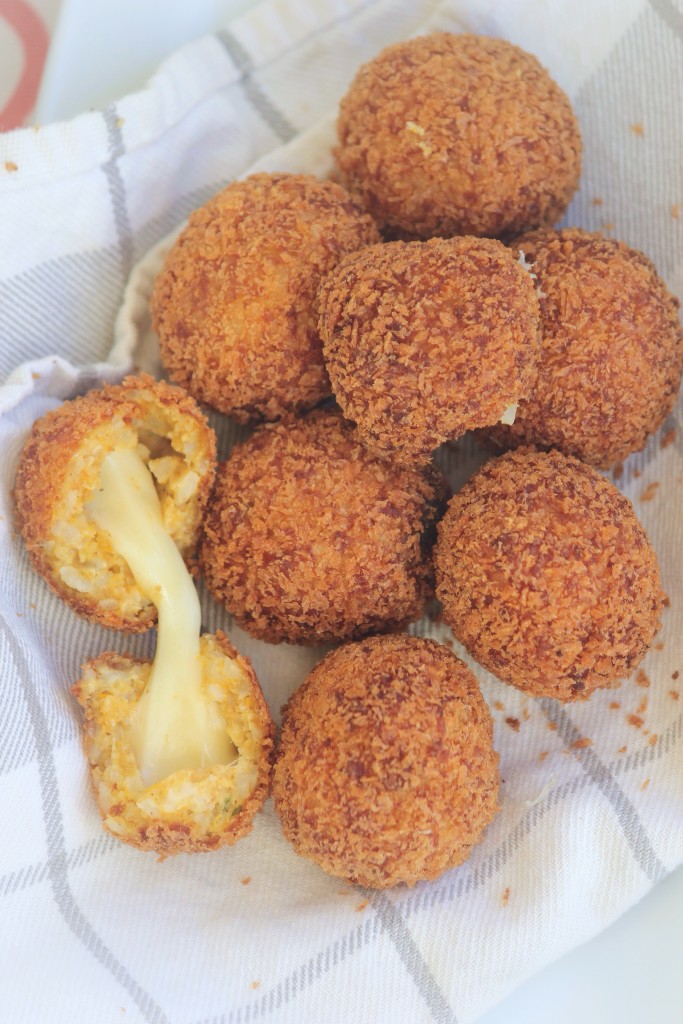 When life hands you leftover Butternut Squash Risotto , MAKE BUTTERNUT SQUASH ARANCINI! You can't have one without the other, ammaright?
That heavenly recipe for Butternut Squash Risotto makes a lot – even after several helpings and random spoonfuls in which you burn your tongue because you can't wait for it to cool off (not me, just like hypothetically). And really the only way you can re-purpose leftover risotto is to make the next best dish to happen to anyone's life – Arancini. You take that pillowy decliciousness, roll it into a ball, and fry it into oblivion. I mean, honestly.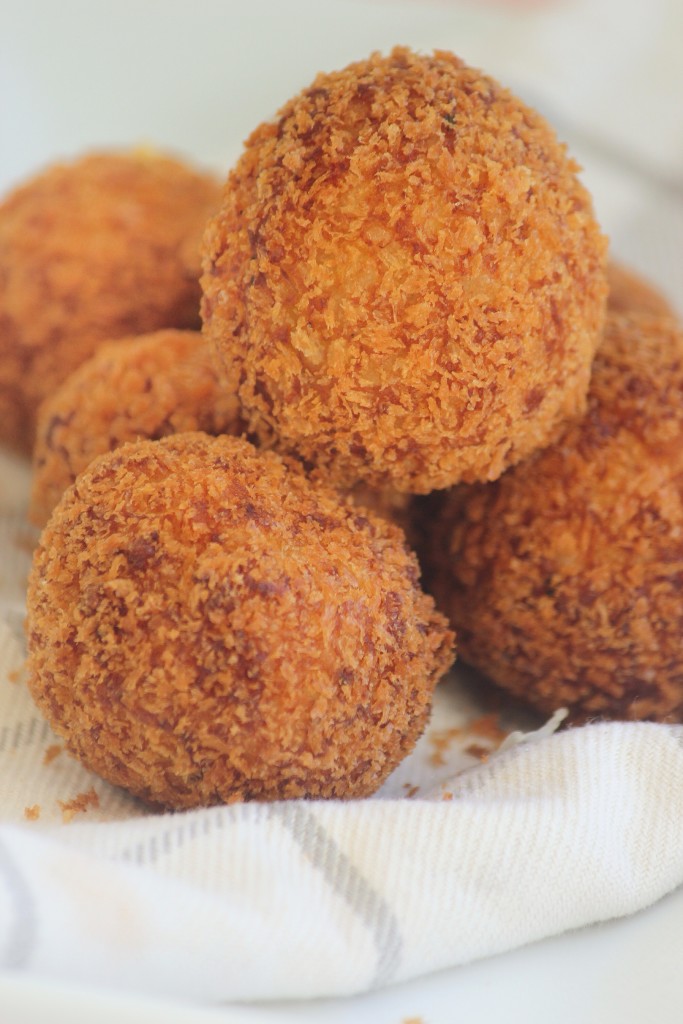 I just think of this like that time that Jesus took like 1 fish and a loaf of bread and fed a bunch of people. This Butternut Squash Risotto gives you a side dish and then an epic appetizer later on without even having to do any extra work. That analogy totally works right?
Now let's all go take a bath in sizzling hot grease. See you there.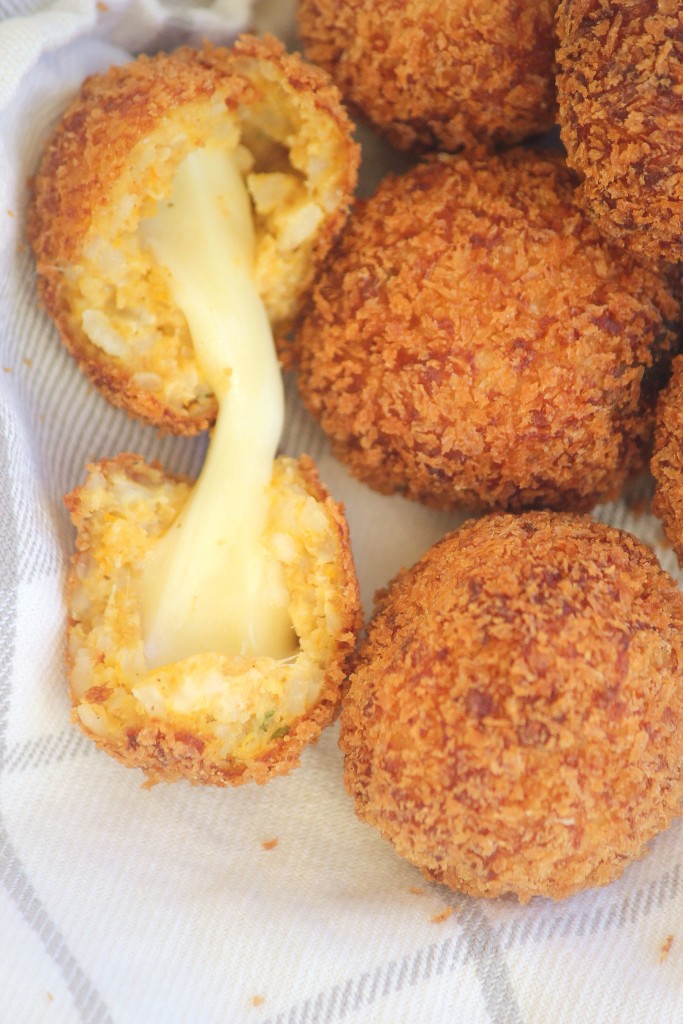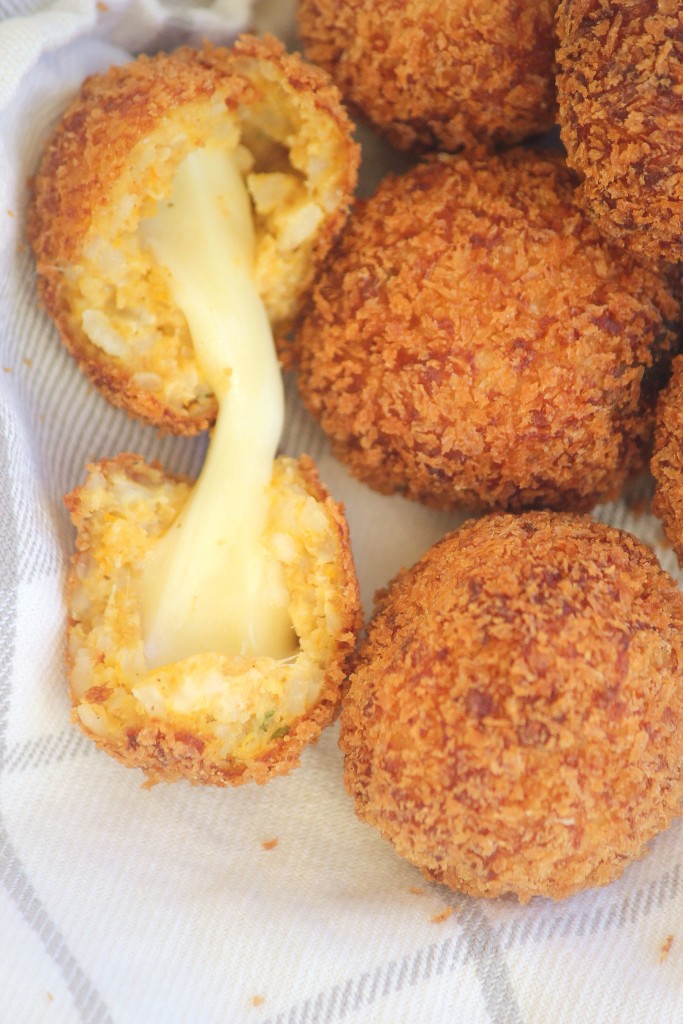 Butternut Squash Arancini
2016-11-05 14:41:32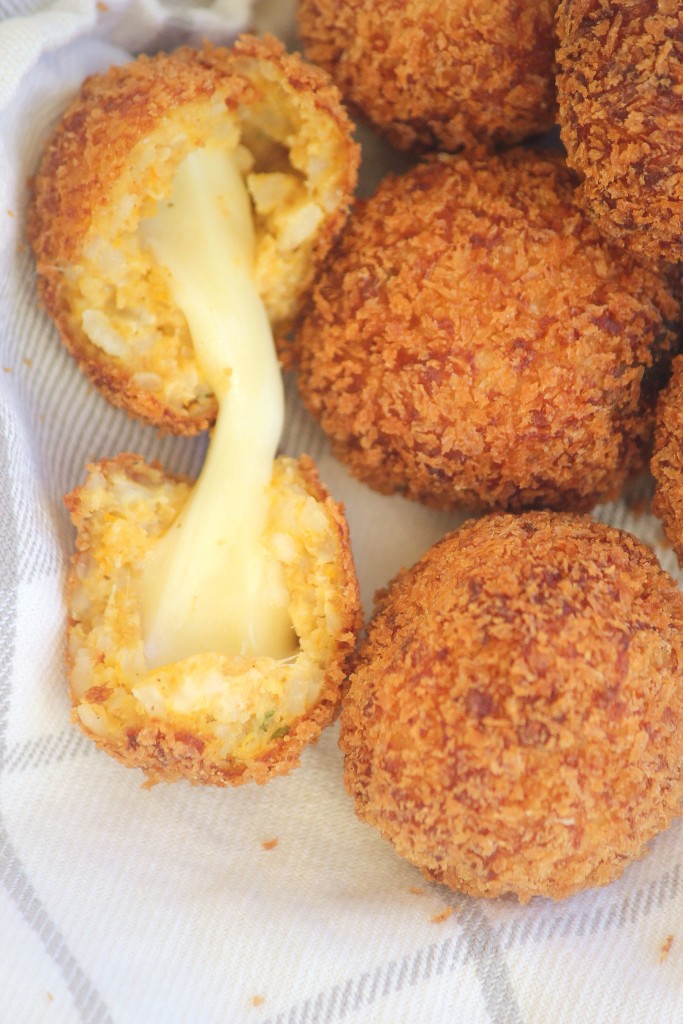 The only way you can repurpose that leftover Butternut Squash Risotto is to make these Butternut Squash Arancini
Ingredients
Canola oil (enough for 1.5" in a medium skillet)
2 eggs
1/2 cup freshly grated parmesan cheese
2 & 1/2 cups breadcrumbs, separated (I used Panko, but regular breadcrumbs would work too)
2 cups of Butternut Squash Risotto* (see recipe in notes section below)
18 - 1/4" (give or take) cubes cheddar cheese (or whatever cheese you prefer)
Instructions
In a large heavy bottomed skillet, pour your oil until it's about 1.5" thick. Heat on medium-high heat. You'll know it's ready when you flick a little water in it and it sizzles.
Beat your eggs, parmesan cheese and 1/2 cup breadcrumbs together. Gently fold in your butternut squash risotto until fully combined.
Take 2 tablespoons of the mixture and roll between the palms of your hands to form a ball. Then, push a cube of cheese into the center of each ball. You can re-roll the ball if it becomes a little disformed after pushing the cheese in.
Take each ball and roll it in the remaining bread crumbs until fully covered. Fry a few balls at a time in the heated oil, rolling them around in the oil frequently so as to not let the breadcrumbs burn. The balls will need about 4 minutes in the oil to allow the cheese in the center to melt so it's essential to keep rolling them in the oil while they're cooking as the breadcrumbs will brown quickly.
After about 4 minutes, remove the arancini, laying them out on paper towels and let sit for 1-2 minutes. Serve HOT! You could also store these in the fridge for 3 days and reheat on low in the oven when ready to serve. OR you could freeze them for up to a month.
For the butternut squash risotto
3 tablespoons butter
1/2 large onion minced (1 cup)
1 large garlic clove, minced
2 sage leaves (or more depending on how you like the flavor of sage)
1 teaspoon salt
1/2 teaspoon ground black pepper
1 cup arborio rice
3 cups chicken stock
1 cup roasted butternut squash purée* see notes
1 cup grated Parmesan cheese plus more for serving
Preheat oven to 350 degrees.
In a large Dutch oven or heavy bottomed pot, melt your butter over medium heat. Add the minced onions and cook in the butter until translucent (about 5 minutes). Add your garlic, sage leaves, salt and pepper and cook for one additional minute until garlic is fragrant.
Add your cup of arborio rice and coat in the butter and onions until rice is shiny and fully coated. Add your three cups of chicken stock and bring mixture to a boil.
Once boiling, place mixture in the oven and cook, covered, for 1/2 hour. After 1/2 hour, remove from the oven. Stir in your butternut squash and Parmesan cheese and mix until squash and cheese are fully combined. Serve hot with parmesan cheese.
And They Cooked Happily Ever After http://www.andtheycookedhappilyeverafter.com/